The deadline to declare for the NBA draft is coming up in the next two weeks — April 22nd — and the deadline for an underclassmen to pull their name out of the NBA draft after testing the waters will be on May 30th, a full five weeks after the deadline to declare.
So there is a long way to go with this process. 
But as things stand today, here is a list of the most influential Should-I-Stay-Or-Should-I-Go decisions left to be made.
JALEN BRUNSON, OMARI SPELLMAN and DONTE DIVINCENZO, Villanova
This one is probably self-explanatory. At this point, Mikal Bridges is headed to the NBA. He's a fourth-year senior, meaning that he should be able to finish his degree before having to make this decision, and he's a potential top ten pick coming off of his second national title in three seasons. It's a no-brainer for him to make the leap, and it's a decision that Villanova has prepared for.
The other three?
Not so much.
Villanova may be best prepared to withstand the departure of DiVincenzo should he opt to capitalize on his 31-point outburst in the national title game, but I'm not sold on that just yet. He plays on a team that has multiple other pros on it. NBA scouts were well aware of what he is capable of doing before he won MOP of the Final Four, and they were also well aware of how much of a streak scorer he's been during his Villanova tenure. Another year on campus probably makes sense for him for no other reason than the simple fact that he may end up being the star of this Villanova program next season.
That's because the return of Brunson and Spellman is very much a question mark. Brunson is a junior and is on track to graduate in three years. If he has his degree, two national titles and a National Player of the Year award under his belt, what else is left for him to do in college? He's not a guy whose stock is going to change all that much in a year — he is what he is as a prospect given his physical limitations — and he is projected as a borderline first round pick now.
And Spellman might want to capitalize on what was a promising NCAA tournament run. He played his best basketball of the season down the stretch, blocking shots and banging home threes and thriving as Villanova's small-ball five in one of the best teams that we've seen in the collegiate ranks, and there is a legitimate question as to whether or not he will look as good playing on a team that doesn't include Brunson at the point.
If Spellman and DiVincenzo both return, Villanova should once again be a top five team — we are projecting that currently, and we have them No. 2. But if they lose one or both of those two, Villanova would probably drop from being a favorite to win the whole thing to being a top 12-ish team picked to win the Big East. Still very good, but not a legitimate threat to repeat as champs.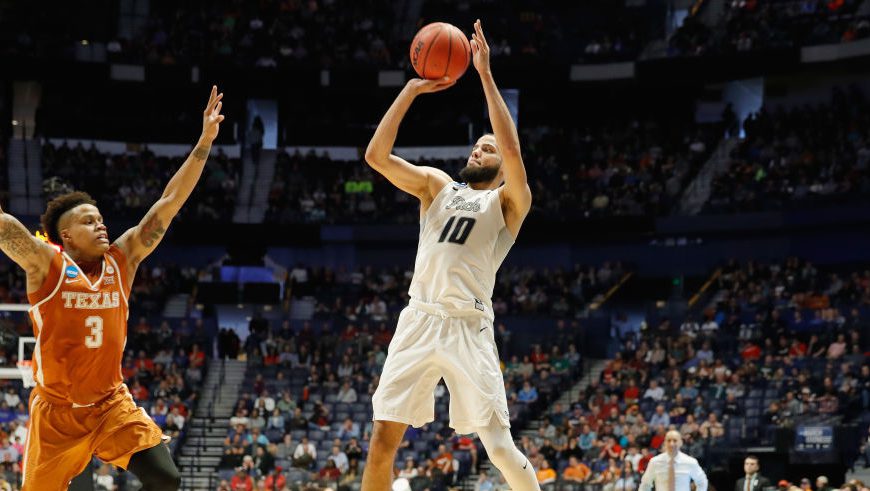 CALEB MARTIN, CODY MARTIN and JORDAN CAROLINE, Nevada
Eric Musselman has that thing rolling out in Reno, and there's a chance that his next team season will be better than this year's team, which won the Mountain West and made the Sweet 16.
But that all depends on what happens with his three best players, the Martin twins and Jordan Caroline. All three are rising seniors, but all three are also redshirt seniors, meaning that this will be their fifth-year on campus. If they already have a degree in hand, and since all three turn 23 years old in the next year, what is the incentive to return to school if they can get a good contract?
The latter is the bigger question mark. Both of the Martin twins project as second round picks at best, while Caroline is likely to go undrafted if he remains in the draft. With these three back in the fold, Nevada will enter the season as a top ten team in NBC Sports' preseason top 25. Without them, Nevada may not even be the favorite to win the Mountain West title.
ZHAIRE SMITH, Texas Tech
It is looking more and more likely that Zhaire Smith will be heading to the NBA this offseason, as he is now projected as a mid-first round pick in many mocks. A dynamic athlete with a 6-foot-10 wingspan and the ability to make shots from the perimeter, it might make sense for Smith to cash in on his potential now before scouts have a chance to pick his game apart. Remember, he was a three-star prospect coming out of high school; NBA front offices don't know as much about him as they do, say, Marvin Bagley III or Deandre Ayton.
But given when Texas Tech is losing this offseason, there's something to be said for the idea that Smith could return to school — as of now, Smith is only testing the waters — become the go-to scorer for the Red Raiders and play his way higher in the draft's pecking order.
The Red Raider staff believed they were going to be able to get a second season with Smith in the fold, and if he does make the decision to return to school, there's an argument to be made for Texas Tech as the third-best team in the Big 12, behind the Kansas schools. Without him, Chris Beard is going to have his work cut out for him trying to replicate this year's Elite Eight season.
DEANDRE HUNTER, Virginia
Hunter is in a difficult situation here, mainly because of the injury that he suffered prior to the start of the NCAA tournament. He's currently dealing with a broken wrist, and that's an injury that could end up keeping him off the court until after NBA teams are done with their workouts during this draft process.
Given what Hunter showed us in the latter part of his redshirt freshman season, it's pretty easy to project him as a good NBA role player. He's 6-foot-8 with a 7-foot-1 wingspan, he's switchable defensively and he can make threes, attack a close-out and create for himself. NBA teams traverse the globe looking for players like that.
But … the injury. Even if healthy, I'm not sure that Hunter would be a surefire first round pick this year. If he comes back to Virginia, he would have the chance to prove himself the best player on a top ten team, a potential all-american and play his way into a position to be drafted where the likes of Mikal Bridges, Miles Bridges and Kevin Knox are being projected this season.
And with Hunter back, Virginia suddenly has their star back in the fold, the guy that create a shot for himself and the one player on their roster that lets them matchup against smaller teams (ahem, UMBC). Virginia is always going to be fine so long as Tony Bennett is their head coach, but Hunter's presence on the roster is going to be the difference between the Wahoos being good enough to contend for another ACC title and simply being good enough to finish near the top of that conference.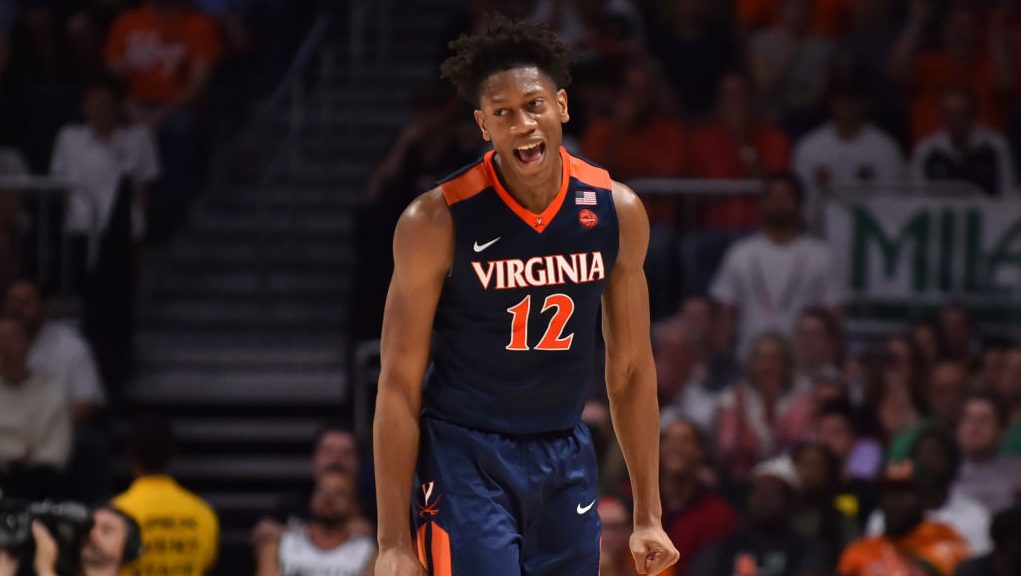 THE KENTUCKY GUYS, Kentucky
There are so many to work through here.
As of Tuesday morning, this is what we're working with: Shai Gilgeous-Alexander and Kevin Knox have declared for the draft and will sign with agents. Hamidou Diallo is considered likely to follow in his footsteps, while Sacha Killeya-Jones has opted to transfer out of the program after Kentucky landed a commitment from another five-star recruit, E.J. Montgomery.
That leaves these five in limbo: P.J. Washington, Jarred Vanderbilt, Quade Green, Wenyen Gabriel and Nick Richards. Kentucky has talent coming in, and they almost assuredly will have talent returning. We're just not exactly sure who it is going to be, and that will determine whether Kentucky will enter next season as a team in the top 15 or a team in the top five.
MO WAGNER, Michigan
Wagner is a success story when it comes to the process of testing the waters for the NBA draft. He declared last year, was told that he has to be a better defender and a better rebounder, then he turned around and became a good enough defender and rebounder that he could anchor what eventually turned into one of the best defenses in all of college basketball and, statistically, one of college basketball's best defensive rebounders.
Given that, and his ability to player on the perimeter as a stretch five, and it would seem like a given that Wagner should head to the NBA. I expect that's what he'll end up doing, but he's not exactly a sure-fire first round pick at this point. There are some questions as to whether or not his rebounding was a result of his improvement, Michigan's defensive scheme changing or a combination of all of the above, and being a passable perimeter defender in the collegiate ranks doesn't mean that he'll thrive at the NBA level.
Frankly, I think he's proved what he needed to and would advise him to head to the NBA, but his return would make Michigan a top 10-15 team in college basketball next season.
ETHAN HAPP, Wisconsin
The Badgers had a nightmare season in 2017-18, as the combination of youth and injuries meant that they didn't truly hit their groove until there was about a month left in the year and the Badgers were already locked into a losing season.
But next season, however, Wisconsin will not only be healthy again, but all that youth will be experienced, and if the way that the Badgers played in the last month of the season is any indication, that would be a very good thing. The key, however, is going to be Happ. He's going to be a fifth-year senior next season with a degree in hand, so no one would blame him if he opted to remain in the draft, but his return to anchor this roster could make the Badgers a top four team in the Big Ten and a back-end top 25 team.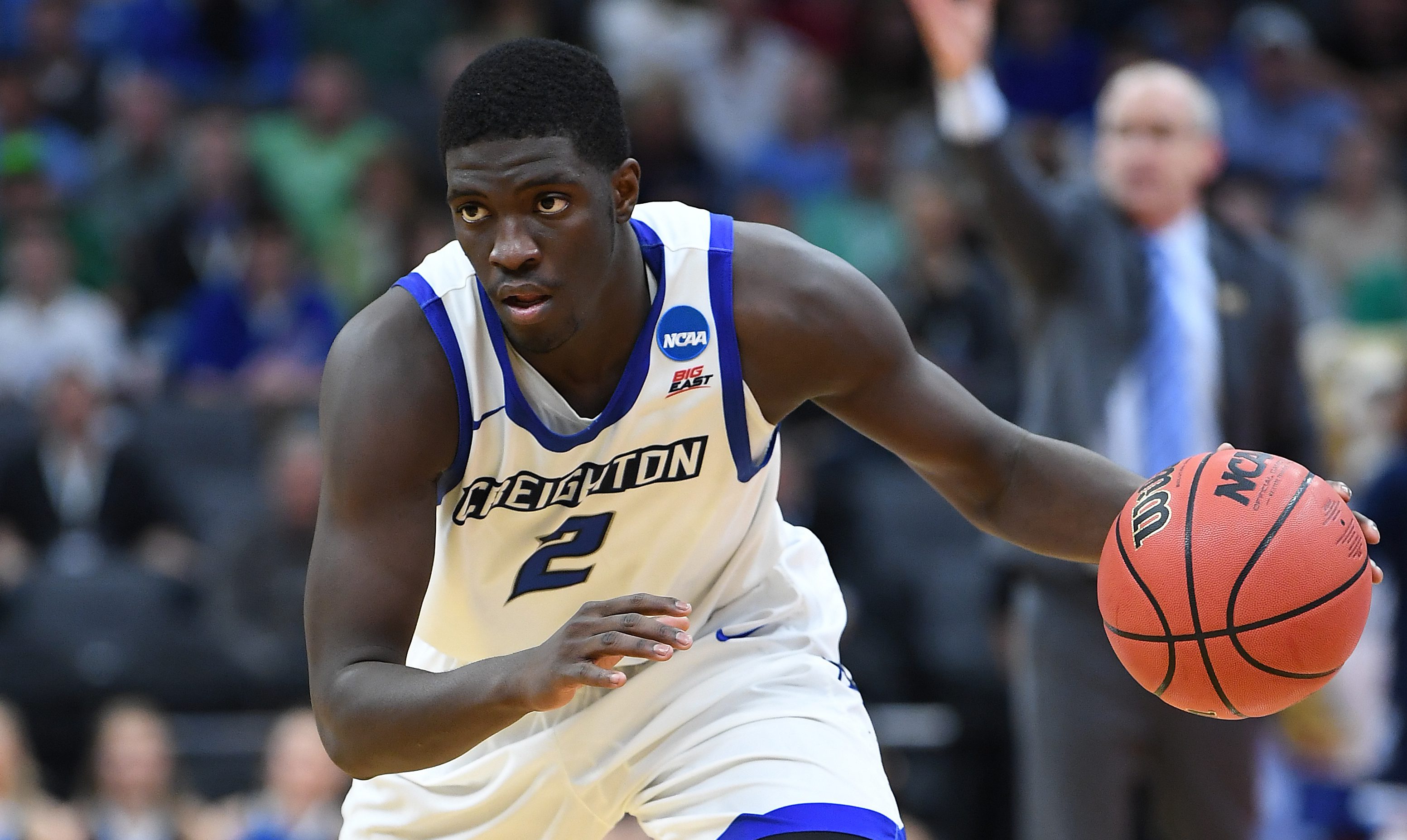 KHYRI THOMAS, Creighton
Thomas has a chance to have a nice NBA career. He only stands 6-foot-3, but his 6-foot-11 wingspan combined with the fact that he makes better than 40 percent of his threes makes him an intriguing 3-and-D prospect. I do think there's a chance that he'll be a first round pick this year should he opt to declare for the draft, and that should make his return to Creighton all that much more important. The Bluejays already lost Marcus Foster, and losing Thomas — who is the one elite defender on a roster that is built for space, pace and scoring — would be another major blow. With him in the fold and the return of a young core of Ty-Shon Alexander, Mitchell Ballock and Jacob Epperson, the Bluejays suddenly look like the second-best team in the Big East.
CARSEN EDWARDS, Purdue
Edwards averaged 18.5 points on a team that was in the top ten for much of the year and started four seniors. Those four seniors are now gone, and Edwards will more or less be running the show by himself should he opt to return.
In a vacuum, I would say it would be smart for him to leave. He's an undersized, shoot-first lead guard that benefitted from playing on a team that had myriad other scoring options. His efficiency is bound to take a hit if he does return. That said, he'll be a top ten player in the sport next season, he'll have a chance to prove he's a better distributor than he was last season and he'll be skipping out on a draft that is absolutely loaded with lead guards in the 20-45 range. If he's back, Purdue is a tournament team. If he's gone, there is going to be some serious rebuilding going on in West Lafayette.
THREE MORE TO KEEP AN EYE ON
THE MISSISSIPPI STATE GUYS: The Bulldogs, as it stands, are in the top 15 of the NBC Sports preseason top 25. But that's assuming that Lamar Peters and both of the Weatherspoon brothers are back for another season. All three have declared for the draft without signing with an agent.
DEWAN HUELL, Miami: Bruce Brown and Lonnie Walker are off to the NBA, but if Huell opts to return, he'll make for an intriguing combination alongside Chris Lykes.
TYUS BATTLE, Syracuse: Syracuse desperately needs the only offensive weapon they had last season to return to school. If he's back, the Orange should be in the mix for another trip to the NCAA tournament.