SAN ANTONIO — The iconic moment of the 2018 NCAA Tournament, the lasting image that will be meme'd and gif'd ad nauseum by the Villanova faithful until the internet no longer exists, came after Donte DiVincenzo hit his fifth and final three against Michigan, a dagger that pushed Villanova's lead back 18 points and capped off a three-possession stretch where the redshirt sophomore had scored nine points.
After holding his pose, DiVincenzo turned to head back down court while flashing a wink, aimed at a Villanova section of San Antonio's Alamodome, but intended for a specific person.
Josh Hart.
The former Wildcat and current rookie with the Los Angeles Lakers has something of a sibling rivalry raging with the man known as The Michael Jordan of Delaware.
"Me and Josh have a unique relationship," DiVincenzo said, flooded by media after scoring 31 points in a 79-62 title game win over Michigan, wearing a shirt that was drenched by a celebratory postgame water fight while the piece of net tied around his 'Villanova: National Champions' hat had started to fray at the ends. "We love each other, but we competed against each other so hard. We got into a lot."
Both are ruthlessly competitive, even — particularly — in practice. DiVincenzo broke his foot eight games into his freshman season, which meant that he was forced into a redshirt role. His games were practice. His One Shining Moment during the 2016 run to a National Title came as a scout team player. "'Buddy Hield' Donte was a special person," Jalen Brunson, who is DiVincenzo's classmate despite being a year older, eligibility-wise. "It's someone that might have just came out tonight."
"When I got back from my injury and I was able to practice and work out, he didn't want me to have any good days," DiVincenzo said of Hart. "I would see him start to lose his cool a little bit and I would start to push his buttons."
And that's where the wink came from.
DiVincenzo wanted to let Hart know that he got a title of his own.
"That's my guy. I've seen him grow up, seen him work, that's just love," Hart said, a smile on his face reminiscent of a father watching his son come of age. "All love for him. Obviously I won one, but it means so much more to me that they won one."
---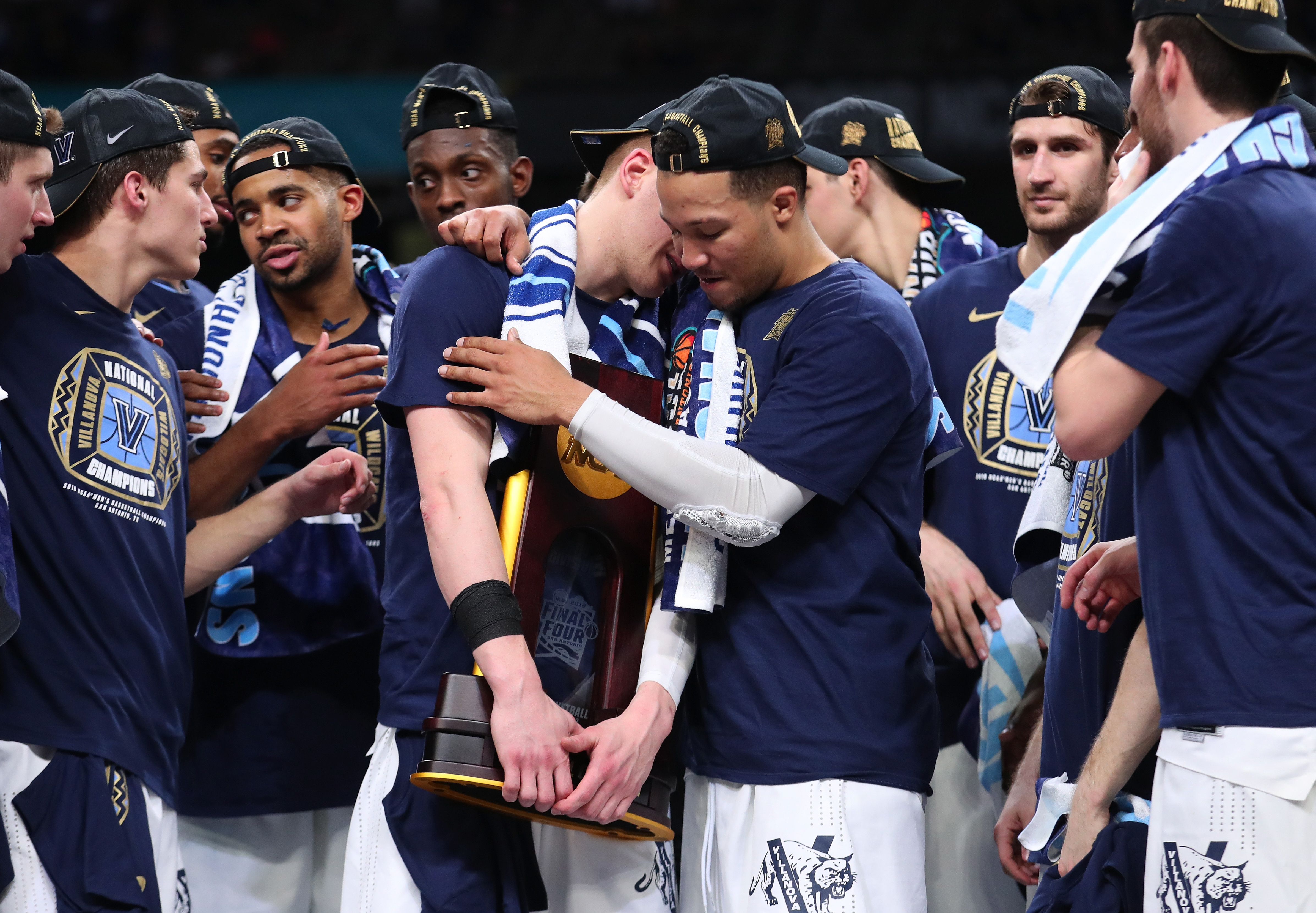 ---
Ryan Arcidiacono wasn't going to come to San Antonio this weekend.
Arch is currently on a two-way contract with a team that is in the thick of the race to win the No. 1 pick in the 2018 NBA Draft. Put another way, being the 16th-man on the roster of a team that is trying to lose games is not exactly the sign of a player that has job security. The Bulls played on Sunday night. They have another game on Tuesday night in Chicago, and the money that he's making isn't going to be paying for many private jets.
Arch ended up on a chartered flight out of Chicago that landed in San Antonio at 3:45 p.m.
By the time you read this story, he'll likely already be wheels down in Chi-town, a 6 a.m. departure making the possibility of sleep fairly unlikely. All told, he spent 14 hours boots on the ground in Texas.
Josh Hart's schedule was similarly complicated. His private jet from Los Angeles to San Antonio touched down around the same time that Arch's flight landed. Hart didn't even tell the team he was coming. They found out by watching his Instagram story.
Kris Jenkins?
He's been in town since Thursday, working on Villanova's scout team and giving his team a chance to scrimmage against a guy that had played in the G League this season. Kyle Lowry, Randy Foye, Kerry Kittles, Ed Pinkney. They were all in the Alamodome on Monday night.
"Without a doubt," Hart said, "this one is better than mine. I was there so I knew everything that it took to get. But to leave and then have the guys that you tried to help mentor take the program and elevate it to a new level."
And to a man, everyone on the Villanova roster now and everyone that made their way back to see the team play in San Antonio feels the same way. They all know each other, maybe not the way that classmates know each other, but the alumni are always around. They come back to campus to work out. The pickup games in the school's gym during the summer are the best run in the city if you can get an invite.
"They are TOUGH," Omari Spellman said with a smile, making sure to mention that the same issues plague their games — phantom travels, six fouls called when it is point-game — that plague your Sunday morning runs at the park. "Kyle Lowry is the cheater."
"As juniors and seniors, you need to take care of the younger guys," Arcidiacono said. "You know they're the next generation of Villanova basketball players. That's why you see alums like us take great pride in them winning a national championship because we feel like part of it as teammates. We taught them the way."
"I feel like I'm a part of it," added Jenkins, and that gets at the core of Villanova's success over the last half-decade.
Jay Wright made a conscious effort six or seven years ago to change the kind of player that he targeted in recruiting. No longer was he recruiting to a player's talent level, to their status in the various recruiting ranking there are out there, and hoping they would fit in with the Villanova Family. Instead, he begin identifying and targeting the players that he thought fit his idea of a college basketball player and then went from there.
Sometimes, that resulted in Villanova landing a McDonald's All-American like Jalen Brunson, but most of the time it meant that they brought in a lesser-known prospect — like a Kris Jenkins or a Josh Hart — because the fit made sense. Each and every one of those new additions understood what was going to be asked of them. You might sit on the bench for a year or two. You might even be forced to take a redshirt season.
Either way, it's not easy to do.
"Coming in, not playing right away, the system, adjusting to the college game, not being a real contributor like I would want to be," said Jermaine Samuels, who has played sparingly followed his recovery from a broken bone in his left hand. "You never know what will happen in a season, and the worst happened. I'll learn from it."
"I didn't know what to expect," Collin Gillispie added.
Gillispie, in fact, thought that he was going to have to redshirt this season, but that idea fell through once head coach Jay Wright realized just how much he was going to need his backup point guard.
He didn't want it to happen.
But he understood the importance of it because he understood the importance of a redshirt season in the development of Omari Spellman and Eric Paschall. Those two lost a combined 75 pounds in their year on the sidelines. They turned this Villanova offense into the juggernaut that it became.
It worked for DiVincenzo as well.
"We talked about it. He can learn from the sideline and see whats going on," John DiVincenzo, Donte's dad, said. "So it was a learning experience."
"We've been in it with these guys," Jenkins said. "They took the program and elevated it."
"We won it in 2016. For them to get here, it's just amazing."
---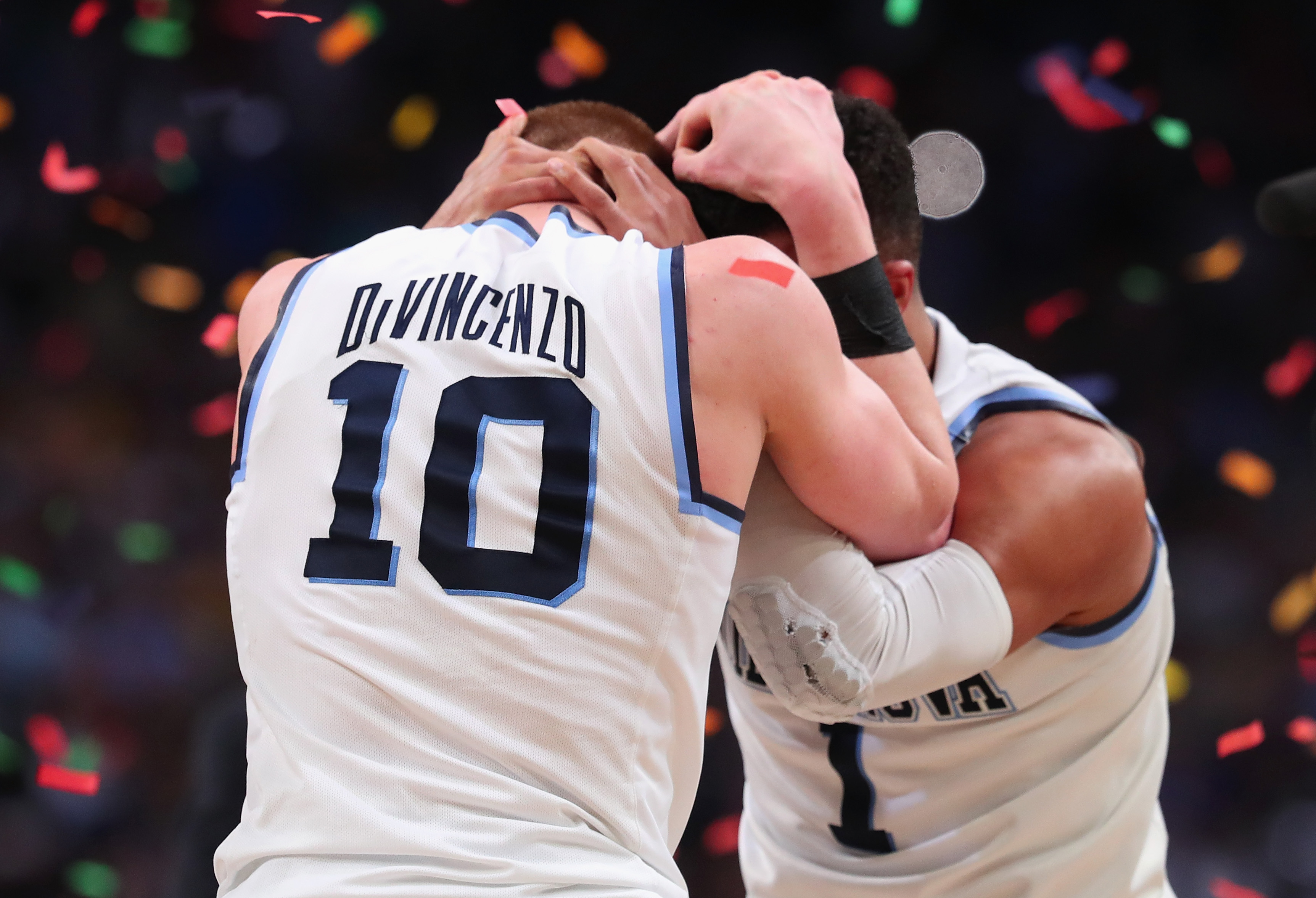 ---
The rivalry between DiVincenzo and Hart has cooled somewhat this season.
That's what happens when you don't have daily practice wars against one another, and it helped that Hart, once he graduated, told DiVincenzo that, "I see something in you. That's the reason why I pushed you so hard."
Hart made it to the stage after the win. He watched One Shining Moment from the same spot that he watched it in 2016, as did DiVincenzo.
The circumstances surrounding for DiVincenzo's celebration this season were wildly different than they were in 2016.
"I was on the bench in a suit," he said, a medical redshirt whose impact on the team was limited to scout team minutes. "That last play, the ball got to Kris and I had so much confidence in that shot that I was standing up before it even released."
On Monday night, with confetti falling around them and the tears starting and stopping, Hart told DiVincenzo how proud he is of his pupil.
"You finally got a ring!" Hart said.
DiVincenzo, ever the competitor, responded the only what he could: "No."
"I've got two now."