Big Dance withdrawal already? Fret not, as you can relive all the madness here, with the top 18 moments of the 2018 NCAA tournament.
18. Zhaire Smith does a Zhaire Smith thing
The Texas Tech freshman very well could be the best dunker in the country. Stephen F. Austin would be available as character witnesses about his credentials. Not too many guys in the country are going to be dropping 360-degree alley oops in a tourney game.
17. McQuaid's crazy bank
Michigan State made just 8 of 37 3-pointers against Syracuse as it saw its season end. One of those makes was really cool though. Matt McQuaid's blocked-then-banked triple at the first-half buzzer was the rare highlight for the Spartans against the Orange.
16. Two posters for the price of one
Wright State may have only gotten a few hours in the NCAA tournament, but Tennessee gave them a pair of posters to take home with them courtesy of Grant Williams and Admiral Schofield unleashing two viscous dunks in their opening-round matchup.
15. Rob Gray slays
The Houston star brought Houston back from the brink against San Diego State and became an insta-star of the tournament when he scored 39 points against the Aztecs. His entire performance will be etched in Cougar lore, but it'll be his game-winner that gets remembered by the country.
14. Loyola's run begins
It ended in the Final Four, but it began with a last-second 3-pointer to knock off sixth-seeded Miami in the first round. If not for that, Sister Jean would have never entered our lives, and we all would have been lesser for it.
13. Arizona's bizarre season comes to a close
It was an exceedingly weird season for Arizona. Injury, allegations, PEDs, losing streaks and Deandre Ayton being awesome, plus plenty more, made for a you-can't-turn-away year, but it also made for a lot of dysfunction. The fact that the Wildcats didn't look too sad to see it all end as Buffalo absolutely whupped them wasn't exactly surprising, but it was striking.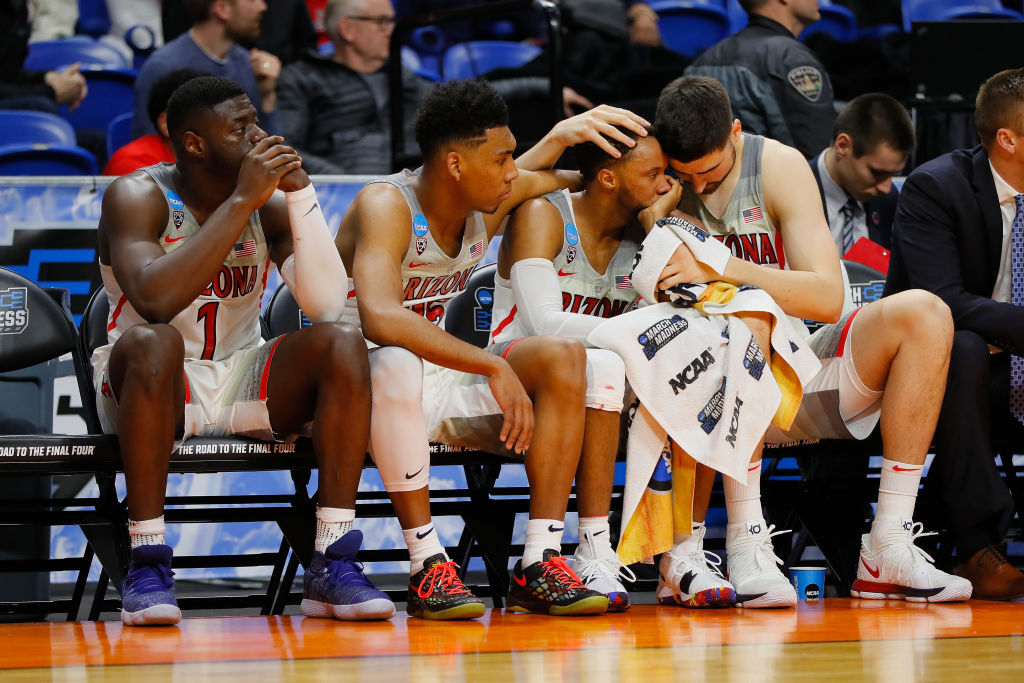 12. Dan Mullen takes his shot at Wichita State
Sure, most of the the best shots and most explosive fireworks came on the floor during the tournament, but Illinois State coach Dan Mullen landed his own bit of pyrotechnics with a simple tweet chiding Missouri Valley Conference defectors Wichita State after the Shockers' first-round upset loss.
11. Miles Bridges throws down
Sure, Michigan State's tournament ended with a dud – well, actually it was just a bunch of bricks – but at least the Big Dance was treated to a Miles Bridges special when the Spartan sophomore unloaded a nasty tip dunk against Bucknell.
10. Cincy Stunner
When you've got a 22-point second-half lead, generally you win. When you've got that kind of advantage in the NCAA tournament, you hold on to it for dear life.
Unless you're Cincinnati.
The Bearcats suffered an unconscionable combustion down the stretch against Nevada to cough up their huge lead and an amazing potential path to the Final Four when the Wolf Pack stormed back to end Cincy's season in the tournament's first weekend.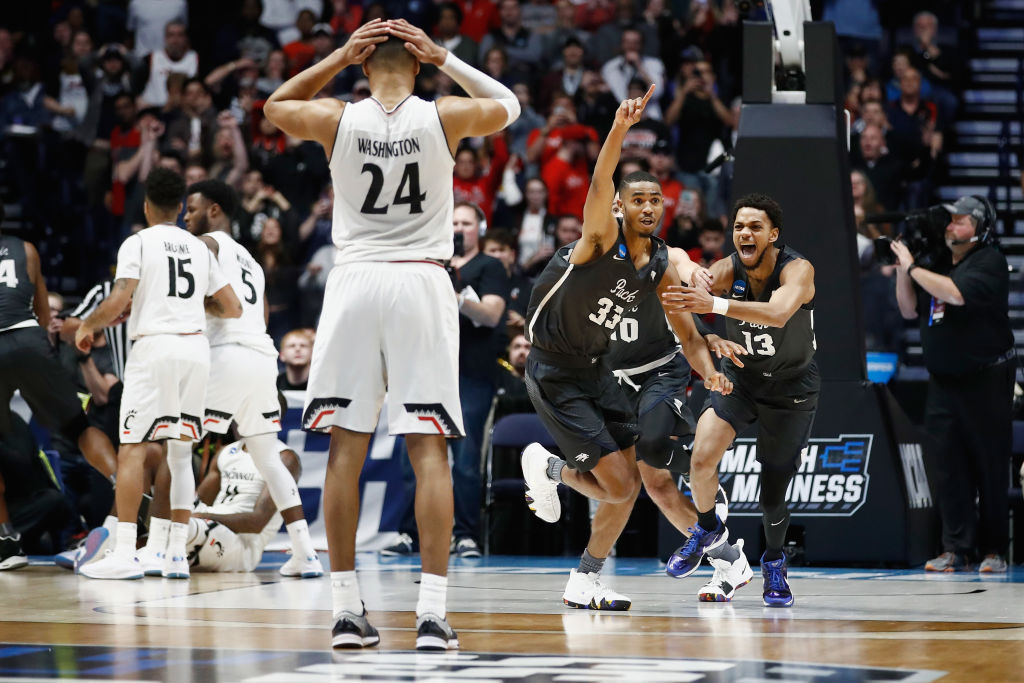 9. "Overdose of swag"
Michigan found its way to the national title game, but needed Jordan Poole to bail them out of the second round with his buzzer-beater against Houston.
The shot prompted John Beilein to say Poole has an "overdose of swag," which is honestly just about the most amazing compliment anyone has ever paid anyone ever.
8. Custer-beater
First it was Donte Ingram, then it was Clayton Custer. Loyola got a game-winner from the junior guard in the final seconds to earn its spot in the Sweet 16 and keep its magical Cinderella run alive for what would prove to be a Final Four season.
7. Leonard Hamilton is awkward
Maybe it's just the age and culture we live in, but I feel pretty confident that the most memorable thing about Florida State's Elite 8 tournament won't be the fact that the Seminoles knocked off Xavier and Gonzaga to get there but rather the weird way in which Leonard Hamilton answered a pretty straight-forward and legit question about his team's decision not to foul and extend the game in the waning seconds of its loss to Michigan.
6. Loyola's second weekend
Clutch shots, unselfish play, Cinderella status and general likability made Loyola the darling of this year's NCAA tournament. Whether it was a late 3 that lifted them past Nevada or the no-question-about-it handling of Kansas State to get to the Final Four, Loyola was just a ton of fun and looked the part of a national semifinalist.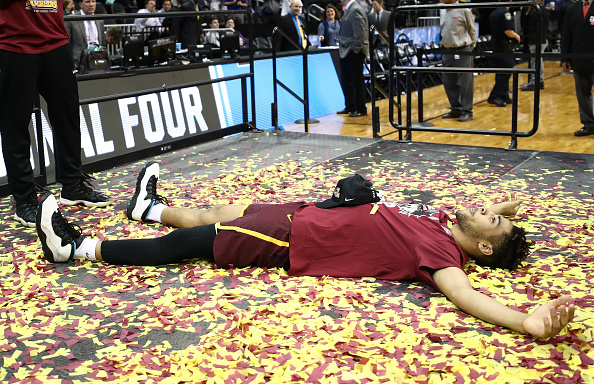 5. Grant Hill becomes a meme
Luckily for Bill Raftery, breaking your glasses is a temporary problem. Unfortunately for Grant Hill, becoming a hilarious meme is forever.
4. Sister Jean mania
This tournament will be remembered for plenty of things. Just keep reading this list and you'll find plenty of memorable moments. If, though, in 25 years we look back and think of a single person from this year's tournament, I wouldn't be the least bit surprised if it was Sister Jean.
The 98-year-old nun and team champlain stole the show who her hoops knowledge, charm and wit.
3. Grayson Allen's game-winner spins out
Grayson Allen nearly had his Laettner moment. The Duke senior's shot that would have secured the Blue Devils' spot in the Final Four with an iconic moment in a classic game simply just didn't drop.
It was an amazingly apt end to a career that was incredible for plenty of reasons.
2. UMBC realizes the impossible
Everyone knew it had never been done. After 135 tries, the question became could it be done?
UMBC said yes.
The Retrievers became the first-ever 16 seed to upend a No. 1, with their shellacking of overall top seed Virginia in the first round. They won fans over with their play and fun Twitter account. What they really did, though, was make history.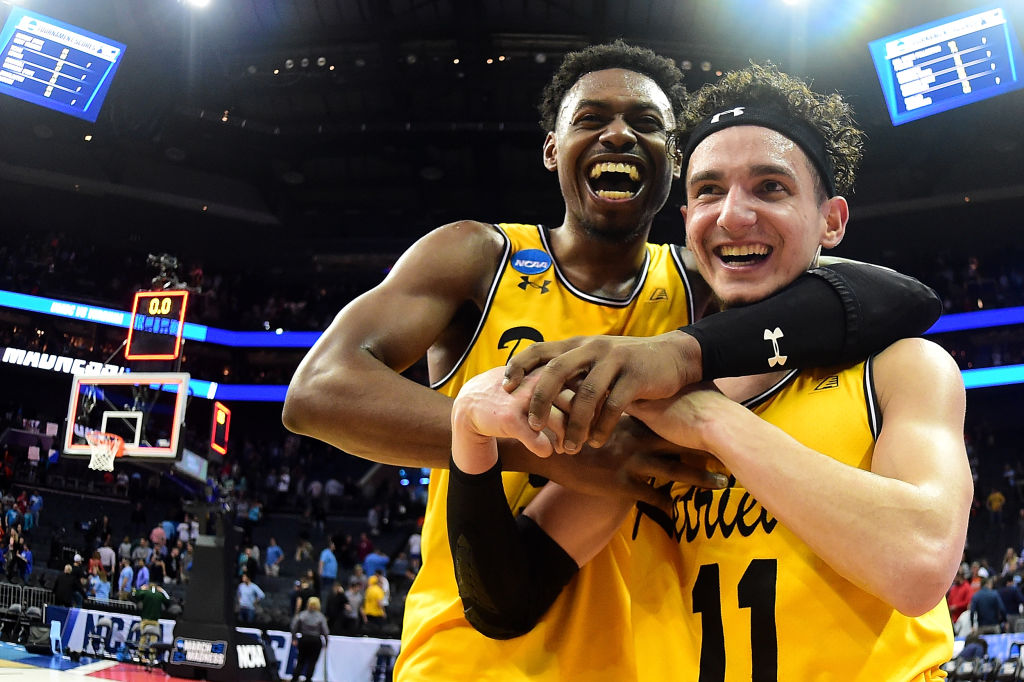 1. Nova cuts down the net
Donte DiVincenzo was unstoppable offensively and a stopper defensively while Villanova won its second title in three years. It was a dominant run through the tournament for the Wildcats, who established themselves as an elite squad when the narrative for much of this season was that no such thing existed.
When the curtain came down on 2017-18, Villanova was the star of 'One Shining Moment.'