SAN ANTONIO — Villanova is now just one win away from putting together what may be the greatest five-year stretch in modern college basketball history.
Think about this.
Since the Wildcats moved to the new Big East, they've won four Big East regular season titles and three Big East tournament titles. A win on Monday night would give them a 165-21 record over that stretch, which is the most wins in a five-year period for any program since the NCAA tournament field expanded to 64 teams. That's an average of 33 wins and 4.2 losses per years. Incredible.
Perhaps even more incredible is that in that five-year stretch, the Wildcats are 88-15 against Big East competition, and while the new Big East is not what the old Big East was, it has been a top three league in the country, according to KenPom, for the last four seasons. It produced two No. 1 seeds this year. It's one of just two power conferences to play a true round-robin league schedule.
The Big East is a bear.
And Villanova has run through it like the Kool Aid Man runs through walls.
Oh, yeah.
If there is a criticism of Villanova during that stretch, it's that they have had their struggles in the month of March. They never lost in the second weekend of the tournament. They either made it to the national title game or they lost in the second round as a No. 1 or 2-seed. I think that has more to do with the fluky nature of the event and the fact that Villanova is a three-point shooting team that is prone to some off-nights, and the fact that they would have two titles under their belt does help my theory.
On the other side of the ball you have John Beilein and Michigan, and if he can find a way to win this game it would be the most fitting ending to this season for a man who is a national title away from putting together one of the sport's most impressive coaching résumés.
Beilein has risen through the coaching ranks, from high school to JuCo to Division III to Division II to Canisius and Richmond and West Virginia before arriving at Michigan, on the back of his ability to be an offensive tactician. He's brilliant, one of the guys that helped to found this small-ball movement in the college ranks back when having centers — like Kevin Pittsnoggle, remember him? — firing up threes was something that was not normal.
But this Michigan team is in the national title game because they are an elite defensive unit, and they are an elite defensive unit because Beilein understood his weaknesses as a coach and hired a man — Luke Yaklich — that could slide in and work as his defensive coordinator.
And if this Michigan defense finds a way to slow down this Villanova juggernaut and cut down the nets, it would be the feather in the cap of what is already a remarkable coaching career.
Here's everything you need to know about the national title game: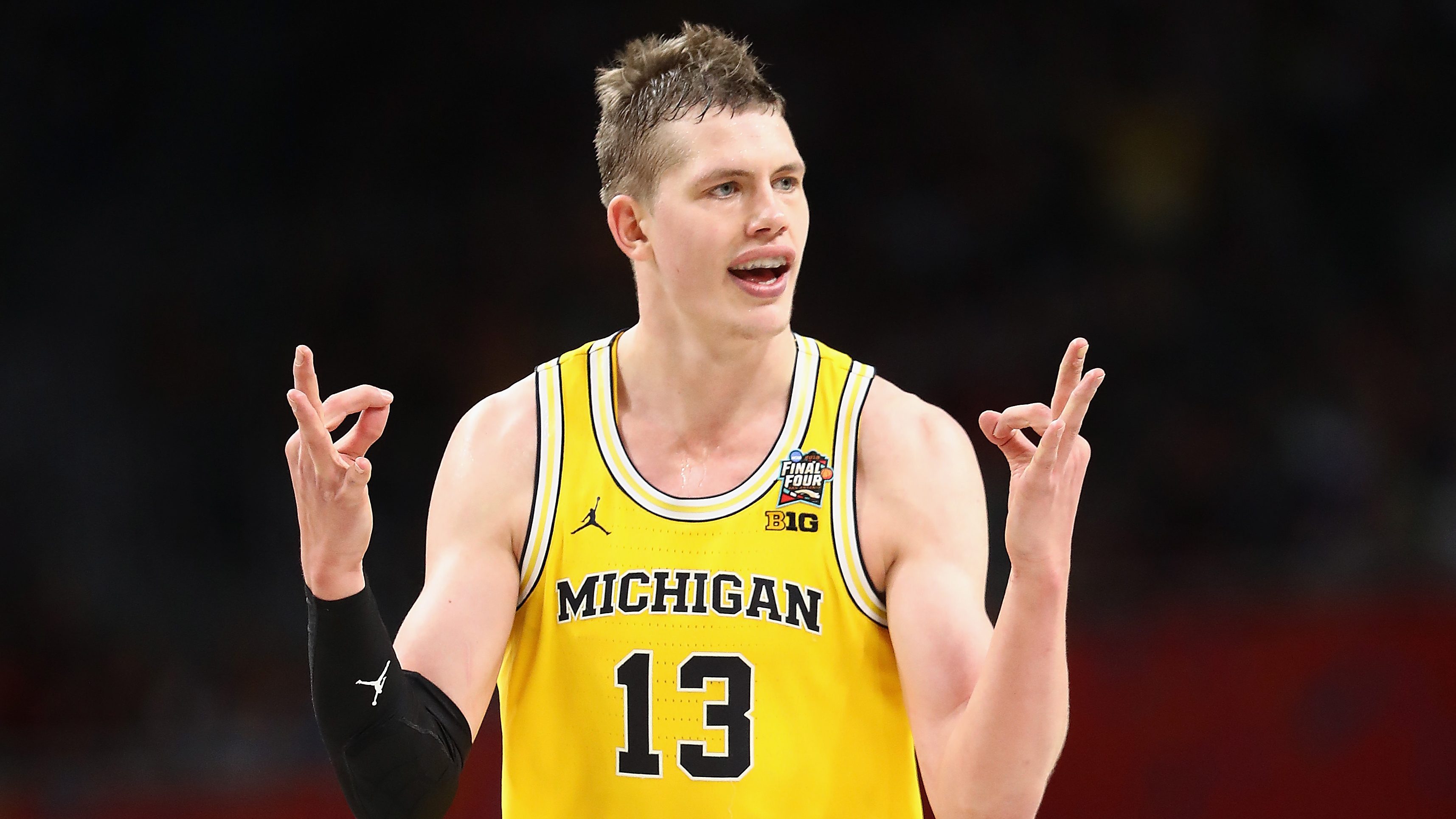 THREE KEY MATCHUPS
1. ZAVIER SIMPSON vs. JALEN BRUNSON: We all know about Brunson at this point.
Or at least you should.
Every National Player of the Year award that has been given out this season have been given to Brunson, and deservedly so.
And Simpson?
Over the course of Michigan's run through the Big Ten tournament and the NCAA tournament, he's been one of college basketball's best defenders. He's taken away a number of terrific point guards, and while I do not think this is ever going to be quite as simple as "take away Jalen Brunson", Simpson is going to be tasked with slowing him down. That is no easy task.
But the other side of the ball is just as important. Simpson was not good on Saturday night against Loyola, and that's putting it nicely. It's a major reason why they struggled to score against Loyola's switching defense, and if you know anything about the way Villanova defends, you know they love to switch.
2. MO WAGNER vs. OMARI SPELLMAN: Wagner and Spellman cancel each other out, in a way. Both of these guys are versatile, stretch-fives that create space and mismatches because of their ability to shoot the ball. One of the things that killed Kansas last night — and, frankly, one of the reasons that Michigan was able to make their comeback on Loyola in the second half — was that Spellman and Wagner, respectively, were able to force their opponents to play a way they didn't want to play. Spellman nullified Udoka Azubuike's interior dominance. Likewise for Wagner and Cameron Krutwig.
On Monday, they'll be chasing each other around on the perimeter, seeing who is going to be able to slow the other down.
Frankly, I think it is more important for Spellman to find a way to slow down Wagner than vice versa simply because Wagner is more important, offensively, to Michigan than Spellman is to Villanova. Put another way, Villanova can win this game is Spellman struggles. I don't think Michigan can win if Wagner does, not against this Villanova juggernaut.
3. WINGS ON WINGS ON WINGS: Villanova loves to switch defensively because they have so many pieces on the floor that can play more than one position. Eric Paschall is athletic enough to say in front of a point guard. Jalen Brunson is strong enough that it is not going to be easy for a post player to get good position on him.
But the key is their wing guys — DiVincenzo, Mikal Bridges, Phil Booth — and their switchability. Michigan struggled with that against Loyola, and as good as Loyola was, Villanova might be better at it.
It works on the other end of the floor as well, too, because Michigan actually has the defenders and the athletes to match up with Villanova's perimeter weapons. What makes Villanova so good offensively is that they have a roster full of players that can all shoot from three and make plays on the perimeter. But Wagner can chase Spellman around just like Michigan's myriad of athletic wings — Charles Matthews, Muhammad-Ali Abdur-Rahkman, Isaiah Livers, Jordan Poole, Duncan Robinson — can chase around Villanova's best shooters.
THE BEST STORYLINE
You mean beyond Villanova trying to become the most successful program over the course of any five-year stretch? Or Michigan and John Beilein trying to win him his first national title and officially become a basketball school?
Those are the big storylines.
But my favorite storyline here is that these are the two men that are more or less responsible for bringing small-ball to the masses in college hoops. Villanova started the trend back in 2005, when Curtis Sumpter tore his ACL and the Wildcats were forced to play with four guards. Beilein was one of the first to run ball-screen heavy offensive attacks and space the floor with shooters on top of shooters on top of shooters.
I think the biggest storyline here will be how this affects the rest of the sport. Everyone on the planet saw the Villanova buzzsaw last night. They tied the record for the most threes in a Final Four game by halftime, and Michigan might be the only team that can matchup with their versatility.
Is this the national title game that changes it all?
Is this college basketball's Golden State Warriors moment?
AND THE WINNER WILL BE …
Villanova. They've now won eight tournament games — both Big East and NCAA — by an average of 18 points. Every game they've played has been a double-digit result. They are a machine that has it all rolling at this point, and not even that vaunted Michigan defense will be able to slow them down.