1. WILL THE NATIONAL CHAMPION BE A 'CLEAN' PROGRAM?
The best part about the 2018 NCAA tournament has been that the insanity has allowed us to stop focusing on the fact that the 2017-18 season was one dominated by all the wrong headlines.
From the FBI's investigation into corruption in college basketball to the arrest of four assistant coaches in September to Rick Pitino's firing days later to the players that were barred from competition this season to allegations that Michigan State and Tom Izzo covered up sexual assaults in the basketball to the reports from Yahoo and ESPN that the likes of Deandre Ayton and Miles Bridges had been implicated in the FBI's investigation, it has been bad headline after bad headline.
And I didn't even mention that three UCLA players, including LiAngelo Ball, were arrested in China in November, an incident that led to Donald Trump and LaVar Ball having a war of words on twitter and network news.
It's been such a relief talking about 16-seeds beating 1-seeds and Sister Jean's appearance in the Final Four, I cannot even tell you, and if Karma is a thing, it probably played a role in the likes of Arizona, Auburn, USC, Louisville and every other program that was mixed up in the FBI's investigation having their season end earlier that expected.
But that leads me to the next question: Are we sure that all of the teams in the Final Four are clean?
I'll never say never — in this day and age, I'm not going to vouch for anyone, not in this climate — but I would be fairly surprised if shoe companies were funneling players to Loyola-Chicago. In the eyes of most coaches in the business, John Beilein is presumed to be clean, to run his program without skirting NCAA rules, and Jay Wright is right there as well; most kinds that are looking to get big payouts for playing in college aren't the kind of kids that are willingly going to programs where they'll redshirt and spend four or five years in college.
Kansas?
Well, that's a bit of a different deal. as one coach said to NBC Sports after last month's bombshell reports from Yahoo and ESPN, "Bill Self is bulletproof." He's recruited one-and-done kids for years. He's one of the flagship programs for Adidas, who had two executives arrested in the FBI's sweep in September. And remember, their top recruit this season — Billy Preston — never actually suited up. This is has been one of the biggest topics of discussion in coaching circles for the last six months.
And it begs the question: In five years, is the NCAA still going to recognize this run to the Final Four?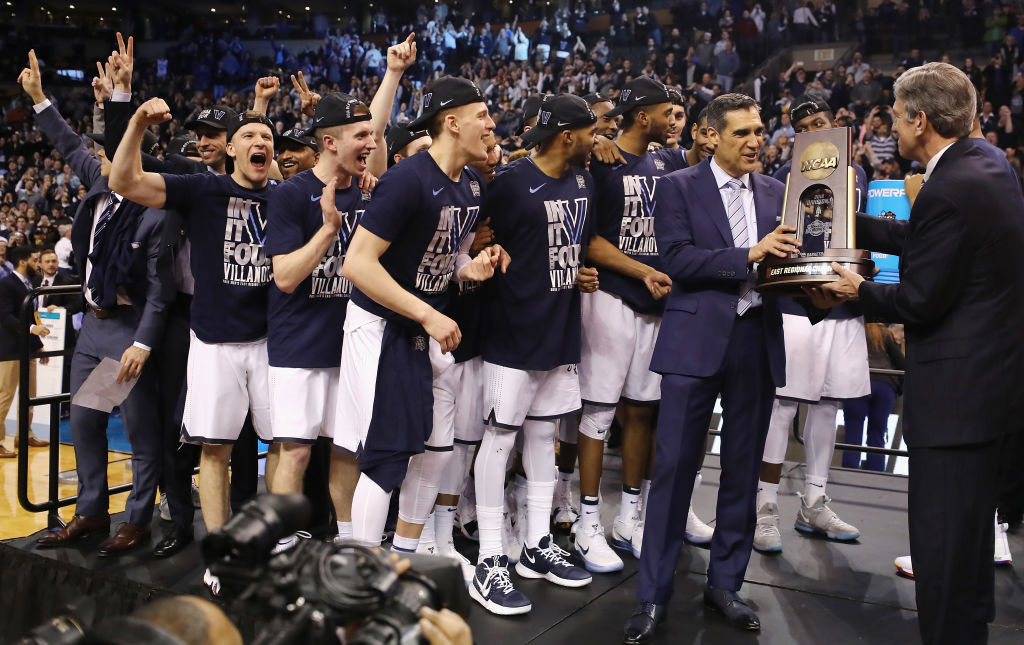 2. IS VILLANOVA THE BEST PROGRAM IN COLLEGE BASKETBALL TODAY?
Since the Wildcats made the move to the new Big East prior to the 2013-14 season, this is what they've managed to accomplish:
Entering this weekend, they have a 163-21 record, meaning they've averaged 32.6 wins and 4.2 losses during that span. They have a 77-13 record in Big East play, which includes four Big East regular season titles and this year's second-place finish. They've won three of the last five Big East tournament titles. They won the 2016 national title and are the favorite to cut down the nets in San Antonio this season.
Who has been better than that?
Let's start with the teams that have won a national title: UConn has been a train-wreck since winning in 2014, and even if you want to go back to 2013, Louisville would not be in that conversation, either. Duke won the 2015 national title but they have not won an ACC regular season title since 2010.
North Carolina is probably the only team that is in the conversation. They won the 2017 national title and reached the 2016 national title game, losing to Villanova. They've also won just two ACC regular season titles — Virginia actually has three of the last five to their name — and just one ACC tournament title. In three of the last five years, they've lost double-figure games and finished third-or-lower in the ACC.
The argument that the ACC is better than the Big East does have some merit, but it's also worth pointing out that the Big East has been a top three league in the country the last four season, according to KenPom, and that they play a true round-robin conference schedule.
I say all that to say this: Win or lose, Villanova is college basketball's best program.
Which means this may not even be a story line. Just a fact.
3. WHEN DOES CINDERELLA'S DANCE END?
Loyola-Chicago is just the fourth No. 11-seed to reach the Final Four, following in the footsteps of LSU in 1986, George Mason in 2006 and VCU in 2011. None of those teams won a game in the Final Four. In fact, no team seeded lower than a No. 8-seed has ever won a game in the Final Four. Villanova won two in 1985, when they became the lowest-seed to win the national title, which UConn has been the beneficiary of the other two No. 8-seeds to win a game: Butler in 2011 and Kentucky in 2014.
The Ramblers have more than proven themselves at this point, and if they can find a way to beat a Michigan team that probably should have lost to No. 6-seed Houston in the second round, they'll do something that's never been done in the history of the sport.
This run still has some legs left in it.
4. AT WHAT POINT DO WE UNIRONICALLY CALL MICHIGAN A BASKETBALL SCHOOL?
The Michigan football program has not won a national title since 1997. They haven't even won a Big Ten title since 2004.
Michigan basketball?
They won the Big Ten regular season title in 2012 and 2014. They won the Big Ten tournament title in 2017 and 2018. They're back in the Final Four after getting to the national title game in 2013, and they made the Elite Eight in 2014 and the Sweet 16 in 2017.
I say all that to say this: Michigan is a basketball school now. Sorry, Jim Harbaugh.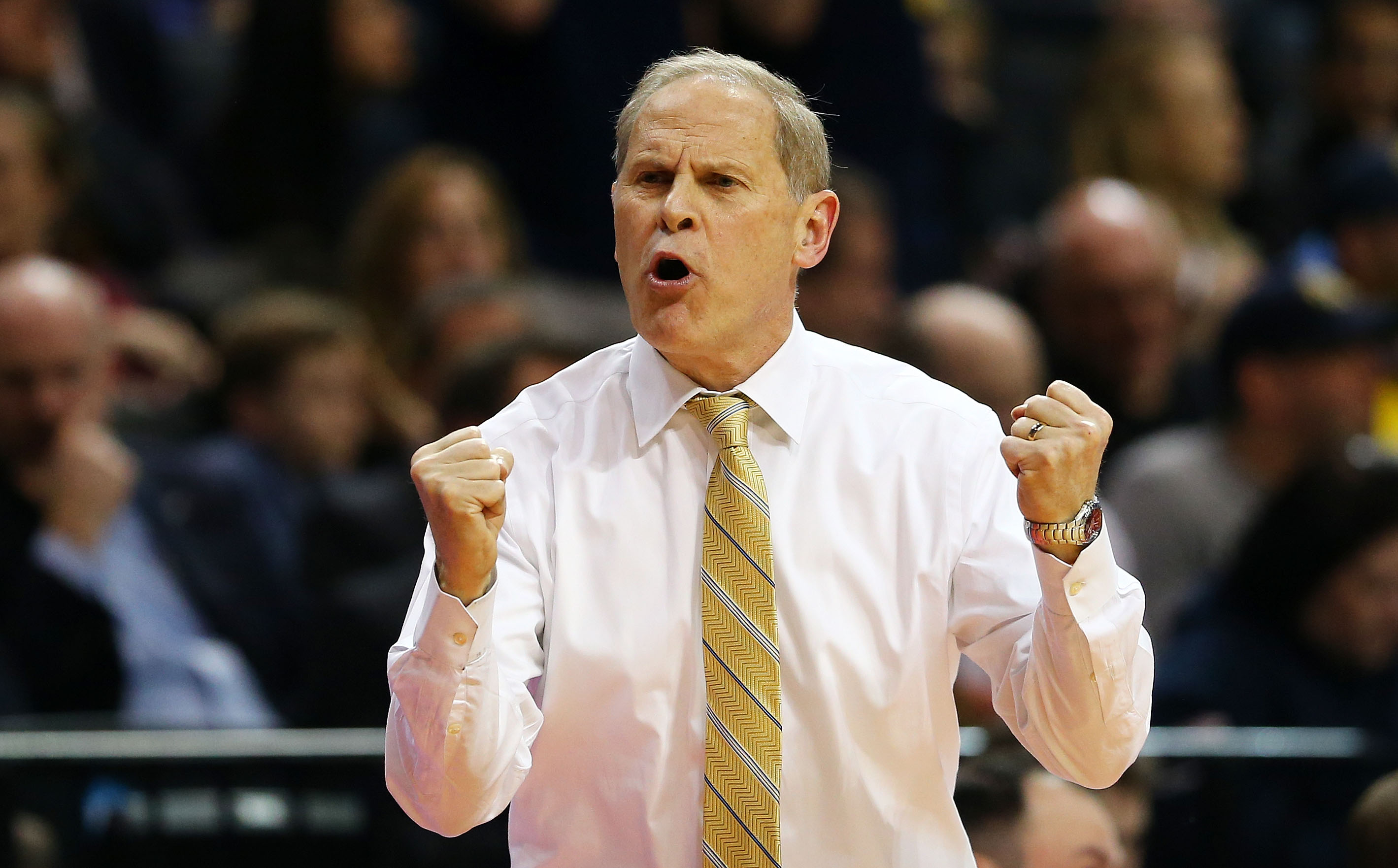 5. THE  POWER OF SMALL-BALL IS BACK
Villanova and Michigan have been at the forefront of the small-ball movement in college basketball. Jay Wright started it all the way back in 2005, when Curtis Sumpter tore his ACL prior to a Sweet 16 game against soon-to-be national champion North Carolina, and then re-tore the ACL before the 2006 season. Villanova spent the year playing with Allan Ray, Randy Foye, Mike Nardi and Kyle Lowry on the floor together, and that's before you consider that Sumpter was, himself, a mismatch four.
Michigan? John Beilein? He's the guy that made runs in the tournament at West Virginia while playing Kevin Pittsnoggle, three-point bomber, at the five. He is small-ball personified. Even Bill Self, the man that was known for years as one of two legendary coaches that refused to make the change to small-ball, is playing with four guards again this season.
6. THE ONE-AND-DONE FACTORIES AREN'T IN THE FINAL FOUR … AGAIN
Duke didn't make the Final Four. Arizona didn't make the Final Four. Kentucky didn't make the Final Four. UCLA didn't make the Final Four. None of the teams known for getting one-and-done players in every year advanced this far in the tournament, and there probably aren't any one-and-done players in this year's final weekend of college hoops.
We've been over that, though. It's the nature of the beast that is the NCAA tournament. Let's move on.
7. IS SATURDAY THE NATIONAL TITLE GAME?
Probably.
I'm sorry, Michigan and Loyola-Chicago fans, but Villanova and Kansas are the two-best teams left. That doesn't mean that the winner of Saturday's Villanova-Kansas nightcap doesn't have a chance of losing to whoever they will face on Monday night, but it does mean that they will be the heavy-favorite.
Put another way, no matter how this thing plays out and no matter who plays in the national title game, I will be picking the team on the right side of the bracket to beat the team on the left side of the bracket.
Sorry.