Carsen Edwards will see what the NBA has to say about him after a breakout sophomore season.
The Purdue point guard will declare for the NBA Draft but without an agent, the school announced Monday.
Edwards blossomed this season after averaging 10.3 points and shooting 38.2 percent from the floor as a freshman, he put up 18.5 points per game and shot 45.8 overall and 40.6 percent from 3-point range this last year. He also tallied 3.8 rebounds and 2.8 assists per game.
And he produced one of the best GIFs of the year.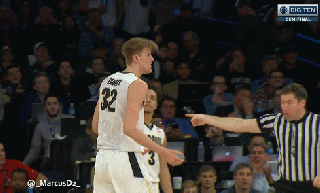 Edwards would seem a likely candidate to return to school, but his ascendant sophomore season certainly bolstered his stock. Getting in front of NBA teams – whether in workouts or the combine – is definitely the prudent move for the 6-foot-1 point guard.