BOSTON — Gamesmenship.
Intimidation.
Scare Tactics.
Whatever you want to call it, that's what was happening on Saturday afternoon in the bowels of Boston's TD Garden.
Texas Tech's basketball program traveled with a massive speaker to the East Regional. Since the NCAA limited the amount of time that the Red Raiders were allowed to have on the practice court during the off-day before the start of the Elite Eight, Tech made the decision that they were going to maximize those minutes by warming up and stretching before they actually made it to the floor.
So they set that speaker up in the hallway and did what they needed to do to get loose.
While blasting music that pulsated throughout the arena, including into Villanova's locker room, which was less than 100 feet down the hallway. This wasn't just an attempt at trying to rattle Villanova — loud music is just what Texas Tech does — but if you don't think that the Red Raiders knew what the by-product of that music would be, then you probably don't think that the Little Giants popping a few Alka Seltzers was an attempt at intimidation, either.
It may have backfired.
"I was bobbing my head. It was good music," Villanova's resident veteran Phil Booth said. "It got me a little hyped up. You were probably thinking [I would say] something else, but that doesn't bother us at all."
It wasn't the first time that Villanova had one of the "beasts of the Big 12," as Booth put it, try to do something to get into their heads. In Friday's Sweet 16 matchup with West Virginia, Daxter Miles was jabbering throughout the first half and Jevon Carter was doing all the things that Jevon Carter does. Sagaba Konate, after he blocked Mikal Bridges on a dunk attempt, wagged his finger at the crowd and, after a timeout a couple of minutes later, tried to eavesdrop on a Villanova huddle.
Again, it may have backfired.
"Don't do that, man," Booth said to Konate as he slowly walked him back. The only member of the Villanova huddle that actually reacted was assistant coach Kyle Neptune, and he didn't do much more than yell.
You can try your damnedest, but this Villanova team, they don't rattle.
It's part of the reason they were able to land a win on Sunday afternoon, in a game where they did exactly what we thought would cost them a chance at a national title: Throw up bricks for 40 minutes.
---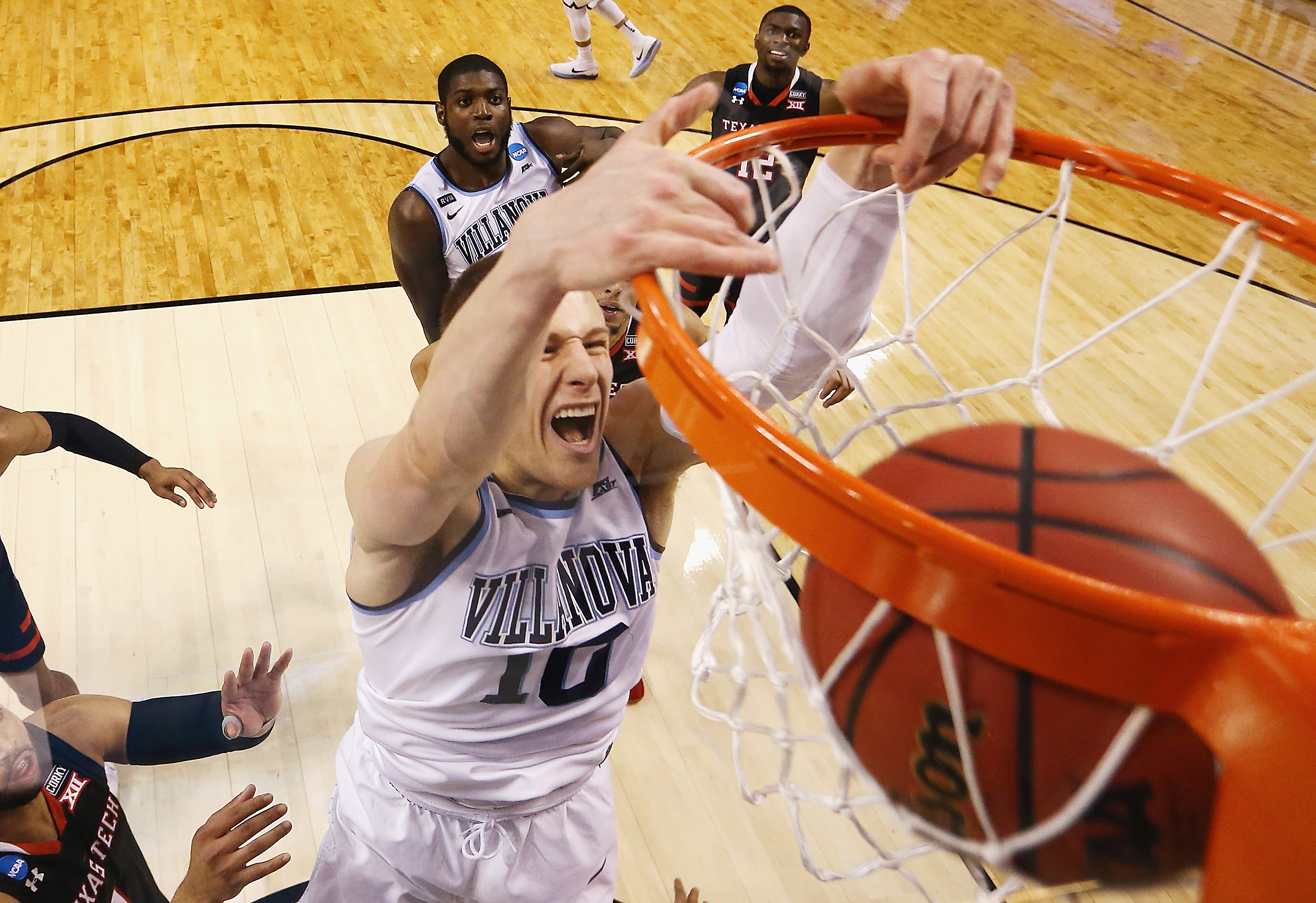 ---
As ugly as Sunday's win was, as unappealing as it is to see two teams struggle to crack 35 percent shooting from three and 25 percent shooting from beyond the arc, there was a certain comfort that the East's No. 1-seed Villanova and their head coach, Jay Wright, can feel after knocking off No. 3-seed Texas Tech.
They won this game in the most un-Villanova way possible.
They played a team that loves themselves a good rock fight and beat them at their own game.
You see, no one in college basketball shoots more threes than Villanova does.
Well, that's not exactly true. Out of the 351 teams in the sport, there are 11 that shoot a higher percentage of their field goal attempts from beyond the three-point line. There are 14 that get a higher percentage of their points off of three-pointers. There are eight that shoot a higher percentage on those three-point attempts. And just one of the teams above them played in the NCAA tournament this year — Davidson.
So maybe I should rephrase that.
Villanova doesn't shoot more threes than anyone in college basketball, they just shoot more threes than anyone in college basketball that was actually good this year.
And on Sunday, in their 71-59 win over Texas Tech, the Wildcats shot the ball like a Church League team playing on a Sunday morning after a three-day bender than the team sitting atop KenPom's rankings and heading to their second Final Four in the last three years. They were 4-for-24 from beyond the arc, a cool 17 percent, while making just 33 percent of their shots from the floor. The Wildcats, on the season, are not only college basketball's most efficient offense, but they've been one of the most efficient offenses that we've ever seen in the sport.
Put another way, this team wins because they get buckets better than anyone in recent memory has gotten buckets. And the question all season long has been what will happen if and when they have an off-night in March.
We got the answer Sunday.
Villanova grabbed a season-high 20 offensive rebounds on Sunday, none more emphatic that Donte DiVincenzo's tip-dunk in the second half. They held Texas Tech to 34 percent shooting from the floor and a 5-for-19 night from three. They kept the Red Raiders, who appeared to have the size and athleticism advantage, from doing all that much damage in the paint; The Red Raiders shot just 6-for-23 on layups, with Villanova providing just enough rim protection that Texas Tech's second half surges never really got going.
And that, in the end, was the biggest theme of the afternoon. Villanova did not play all that well, but every time it felt like Chris Beard's club was going to make a run at this thing, they made a play to keep them at arm's length.
Here's what I mean: With a little more than five minutes left on the clock and Villanova's lead cut to five points for the first time since there was 6:33 left in the first half, Texas Tech's Zach Smith — one of the best athletes you'll ever see play the sport of basketball — had a shot around the rim blocked by Eric Paschall when it looked like Smith had him beat. Jalen Brunson corralled the loose ball and found a streaking Phil Booth for a layup at the other end of the floor that pushed Villanova's back to seven points.
DiVincenzo's put-back dunk was exactly the same kind of thing. Tech had again cut the lead to five points when he slammed home a missed three from Mikal Bridges.
And that, at the end of the day, was the difference.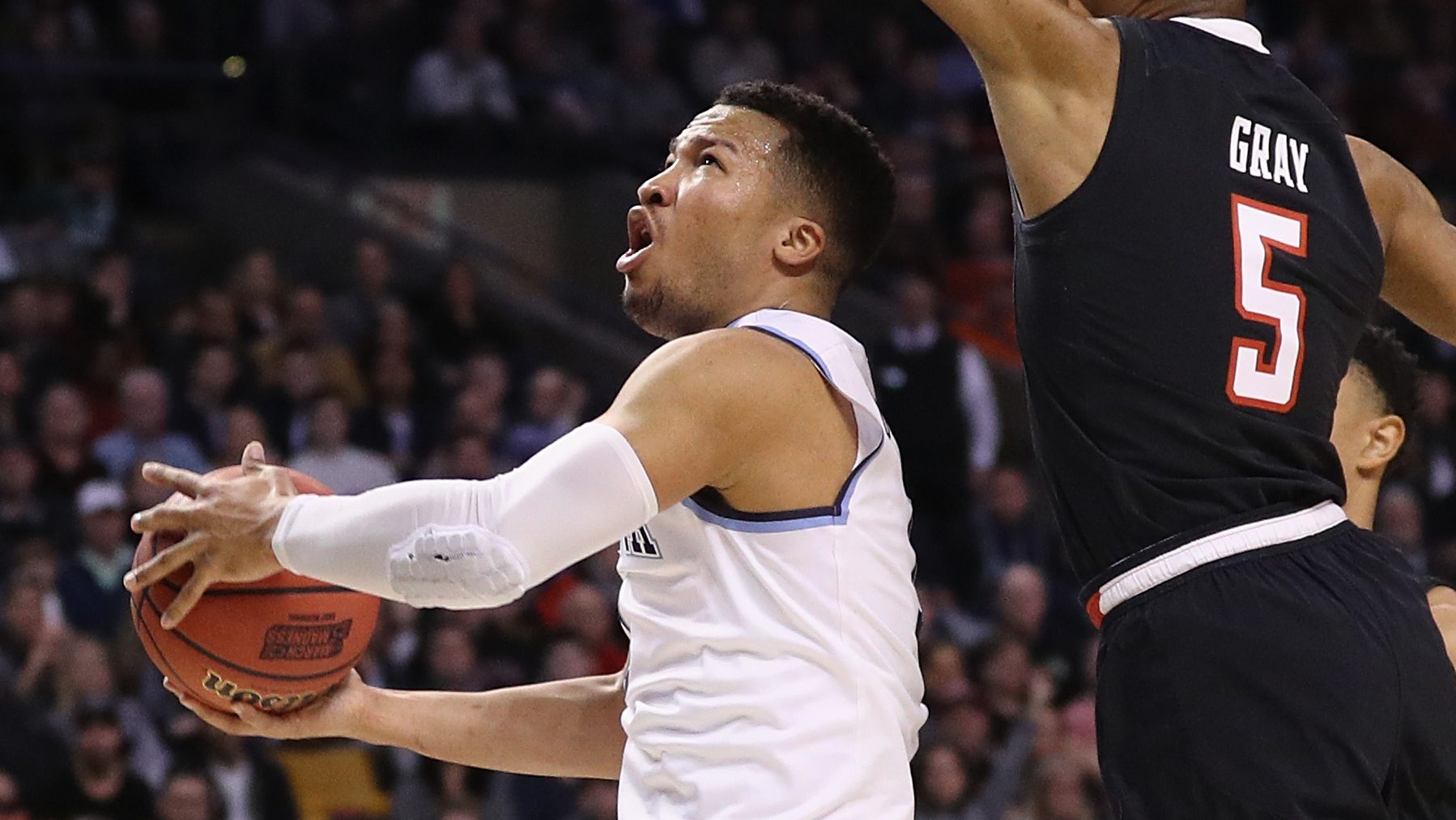 "We were playing well offensively throughout the whole year," DiVincenzo said. "But we knew that we can't just get by on offense. We were going to run into a team that can really lock down and not hit shots."
"Coach has been talking about it all year. We've done it to an extent through the tournament, but we ran into a team today and we weren't making shots. We had to grind with them."
For a team that has built their brand around their offense, around a free-flowing, position-less style of basketball that is based on the fact that everyone on the roster can shoot and they can just as easily post their point guard and let their center bang threes as vice versa, this is their warning shot.
You're not going to be able to punk Villanova.
"We can't let them get in our head," Booth said. "That's what they want."
"That comes from coach and that comes from our leaders," DiVincenzo added. "Those guys never show emotion. They never flinch. They stick to what we do."
But we've known this, particularly with Jalen Brunson. As Xavier head coach Chris Mack famously said earlier this season, "If you peeled his face off you'd probably have wires coming out."
That wasn't the case on Sunday.
"He cracked a smile tonight when he looked at me," Divincenzo said, a grin stretching ear-to-ear.
"First one in a long time."