"It's March, dude," Kyle Guy said.
He's sitting in a folding chair in front of his locker, an ACC title shirt over his jersey and a piece of net tied to his ACC title hat with the ACC title trophy that he carried from the court sitting directly across from him. He was answering a question about why a team that has been as consistently good as Virginia has been can so reliably find themselves out of the NCAA tournament before the season's final weekend.
"Anything can happen."
I doubt Guy had any inkling how prescient he was.
Because on Friday night, just six days and an eternity after that moment in the locker room, the impossible happened.
For the first time in the history of the planet, a No. 16 seed beat a No. 1 seed in the NCAA tournament.
And let me be perfectly clear here: UMBC did not just beat Virginia. They ran the Wahoos straight outta Charlotte. The America East champs used 17-3 run to open the second half, taking a 38-24 lead without looking back. Virginia never cut the deficit to single-digits. By the end of the game, I found myself saying, "dang, fellas, you don't have to run up the score." The Retrievers not only dribbled out the clock on their final possession of the game, they ate the turnover that came with it.
Because by that point, Virginia had quit.
What's a shot clock violation when you're up 74-54 on the No. 1 overall seed in the NCAA tournament?
What's a turnover when you've just completed the greatest upset in the history of the sport?
What actually matters when you've made history, and done it in such resounding fashion?
Think about this: Not only did UMBC become the first No. 16 seed to beat a No. 1 seed, but they also beat Virginia by a larger margin than any No. 14 or No. 15 seed since the bracket expanded to 64 teams. Prior to today, the largest margin of defeat for a top three seed in a first round game was by 14 points. Georgetown managed that as a No. 3 seed in 2010 against Ohio, as did West Virginia, a No. 3 seed, in 2016 against Stephen F. Austin. The most a No. 2 seed had ever lost by was 13 points, when South Carolina fell to Coppin State in 1997.
Virginia lost by 20 points.
And perhaps the least shocking part of this entire night is that it was Virginia that did it, that the one program known for collapsing in March more than anyone else found a way to ensure that their names will never be erased from the record books, that they will forever and always be associated with the Dark Art Of Choking.
"A week ago, we were cutting down the nets at the ACC tournament, how good that felt," head coach Tony Bennett said with a grace and humility that few would have been able to muster in that moment. "They had a historic season. They really did. In terms of ACC wins, an ACC conference tournament championship and a historic loss, becoming the first No. 1 seed to lose. That's life."
"But that can't, in the end, define these guys, our team or us."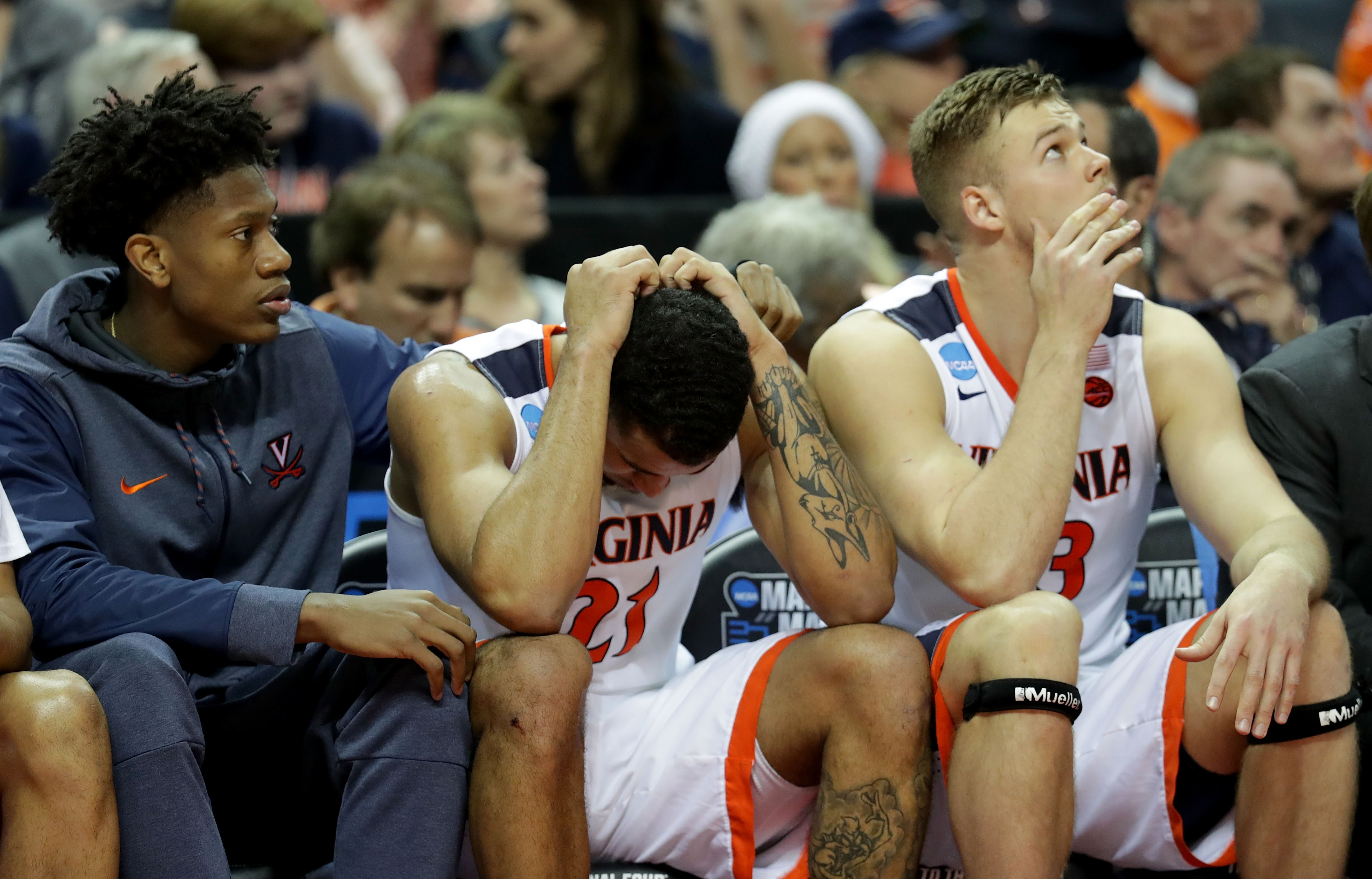 It may, however, be what defines the program, and that could end up being the biggest hurdle that Virginia has to clear moving forward. The mental aspect. How this affects his team between the ears.
The truth is that Virginia has an unbelievable season, one they had absolutely no business having. They entered the season ranked outside of the top 25, and that was totally justified. They lost a number of key seniors and transfers from a team that was a No. 5 seed. The most talented players on their roster were underclassmen. This was supposed to be the rebuilding year, and they instead went out and won the ACC regular season title by four games and followed that up with an ACC tournament title. They were the No. 1 overall seed, and that wasn't in doubt for weeks.
It was amazing.
Not even the most out of touch UVA fan — and trust me when I say that there are plenty of them that fall into that category — could have seen this kind of a season coming.
"This team maxed out more than any team I've had," Bennett said.
And no one is going to give a damn about any of it.
Not when they are the only No. 1 seed to lose to a No. 16 seed, and not when this program is known, above all else, for their inability to get the job done in March.
The kids in that program know the reputation they have. The alumni of the program do, too. Everyone that watches college basketball did before this season, and after what happened on Friday night, the entire world will now. Virginia will be branded as the choke artists. They are the Washington Capitals of college basketball, the Atlanta Falcons of the ACC, the Cubs before last October. English soccer fans will know them as 'Spursy', Lindsay Jacobellis on a snowboard.
And it's not hard to play armchair psychologist and read what happened on Friday as Virginia succumbing to the pressure of the moment. They had yet to give up 70 points in a game this season until UMBC went for 74. They gave up fewer points in 16 of the 34 games they've played this season than they did in the second half (53) on Friday night. As the seconds ticked by and they couldn't shake the Retrievers, panic started to set in. Then they got punched in the mouth at the start of the second half, spent five minutes trying to figure out what the hell happened and by then, it was too late.
The inconceivable became a reality.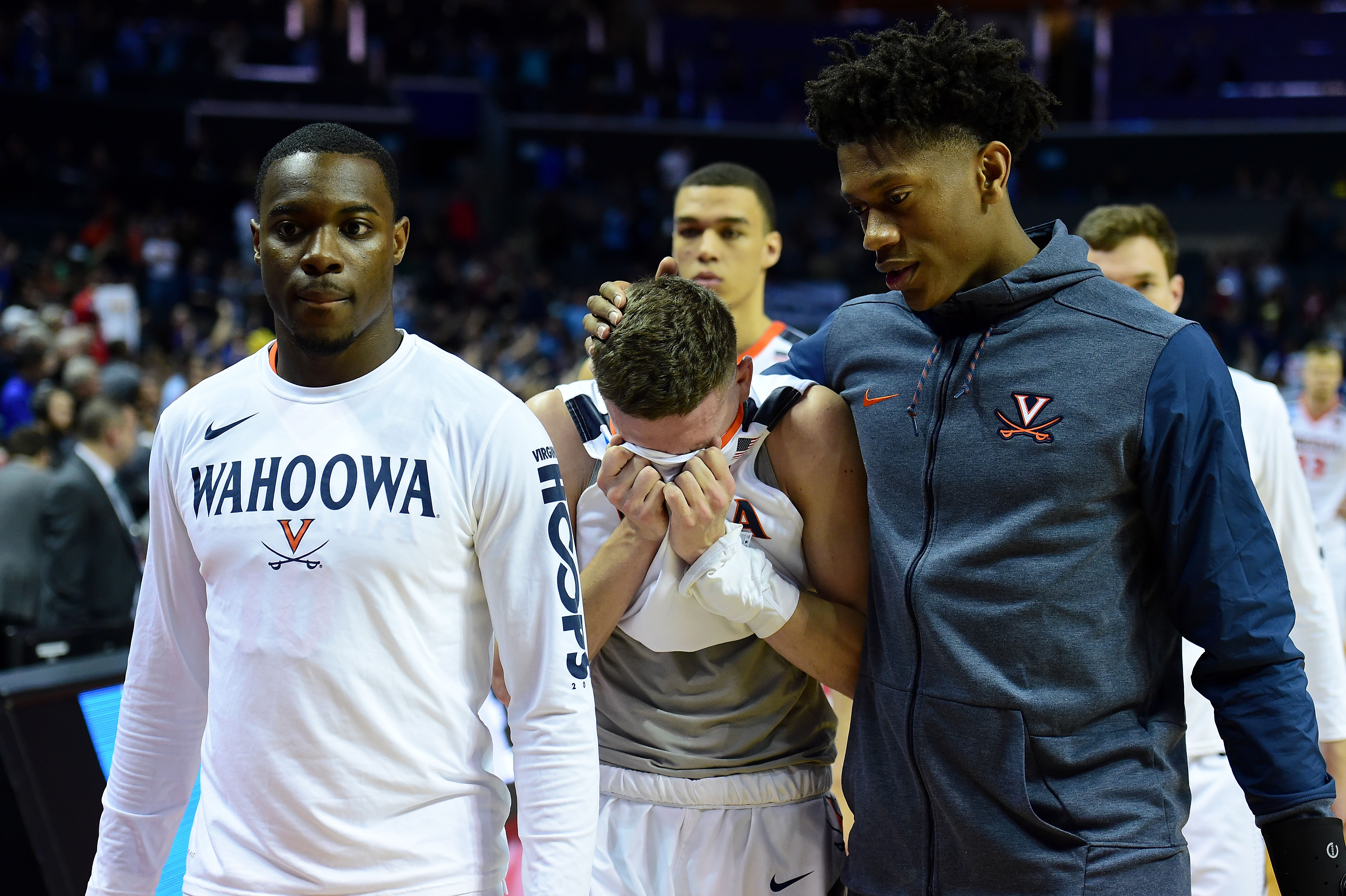 To me, the question isn't whether or not Virginia's system works in March.
(Because it does. They've won two ACC tournaments playing this way. They've always won three ACC regular season titles doing it. And if it wasn't for one ten-minute stretch at the end of an Elite 8 game — a stretch that was so impressive it got Malachi Richardson, who has played 47 NBA games in two years, picked 22nd overall — they would have a Final Four to their name already. There was a time when we all said that Mark Few wasn't good enough, and Bill Self wasn't good enough, or Jim Calhoun wasn't good enough. There are those that now will say that Chris Mack and Sean Miller, like Tony Bennett, can't coach because they don't have a Final Four on their résumé. You're only the best to never do it until you do it. Then you're just the best.)
My question is whether or not this program can, mentally, handle the rigors of a tournament run knowing what Virginia basketball stands for to the public at-large.
Bennett was asked about that after the game. He was asked how he'll go about rebuilding what is already a damaged psyche, and he answered it in quintessential Tony Bennett fashion.
"You'll remember this," he said. "It'll sting. Maybe a No. 1 seed will get beat again. Maybe not. Maybe we'll be the only No. 1 seed to ever lose. It's life. It'll go on. We'll have to get past that. For some reason, this is what we've got to deal with."
"My job will be 'how do we bounce back' with all our players, but a life lesson is sitting there about defining yourself maybe not by what the world says. There's other things that matter."