Shabazz Napier became an immortal figure in college basketball.
The former UConn point guard led the Huskies to a 2014 national title as a No. 7 seed.
And now that we know Kevin Ollie isn't a very good coach, Napier's heroics look even more impressive over time.
The All-American was a known player with an established track record entering the 2014 tournament.
His six-game stretch through March turned him a superstar who will likely be forever recognized.
He's the standard-bearer for a lead guard who took over and won a tournament.
Even LeBron wanted to play with Napier after that run.
In our quest to find a new Napier, we only considered teams below No. 2 seeds — since Napier's run wasn't from a major title favorite. That means some talented guards like Joel Berry, Jalen Brunson, Devonte' Graham and Carsen Edwards were left off this list. These New Napiers also need to be high-scoring, high-usage guards who consistently have the ball in their hands. Napier had four games of at least 22 points during his ridiculous six-game stretch. That means some great guards on balanced rosters were also left off this list.
The 2018 NCAA Tournament has plenty of potential Shabazz Napiers lurking in the shadows. Can any of them match the incredible run of 2014? Here are some schools with potentially new Napiers to keep an eye on.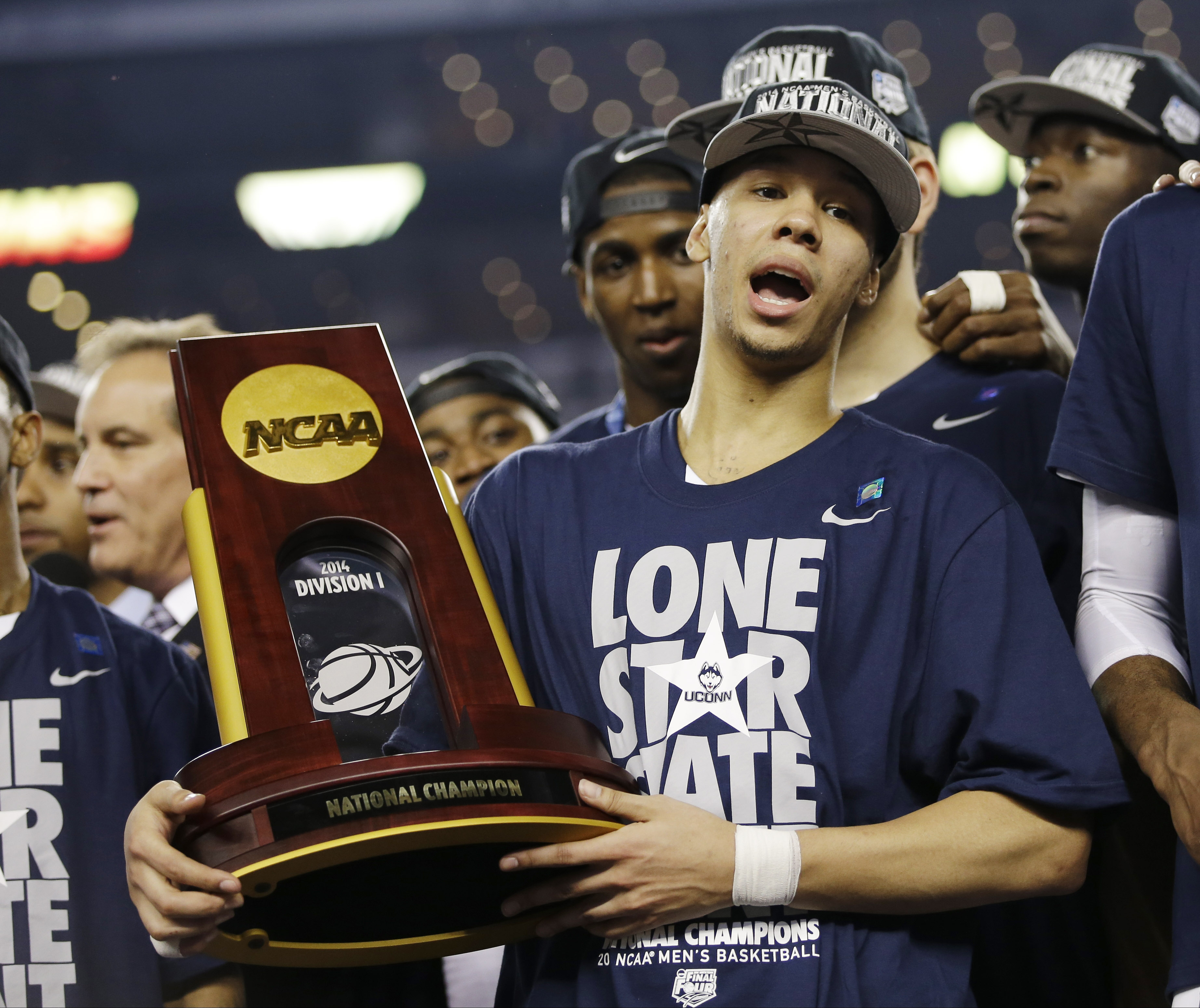 KEENAN EVANS, Texas Tech: Before suffering a turf toe injury late in the regular seasons, Evans was looking like a potential first-team All-American for the Red Raiders. Although the injury slowed him down a little bit, Evans had a knack for making big plays and big shots during the regular season. He was the clutch player Texas Tech needed on many nights. A second-team NBCSports.com All-American, the senior had two big scoring outings in his last three games. That could be a sign that Evans is healthier and ready to go for the Big Dance.
JEVON CARTER, West Virginia: The engine that makes West Virginia go, Carter is the top defensive player on this list while also being a credible threat on offense. The NABC national Defensive Player of the Year last year, Carter has improved his offensive consistency during his senior season. Putting up 17.0 points, 6.6 assists, 4.7 rebounds and 2.9 steals per game, Carter was a third-team NBCSports.com All-American this season.
ROB GRAY, Houston: If Shea Serrano hops on the bandwagon, you're probably doing something right. The Houston senior actually saw his scoring numbers dip this season but it was mostly because Gray became a more well-rounded perimeter threat. Still capable of dropping 30-point games on elite teams — Gray had 33 in an AAC semifinal win over Wichita State last week — Gray is a hard-nosed competitor on both ends of the floor. Don't be fooled by the man bun. Gray will defend the length of the floor and knock down cold-blooded perimeter jumpers with a hand in his face.
COLLIN SEXTON, Alabama: We already saw Sexton put together a major run during the SEC Tournament. So we already know that he's capable of carrying a team to victory over quality competition. Although the Crimson Tide fell short in the semifinals, Sexton's scoring outbursts and ability to create for teammates was a huge storyline in St. Louis. Sexton might have single-handedly put Alabama into the tournament with two quality wins when they were squarely on the bubble to begin the week. Does Sexton have another ridiculous run in him these next few weeks? Enjoy watching this hyperactive freshman while you can before he becomes a lottery pick in June.
MARCUS FOSTER, Creighton: There aren't many badder dudes on this list to begin with. And then you also factor that Foster and Creighton are facing Foster's former school (and head coach that dismissed him) in the first round? Foster against Kansas State and Bruce Weber is a huge revenge game for the senior as he'll get a chance at redemption after a promising start to his career in Manhattan. This season, Foster is putting up 20.3 points, 3.9 rebounds and 2.7 assists per game during another great campaign. It will be fascinating to see if Foster and Creighton can win the first game against the Wildcats and use it as a springboard into the second round against No. 1 seed Virginia.
JAYLEN ADAMS (and Matt Mobley), St. Bonaventure: The First Four features a lot of dangerous guards who can take over and win a game. Since these teams are also in the First Four, they are flawed groups who likely need big performances from these guards to advance. Adams and Mobley, a pair of seniors, have the goods to deliver some wins. Both averaged over 37 minutes per game this season and both fill it up from all over the floor. The duo combines to average 38.3 points per game. Adams is the more likely to explode for a 40-point game thanks to his ridiculous 45 percent three-point shooting.
JAYLEN BARFORD (and Daryl Macon), Arkansas: Similar to St. Bonaventure, but locked in at a No. 7 seed, the Razorbacks are going to be relying a lot on this senior duo to make plays. Barford and Macon don't need to play as many minutes or take as many shots as the St. Bonaventure duo, but they combine to put up 34.9 points per game while both of them shoot over 42 percent from three-point range. Since this duo also has an emerging big man in Daniel Gafford and another veteran guard in Anton Beard, they might not have to do as much by themselves as some others on this list.
KHADEEN CARRINGTON, Seton Hall: The Seton Hall senior is getting hot at just the right time. Carrington is already having a very good senior season. But over his last five games, he's averaging 22.4 points, 5.2 rebounds and 4.4 assists per game for the Pirates. That stretch included games against four NCAA tournament teams. Carrington is also an 83 percent free-throw shooter who would be among the Tournament's more reliable closers. On a veteran team, Carrington could be a dangerous catalyst.
TRA HOLDER (and Shannon Evans), Arizona State: The first few weeks of the season were dominated by Arizona State and this senior backcourt duo. While the Sun Devils cooled off to the point of playing in the First Four and barely making the field — these two guards still have the potential to be lethal. Evans and Holder both fire up insane amounts of three-pointers, and if one, or both, get hot then it spells trouble for an opponent. The duo has also been through some cold stretches over the final months of the season, so they could just as easily help shoot Arizona State right out of the tournament.
AARON HOLIDAY, UCLA: The younger brother of Justin and Jrue Holiday feels like the most underrated All-American in the country — which is very odd considering he plays at UCLA and has NBA bloodlines. After being the nation's best sixth man last year, Holiday has taken control from Lonzo Ball and put together a great year, averaging 20.3 points, 5.8 assists and 3.6 rebounds per game while shooting 43 percent from three. Holiday faces the St. Bonaventure duo of Adams and Mobley in a First Four game that you need to make a priority in your viewing schedule.
TRAE YOUNG, Oklahoma: Probably the most obvious name on this list, Young took the basketball world by storm with his deep shooting range and monster numbers to open the year. Oklahoma was a top-ten team and looked like a potential top seed. Then teams started throwing crazy traps and schemes at Young and Oklahoma during Big 12 play.
The Sooners (and in some games, Young) responded poorly and faltered enough to barely get into this tournament as a No. 10 seed. But Young still led the nation in points and assists (as a freshman!) and he has the type of range nobody can match in this event. If he gets supernova-level hot, then who knows?