The Midwest Region immediately became the most intriguing in the tournament when three of college basketball's powerhouses — Kansas, Duke and Michigan State — were all placed there.
And what made it even more interesting is that the four, five and six seeds in that part of the bracket are just kind of whatever.
Auburn, Clemson and TCU were teams that I was always planning on picking to lose in the first round of the tournament before the brackets came out, and they all ended up in the same spot.
So we'll see how that plays out.
But I will say this: I'm not sure that there will be a more expensive ticket for the second weekend of the tournament that for what it will cost you to get in the door in Omaha.
With Kansas and Michigan State drivable from campus and Duke fans spread throughout the entire country, it will be loud and crowded in the CenturyLink Center.
THREE STORYLINES
How much attention is going to be paid to off-the-court issues?: This is the bracket of distraction. Michigan State was dealing with the fallout of the Outside The Lines report on sexual assaults within the athletic department before Yahoo's report that Miles Bridges accepted impermissible benefits. Auburn has had two players miss the entire season and could lose head coach Bruce Pearl for their involvement in the FBI investigation. And if you talk to people in basketball circles, the most shocking thing about the FBI's involvement in the sport is that Kansas has more or less been kept out of it. Throw in the presence of Trae Young, and you have to wonder what percentage of the conversation about this region is going to be about basketball?
Duke solved their issues, can Michigan State?: Duke went to a zone to combat the problems that they had on the defensive end of the floor, and it changed them from a tantalizing team without any potential to quite possibly the best team in the country. The Spartans are just as tantalizing, and Tom Izzo has had two weeks to try and solve the problems that are inherent in his team.
Is Udoka Azubuike healthy?: Kansas lacks depth in their front court already, and now the guy that's taken over the roll of low-post hoss is dealing with a sprained MCL? Yikes. The good news is that Kansas can probably survive without him until the Elite 8. Rest up, big fella.
THE ELITE 8 MATCHUP IS … No. 1 Kansas vs. No. 2 Duke
The way this bracket broke for Kansas is nice. They'll have some trouble with Seton Hall if that matchup comes to fruition because Seton Hall is tough and physical, especially in the paint, but I can't see either Auburn or Clemson really challenging the Jayhawks in the Sweet 16. Michigan State-Duke in the Sweet 16 would be a terrific rematch of a game played earlier this season in the Champions Classic, but that matchup would not be in Michigan State's favor this time around. They really don't pass it well, especially their big men, and that's the thing that you need to do to be able to break down that Blue Devil zone.
THE FINAL FOUR SLEEPER IS … No One
I'm sorry, but there just isn't one in this region. I'm not picking a short-handed Auburn team with no size to make a run. I'm not picking a Clemson team that lacks high-end talent to make a run. I'm not picking TCU to beat Michigan State, then Duke, then Kansas. Do you think Trae Young can win four games in March? I don't.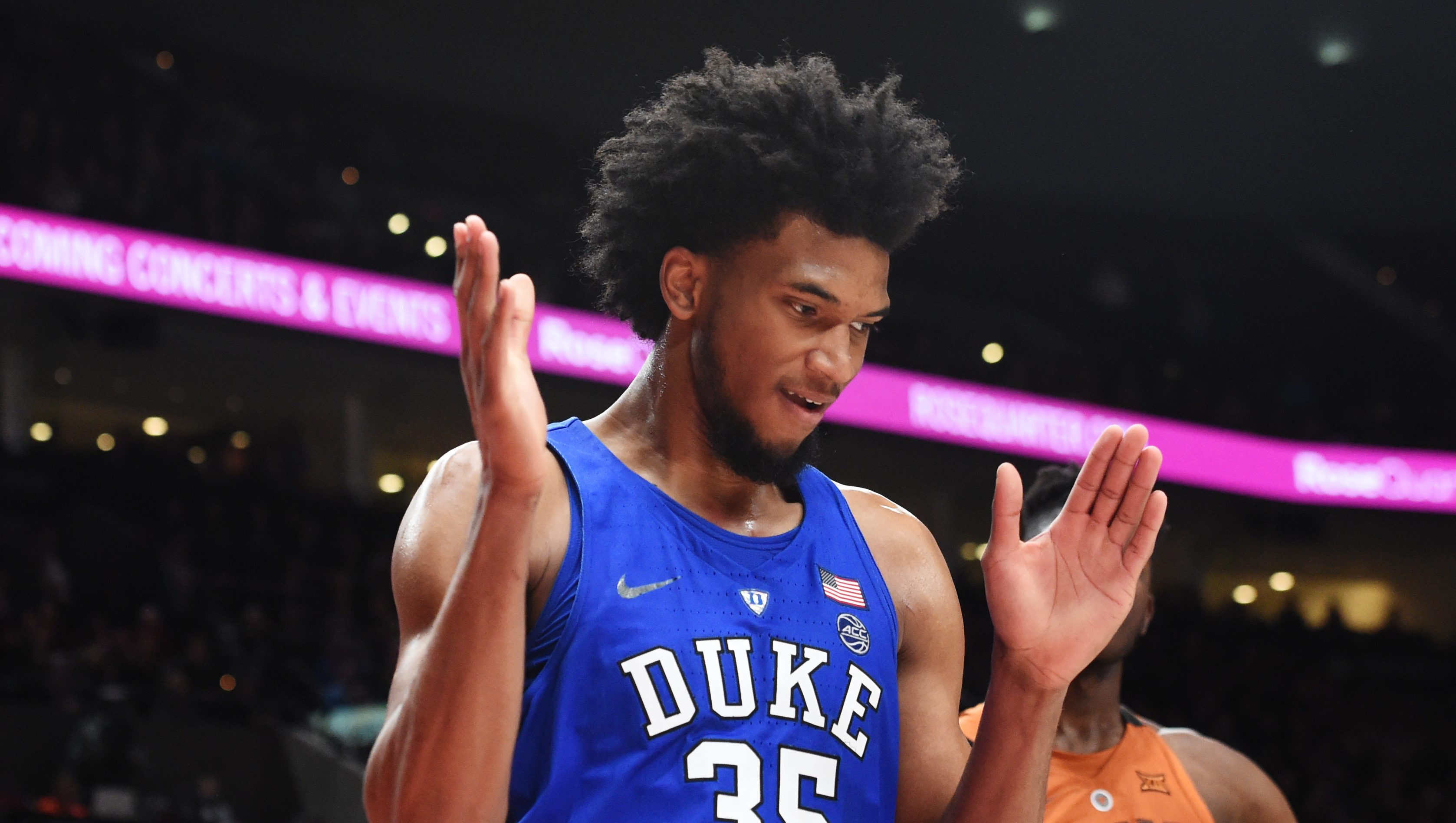 HERE ARE YOUR UPSETS
No. 12 New Mexico State over No. 5 Clemson: This is last year's version of Middle Tennessee State vs. Minnesota. The Aggies have some high-major talent on the roster while Clemson lost Donte Grantham and just has not been impressive to me this season.
No. 13 Charleston over No. 4 Auburn: The way to beat Auburn is to overpower them in the paint, and Charleston does not have the bigs that can do that. They do, however, have a sensational back court in Grant Riller and Joe Chealey. I think Auburn can be beaten, and I think Charleston has the horses to out-Auburn Auburn.
BUT DON'T PICK THIS UPSET
I already have to pick one of Arizona State or Syracuse to win in the play-in game. I cannot imagine a scenario where I would pick one of those two teams to win two games in a row.
THE STUDS
MARVIN BAGLEY III, Duke: Have you heard of him?
DEVONTE' GRAHAM, Kansas: There is an argument to be made that he had a better season this season and was more important for this Kansas team than Frank Mason III was last year.
MILES BRIDGES, Michigan State: He was the preseason National Player of the Year, and while he has not quite lived up to the hype, the hype wasn't necessarily warranted. He's a very good year in his role.
THE STARS OF MARCH
ANGEL DELGADO, Seton Hall: If Seton Hall can get past N.C. State in the first round, I think they'll have a chance against a depleted Kansas front line because Delgado is an absolute monster in the paint. If Azubuike is out he might grab 30 rebounds.
ZACH LOFTON, New Mexico State: Lofton has been to five schools since his freshman season as San Jacinto JC in 2012. He's now in the NCAA tournament and averaging 19 points for the Aggies.
ONE GAME TO WATCH
While NMSU is the most likely upset, I do think that Auburn-Charleston is going to be the most aesthetically-pleasing first round game in the Midwest.
ONE GAME THAT NEEDS TO HAPPEN
We really need Duke to run the gauntlet here: No. 10 Oklahoma in the second round, No. 3 Michigan State in the Sweet 16 and No. 1 Kansas in the Elite 8. Make it happen, basketball gods.
AND THE WINNER IS …
Duke. For my money, the winner of a Final Four matchup between Villanova and Duke is going to win the national title.