NEW YORK — The change was gradual.
Duke has forever been known as a man-to-man team. It was the ethos of Mike Krzyzewski's defense. Pressure guards, deny passing lanes, dare ball-handlers to try and beat their defenders one-on-one, let them try and run ball-screens. That is who they've been for years and years and years.
But that wasn't working this season, not when what makes the Blue Devils so damn good is the fact that their front court of two freshmen fives is unstoppable. Wendell Carter is a lottery pick, a workhorse on the block that can wall-up at the rim and pound the glass and overwhelm just about any defender that comes his way, and he's clearly and undoubtedly the second-best big man on their roster. When you can force defenses to try and figure out how they are going to slow down Marvin Bagley III with a college power forward, you're coming out ahead more often than not.
"He's different," said Nolan Smith, a four-year player for Duke that was a first-team all-american as a senior, a first round pick and could very well still an NBA point guard if his health hadn't given out on him. He's been around. He would know. "I've a seen lot of guys in the NBA, and his second and third jump is second to none."
The problem is that they just couldn't figure out how to make it work defensively, which is not an uncommon problem to have when dealing with freshmen. There is a reason that the saying among coaches is that the best thing about freshmen is that they become sophomores, but since becoming a one-and-done factory, Coach K no longer has that luxury. He doesn't get a couple of seasons to teach his guys how to defend the way that he wants them do. He gets a couple of months, and by early February, it was obvious to everyone.
Their man-to-man defense?
It wasn't working.
"We tried a lot of different things in man throughout the season," Smith said. "Icing ball-screens to blacking ball-screens to switching ball-screens."
They had to make a change.
"We never declared it," Grayson Allen said of becoming a zone team. "It was just, OK, we're going to play zone this game, so we prepared zone and man. The next game we prepared zone more than man. The next game we prepared all zone. And it started to work for us. We had a stretch where three or four teams couldn't score against us."
It stuck.
It turned Duke from one of college basketball's top 80 defenses to one that has climbed all the way to 7th in KenPom's adjusted defensive efficiency metric. The defense that they have played over the course of the last nine games is on par with the defense that the likes of Virginia and Cincinnati have played all season long. It's why they are currently the only team to rank in the top ten of both offensive and defensive efficiency on KenPom. It's why there are many that believe Duke is not one of, if not the favorite to win the national title in San Antonio three-and-a-half weeks from today.
That was until they faced off with North Carolina on Friday night.
The Tar Heels are uniquely suited to being able to attack a 2-3 zone. The way that the Tar Heels play this season is different from any Roy Williams-coached team in recent memory. Thanks to the early and unexpected departure of Tony Bradley last year, the Tar Heels have had to embrace the small-ball ideal. Theo Pinson, a play-making wing by trade, is their power forward. Luke Maye, a stretch-four through and through, is their starting center. That's a far cry from the UNC teams of yesteryear, when Tyler Hansbrough and Sean May and Kennedy Meeks turned the paint into a beefcake factory.
But it also allows UNC to slice up a 2-3 zone, and Pinson is the key that unlocks it all. His ability to pass from the high-post combined with the fact that the shooting ability of Joel Berry II, Kenny Williams and Cam Johnson on the perimeter makes them a nightmare offensively, one that cannot be overwhelmed by a front line the size of Duke's. Bagley finished with 19 points and 13 boards against the Tar Heels on Friday night, but he had to work for those stats. Pinson — who stands 6-foot-6 with long arms, the physicality that comes with being a senior and the athleticism to boot — held his own on the block against a top three pick.
There aren't a lot of college fours that are going to be able to do both of those things.
Which begs the question: Did North Carolina provide the nation with a diagram on how to beat Duke's now-vaunted 2-3 zone, or was this simply a product of the Tar Heels being a perfect matchup for Duke at this point in time?
Let's take a dive into the numbers, shall we?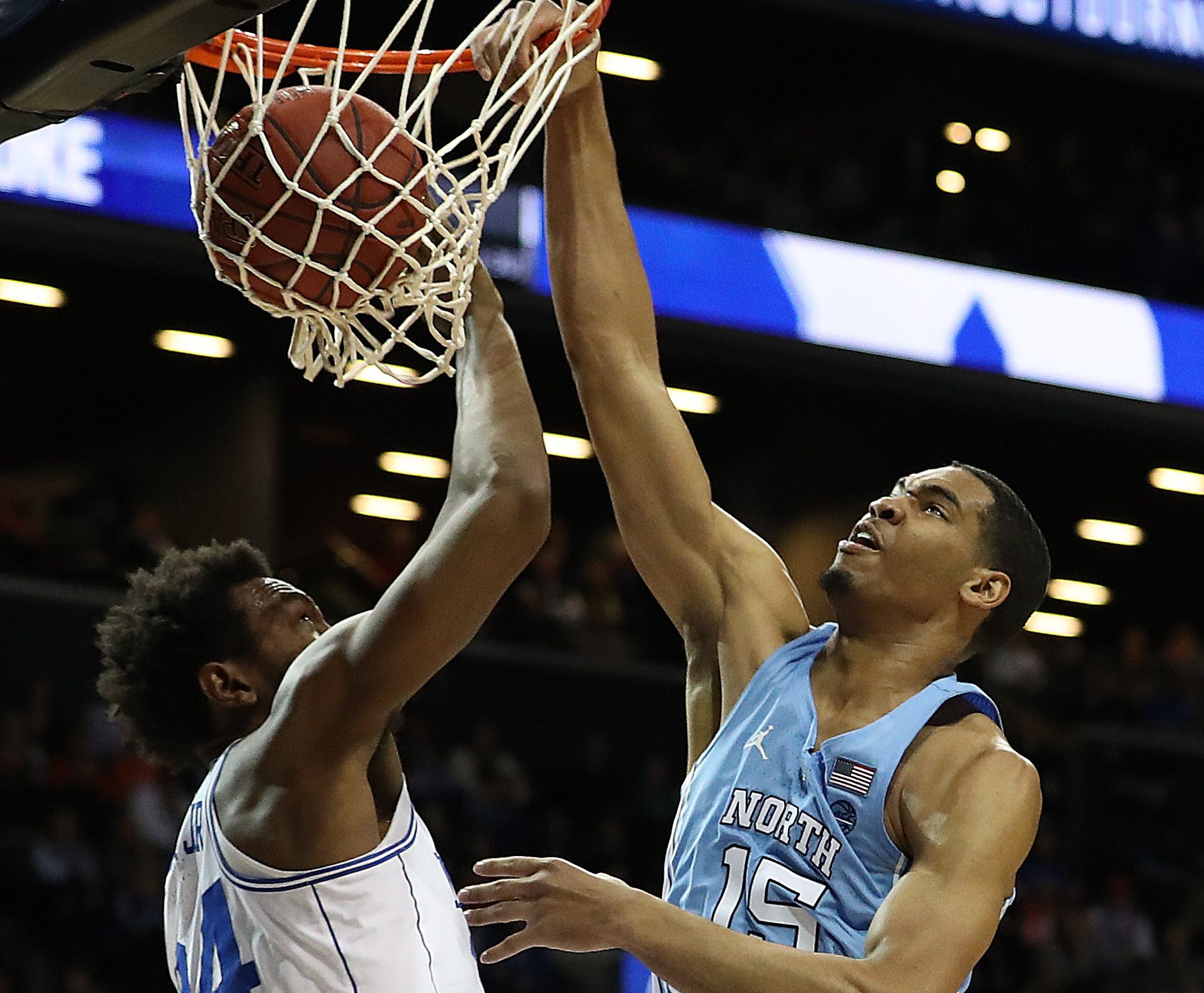 According to SportVU, which is a service that provides spatial data on things like how open shooters are, 35 of the 42 jumpers that the Tar Heels attempted on Friday night were open jumpers, which is defined as having no defender within five feet of the shooter on the release. They made just 14 of those jumpers, a 40 percent clip and much lower than the average of roughly 60 percent shooting on open jump shots. Put another way, UNC scored just 1.02 points-per-possession against Duke's defense, but that may had have as much to do with the fact that the Tar Heels missed shots that they usually would make more than the fact that Duke's defense was impenetrable.
"If we were playing man and they shot 18 out of 24 from 3, then you'd be asking why didn't you defend the 3 better," Krzyzewski said. "But holding them to 74 points was good. They're one of the explosive teams, as explosive as anybody. And they have two kids that can really handle the ball well in the middle of the zone in Pinson and Maye. So that's good for us. The two games we played here, Colson can do that, too, so we got a chance to work our zone against probably two of the best teams that would work against us, and we gave up 70 and 74 points.
"The zone wasn't bad. … It wasn't great, but it wasn't bad."
I would tend to agree with Coach K here.
Let's work through some zone theory for a second.
When the point guard has the ball at the top, the idea is to brings the wing defender so high to force passes to the corner or short corner to be thrown with air under it to give the defenders a chance to recover. The center is supposed to stay at the rim to protect against a lob to the opposing center on the baseline, and it's the guards job at the top of the zone to keep the pass from getting to the high post. It's the last part of that paragraph that was the biggest issue on Friday.
"Defensively, me and Tre [Duval] up top needed to do a little bit better job of trying to keep it out of the middle," Allen said.
So there are some issues there.
But more than anything, Duke ran into a team that is built perfectly to break down the defense that they are playing.
And they still found a way to erase a 16-point lead with 5:33 left on the clock, getting two possessions in the final minute with a chance to tie.
Duke is not without their flaws this season, and we could spend another 1,500 words talking about some of the issues they have on the offensive end of the floor with their spacing.
But more than anything, Friday night taught us that this North Carolina team is one that we need to take seriously.
Duke can still win a national title this season. They still might be the favorite.
And North Carolina can win it all, too.