The SEC has seen a resurgence this season as the league should have more than six NCAA tournament bids for the first time ever.
With as many as eight teams jockeying for NCAA tournament positioning (or to even get in at all, in some cases) the SEC is perhaps as deep in basketball as it has ever been.
Heading into the SEC Tournament this week in St. Louis, every team in the league has suffered at least five conference losses this season. That means every team in the bracket is beatable and nobody is a consensus favorite. We could see a number of unique scenarios and champions play out this week. You could even make the case that this is the most wide-open major conference tournament in the country.
Here's a look at the 2018 SEC Tournament.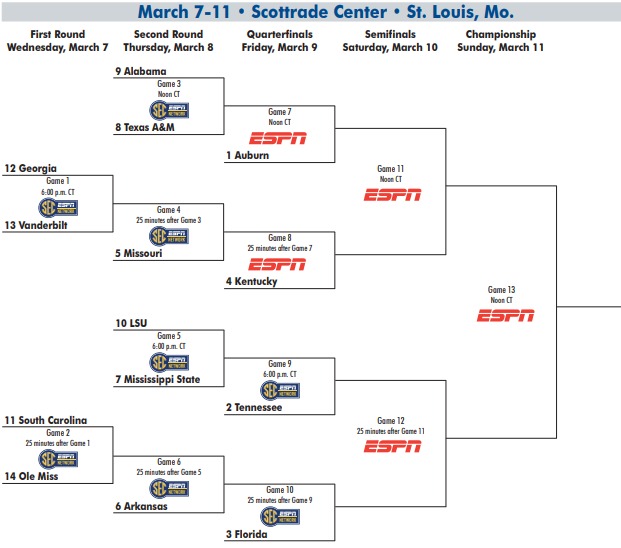 THE FAVORITE
It's tough to pick a favorite in this event since so many teams look beatable, but Tennessee has perhaps the most favorable path. While all of the other teams with double byes face tough first opponents, the Volunteers handled both LSU and Mississippi State with 20-plus point wins during the regular season. Also the hottest team in the league with a four-game winning streak, Tennessee is playing very well on both sides of the ball — particularly on defense.
THE CONTENDERS
You can mark most of the teams in this bracket as contenders if it's the right week. Auburn is the No. 1 seed after they shared the SEC's regular season crown with Tennessee. The Tigers have been one the nation's biggest surprises this season. Although the Tigers don't have a lot of size on the interior, they've been able to make up for it with balanced scoring and scrappy perimeter play as Bryce Brown, Mustapha Heron and Jared Harper all had all-league seasons.
Florida is another intriguing contender. If Florida is making perimeter shots then they can compete with any team in the country. If the Gators are missing shots, they could be ousted in the first game. The Scottrade Center in St. Louis has strange rims and is known as a tough spot to shoot. Will that hurt Florida?
And you can never count out Kentucky when it comes to the SEC tournament. The Wildcats had won four straight games before a loss to Florida in the season finale as they've been sharing the ball much better the past few weeks. If Kentucky has multiple weapons rolling then they could easily make a run and win this event.
WHO NEEDS A WIN THE MOST?
If Alabama is going to make the NCAA tournament then they need a win (or two) in St. Louis this week. The Crimson Tide are squarely on the bubble after a five-game losing streak to end the regular season as they are limping into the SEC tournament. Alabama's first opponent in the tournament, Texas A&M, just beat the Crimson Tide by two on Saturday, so these two teams should be quite familiar with each other.
WHO IS ON THE BUBBLE?
Besides for Alabama, the SEC looks pretty established when it comes to NCAA tournament projections. Of course, a couple of scenarios could change things. Texas A&M, Missouri and Arkansas should all feel pretty solid about getting in. A loss for any of them in the first game, however, could make Selection Sunday a little uncomfortable depending on how the week plays out. Teams like LSU and Mississippi State have been on the bubble in recent weeks, but they mostly look out of the picture entering the tournament — barring a miracle run. Since the Tigers and Bulldogs play each other first, one of those teams will immediately get sent to the NIT with a loss while the winner will have to probably make a finals run to even have a chance of getting in.
THE SLEEPER
Missouri is an intriguing team to watch this week for a number of different reasons. Already a dangerous team in their first season under head coach Cuonzo Martin, the Tigers could get a major boost if freshman Michael Porter Jr. returns to the rotation. The potential top-five pick would give the Tigers a major mismatch on the offensive end and a lot of size on the defensive end. Also keep in mind that Missouri will have a home court advantage by playing this one in St. Louis. Tigers fans can travel in numbers given the right situation, and with an NCAA tournament bid on the horizon, they could help Missouri quite a bit. The potential quarterfinal matchup with Kentucky would have an awesome atmosphere for a conference tournament.
PLAYER TO WATCH
Chris Chiozza, Florida. Most of the players in this SEC tournament field don't have significant postseason experience. Which makes Chiozza, Florida's senior point guard, a very dangerous player. Coming off an Elite Eight appearance last season after a memorable Sweet 16 buzzer-beater against Wisconsin, Chiozza is capable of controlling games and going on offensive bursts as a scorer or distributor. The Gators could be the favorite in this event if Chiozza is playing well.
X-FACTORS
– Michael Porter Jr.'s health: We still aren't sure if Porter Jr. will even play during the SEC tournament and how he will look if he does. If Porter is healthy and ready to go then it gives Missouri a chance to make a run in this event.
– Kentucky's balanced scoring: During Kentucky's four-game winning streak towards the end of the season, they had at least five players in double-figures in all four wins. The Wildcats struggle to win games if one player has to take over. Kentucky's success will largely be dictated by its collective efforts to score.  
– Daniel Gafford: The Arkansas freshman big man has come on strong over the past several weeks as he's a major factor at the rim on both ends of the floor. Gafford has more dunks this season than some SEC teams do and he's also a rim protector that few in the SEC can match.
NBC SPORTS SEC POSTSEASON HONORS
PLAYER OF THE YEAR: Yante Maten, Georgia
COACH OF THE YEAR: Rick Barnes, Tennessee
FIRST TEAM ALL SEC
Bryce Brown, Auburn
Daryl Macon, Arkansas
Collin Sexton, Alabama
Yante Maten, Georgia
Grant Williams, Tennessee
SECOND TEAM ALL SEC
Mustapha Heron, Auburn
Jaylen Barford, Arkansas
Chris Chiozza, Florida
Kevin Knox, Kentucky
Kassius Robertson, Missouri