Here's the weird think about the American this year: The most intriguing part of what happens in this conference tournament has nothing to do with the actual tournament itself.
For starters, just about everyone is locked into their March future. We could see, say, Cincinnati jump up to a No. 2 seed or Wichita State climb onto the No. 3 seed line with a title — and who wouldn't want to see the Shockers and the Bearcats go for Round 3 — but there is no one on the bubble and just three teams that are headed to the NCAA tournament. Cincinnati, as the No. 1 seed, will not play a tourney-bound team into the title game.
No, what makes this event interesting is figuring out which coaches we've seen the last of in their current digs.
The smoke surrounding Penny Hardaway's move to Memphis seems to be getting thicker despite the fact that Tubby Smith finished the season strong and won 10 AAC games. Kevin Ollie, who won the 2014 National Title, could very much find himself on the way out as well. And then there is Fran Dunphy, the long-time Temple head coach that may find himself on the outs as well.
The American should not be as unintriguing as it is. The league is the butt of a lot of joke, but it is still a conference that includes programs like Memphis, UConn, Temple and SMU. Throw in Houston, Cincinnati and Wichita State, and there's no reason they shouldn't be getting five or six bids every season.
That's why we're talking about some of the better jobs in the conference opening.
We'll see if they actually do.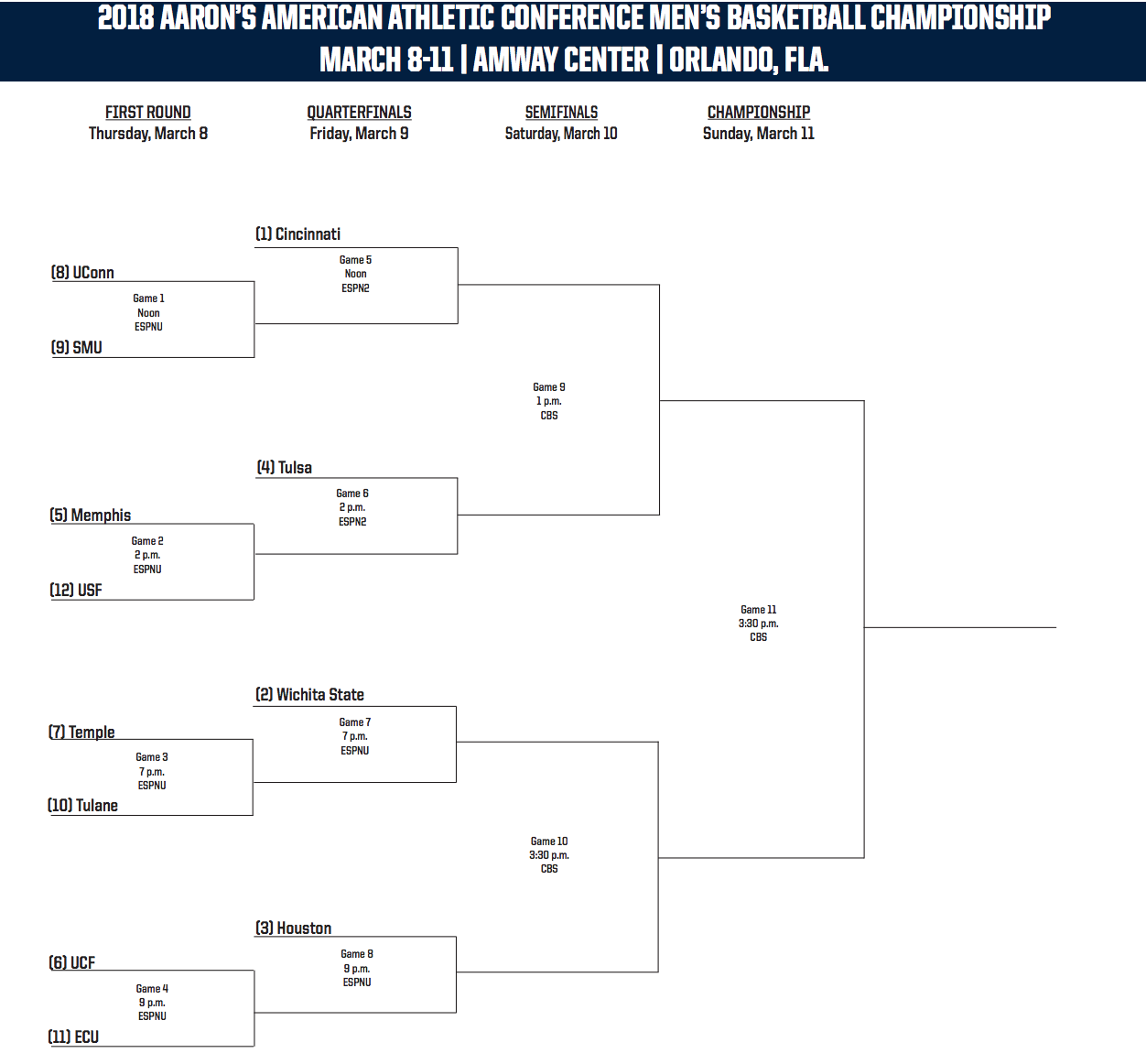 THE FAVORITE
At this point, it has to be Cincinnati. The Bearcats won the league's outright regular season title after going into Koch Arena and picking off Wichita State on Sunday. Mick Cronin's club can just wear you down defensively, but what makes them so intriguing at this point in the year is that their best player, Jacob Evans, looks like he's starting to figure out that he should play like he's the best player.
THE CONTENDERS
There are only two other teams that I can see putting together a run to the tournament title: Wichita State and Houston. The Shockers have enough talent on the offensive end to beat just about anyone in the country if they decide to defend, but that has not been a guarantee at any point this season. One of the most shocking parts of this season is the lack of toughness that a Gregg Marshall team plays with. As far as the Cougars, they have the one guy from this league that I can see going all-Kemba Walker and carrying his team to a tournament title and a run in the NCAAs in Rob Gray, who has inherited the title of best top knot in college hoops from Kyle Guy.
WHO NEEDS A WIN THE MOST?
Other than Tubby Smith, Kevin Ollie and Fran Dunphy? I'll go with the Bearcats just because they could find a way to get up to a No. 2 seed. But the lack of intrigue with this conference tournament is that most of the teams have their March fates pre-determined.
WHO IS ON THE BUBBLE?
No one. Literally no one.
THE SLEEPER
Frank Haith has actually done a pretty good job with a Tulsa team that lost a lot of talent from last year. There was some speculation earlier in the year that he was on the hot seat, but he shut those people up by finished 12-6 in the league, good for fourth in the conference. He could be looking at a trip to the NIT.
PLAYER TO WATCH
I mentioned it earlier, but Rob Gray is the one guy that I think has the ability to pull a Kemba or a Shabazz. He's been one of the most underrated players in America for a couple of seasons now, and I would not put it past him to averaged 25 points and six assists in this event while picking off Wichita State and Cincinnati en route to a title. If that were to happen, I think that Houston might be able to climb as high as a No. 5 seed in the Big Dance.
NBC SPORTS AMERICAN POSTSEASON HONORS
PLAYER OF THE YEAR: Gary Clark, Cincinnati
COACH OF THE YEAR: Kelvin Sampson, Houston
FIRST TEAM ALL-AAC
Landry Shamet, Wichita State
Rob Gray, Houston
Jacob Evans, Cincinnati
Gary Clary, Cincinnati
Shaq Morris, Wichita State
SECOND TEAM ALL-AAC
Jalen Adams, UConn
Shake Milton, SMU
AJ Davis, UCF
Melvin Frazier, Tulane
Junior Etou, Tulsa