For the first time since it reconstituted as a new league, the Big East has a champion other than Villanova. Xavier ended the Wildcats' four-year run atop the conference despite getting swept by Jay Wright's program in their two meetings this season, finishing one-up on 'Nova with a 15-3 league record.
Now as those to teams head into the conference tournament, the question becomes can both of them secure a No. 1 seed in the NCAA tournament? As things stand now, it looks as though both are incredibly well positioned to do just that, but they made need a third matchup in the title game to wrap up a pair of top seeds for the league.
While there is plenty of intrigue at the top of the league, there's plenty at stake elsewhere as well. Creighton, Butler and Seton Hall all can help their own causes as all three have the profile of an 8/9 seed. Providence may not feel great about its spot unless it can win its opening-round tilt against the Jayhawks. Then there's Marquette, which appears to be lingering right around the cutline heading into the season's final week.
There is a lot at stake at Madison Square Garden this week, and St. John's, Georgetown and DePaul have all proven capable as potential spoilers, setting the action up to be among the most compelling tournaments across the country.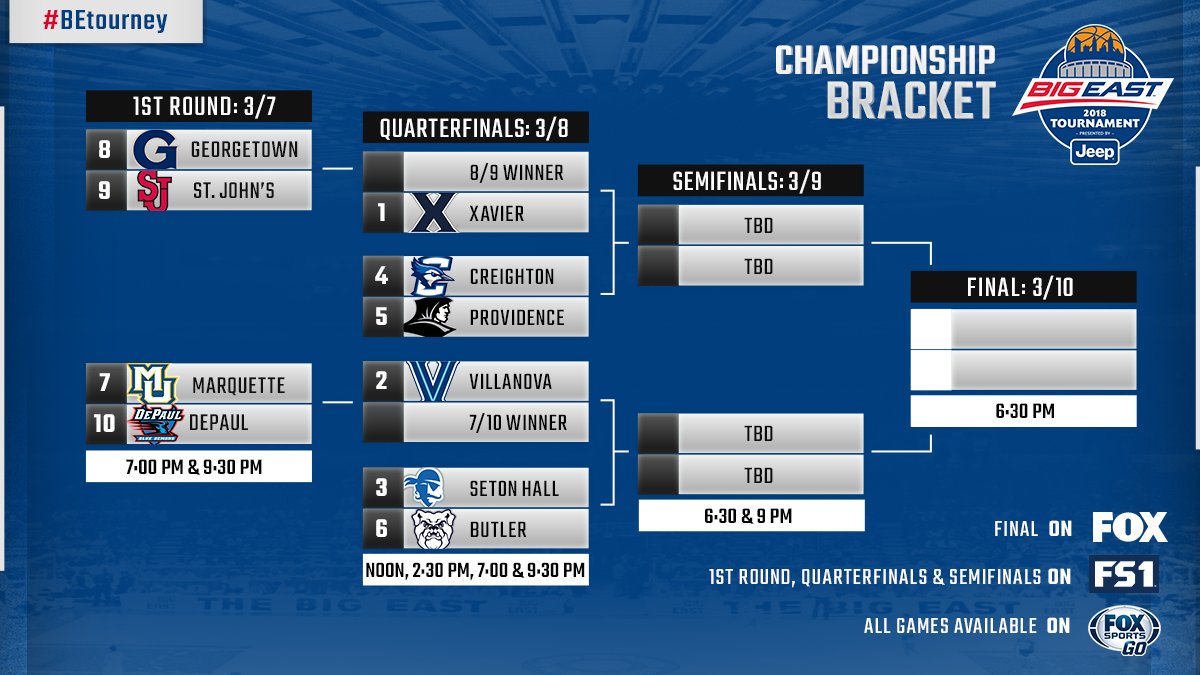 THE FAVORITE
Yes, the Musketeers were the regular-season champs, but you've got to peg Villanova as the team to beat here. Three of the Wildcats' four losses came away from home and the fourth is simply inexplicable as they fell to St. John's at the Wells Fargo Center. Probably best to chalk that last one up to statistical variance.
'Nova has a potential player of the year in Jalen Brunson, a player who thrives under pressure and in the clutch. Brunson is simply one of the best players in the country playing arguably the most important position for postseason success. Put him and Jay Wright together and it just feels downright silly to bet against Villanova. Let's not also forget that the Wildcats topped Chris Mack's team four-straight times dating back to last year.
We haven't even mentioned Mikal Bridges or the strong supporting cast around he and Brunson, so despite Xavier's strength and the potential landmines that other conference contenders potentially pose, VIllanova is the easy pick here.
THE CONTENDERS
Xavier is the clear second choice here behind the Wildcats. Mack's group may have lost twice to Villanova, but their only other stumble along the very treacherous Big East path was a loss at Providence. They haven't been susceptible to the slip-ups that ultimately cost Villanova another regular-season title. Veteran and talented guard play is always at a premium in win-or-go-home scenarios, and X has that in spades with Trevon Bluiett and JP Macura, both of whom are dudes you'd want in your corner with the season on the line. The offense is legit, but can the defense get enough stops over three-straight games?
Beyond the two headliners, Creighton and Seton Hall are potentially serious threats for a crown. If the Bluejays get hot, they can shoot their way to a title on the strength of Marcus Foster, Khyri Thomas and a cast of role players all capable of filling it up. For the Pirates, they'll go as far as Desi Rodriguez and Angel Delgado will take them, which could be pretty darn far.
WHO NEEDS A WIN THE MOST?
While Providence would probably feel better with a win, it's Marquette without a doubt here. The Golden Eagles are either in the First Four or the outside looking in, depending on which bracketologist you ask. A win against DePaul might night move the needle a whole lot, but a loss certainly will and not in the direction Steve Wojciechowski wants it to. If they can get past the Blue Demons and score an upset against Villanova, that should more than do it.
WHO IS ON THE BUBBLE?
Certainly Marquette is, but Ed Cooley's team isn't going to want to leave the Big Apple without a win. Providence could probably survive a loss to Creighton in the quarterfinals, but then you're probably looking at either the First Four or forcing the committee to make a decision about you, neither of which are places a team wants to be. Unless Providence moves on to Friday or Saturday, it's probably going to be a tense Sunday.
THE SLEEPER
Butler tied for sixth in the Big East standings, but their KenPom ranking of 24 is the third-best in the league. They're not really elite anywhere, but they're balanced and strong across the board. It may be LaVall Jordan's first year at the helm in Indianapolis, but the Bulldogs have a winning pedigree and shouldn't be discounted simply because of their 9-9 league record.
Butler has already knocked Villanova off once this season, so the Wildcats aren't going to be an insurmountable obstacle in Friday's semifinals. And, honestly, it won't take much more than Kelan Martin, who is averaging 21.2 points per game, to raise his level of play for three days for Butler to find itself cutting down nets at the Garden. MSG seems to bring the best out of the best, and Martin very well could be the one to answer that call.
PLAYER TO WATCH
Martin and Brunson, as previously mentioned, are great candidates here, but let's focus instead for a moment on Mikal Bridges. The 6-foot-6 junior is averaging 17.6 points, 5.5 rebounds and 2.1 assists per game while shooting 51.1 percent from the floor and 42 percent from distance. When that's the second-best player on your team, you're doing all right.
Bridges has been on a tear lately, too, scoring at least 20 points in four of his last five games. The Wildcats won all four games when he hit that mark and lost the one in which he didn't. If Bridges keeps filling it up, look for Villanova to keep winning.
X-FACTORS
– Villanova has lost to both St. John's and Providence this season, begging the question of just how vulnerable might they be in the early rounds of this tournament? They conceivably could see both those teams in the tournament's opening two days. Were those games flukes and 'Nova will bulldoze its way to Saturday, or were those sneaky matchup issues waiting to jump up and get them once more?
– Xavier's defense is fine. Really, it is. But it's not exactly good, either. The Musketeers don't force turnovers or a ton of misses, though they do clean the glass. If an opponent can free up shooters consistently, they could shoot Xavier out of the Garden.
– Marcus Foster generates a lot of buzz for his offense for Creighton, but Khyri Thomas may be the better offensive player. He's certainly the more efficient. While having a much lower usage rate that his teammate, Thomas shoots 43.1 percent from 3-point range and 63.6 percent from inside the arc. With defenses focused on Foster, Thomas is more than capable of winning games for Creighton.
NBC SPORTS BIG EAST HONORS
PLAYER OF THE YEAR: Jalen Brunson, VIllanova
COACH OF THE YEAR: Chris Mack, Xavier
FIRST TEAM ALL-BIG EAST
Jalen Brunson, Villanova
Mikal Bridges, Villanova
Kelan Martin, Butler
Trevon Bluiett, Xavier
Marcus Foster, Creighton
SECOND TEAM ALL-BIG EAST
Khyri Thomas, Creighton
Shamorie Ponds, St. John's
Angel Delgado, Seton Hall
Desi Rodriguez, Seton Hall
Markus Howard, Marquette