What defines a bid thief?
It's pretty simple, really: A team that has no chance at earning an at-large bid winning an automatic bid to the NCAA tournament in a conference where there is an at-large team. If, say, neither Gonzaga nor Saint Mary's wins the WCC tournament's automatic bid, then that means that the WCC will receive three bids, or two at-large bids and one automatic bid.
That means there is one less spot in the at-large pool for the teams in the middle of the SEC, the Big 12 and the ACC.
Hence the term big thief.
Where are this year's potential bid thieves coming from? Who should the teams on the bubble be wary of?
PAC-12
The Pac-12 is weird this year. Not only are there only two teams that can be considered a lock for the NCAA tournament at this point in the season, both of those teams — who were, at one point, ranked in the top five nationally this year — have fallen off a cliff. Arizona lost Allonzo Trier to a failed PED test and they may have lost their head coach in Sean Miller. Arizona State, on the other hand, has just lost. They're 7-9 in Pac-12 play and seem to be headed for the 8-9 game in the Pac-12 tournament. That would mean that they would face-off with Arizona in the quarterfinals, assuming that Arizona can get a split at home against Stanford and Cal this weekend.
Put another way, it's going to be much easier for a sleeper to make a run in the Pac-12 tournament than it will be in any other major conference tournament.
So who are the potential bid thieves here?
At this point, I think USC is going to be on the right side of the bubble. UCLA and Washington might be able to play their way into a bid without having to win the automatic bid. Leaving them out, I think OREGON and UTAH have both played well of late, while STANFORD has proven they have the ability to get hot and reel off four wins in a row. Frankly, I think you pencil the Pac-12 in for five bids and figure out who those five bids are on Selection Sunday.
AMERICAN
The American has three teams at the top of the league — Cincinnati, Wichita State and Houston — that are locks for the Dance. They also don't really have much in the way of a bubble team, unless you Temple is going to be able to make a run to the tournament.
What they do have, however, is SMU. Prior to Shake Milton suffering a broken hand and Jarrey Foster tearing his ACL, the Mustangs looked like a team that might be able to earn a tournament bid. Two weeks before Milton's injury, he had 34 points in a win at Wichita State. They have not been the same team since, but Milton is the type of talent that could spark a run in a conference tournament. It's also probably worth mentioning that TULSA, who looks like they will finish fourth in the league, had won six in a row prior to Sunday's loss at Cincinnati. They haven't lost a game that wasn't a roadie against Wichita State or Cincinnati since Jan. 17th.
ATLANTIC 10
The Atlantic 10 may have just opened up that much more. Rhode Island, who looked like far and away the best team in the league, went out and lost by 30 points to St. Joe's on Tuesday night at home.
Spoiler alert: St. Joe's is not all that good this season.
At this point, I really only think that one of three teams can win the Atlantic 10 tournament this season — URI, St. Bonaventure and Davidson have been far and away the best teams in the conference during league play — but both URI and the Bonnies seem like they should be in come Selection Sunday.
That leaves DAVIDSON, who shook off a slow start to the season to really play some good basketball for the last month. The Wildcats have won seven of their last nine games, and those two losses came at URI and at St. Bonaventure in triple-overtime on Tuesday night. They are, as usual, an offensive juggernaut with talents like Peyton Aldridge and Kellan Grady on the roster, but what's promising is that, in A10 play, they've been the league's fourth-best defensive team; they were the second-best defensive team in league play prior to giving up 117 points to the Bonnies last night.
Bob McKillop's club could end up making the Atlantic 10 a three-bid conference.
WCC
We know who the two best teams in the WCC are: Saint Mary's and Gonzaga. That isn't much of a secret at this point. And barring some kind of disastrous loss for the Gaels, both of them are locks for the NCAA tournament. They will also be on opposite sides of the bracket, meaning that there will be some opportunities for opponents to pick them off before the final.
The team to watch out for here is BYU. San Diego would have been a threat before their coach was arrested for domestic violence and San Francisco does have a win over the Gaels, but BYU is the only team in the league that is close to par with the Zags and the Gaels from a talent perspective.
MOUNTAIN WEST
As of now, the only team in the Mountain West that has any chance at an at-large bid is Nevada. BOISE STATE is on the fringes, but they missed their chance to add an elite win when they lost at home to the Wolf Pack, and since they are locked into theNo. 2 seed, they only way they'll be able to do that in the MWC tournament is in the beat Nevada in the title game … and earn the automatic bid.
And that probably makes the Broncos the ultimate big thief. They're a borderline top 50 team on KenPom with the best player in the conference — sorry Caleb Martin — on their roster in Chandler Hutchison.
But if you wanted to bet on where the bubble is going to lose a bid, the Mountain West is probably the safest best. The league doesn't have the profile to actually carry more than one at-large team, but they do have some talent in the conference and teams that are unquestionably good enough to pick on Eric Musselman's club. Let's start with UNLV, who has quite a bit of talent — including future first round pick Brandon McCoy — and will be playing home games throughout the league tournament. They also won at Nevada (albeit while Nevada was injured) this month. WYOMING has one of the best one-two punches in the conference with Justin James and Hayden Dalton and they beat a full-strength Nevada team in Laramie earlier this year.
FRESNO STATE has some talent on their roster this year. SAN DIEGO STATE got Malik Pope back after he sat out for one game and they seem to have figured out that Jalen McDaniels might actually be their best player. Even NEW MEXICO has won some games this year.
The MWC tournament is going to be wild this year.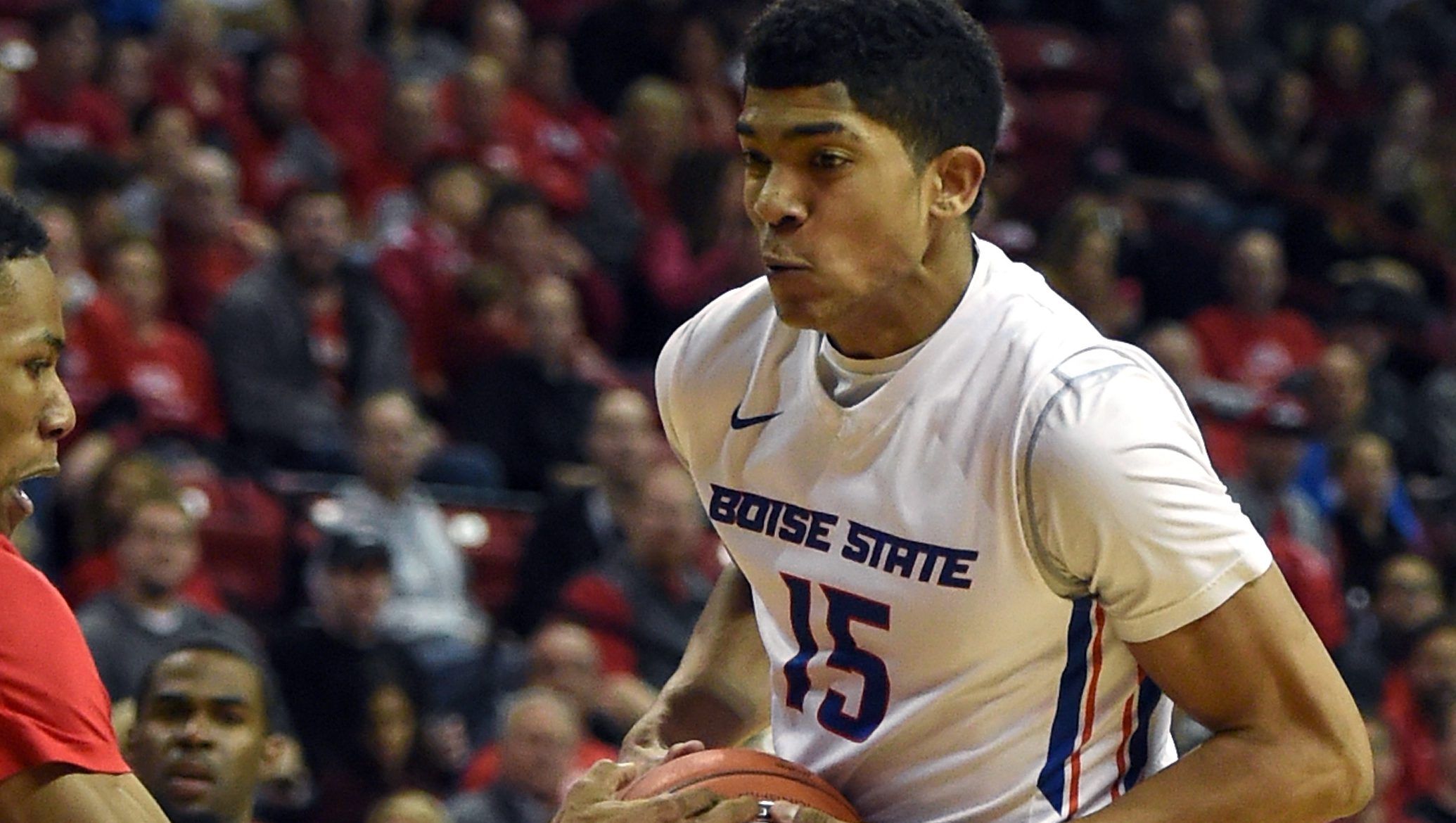 CONFERENCE USA
The big question here is whether or not you believe that Middle Tennessee State is actually an NCAA tournament team. They are 26th in the RPI, they have three Quadrant 1 wins this season while playing in a league that isn't exactly loaded with talent and their one "bad" loss this season came at home against Belmont, who is 77th in the RPI; the cutoff for that being a Quadrant 2 loss is 75th in the RPI.
So let's assume that the Blue Raiders are going to be dancing as long as they don't lose to one of the dumpster fires that currently exist in CUSA. That leaves two legitimate bid thief candidates: OLD DOMINION and WESTERN KENTUCKY. WKU is loaded with high-major cast-offs like Darius Thompson (Virginia), Lamonte Bearden (Buffalo), Moustapha Diagne (Syracuse) and Dwight Coleby (Kansas and Ole Miss), while ODU is more balanced and better defensively. The Monarchs, however, have lost all three games they've played against WKU and MTSU this season.
MISSOURI VALLEY
Is Loyola-Chicago is deserving of an at-large bid? According to Bracket Matrix, they are the second highest-rated mid-major program. They also have a win at Florida and a top 35 RPI. But a 3-3 mark against the top two Quadrants and a pair of losses to teams outside the top two Quadrants is not ideal, particularly when you consider that they could end up taking another one if they don't lose to either ILLINOIS STATE or BRADLEY.