PLAYER OF THE DAY
It should have been Deandre Ayton.
He spent the first 30 minutes of No. 14 Arizona's date with Oregon absolutely dominating the Ducks. He had 17 points, 11 boards and two blocks in the first half. He finished with 28 points, 17 boards and four blocks. But he didn't score in the last five minutes of regulation and he didn't get a shot in overtime until he shot a three with 15 seconds left as Arizona lost 98-90 at Oregon.
Which is why Elijah Brown is the Player of the Day. He finished with 30 points in the win.
It's worth noting here that Arizona's day was so much more than just a basketball game. Sean Miller did not coach the team in Oregon. We don't even know if he was in Oregon. Ayton had to release a statement to say he was not involved in anything that had appeared in recent reports. Oh, and in case you've forgotten, Allonzo Trier is still not eligible after he tested positive for another banned substance.
THE REST OF SATURDAY'S STARS
TEAM OF THE DAY
No. 8 Kansas knocked off No. 6 Texas Tech, 74-72, to clinch at least a share of the Big 12 regular season title. And it begs the question: Is this the best coaching job that Bill Self has ever done?
They lost Billy Preston. They have absolutely no depth, particularly in the front court. They had to bring a recruit into the program a semester early to make sure there were more than two front court players on the team. They lack toughness. They play small-ball without a small-ball four. They lost three games in Allen Fieldhouse, two of them by double-figures.
And they might win the toughest league in the country by two full games.
GAME OF THE DAY
Creighton knocked off No. 3 Villanova, 89-83, in an overtime thriller on Saturday afternoon.
Marcus Foster led the way for the Bluejays with 28 points while Khyri Thomas finished with 24 points, but Jacob Epperson was the revelation, finishing 12 points, five boards and two blocks in a season-high 23 minutes.
Villanova led by eight points late in regulation before Creighton, who had been inching closer to the bubble after struggling down the stretch in the last couple of weeks, all-but ensured that they will be dancing.
WTF???? OF THE DAY
Pitt had absolutely no chance to win at home against No. 1 Virginia tonight.
I'm dead serious.
No chance, according to ESPN's win probably graph. Look at this. It is 100 percent real: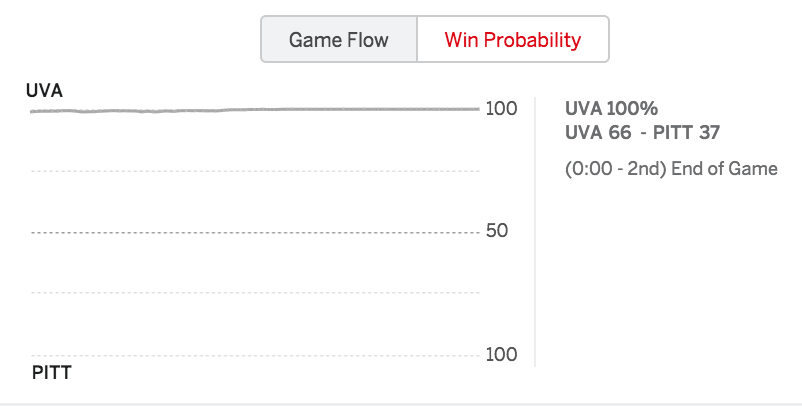 That's what happens when you shoot 1-for-22 through an entire half of basketball, scoring a full seven points. They were down 30-7 at the break. They lost 66-37. What an embarrassment.
WHAT ELSE DO YOU NEED TO KNOW?
No. 6 Gonzaga put six players into double-figures as they went into the Marriott Center and knocked off BYU, 79-65. The Zags won a share of the WCC title as a result, splitting the title with No. 22 Saint Mary's, who de-pantsed Santa Clara. Can we get a Round 3 in the WCC tournament final?
Jevon Carter became the first major-conference player in NCAA history to record more than 1,500 points, 500 rebounds, 500 assists and 300 steals in a career as No. 21 West Virginia beat Iowa State.
Trae Young is back. He had 27 points and hit six threes as Oklahoma snapped a six-game losing streak.
Muhammad-Ali Abdur-Rahkman finished with 28 points, eight boards, seven assists, two blocks and a steal as No. 21 Michigan mollywhopped Maryland. They were up 54-24. On the road. Ouch.
Gabe DeVoe scored 25 points as No. 15 Clemson erased a halftime deficit to knock off Georgia Tech, 75-67, at home.
Admiral Schofield finished with 25 points as No. 19 Tennessee knocked off Ole Miss in Oxford, 73-65, to move to within a game of first place in the SEC.