The concept of amateurism has been around for nearly two centuries.
It started back in the 1800s, when organized sport was first beginning in England. The upper class, the one-percenters of that time, lived a lifestyle that allowed them to do things like play rugby, or polo, or soccer, and succeed at it.
When you don't have to worry about working six or seven days a week in a factory you have the time to practice kicking with your weaker foot. But those blue collar workers, the ones that spent six or seven days a week doing manual labor, they were the better athletes. Bigger, stronger, faster. Those rich guys didn't stand a chance, which is why amateurism was born.
You cannot be paid to play sports, they said. You have to play sports for the love of the game, which those rich guys were able to do because they didn't have to spend their days trying to work enough hours to put food on the table for their wives and children.
Amateurism, the core tenet of the NCAA, was quite literally created to keep rich English guys from getting their asses kicked by poor English guys.
Today, that concept, that farce, trumps all else in college athletics.
It's why, in 2018, the NCAA has contracts that guarantees the association roughly $13.5 BILLION dollars over the next 14 years to broadcast a tournament that Duke's Wendell Carter may not be able to play in because his mom allegedly had a $106 lunch paid for by a recruiter for an agent two years ago.
On Friday morning, hours after Yahoo Sports published a bombshell report that included documents and spreadsheets detailing the recruitment strategy of former NBA agent Andy Miller, NCAA president Mark Emmert released a statement addressing the evidence presented.
"These allegations, if true, point to systematic failures that must be fixed and fixed now," Emmert, who made at least $1.9 million in 2015, began in the statement, and he is absolutely, 100 percent correct.
If, as Emmert put it, "we want college sports in America," we need to do away with amateurism rules. We need to do away with the archaic notion that these athletes do not have any value. We need to do away with the idea that these athletes — athletes with the potential to earn, quite literally, hundreds of millions of dollars in their playing career, mind you — having access to professional representation before they turn 19 years old is some sort of problem.
The simple truth is this: If you do not allow players to access their fair market value without breaking NCAA rules, you are perpetuating the underground economy that is already flourishing. There is too much money in the game, and the numbers that you are seeing tossed around today are simply on the agent side, and from just one agent. Yahoo did not gain access to all of the evidence that the FBI has gathered during this investigation, and even if the did, the network built by Miller is a fraction of the black market created by the NCAA's insistence that amateurism reign supreme.
Think about it like this: If basketball's underground economy was a movie, then what we saw today was the shortened trailer that airs three weeks after the movie was actually released.
We're just scratching the surface.
What you are not seeing now is the money that shoe companies spend to funnel players to certain schools that will help build their brand. Brian Bowen taught us that players that don't reach the top 20 in a recruiting class can be worth $100,000 to a company like Adidas. If Brian Bowen is worth $100,000 to Adidas, what is a talent like Marvin Bagley III or Deandre Ayton worth to them?
What you are also not seeing is the money that flows from boosters to the players. You don't think that a booster for, say, Big Tech would love to spend a few thousand dollars to land a player that will help keep them above Big State in the standings? Think about how much you love your favorite team. Now think about how much money you'd be willing to part with every year to help that team get the players they need to get to a Final Four if you had $30 million in the bank.
Say it with me now:
That.
Is.
Never.
Going.
Away.
It doesn't matter how many smart people Emmert tries to put on a committee.
Boosters are never going to stop wanting their team to win. Shoe companies are never going to stop spending billions of dollars to help build their brand. Coaches are never going to stop looking the other way because getting those good players is how they win, and winning is how they get better jobs and longer contracts.
The fix is so damn easy, too.
Go to the Olympic model.
Schools don't have to play the players. There won't be any Title IX issues, which is the crux of the issue when it comes to the "schools should pay the players" debate; it's not exactly a secret football and men's basketball subsidizes the rest of an athletic department.
The athletes will be able to receive their fair market value because their ability to profit off of their own name and their own likeness will not be artificially capped by an association that wants to keep all of that money for themselves.
And therein lies the problem.
Think about it like this: Adidas currently has a deal with the University of Louisville that will pay the school $160 million over the next decade for all Cardinal athletes to be decked out head-to-toe in nothing but the three stripes. This deal is far from unique. Under Armour has a deal with UCLA worth $280 million. Nike's new deal with Michigan is valued at roughly $173 million.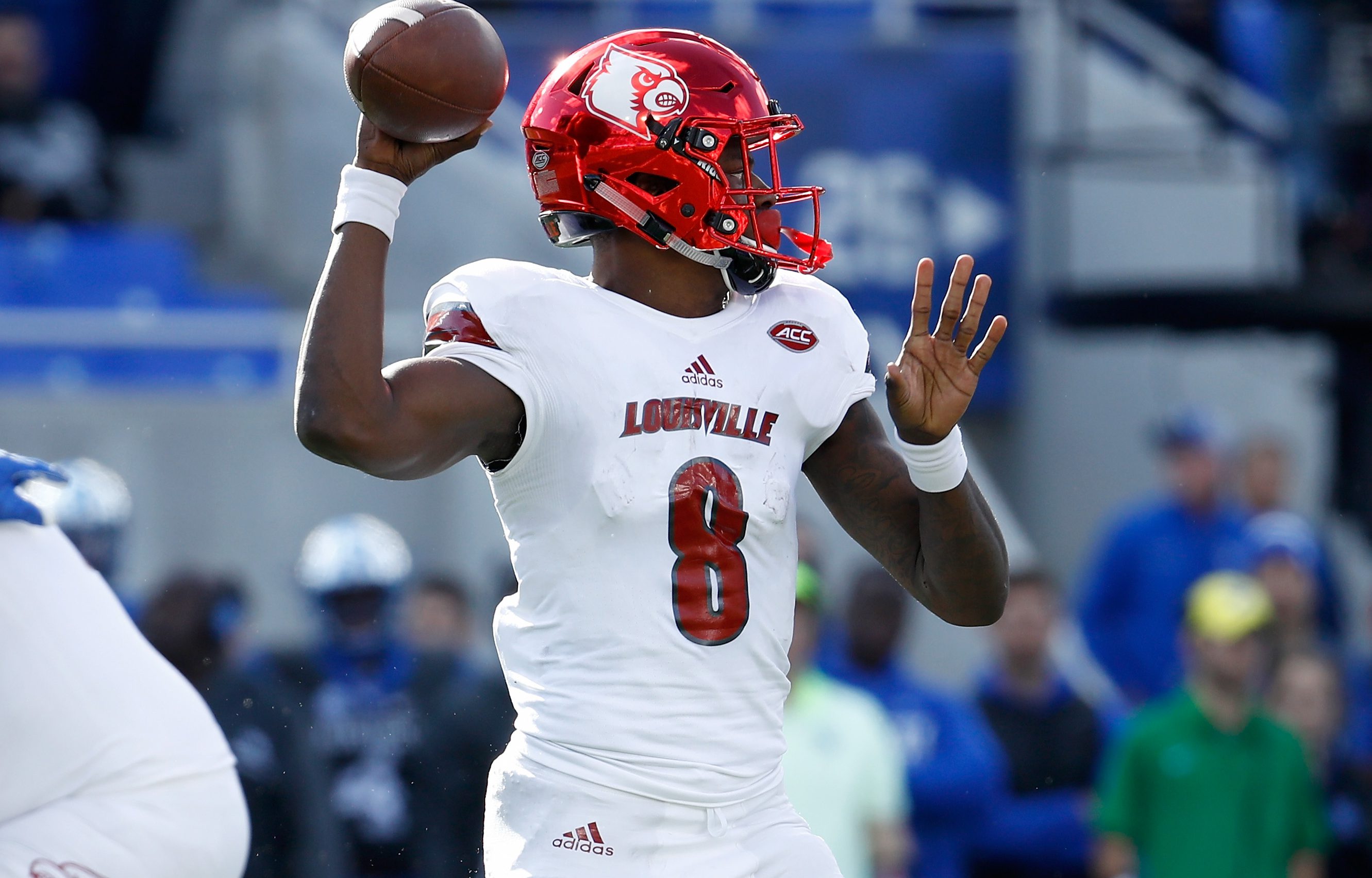 The goal there isn't necessarily to get every player covered head-to-toe in their brand. The goal is to get, say, Lamar Jackson wearing Adidas while he's at Louisville, or Josh Rosen wearing UA while he's at UCLA. With basketball, it's even more specific. Nike wants, say, Michael Porter Jr. wearing the swoosh in high school and college so that they can sign him when he gets to the pros and make billions off of his brand if he happens to turn into the next Kevin Durant, or LeBron James, or Kyrie Irving, or Steph Curry.
If amateurism didn't exist, if Nike could go straight Porter or Adidas could go straight to Jackson when they were 15 or 16 years old, would the incentive to invest billions of dollars in sponsorship deals with the schools still be as strong? There would still be money there, but there wouldn't be as much because a good chunk of it would be going to the players those companies actually want.
It works on a micro-level, too.
A car dealership in Lexington or a restaurant in Lawrence is going to advertise with the school — on the local broadcasts, with promotions at the game, on the coach's radio show, etc. — instead of being able to put, say, Shai Gilgeous-Alexander on a billboard to help sell Toyota Camrys or, say, Devonte' Graham in a commercial touting a new Happy Hour special.
Let's put this another way: If you let the labor get paid, then the profits of the company and the salaries of the decision-makers within that company take a hit.
Emmert ended his statement on Friday like this: "We also will continue to cooperate with the efforts of federal prosecutors to identify and punish the unscrupulous parties seeking to exploit the system through criminal acts," blissfully aware that he and his cronies are the unscrupulous parties exploiting the system, without a f*** to give when that direct deposit hits this afternoon.