PLAYER OF THE DAY
Kevin Knox finally looked like the guy that everyone has been talking about as a potential top ten pick.
He went for 34 points on Saturday night, leading Kentucky back from a 17-point deficit with 17 minutes left in the game as the Wildcats knocked off No. 7 West Virginia in Morgantown.
The big question for Kentucky now is whether or not this is something that the program is going to be able to build off of this season. They finally — finally — look like they're on the right track.
THE REST OF SATURDAY'S STARS
KEENAN EVANS, Texas Tech: He finished with 31 points as the No. 14 Red Raiders landed a come-from-behind win at South Carolina.
MARVIN BAGLEY III, Duke: It was in a losing effort, but Bagley still finished with 30 points and 14 boards. His season has been overshadowed by Trae Young, but he's been fantastic.
HERB JONES, Alabama: Jones had 14 points, five boards, three assists, two steals and a block off the bench for the Crimson Tide, but he's listed here because of the work he did defending Trae Young down the stretch of a win over the No. 12 Oklahoma Sooners.
AL FREEMAN, N.C. State: A career-high 29 points on 7-for-7 shooting from three in a game where you win in the Dean Dome? Not bad at all.
TEAM OF THE DAY
No. 2 Virginia is in total control of the ACC title race, as they went into Cameron Indoor Stadium and knocked off No. 4 Duke despite the fact that Bagley went off for 30 points and 14 boards. Sophomores Kyle Guy and Ty Jerome both his massive shots for the Wahoos down the stretch of this one.
Who would have thought five years ago that Virginia would be on the verge of their third ACC title in five years.
GAME OF THE DAY
The N.C. State Wolfpack landed their third elite win of the season on Saturday as they went into the Dean Dome and upset No. 10 North Carolina in an overtime thriller.
Allerik Freeman led the way with 29 points and made all seven of his threes. N.C. State looks like they are going to be on the verge of getting into the NCAA tournament.
WTF???? OF THE DAY
This is what Texas forward Dylan Osetkowski looks like now: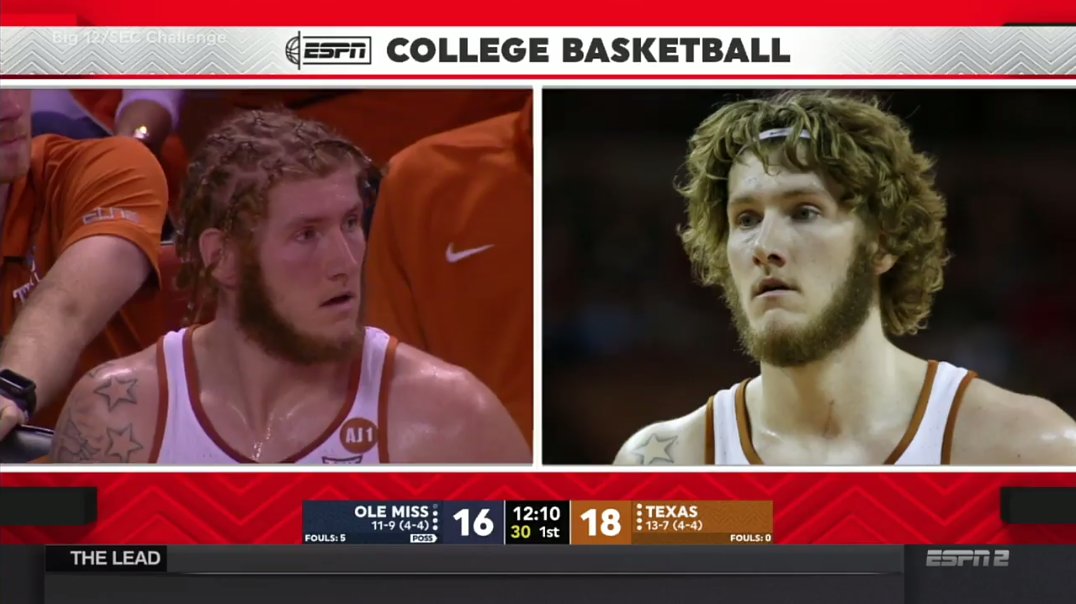 That's … interesting.
And apparently he has more coming.
WHAT ELSE DO YOU NEED TO KNOW?
Alabama landed a critical win over No. 12 Oklahoma and Collin Sexton outplayed Trae Young. Much more on that game can be found here.
Svi Mykhailiuk scored 24 points and No. 5 Kansas shot 12-for-26 from three as they smacked around Texas A&M in Phog Allen Fieldhouse. The Aggies have now lost seven of nine.
No. 11 Arizona tried their damnedest to give a game away against Utah in the McKale Center, but they couldn't do it, hanging on to win 74-73 despite blowing a 13-point second half lead.
Mustapha Heron had 21 points, nine boards, two assists and two steals as No. 19 Auburn continued their winning ways, beating LSU 95-70.
No. 24 Rhode Island is still undefeated in the Atlantic 10 because Stanford Robinson did this: