Duke and Kentucky have been at the forefront on the recruiting world for some time now, and as of late, it has been Duke that has been winning those wars.
In the Class of 2018, Duke has beaten Kentucky on Cameron Reddish, R.J. Barrett and, on Saturday, Zion Williamson. Kentucky landed Kevin Knox, who many believed was a heavy Duke lean, but the Blue Devils also beat out Kentucky on Marques Bolden.
That has not quite gone as well as planned, but nonetheless, Bolden's commitment did set off the most recent Petty Wars between the two programs. It started with something that was posted on Coach Cal's website that said that Kentucky isn't trying to sell recruits on the idea that the program and the program's alumni-base will take care of the kid for the rest of his life. That was a clear reference to comments that Hamidou Diallo made about Duke tried to recruit him.
Then, after Bolden committed to Duke, the Duke twitter account did their best to troll Coach Cal, responding to a tweet where he said "Our approach is to give them the fishing rod and the lures to help them catch fish, not to just give you the fish" with this tweet: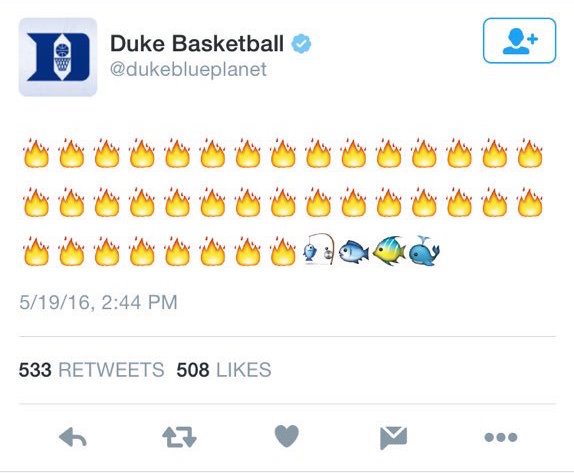 That was in the summer prior to the 2016-17 season.
After this year's Champions Classic, where Kentucky lost and Duke beat Michigan State by playing zone the entire game, Cal had this to say:
"You know what was really funny? We were going to come in and I was going to play 40 minutes of zone. We were. My staff talked me out of it. And then I heard Duke played zone the whole. Like, the whole game. And I was going to do it simply to see if we can really play it then we'll have to play it against this team. And then naturally I didn't play one down of it, but I had come in with the idea. Like, let's just throw it up and play zone the whole game. I laughed and I said look at—when you have a young team like that, a bunch of freshmen, it's much easier to play zone than to try to teach them man-to-man principles and all the other stuff, which is what we're trying to do." (My emphasis added.)
That leads me to today, where Coach Cal met with local media to talk about, among other things, some of the issues that his program has had on the recruiting trail. (Quotes courtesy my buddy Kyle Tucker at SEC Country):
"I don't sell, like, 'When you come here, the university and the state will take care of you the rest of your life,' " Calipari said. "You may buy that, and I've got some great property in some swampland down in Florida to sell you, too."

 

"Every one of us in this country is based on you've gotta take care of yourself. And then when you make it, you make sure that you're helping [others]. And along the way you bring other people with you," Calipari said. "And that's what we're trying to do, just give these guys the best opportunity. We're not trying to say this university or this state will take care of you the rest of your life. There's no socialism here. This stuff is, 'You've gotta go do it and we're gonna help you do it.' Some [recruits] like that. Some don't like it."
I am so here for all of this.
I love Duke-Kentucky becoming a year-round rivalry. I wish that they played more often than every three years in the Champions Classic.
As part of my effort to become commissioner of college basketball, I propose that these two programs must play at least once every year.