1. TRAE YOUNG, Oklahoma: This isn't exactly breaking news, but Trae Young is having a pretty ridiculous season for the Sooners as a freshman.
As we discussed on the podcast on Tuesday morning, Young might actually be having the best season that we have ever seen out of a guard at the college level. At the very least, he's the best since Steph Curry graced the court at Davidson.
The most ridiculous part of his year, however, is that he someone keeps managing to one-up himself. The craziest part of the 39 points and 14 assists that he put up on Saturday wasn't that it came on the road against an undefeated top ten team in his first Big 12 game; or that he managed to score 17 points and hand out four assists in the final 9:45, including the game-winning free throws with 7.9 seconds left; or that it felt like Young didn't actually play all that well, shooting 9-for-23 from the floor with seven turnovers.
The most ridiculous part is that this felt … normal.
Every time Young has stepped on the floor the last five games have been progressively more mind-blowing: He had 29 points and nine assists in Los Angeles in a win over USC. He followed that up with 29 points and 10 assists in a win at Wichita State in which he had 21 points and seven assists in a first half where he made the Shockers defense look like it had gone through a combine harvester. Then he went for 26 points and an NCAA-record 22 assists against Northwestern State before posting 25 points and 10 assists in the first half against Northwestern.
That was the last game he played before Saturday's trip to TCU.
It's also worth noting at this point that Young has the highest usage rate of any player in the 16 years that KenPom has data for at 39.3 percent of Oklahoma's possessions and he's still the most efficient high-usage player in the database: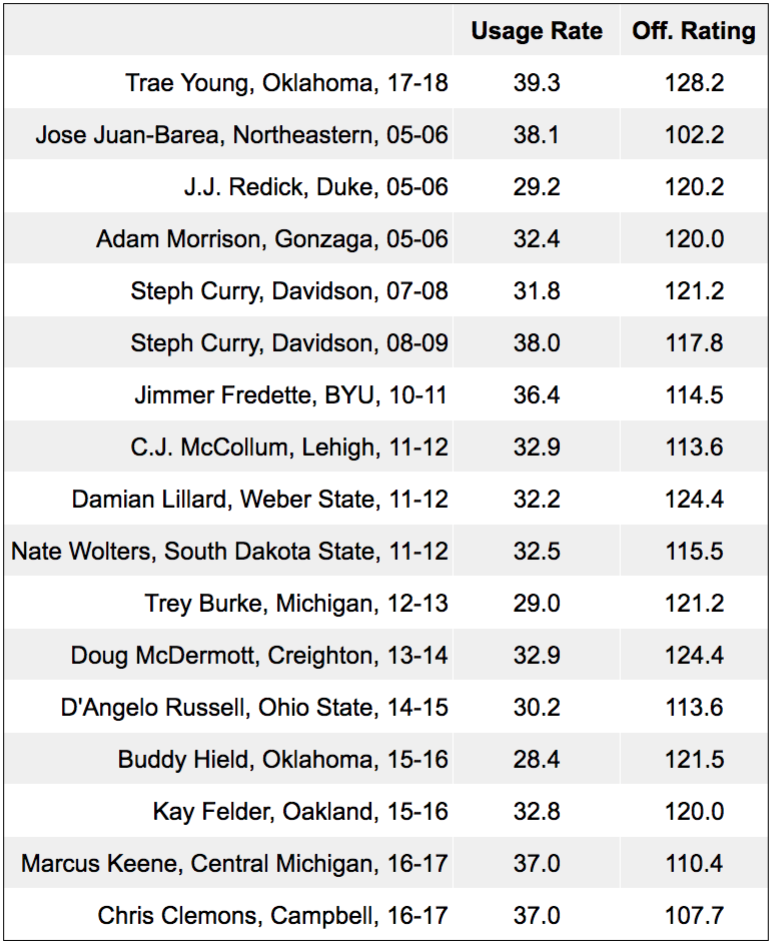 2. MARVIN BAGLEY III, Duke: Bagley had a ridiculous 32 points and 21 boards in Duke's win over No. 24 Florida State on Saturday, with 11 of those rebounds coming on the offensive end. Bagley is now averaging 21.9 points and 11.6 boards on the season, but I discussed on the podcast this week (the 7:18 mark below) why I think he might be somewhat overvalued as an NBA prospect.
3. DEANDRE AYTON, Arizona: Like Young and Bagley, Ayton put together a ridiculous performance in a big game on Saturday. He finished with 23 points, 19 boards, three assists and three blocks as the Sun Devils had absolutely no answer on the interior for the Big Bahamian. Given the defensive issues that keep popping up for the Wildcats, being able to overwhelm teams in the paint is going to be what carries Arizona to … a Pac-12 title? A Final Four? A national title?
4. TRA HOLDER, Arizona State: Holder's Arizona State team lost on Saturday at Arizona. Holder had 31 points. He's averaging 22 pints, 5.1 boards and 4.5 assists for the No. 4 team in the country. He's had a phenomenal season and nearly led the Wildcats to a win on the road against their in-state rivals.
5. JALEN BRUNSON, Villanova: Villanova lost to Butler on the road on Saturday, giving up 101 points to a team that is not exactly known as an offensive juggernaut. Brunson, however, finished with 31 points and five assists. He did, however, miss two critical free throws in the middle of Villanova's attempted comeback.
6. JEVON CARTER, West Virginia
7. TREVON BLUIETT, Villanova
8. BONZIE COLSON, Notre Dame
9. JORDAN MURPHY, Minnesota
10. DEVONTE' GRAHAM, Kansas
ALSO CONSIDERED: MIKAL BRIDGES, Villanova; KEENAN EVANS, Texas Tech; DAKOTA MATHIAS, Purdue; YANTE MATEN, Georgia; LUKE MAYE, North Carolina; SHAKE MILTON, SMU; DESI RODRIGUEZ, Seton Hall; LANDRY SHAMET, Wichita State; KHYRI THOMAS, Creighton; ALLONZO TRIER, Arizona