PLAYER OF THE DAY
Seriously.
He finished with 39 points and 14 assists on Saturday. Playing his first Big 12 game. On the road. Against an undefeated top ten team.
And he didn't even play his best.
All of that is true!
Young had 17 points and four assists in the final ten minutes to help the Sooners overcome a double-digit second half deficit, but he also shot just 9-for-23 from the floor and had seven turnovers, a number that would be higher if you included some of the bad* shots that the took.
But that doesn't matter anymore.
Because Trae Young is a cheat code.
*Editor's note: There are not ACTUAL bad shots for Trae Young. Every one of them is a good shot.
THE REST OF SATURDAY'S STARS
MARVIN BAGLEY III, Duke: Bagley played his best game as a collegian on Saturday, and that's saying something considering the way that he has played this season. He went for 32 points and 21 boards, 11 of which came on the offensive end of the floor, as the Blue Devils won a thriller against No. 24 Florida State, 100-93.
DEANDRE AYTON, Arizona: In his Pac-12 opener against a top three team that just so happened to be his school's in-state rival, No. 3 Arizona State, Ayton went for 23 points, 19 boards, three blocks and three assists to lead the Wildcats to a statement win that they are probably going to need if they want to win the league.
TY JEROME, Virginia: Boston College went into Charlottesville and gave No. 9 Virginia a fight. If it wasn't for a turnover on the final possession of the game the Eagles might have won. Ty Jerome led the way with 31 points for UVA in a 59-58 win.
JAYLEN BARFORD and DARRYL MACON, Arkansas: Barford went for 33 points and Macon had 28 as the Razorbacks landed a come-from-behind, overtime win over No. 19 Tennessee. It is not easy to go into Fayetteville and leave with a victory.
BONZIE COLSON, Notre Dame: The Irish shook off a slow start to land a win in their ACC opener against Georgia Tech. Colson finished with 22 points, 17 boards, three blocks and a pair of steals.
JOCK LANDALE, Saint Mary's: It took overtime for Saint Mary's to get out of Provo with a win, but the Gaels managed to do just that, knocking off BYU 74-64. Landale was the best player on the floor in the game, finishing with 31 points and 13 boards in the win.
ANDREW ROWSEY, Marquette: Marquette won their first game of the Big East season over Georgetown on the back of a 35-point outburst from their diminutive point guard.
TEAM OF THE DAY
Butler landed their biggest win of the season on Saturday, as they broke the century mark against No. 1 Villanova, winning 101-93. The Bulldogs have now beaten Villanova all three times that they have played in the 2017 calendar year. Kelan Martin led the way with 24 points for Butler, who shot 60 percent from the floor and 15-for-22 from beyond the arc. As a team, Butler posted 1.40 points-per-possession against a team that entered the day as a top ten team according to KenPom's adjusted defensive efficiency metric.
I'm not sure how else I can explain this. It was a ridiculous performance from a Butler team, the first marquee win for them this season and the first statement win for LaVall Jordan as the head coach of the Bulldogs. When it comes down to it, this could end up being the difference between a bid to the NCAA tournament and a trip to the NIT
What does it mean for Villanova? Well, we dove into that here.
GAME OF THE DAY
A thriller in Fayetteville. After trailing for the entire game, Arkansas staged a rally in the final five minutes, eventually forcing overtime against No. 19 Tennessee. The Razorbacks would eventually build an 11-point lead in the extra frame, but Tennessee came storming right back. They cut the lead to two points before a pair of Darryl Macon free throws sealed the win.
Arkansas got a combined 61 points from Macon and Jaylen Barfield as they added another impressive win to their résumé. The Hogs are quietly having an impressive season, one that should get them ranked in the top 25 come Monday and maybe as high as a top four seed come Selection Sunday. We shall see how it all plays out.
For the Vols, this is going to be another tough loss to swallow. They led by nine points with 3:53 left in the game. They also led late against No. 13 North Carolina when they played the Tar Heels in Knoxville early this year. Hell, held a big lead on No. 1 Villanova in the first half back in November. Those are their three losses. Tennessee is having a really good year. They're that close to having a great year.
WTF???? OF THE DAY
No. 6 Xavier trailed by as many as 16 points in the second half against DePaul at the Cintas Center on Saturday, but they turned things around, winning 77-72 in a performance that wasn't exactly inspiring but that got the job done.
The highlight of the game came midway through the comeback. The referees missed a blatant inbound violation – DePaul's Eli Cain clearly never established inbounds while receiving an inbounds pass – and Mack ran 15 feet on the court during play to argue the call. He was, clearly, T'd up, and in the process of trying to argue his point, Mack pulled out a whiteboard and tried to diagram what happened for the referee: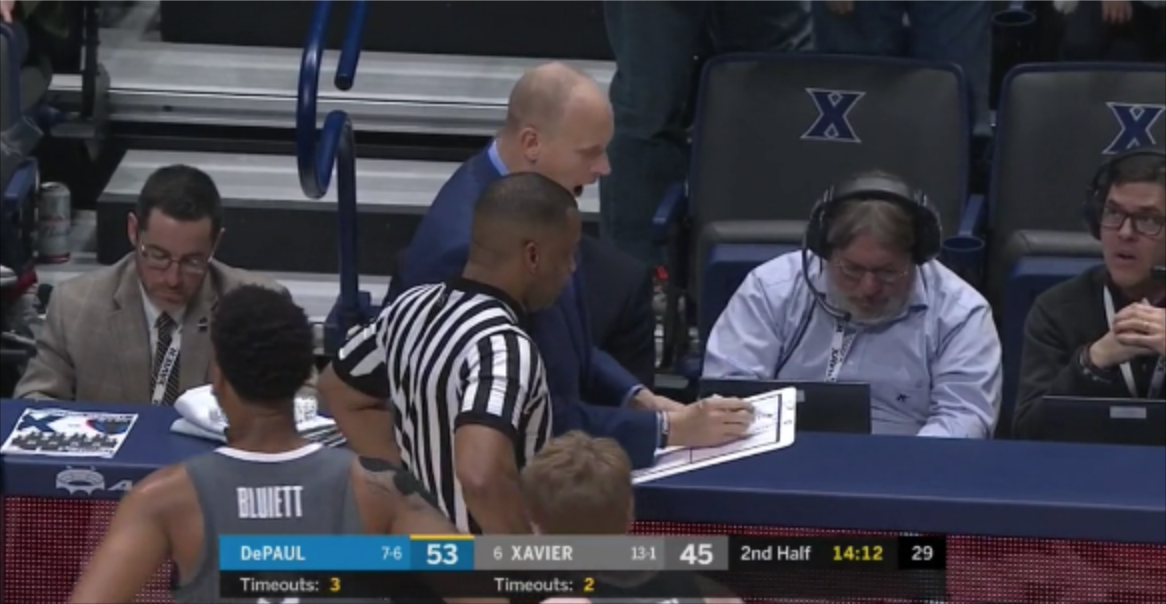 WHAT ELSE DO YOU NEED TO KNOW?
Joel Berry saved the day for No. 13 North Carolina, hitting this floater to give the Tar Heels a late lead as they held off Wake Forest, 73-69:
It came against a shorthanded No. 5 Texas A&M, but Alabama landed themselves a marquee win, blowing out the Aggies, 79-57. That win is going to look great on their résumé come Selection Sunday. It shouldn't hurt Texas A&M all that much, however. The Aggies were without leading scorer D.J. Hogg and off-guard Admon Gilder, two of their three leading scorers and their two best three-point shooters.
In their first game as a member of the American, No. 8 Wichita State picked up a road win against UConn, 72-62. That sounds more impressive than it actually is. UConn is not all that good at basketball these days, and the Huskies took the lead late in the second half before the Shockers pulled away for good.