NEWARK — It wasn't about basketball.
Not entirely, anyway.
Seton Hall is not all that deep, but if there is a spot that the Pirates can afford to go down a man, it's at the four spot. Ishmael Sanogo may be the team's best defender and the man that head coach Kevin Willard prefers, but Michael Nzei proved on Thursday night, as the No. 23 Pirates came from 11 points down to beat No. 25 Creighton at the Prudential Center, that he can more than fill that role. In 26 minutes, he finished with seven points, 14 boards, two assists, two steals and a block.
Seton Hall is better with Ish, but they can still accomplish what they've spent the last three and a half years building towards without him.
That's not why they did this. That's not why the other three seniors on this roster – Khadeen Carrington, Desi Rodriguez and Angel Delgado – sat down with Willard to talk him into letting Sanogo finish the season as a member of the team.
"You don't want to see your brother throw his life down the drain," Carrington told NBC Sports.
Sanogo was suspended by Willard prior to last Friday's game against Manhattan. It was the second time that he's been suspended this season, missing out on an exhibition game in November. The program never officially set a timeline for the suspension or detailed specifically what Sanogo did – the New York Post reported that it was the result of a series of "really bad judgements" – but Carrington believed there was a real chance this could be it, that Sanogo's time as a Pirate had come to an end.
So after the win over Manhattan, the seniors talked. They decided to sit down with Willard, who then called a meeting with the entire team. They were on board, so Willard and his locker room's three leaders sat down with Sanogo and his parents.
"We had a conversation with Ish," Carrington said, "and we told him that all the extra stuff needs to stop."
On the 26th, Willard allowed the team to make a "family decision."
Sanogo was back.
---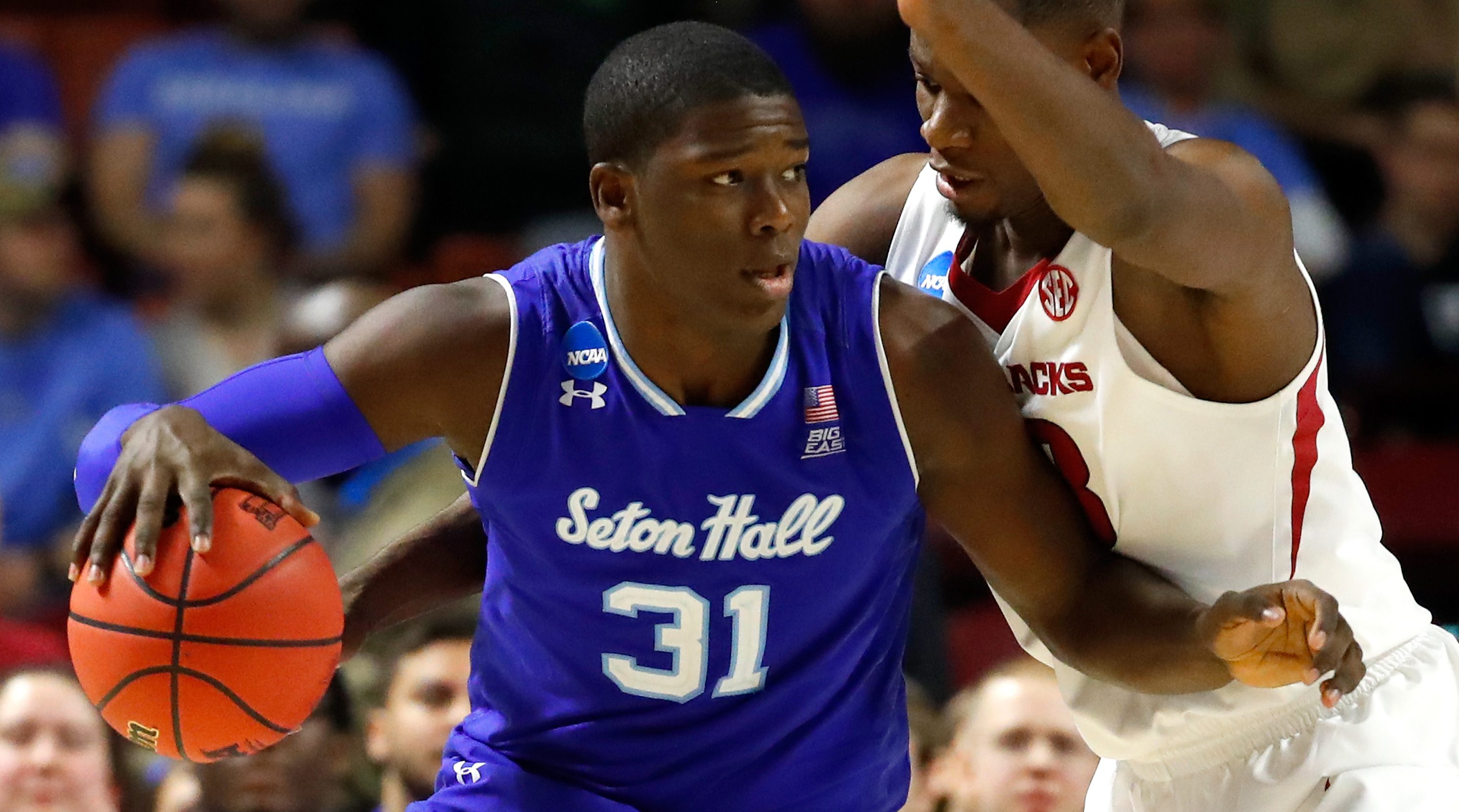 ---
Back in 2010, the NCAA made a rule change that forever changed the trajectory of package deals.
For years, college programs had been able to hire someone close to a prospect into an administrative role within their program in an effort to land a recruit. It dates all the way back to Danny Manning, whose father was hired by Larry Brown at Kansas before Danny and the Miracles led the Jayhawks to a national title. John Calipari hired DaJuan Wagner's father, Milt, at Memphis. He also hired Tyreke Evans' trainer, Lamont Peterson, as an administrative assistant. Baylor hired John Wall's AAU coach Dwon Clifton during their recruitment of the star point guard.
Everyone did it.
The change, however, was significant: In order to hire a person associated with a prospect, that new hire must be one of the three officially titled assistant coaches on the staff. Otherwise, no recruits associated with that coach would be allowed to enroll at the school for two years. Head coaches could no longer scrounge up $50,000 in salary and invent a new title and no-show job to funnel money to someone close to a prospect unless they were willing to burn one of their three assistant coaching positions – the three men they rely on to recruit, to scout, to game-plan, to keep the young men on their roster in line – to get that player.
And rest assured, it still happened.
It was and is not, however, always a successful strategy.
Where should I start?
Josh Pastner hired Keelon Lawson in order to get all four Lawson brothers to Memphis, but after one season with Dedric and K.J. on his roster, Pastner was fired. Tubby Smith was hired in his place, and within a year the relationship between the coach and the family was so frayed that the Lawsons left town in explicit fashion.
Johnny Jones hired Ben Simmons' godfather, David Patrick, and Simmons spent six months barely feigning interest in being a college basketball player. Billy Kennedy hired John Reese to get J-Mychal Reese, a top 50 prospect, but the duo both bounced midway through their second season with the program. Rick Stansbury hired Mitchell Robinson's godfather, Shammond Williams, to land a commitment from the top 10 prospect and that ended up in disaster; Robinson is sitting out this season and training for the NBA Draft instead of playing college ball. DePaul hired La Lumiere head coach Shane Heirman to get five-star point guard Tyger Campbell and that commitment lasted all of three months.
Then there are the Porters. Both Lorenzo Romar and Cuonzo Martin have hired Michael Porter Sr., the father of Michael Jr. and Jontay, to land the duo. Romar was fired by Washington before the brothers made it to campus, and while Martin may have had success with Michael Jr. at Missouri, we probably will never know; Porter had surgery on his back after playing just two minutes this season.
Which brings me to Kevin Willard.
In 2013, Willard hired Oliver Antigua, who had coached Delgado on the Dominican National Team and helped orchestrate his arrival in the United States, before Delgado committed. Antigua would eventually leave to join his brother's staff at South Florida before Delgado arrived on campus, which opened up another spot on Willard's staff. That went to Dwayne 'Tiny' Morton, then the head coach of the famed Lincoln HS in Brooklyn, a hire that solidified the commitment of McDonald's All-American Isaiah Whitehead. Eventually, Whitehead's teammate, Rodriguez, would follow suit.
Willard also hired then-Northwestern assistant Fred Hill, and that same day former Northwestern-commit Jaren Sina pledged to the Pirates.
That completed a class that also included Brooklyn native Carrington, Newark native and Nzei.
In the years since, that group has turned into Seton Hall's version of the Fab Five, a group of local kids rebuilding a once-proud local program.
But it didn't start out that way.
Seton Hall won their first 12 games, but the season quickly devolved. Sina transferred out midseason. Seniors spoke on the record about how "everyone's not focused on winning."
"We took an ass kicking our freshmen year," Carrington said. The Pirates would lose 15 of their final 19 games and Willard was forced to negotiate a deal to keep his job: He gets one more year, and if that promising crop of freshmen didn't pan out, he would resign. "I definitely remember those hot seat talks, saying coach might get fired. Our freshman year was so bad my family asked me if I wanted to transfer. I said no. I felt like we had enough players. We had enough confidence in ourselves to do something special."
Seton Hall won the Big East tournament the following season, earning the program's first trip to the NCAA tournament in a decade.
They returned the following year.
And in the final year with that core together, the Pirates have their best team to date.
"I'm ready for those guys to graduate," Creighton head coach Greg McDermott said with a laugh on Thursday night. "I might come to their graduation and congratulate them."
---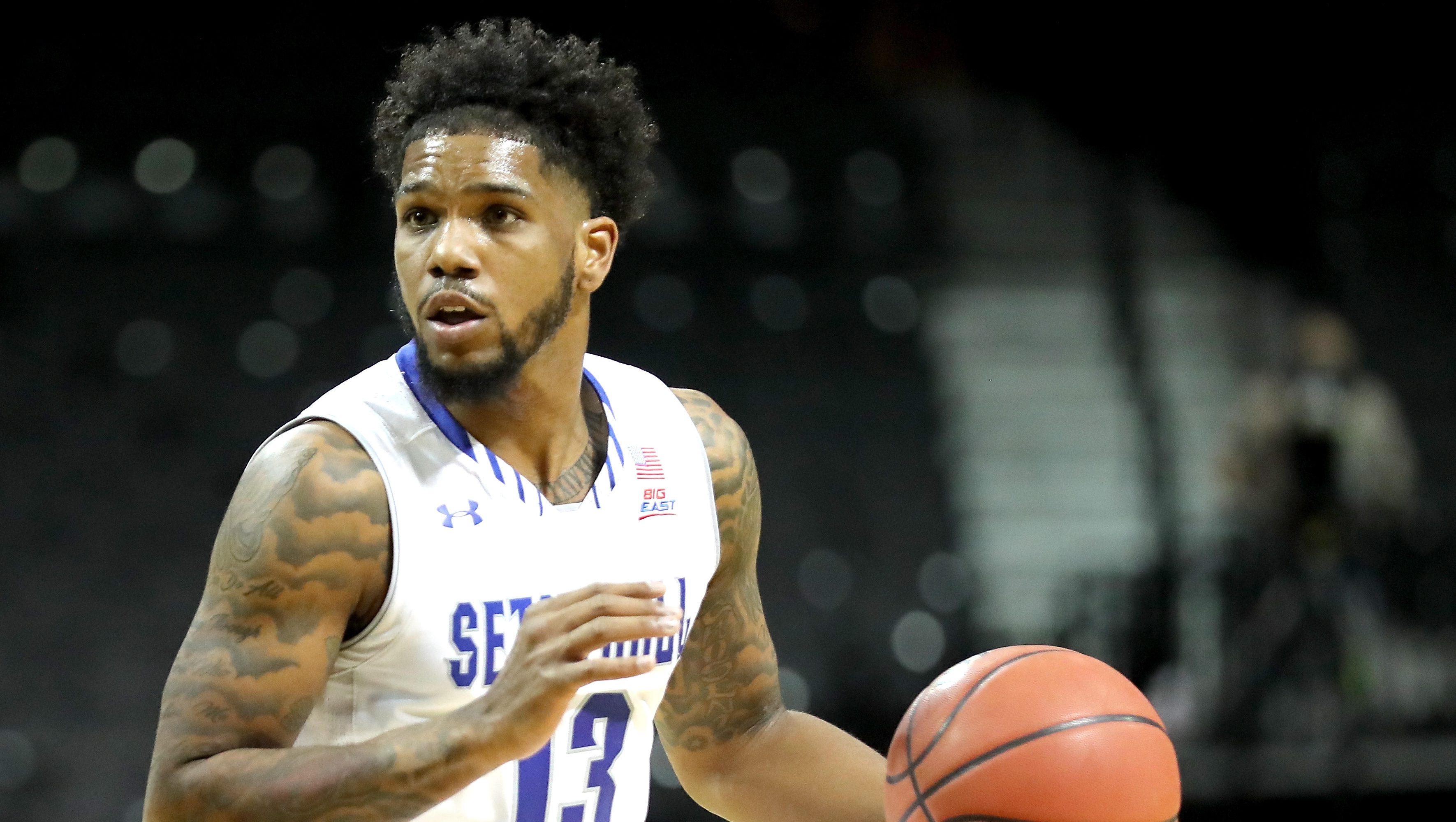 ---
The most difficult thing – and arguably the most important thing – for a college basketball program that is not a one-and-done factory to do is to get old while keeping talent on the roster. Kids don't want to wait to get playing time. They don't want to sacrifice their shots and their stats for an extra year when a star opts to return to school. Hell, they don't want to be in school when they could be making six or seven figures playing professionally.
The fantasy of college basketball as anything other than a billion-dollar business has passed, but the beauty of what has grown in Seton Hall's basketball program is a throwback to a bygone era. This roster, this senior class, is essentially made up of local kids, guys that have known each other for years, guys that have developed a bond that goes far beyond basketball.
Delgado had a chance to go to the NBA after last season. He returned to school. "The decision was easy," he told NBC Sports in October, "and I'm excited to be back with these guys."
"We brothers," he added on Thursday. "Not only when we're in school, but we're going to be brothers when we leave here," and that sounds like lip service, the kind of thing that a program coaches its players to say. But with Seton Hall, the proof is in the pudding.
Take Carrington, for example. He's playing a new position this season and the transition has not been smooth. His scoring is way down. His efficiency is way down. He's not shooting the ball well. And he doesn't care, not when his team is still winning games. Delgado is the same way. He's been doubled every time he's touched the ball. He's not posting the same stat lines he did when he was the best big man in the Big East a season ago, but his smile has been as big and as infectious as ever.
No one has batted an eye as sophomore Myles Powell has become the team's second-leading scorer, or as Desi Rodriguez has usurped the title of Seton Hall's All-American Candidate.
Which brings me to Thursday night.
All the writing was all the wall. All the narratives were lined up. It was the perfect storm. Seton Hall was just two weeks removed from a loss to in-state rival Rutgers. One player, Jordan Walker, had reportedly quit the team over a play time beef before returning a few days later while a second player, Sanogo, was suspended. Then there was the game against Manhattan, where Powell was ejected as the two teams had a pre-halftime scuffle. At halftime of their Big East home opener, a game they had to win if the pipe dream of a Big East regular season title had any chance of becoming a reality, Seton Hall had foregone playing any defense in the first half, trailing No. 25 Creighton 53-42 at the break.
They rallied and won despite having to play the final three minutes without Delgado, who had fouled out of the game.
In the locker room, after the win, when Nzei spotted Delgado, he said, "I got you! I got 14 rebounds!"
Delgado's response?
"I freaking love you, man. You don't even know how much."
---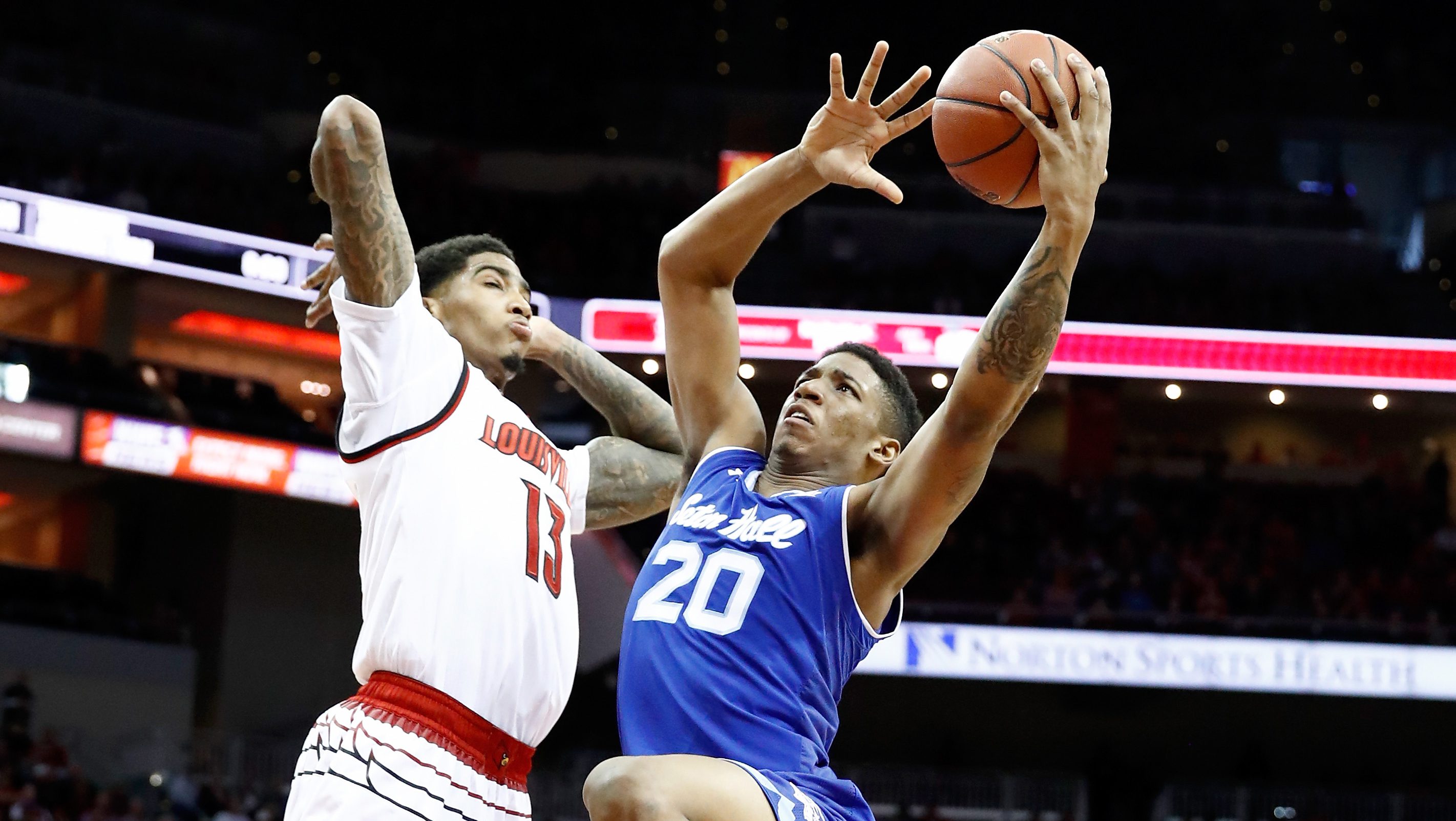 ---
Just how long Sanogo remains a member of the Seton Hall program is up to him at the end of the day.
His brothers want him there, even with all the extras. Willard wants to win, and Sanogo gives him the best chance to do that. This group is good enough to do things Seton Hall hasn't done since the days of P.J. Carlesimo, and the players he entered with did not want to experience that without him.
But the reason he's still wearing that Seton Hall jersey on gamedays goes beyond basketball.
"If we win the Big East or the national championship, seeing him there will make me a really happy person," Delgado said. "But I want Ish to graduate. I want Ish to walk across that stage with us."
"I would want somebody to do it for me," Carrington added. "That's what family does."