College basketball's non-conference season is finally coming to a close.
To help you shake off post-holiday haze and the hangover of losing in your fantasy football playoffs, we'll be providing you with some midseason primers to get you caught up on all the nation's most important conferences.
Who has been the best player in the biggest leagues?
Who is on track to get an NCAA tournament bid?
What have we learned about the conference hierarchy, and what is left for us to figure out?
We break it all down here.
Today, we'll be taking a look at the ACC.
MIDSEASON ACC PLAYER OF THE YEAR: Marvin Bagley III
He's getting overshadowed some by fellow freshman Trae Young, but Bagley has been awesome this season. He's averaging 21.2 points and 10.9 rebounds while shooting 61.7 percent from the floor and a respectable 34.6 percent from 3-point range for a 6-foot-11 forward. He's gone into Duke and been dominant, helping the Blue Devils to a 12-1 record while easing the burden – and dimming the spotlight – on Grayson Allen. If Duke wins its sixth national championship, Bagley very well could be the reason why.
THE ALL-ACC FIRST TEAM
MARVIN BAGLEY, Duke
BONZIE COLSON, Notre Dame: The 6-foot-6 power forward is one of the most fun watches in college basketball. The senior is at the height of his powers, averaging 21.3 points on 54.1 percent shooting
LUKE MAYE, North Carolina: He's averaging a double-double of 18.1 points and 10.5 rebounds a year after putting up 5.5 and 3.9, respectively. Pretty clear he's no NCAA tournament fluke.
GRAYSON ALLEN, Duke: It's nice to only be talking about Allen's game after last season's tripping-induced meltdown. His 137.1 offensive rating is by far a career best, as is his 45.2 percent mark from 3-point range.
KYLE GUY, Virginia: The top knot may be gone, but Guy's production has stayed with the new haircut. He's getting buckets in bunches while carrying a big offensive load for the Cavaliers.
POSTSEASON PREDICTIONS
NCAA: Virginia, North Carolina, Duke, Miami, Clemson, Notre Dame, Florida State, Louisville
NIT: Virginia Tech, Syracuse, North Carolina State
OTHER/NO POSTSEASON: Wake Forest, Georgia Tech, Pittsburgh, Boston College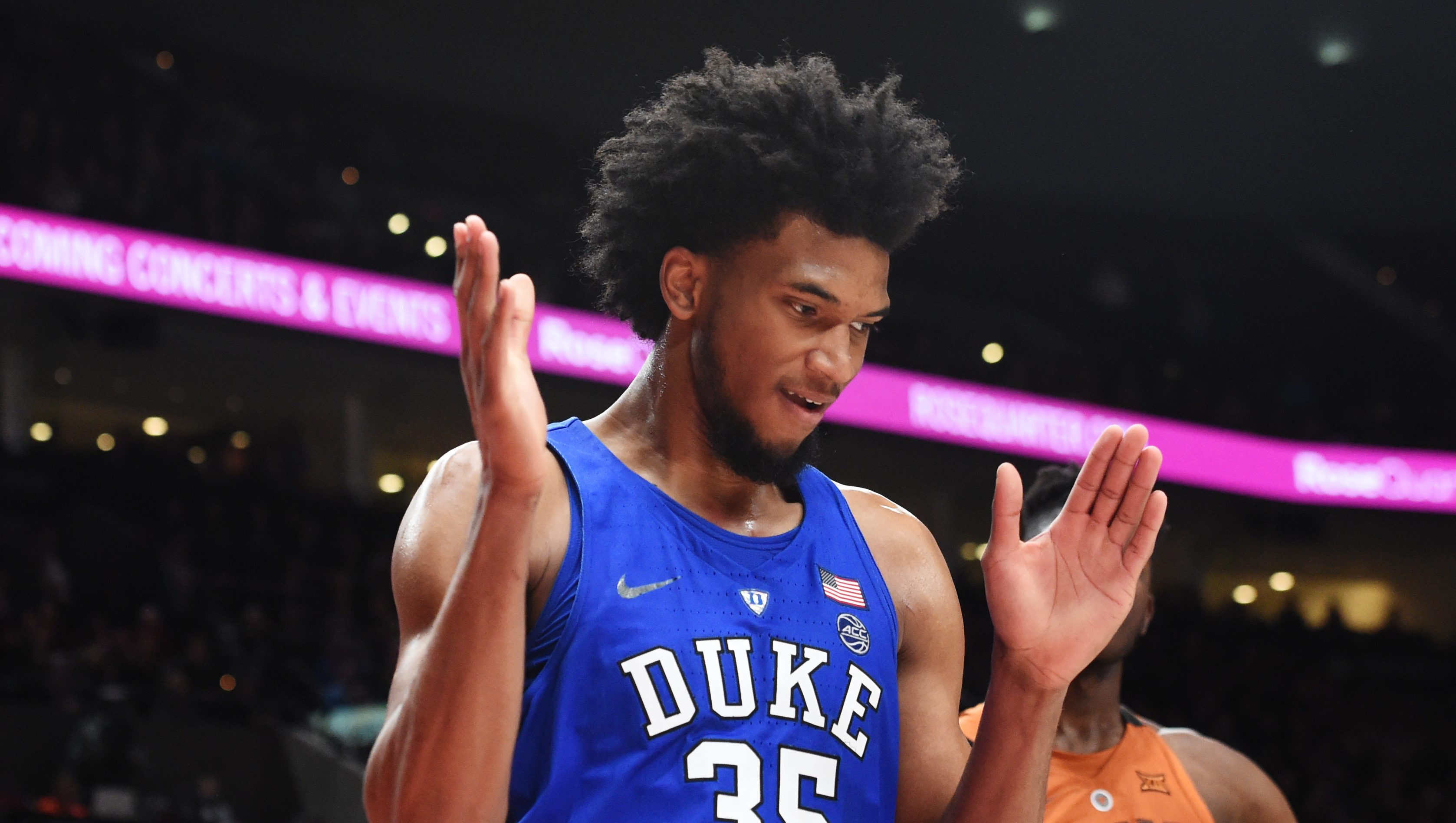 THREE THINGS WE'VE LEARNED
1. VIRGINIA STAYS VIRGINIA: Tony Bennett's program continues to be one of the most consistent in the country. The losses of Malcolm Brogdon and Anthony Gill led to a 23-11 season and a five-seed in the NCAA tournament last year. The Cavaliers looked prime for a slip with the graduate of London Perrantes and the transfer of Marial Shayok, but instead they're 11-1 and an established ACC frontrunner.
Of course, Kyle Guy's offense and Devon Hall's emergence on that end of the floor has been huge, but it's all about defense with the Cavaliers. They're allowing an opponent effective field goal percentage of 42.4, seventh in the country. That's powered by an opponent 2-point shooting percentage of 39.9, an absurdly low number. The pack-line just produces, or, rather, stops others from producing.
2. THIS DUKE TEAM LOOKS FAMILIAR: A truly special group of freshmen – including a dominant big man, an efficient point guard and a dynamic wing – surrounding a special senior. The Duke of 2017-18 is looking suspiciously like Mike Krzyzewski's 2014-15 team that cut down the nets at Lucas Oil Stadium.
The separation between the two right now is defense – the Blue Devils currently rank 73rd in adjusted defense – but that 2015 group was pretty brutal on that end of the floor as well until its NCAA tournament run rocketed them up the rankings. If Duke continues to rate as the country's best offense, the defense only has to get marginally better for this Duke team's season to finish in the same manner as 2015's.
3. LUKE MAYE IS A STAR: Maye's career path is astounding. He went from agreeing to initially walk-on at North Carolina to barely playing as a freshman to being a rarely-used reserve as a sophomore who became a sensation with his breakout play in UNC's run to through the NCAA tournament to a national championship last year. He's proving he's no novelty act this season.
Maye is averaging a double-double while shooting 52.8 percent from the floor and 45.9 percent from 3-point range. He's adding in 2.5 assists and 1.1 blocks per game too for good measure. He's not a complete rags-to-riches story as Maye had plenty of high-major offers coming out of high school, but his development – in conjunction with his expanded role – is something rarely seen in the college game today, especially at a blue blood like North Carolina.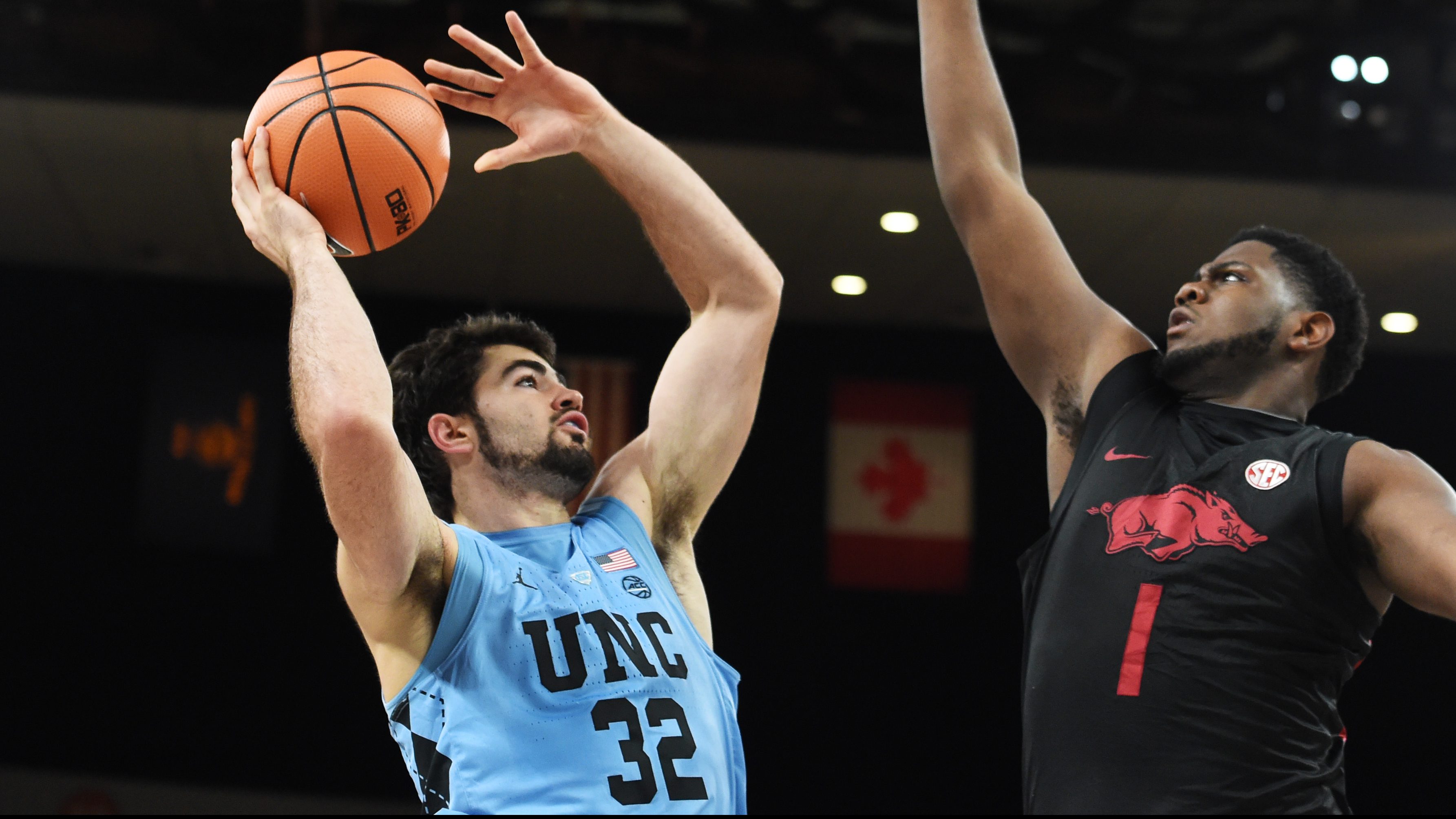 THREE STORYLINES TO FOLLOW
1. HOW MANY CONTENDERS ARE THERE?: Duke is probably the consensus favorite to win the ACC, but the conference looks strong at the top. How many teams can legitimately lay claim to contender status? Right now, the number looks like six, including the Blue Devils.
Virginia's case has already been laid out above. The Cavs are going to defend, and that's going to give them a shot. The Tar Heels, a loss to Wofford notwithstanding, look a worthy successor to last year's title team. Miami's defense looks legit, Clemson has wins over Ohio State, Florida and South Carolina while Notre Dame and Florida State have looked intriguing enough.The bottom of the league may be soft, but the top will be a brawl.
2. WHAT'S NEXT FOR LOUISVILLE?: David Padgett and the Cardinals are 10-2, but their best win is over an Indiana team that already has six losses (shoutout to Indiana State and Fort Wayne). Against their only other real competition, Purdue and Seton Hall, Louisville lost by nine and two points, respectively. So, how good is this team?
Here's betting they're somewhere around "meh." The offense hasn't really hummed all year, and the defensive numbers are probably inflated by substandard competition. With a mediocre offense and a good-but-probably-not-great defense, Louisville is probably on track for the bubble. Then begins the incredibly intriguing situation regarding its coaching position.`
3. COACHES ON THE HOT SEAT: Clemson's Brad Brownell and Boston College's Jim Christian both entered the season under some serious pressure to win. The Tigers made the NCAA tournament in Brownell's first season, 2010-11, but haven't since while Christian's Eagles had six ACC wins in his first three seasons, including an 0-18 campaign in 2016.
Both are off to strong starts – Clemson is 11-1 while BC is 10-3 with a win over Duke – but both their futures will likely be decided in how the next three months play out. What's good enough? For Clemson, it's probably a tourney birth. For Boston College, the bar is probably competency and competitiveness in the ACC. The other situation to monitor is Pitt. Kevin Stallings is in just his second year, but season No. 1 was something of a debacle and this campaign already features losses to Navy and Montana. If the Panthers can't hang in the ACC, it wouldn't be shocking to hear the drum beat from Pitt fans to give Stallings an early hook gain some momentum.
THREE PREDICTIONS
1. BONZIE FOR PLAYER OF THE YEAR: Marvin Bagley is the best player in the conference, but here's betting that Colson gets the nod for ACC Player of the Year. Colson is going to put up big numbers, Notre Dame should be pretty good and voters will probably break any ties by giving the nod to a senior with a distinguished career over a freshman who was never destined to spend more than a few months on campus. Right, wrong or indifferent, that's the way it often works. And Colson is awesome, so he could just win the thing going away.
2. DAVID PADGETT DOESN'T KEEP THE LOUISVILLE GIG: Padgett has done a good job in a bad situation. He's kept Louisville together despite the turmoil that's inherent to the circumstances of losing a Hall of Fame coach and athletic director amidst the fallout of a federal investigation into corruption in college basketball (what an amazing sentence, tbh). The Cardinals are playing well and go into tonight's game against Kentucky with a puncher's chance. Still, it seems unlikely he'll win enough to force Louisville to keep him on, and given the expectations in the program and fan base, that would seem to be the only way they hire a 32-year-old with no previous head coaching experience on full time.
3. N.C. STATE WILL SURPRISE: The Wolfpack raised some eyebrows when they knocked off Arizona, but that proved to be more about the Wildcats as it tipped off their three-game losing streak. NC State followed it up with losses to Northern Iowa and Tennessee, and then dropped one to Greensboro. So, not exactly a completely promising non-conference slate for Kevin Keatts' group. They're still kind of intriguing, though, The offense is pretty good, the defense seemingly has to get better and there's plenty of talent on the roster. The Wolfpack probably won't immediately figure it out and become an NCAA tournament shoe-in, but look for them to jump up and cause some problems for the league's top teams.