1. TRAE YOUNG, Oklahoma: Last week, before Trae Young tied an NCAA record with 22 assists and before he put 25 points and 10 assists on Northwestern in one half, we wrote about the special season that Young is having and why his ability as a passer makes him so special.
And raises his ceiling for what he can be as an NBA player.
I'm not really breaking any news here when I say that Young does not have the same physical profile as, say, Russell Westbrook or John Wall.
But Stephen Curry doesn't have that kind of explosiveness either, and he's managed to win a pair of MVPs awards and win two of the last three NBA titles as the centerpiece of what may be the NBA's greatest dynasty. Part of what makes Steph so good, in addition to the fact that he may be the best shooter we've ever seen, is that he can finish in the lane despite his physical limitations. Take, for example, the 2015-16 season, when he was the unanimous MVP on a team that won an NBA-record 73 regular season games. That year, Steph shot 52.6 percent on runners, among the best in the NBA, and 59.4 percent around the rim, well above-average; for comparison's sake, LeBron shot 63.4 percent around the rim while Tony Parker, who made a career that has lasted nearly two decades out of making runners and finishing over bigger defenders, shot 41 percent on runners and 59.3 percent around the rim.
This season, Young is has made 11-of-16 runners (68.8 percent) that he has attempted, and while he is only shooting 47.2 percent around the rim – 40th percentile in college basketball this season – you have to figure that is the kind of thing that can come with time and some added weight and strength.
But Young's float-game is promising. As you can see in the cuts below, he can make them going left or right, when he is getting bodied by a defender and out to the foul line:
His ability to make shots like this will reduce the need to finish at the rim against NBA big man.
2. MARVIN BAGLEY III, Duke
3. TRA HOLDER, Arizona State
4. JALEN BRUNSON, Villanova: Here is a complete list of the players in the KenPom era (since 2001-02) that have posted an offensive rating above 130 and a usage rate over 22.9 (I was initially going to use 23.0 as the cut-off, but Ty Lawson's 2008-09 season needed to be recognized):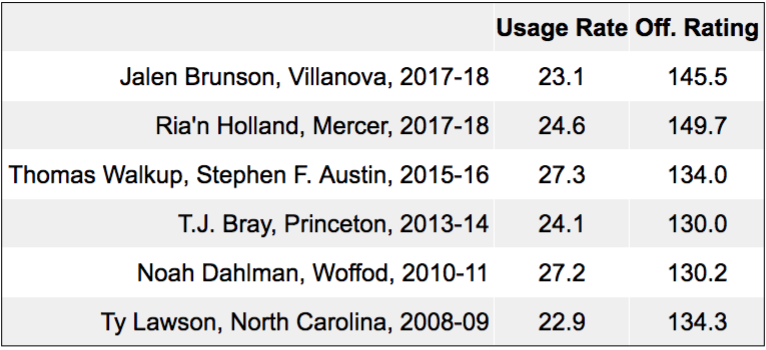 Jalen Brunson has been awesome.
But so has Ria'n Holland. So shout out to Ria'n Holland.
5. DEANDRE AYTON, Arizona
6. JEVON CARTER, West Virginia
7. TREVON BLUIETT, Xavier
8. BONZIE COLSON, Notre Dame
9. JORDAN MURPHY, Minnesota: Murphy is currently leading the Big Ten in scoring at 19.6 points. He leads the nation in rebounding at 12.6 boards. Here are his statlines in every game this season: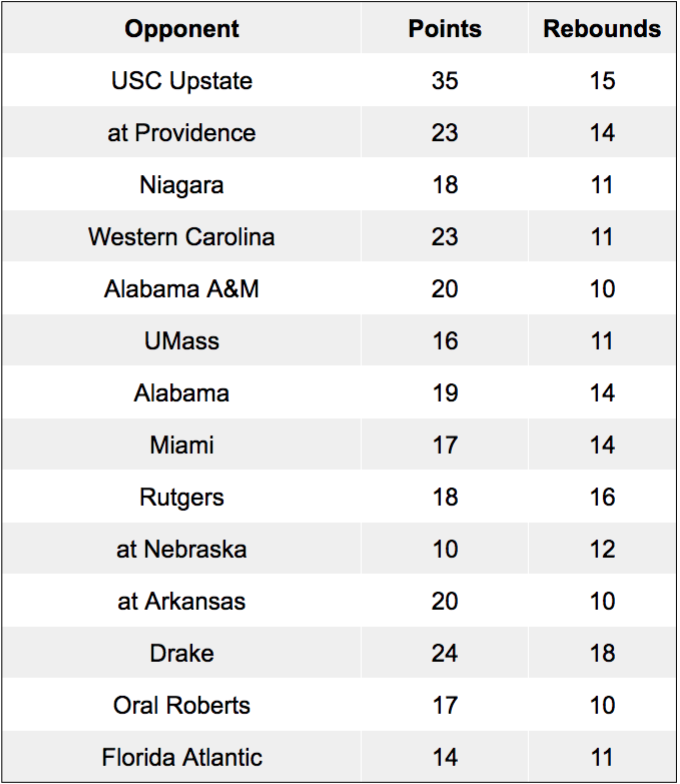 If you're not good at the maths, that means that Murphy has a double-double in every game this season. Big Ten play starts next week. How long can that streak continue?
10. MIKAL BRIDGES, Villanova
ALSO CONSIDERED: KEENAN EVANS, Texas Tech; D.J. HOGG, Texas A&M; DEVONTE' GRAHAM, Kansas; DAKOTA MATHIAS, Purdue; YANTE MATEN, Georgia; LUKE MAYE, North Carolina; SHAKE MILTON, SMU; DESI RODRIGUEZ, Seton Hall; LANDRY SHAMET, Wichita State; KHYRI THOMAS, Creighton; ALLONZO TRIER, Arizona