College basketball's non-conference season is finally coming to a close.
To help you shake off post-holiday haze and the hangover of losing in your fantasy football playoffs, we'll be providing you with some midseason primers to get you caught up on all the nation's most important conferences.
Who has been the best player in the biggest leagues?
Who is on track to get an NCAA tournament bid?
What have we learned about the conference hierarchy, and what is left for us to figure out?
We break it all down here.
Today, we'll be taking a look at the American.
MIDSEASON AMERICAN PLAYER OF THE YEAR: Rob Gray Jr., Houston
While Rob Gray certainly receives his just due within the American, not too sure this can be said nationally as well. The senior's scoring average (20.7) is only one-tenth of a point better than what he produced last season, but Gray has improved noticeably with regards to his shooting percentages. The 6-foot-2 guard is shooting 49.7 percent from the field, 41.7 percent from three and 84.6 percent from the foul line, with all three numbers being improvements from last season's numbers (47.3, 38.2, 81.3). Gray's also averaging 3.7 assists per game, and overall he's been a more efficient option than he was as a junior.
THE ALL-AAC FIRST TEAM
ROB GRAY, Houston
LANDRY SHAMET, Wichita State: Shamet missed time early in the season due to a foot injury, but he's shown why he's considered one of the top guards in the country since returning. Shamet's averaging 17.1 points, 4.6 assists and 3.0 rebounds per game,
shooting 54.0 percent from the field and 50.0 percent from three.
SHAKE MILTON, SMU: Milton is a big reason why the Mustangs haven't missed a beat despite losing multiple key contributors from last season's team. The 6-foot-5 junior is averaging 17.2 points, 4.8 rebounds and 4.8 assists per game, leading the Mustangs in points and assists.
GARY CLARK, Cincinnati: While the 12.5 points per game may not jump off the page, keep in mind that Clark's raised his scoring by nearly two points per game from last season and is on a team with four other players averaging at least 9.8 points per game.
Clark's also grabbing 8.6 rebounds per night, which ranks second in the American, and he's also fifth in the league in steals and sixth in blocked shots.
TACKO FALL, UCF: Fall's development while at UCF has been fun to watch, and as a junior he currently leads the American in field goal percentage (78.1) and blocked shots (2.1 bpg). The 7-foot-6 Fall, who's averaging 13.8 points per game, is also fourth in the conference in rebounding (7.8 rpg).
POSTSEASON PREDICTIONS
NCAA: Cincinnati, Wichita State, SMU, Houston
NIT:Temple, UCF, Tulsa
OTHER/NO POSTSEASON: UConn, Memphis, Tulane, USF, East Carolina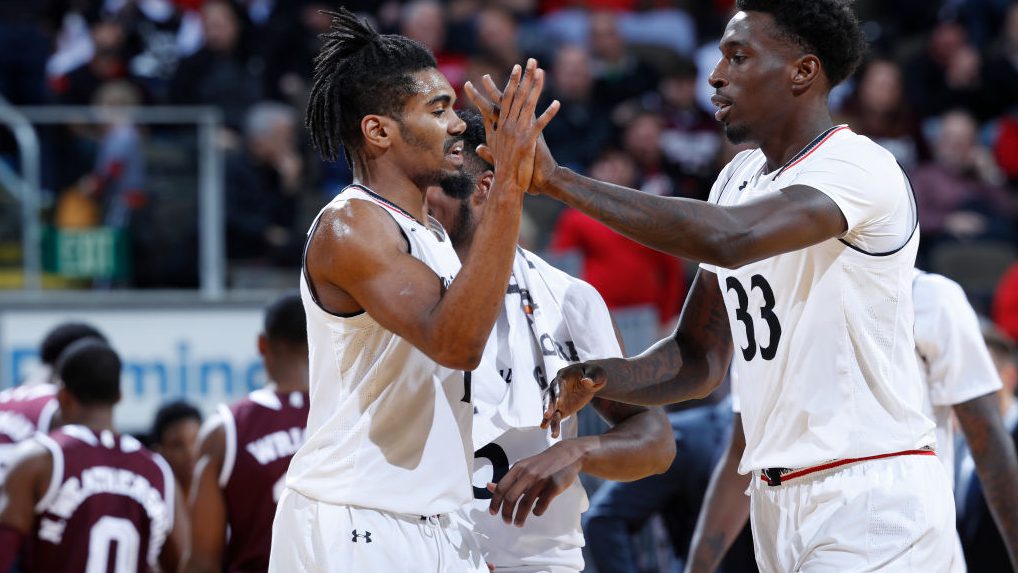 THREE THINGS WE'VE LEARNED
1. CINCINNATI CONTINUES TO DEFEND AT A HIGH LEVEL: The big question for Cincinnati entering the season is whether or not they could make strides offensively. Thus far they're about the same from an efficiency standpoint, with this group turning the ball over a bit more but shooting better from the perimeter than last season's group. Veterans Jacob Evans III, Gary Clark and Kyle Washington are all double-digit scorers, as is sophomore Jarron Cumberland, and Sacred Heart transfer Cane Broome has been an impact reserve.
What hasn't changed for the Bearcats has been their effort on the defensive end of the floor, as Cincinnati is ranked fifth in the country in adjusted defensive efficiency per kenpom.com. A big reason for this is Cincinnati's defense inside of the arc, with opponents shooting 39.4 percent from two and the Bearcats averaging a league-high 5.9 blocks per game. They don't give up many second chances either, as Cincinnati is rebounding 74.3 percent of its opponents' missed shots. That's why Cincinnati enters league play as one of the favorites in the American.
2. WE'VE YET TO SEE WHAT THIS WICHITA STATE TEAM CAN BE WHEN WHOLE: While there have been some concerns voiced with regards to the Shockers defense, which is understandable given the issues in losses to Notre Dame and Oklahoma, this group isn't too far off from what last season's team produced from an efficiency standpoint (26th nationally in adjusted defensive efficiency; 13th last season). The Shockers are ranked sixth in the American in three-point percentage defense (33.2), but they've done a decent job inside of the arc.
Here's the thing: we still aren't fully sure of what this group is capable of when whole. While Landry Shamet's had enough time on the court to justify the preseason praise thrown his way, another key veteran just returned to the court. Markis McDuffie played nine minutes in his season debut on December 22 against FGCU, and his return gives Wichita State a versatile wing with size who can have an impact in a variety of ways. He returns to a team that currently has four double-digit scorers and a fifth option in guard Samajae Haynes-Jones who's been an impact reserve. Once McDuffie shakes off the rust and Gregg Marshall gets the rotation to where he wants it, look out. And it's not like they aren't already good, either.
3. UCONN REALLY NEEDS TO MAKE SOME CHANGES OFFENSIVELY: No need to mince words here: offensively, this group is brutal. Sure there are individual talents on the roster, most notably Jalen Adams, Terry Larrier and Christian Vital, but the way in which UConn plays offensively makes things far more difficult than they need to be. According to kenpom.com just 39.0 percent of the Huskies' made baskets have been assisted, which ranks 347th in the country. Wonder why this team's shooting 31.0 percent from three and 40.1 percent from the field? There you go.
If UConn is to rebound from non-conference play and be a factor in the American, Kevin Ollie must figure out how to get his top options quality shots without having to rely solely upon dribble penetration. Because more often that not, especially with Alterique Gilbert sidelined by another shoulder injury, dribble the air out of the ball simply produces a challenged look. And until that occurs, it's very difficult to envision the Huskies as a team capable of challenging the best teams in the American.
THREE STORYLINES TO FOLLOW
1. HOW WILL WICHITA STATE ADJUST TO ITS NEW LEAGUE?: The Shockers begin their first run through American play at UConn on December 30, and things will only get tougher from there. The home opener against Houston won't be a cakewalk, and Wichita State also has to play Cincinnati, SMU and Temple both home and away (they'll also face Houston twice). After being the preeminent program in the Missouri Valley, Wichita State will find more resistance at the top of the American.
That being said, Gregg Marshall's program has done enough over the years both within its former conference home and nationally to garner a certain amount of respect. The league's coaches picked Wichita State to finish second in the preseason poll, and in non-conference play the Shockers did little to discourage those who expect them to at the very least contend. But with the change comes getting used to new road environments and new styles of play/personnel. It will be interesting to see if there are any unexpected hiccups in Wichita State's first run through the American.
2. THE CONFERENCE IS DEEPER THAN IT HAS BEEN IN YEAR'S PAST: While it appears that there's some separation at the top of the American, with four teams (Wichita State, Cincinnati, SMU and Houston) being Top 40 teams according to KenPom and Temple not that far off, there are teams just outside of that quintet capable of pulling off some quality wins as well. That should make for an interesting conference slate, making it unlikely that the champion goes 17-1 like SMU did last season.
UCF has a very good front court duo in Tacko Fall and A.J. Davis, but they need B.J. Taylor to get healthy. Can UConn get its act together? How about Memphis, which for all the "doom and gloom" surrounding the program went 9-3 in non-conference play? And both Tulsa and Tulane have shown positive signs, with Junior Etou playing very well for the Golden Hurricane and Melvin Frazier and Cameron Reynolds leading the way for the Green Wave. Wichita State's arrival gives the American another quality team to carry the banner nationally, but the middle of the pack shouldn't be overlooked either.
3. WHAT HAPPENS WITH UCONN AND MEMPHIS?: UConn's struggles were touched on above, with the Huskies struggling to establish itself on offense and looking downright inept in blowout losses to Arkansas and Auburn. The conference opener against Wichita State gives this proud program a chance to add a quality win to its résumé while also restoring some confidence. After leading his first team, which was dealing with a postseason ban, to 20 wins and winning a national title the following season, Kevin Ollie hasn't been able to sustain that momentum. That has to change.
As for Memphis, the questions for Tubby Smith's program are primarily focused on recruiting. Class of 2018 point guard Alex Lomax has committed to Wichita State, which puts the pressure on the Memphis coaching staff to keep another talented local point guard prospect in Tyler Harris home. Throughout Smith's tenure there have been questions asked regarding the program's ability to keep local talent home. Simply put, this is something that needs to be addressed. What can help is putting an improved product on the FedEx Forum court, but when a team's best wins are two-point home wins over Northern Kentucky and Mercer that won't necessarily fire up the fan base. Games against LSU and Cincinnati in the next week give Memphis the opportunity to build some momentum.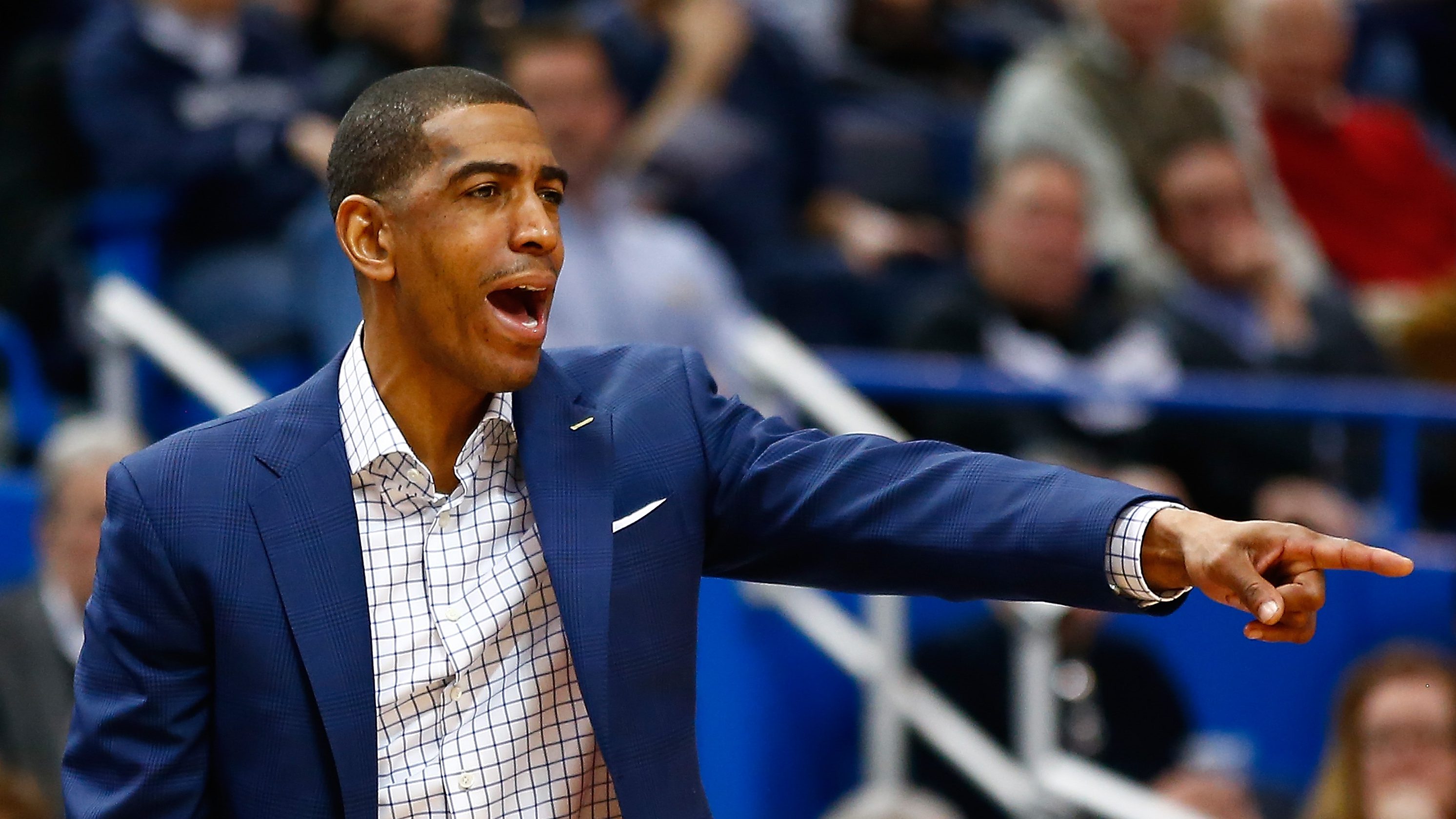 THREE PREDICTIONS
1. THE CONFERENCE CHAMPION HAS AT LEAST FOUR LOSSES IN LEAGUE PLAY: As noted above there's no shortage of quality teams at the top of the American, especially with Wichita State now in the mix. While the prediction here is that the champion will have at least four conference losses for that reason, that would be a rarity for the American. Just once in the league's brief history as the conference champion had four losses in league play, and that was when Temple won the conference in 2016.
That season four teams went to the NCAA tournament, and the number would have been five if not for SMU having to sit out for NCAA reasons. Expect a similar situation — without the NCAA issues, of course — with Cincinnati, Wichita State, SMU and Houston among that teams that will fight it out for the top spot.
2. FOUR TEAMS REACH THE NCAA TOURNAMENT: After seeing four teams earn NCAA bids in the aforementioned 2015-16 campaign, the American saw that number cut in half last season. The top of the conference is better this season, but based upon the NCAA's RPI calculations (it's not good but since they use the RPI, it's being cited here) there is some work to be done. Temple (13th) and Wichita State (22nd) are both in the Top 25, which is particularly interesting given the Owls' losses to La Salle (road) and George Washington (neutral).
Also, there are four other teams (Houston, UCF, SMU and Cincinnati) ranked between 62nd and 72nd in the RPI. The good news is that there will be some solid opportunities in conference play for teams to pick up quality wins. The question: how much value will the committee place on metrics such as Ken Pomeroy's, which look at the American in a more positive light (at the top) than the RPI? Ultimately the American will do enough to get four teams into the Big Dance.
3. TWO PLAYERS SHARE PLAYER OF THE YEAR HONORS: In the first four seasons of the American one player has taken home the honors, with Shabazz Napier winning in 2014, followed by SMU players winning Player of the Year in each of the next three (Nic Moore twice, followed by Semi Ojeleye last season). Given some of the individual talents in the American, led by Houston's Rob Gray and Wichita State's Landry Shamet, it would not come as a surprise if two players were to share the award come season's end. The coaches voting for such honors tend to reward winning. But if the league title race is a close one, it could result in multiple players being honored.