PLAYER OF THE DAY
Trae Young is well on his ways towards becoming college basketball's best and most exciting story this season. Entering Saturday, he was leading the nation averaging 28.8 points and third nationally in assists, averaging 8.8 per game. Those numbers are going to go up, as the diminutive freshman went for 29 points and 10 assists as Oklahoma went into Intrust Bank Arena and knocked off No. 3 Wichita State, 91-83.
That gym is one of the toughest gyms in America to leave with a win. And Wichita State, traditionally, is one of college basketball's toughest teams, one of the best defensive units in the sport.
And Young torched them.
He had 21 points and seven assists by halftime, as the Sooners jumped out to a 54-39 lead. What was billed as a matchup between two of the nation's best point guards devolved into Young's coming out party on national television. Here's the big question to ask now: Just how good is this Oklahoma team if Trae Young is college basketball's latest superstar?
THE REST OF SATURDAY'S STARS
UDOKA AZUBUIKE, Kansas: The lone big man on the Kansas roster played his best game as a collegian on Saturday night. He finished with 26 points – on 13-for-17 shooting, he didn't even attempt a free throw – and nine boards, but more importantly he blocked a James Palmer shot with less than ten seconds left to help Kansas hold on to a 73-72 win in Lincoln.
JUWAN MORGAN, Indiana: Morgan had a career-high 34 points to go along with 11 boards as the Hoosiers came-from-behind to knock off No. 18 Notre Dame in the Crossroads Classic. Morgan scored Indiana's last 12 points in regulation and eight of their 15 in overtime. With 11 seconds left, he scored an and-one with Indiana down three, and after the Hoosiers got an offensive rebound, threw down the game-winning dunk.
TYUS BATTLE and OSHAE BRISSETT, Syracuse: Battle finished with 29 points and Brissett scored 24 of his career-high 25 points and grabbed 10 of his career-high 14 boards in the second half and overtime of an 86-79 Syracuse win. The Orange were down by as many as 13 points in the second half on the road and still managed to get a win over their rivals.
QUADE GREEN, Kentucky: Green had 17 points and five assists as No. 8 Kentucky knocked off Virginia Tech, 93-86, in Rupp Arena on Saturday, but what was most impressive is that Green did it while wearing a sweet pair of shades to protect an injured eye.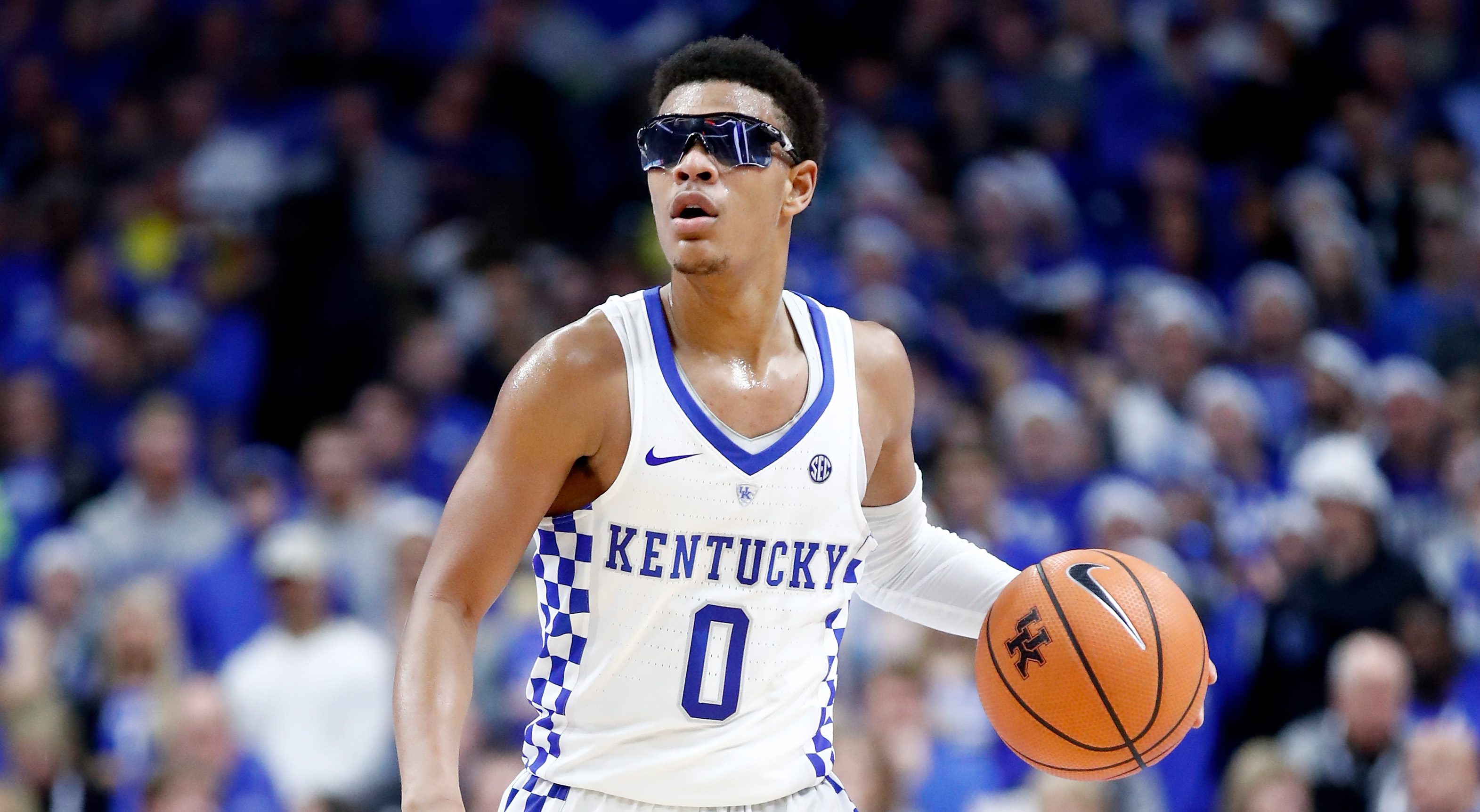 TEAM OF THE DAY
For the first time in four years, Rutgers is the pride of New Jersey. Playing in front of a packed house at the RAC, Rutgers came from 13 points down to knock off No. 15 Seton Hall, 71-65. Corey Sanders led the way with 22 points for the Scarlet Knights, who used a 17-2 run to close out the game after the Pirates took a 63-54 lead with six minutes left.
GAME OF THE DAY
There were a number to choose from today. Virginia Tech-Kentucky was unexpectedly thrilling. St. Bonaventure won on a buzzer-beater.
And then there were the comebacks.
North Dakota had a buzzer-beater force overtime at No. 12 Gonzaga after the Zags erased a nine-point deficit in the final four minutes. Indiana's comeback against No. 18 Notre Dame was wild, even if much of the game itself was boring. Syracuse was down 13 in the second half and won in overtime. Rutgers was down nine with six minutes left and won. And No. 10 Xavier? All they did was erase a 22-point deficit in the final 14:25 to win.
Should I mention the insanity of what happened with No. 19 Florida State and No. 22 Florida, losing by a total of three points in the same building on the same day to unranked opponents?
But for my money, the best game that we saw on Saturday was between No. 13 Kansas and Nebraska. The Huskers desperately needed a win at home to bolster their non-conference résumé while the Jayhawks were looking to snap a two-game losing streak.
They did.
Thanks to Svi Mykhailiuk:
WTF???? OF THE DAY
Have you ever seen an arena get evacuated in the middle of a game that is being broadcast on national television?
Because that is precisely what happened on Saturday at Value City Arena as Ohio State was playing Appalachian State. Early in the second half, an exhaust fan at a concession stand failed, which resulted in the fire alarm getting triggered and the arena being cleared.
It was a scary moment, but it was also an incident that was handled precisely the way it is supposed to be handled.
WHAT ELSE DO YOU NEED TO KNOW?
It was a good day for the guys that can't shoot in the state of Kentucky. Kentucky, ranked No. 8 in the country and last in the percentage of points they get from beyond the arc, went 11-for-22 from three as they knocked off a good Virginia Tech team that leads the nation in three-point percentage. Then there's Louisville, who beat Memphis in Madison Square Garden on the back of a 14-for-26 three-point shooting performance.
Saturday was not a good day for the basketball teams in the Sunshine State. It started with No. 19 Florida State, who suffered their first loss of the season at the hands of Oklahoma State in the first game of a double-header. In the second game, No. 22 Florida lost for the fourth time in their last five games, as they allowed Clemson to pick up their best win of the season.
It looked like it was going to be a really bad day for No. 10 Xavier, who trailed East Tennessee State at home, 51-29, with 14:25 left on Saturday afternoon. The Musketeers proceeded to go on a 39-15 run to end the game, winning 68-66 and leaving with nothing more than a warning for why it's dangerous to take any team lightly.
Kyle Washington had 19 points and Gary Clark chipped in 10 points, 11 boards, four assists, three steals and three blocks for No. 25 Cincinnati in a 77-63 win at UCLA.
No. 23 Arizona cruised to another road win, this time at New Mexico, thanks to 24 points from Rawle Alkins, playing his second game since returning from a broken foot.
No. 18 Purdue cruised to an 82-67 win over Butler in the opener of the Crossroads Classic. Carsen Edwards led the way with 18 points.