Over the course of the next three days, we at College Basketball Talk will be cruising through the best, the most surprising and the most disappointing teams in college basketball.
As of today, how should we view the 45 most interesting teams in the country based on preseason expectation? 
Are we more confident in them? Less confident? Still unsure?
We used five different labels here to help define how we feel about each of the 45 teams mentioned:
Bet The Mortgage
Raise
Check
Fold
Get Your Stuff And Go Home
Today, we go through everyone from Syracuse to Xavier.
Let's get into it.
SYRACUSE: Check
I thought Syracuse was going to be awful this year. They are decidedly not awful … but I'm not quite sure if they are good, at least not yet anyway. Matthew Moyer has been a pleasant surprise, as has Oshae Brissett, but are we sure their centers are any good? Can Tyus Battle actually make his teammates better? I'm not sure. So I'm saying let's wait and see what happens. (Rob Dauster)
TCU: Raise
The Horned Frogs are barreling toward conference play with an undefeated record and a juggernaut offense. Jamie Dixon has transformed his alma mater into a Big 12 contender in just year two on the strength of an offense that makes 43.7 percent of its threes and 58.9 percent of its twos. The defense isn't elite, but it may be good enough to make TCU a true threat to Kansas in the Big 12. (Travis Hines)
TENNESSEE: Check
I was high on this Tennessee team entering the year, and they've made me look smart for saying they could push for an NCAA tournament berth. Grant Williams is a problem, but the rest of the guys on this roster are talented try-hards. Put another way, I think that the Vols are punching above their weight right now, and while I think the way they play works for them – they are going to out-effort and out-tough just about everyone – the reality is that they're at something of a talent deficit. They're a good team, but at No. 20 in the AP Poll, they're right at their ceiling. (RD)
TEXAS: Check
The loss to Michigan at home last night was bad, but that loss also came without Andrew Jones on the floor. He's their most important piece offensively. Until he's back in the lineup, it's really hard to get a full sense of what this team is moving forward. I was very high on them at the start of the year, but Mo Bamba has not quite had the impact I expected him to have defensively. We'll see. (RD)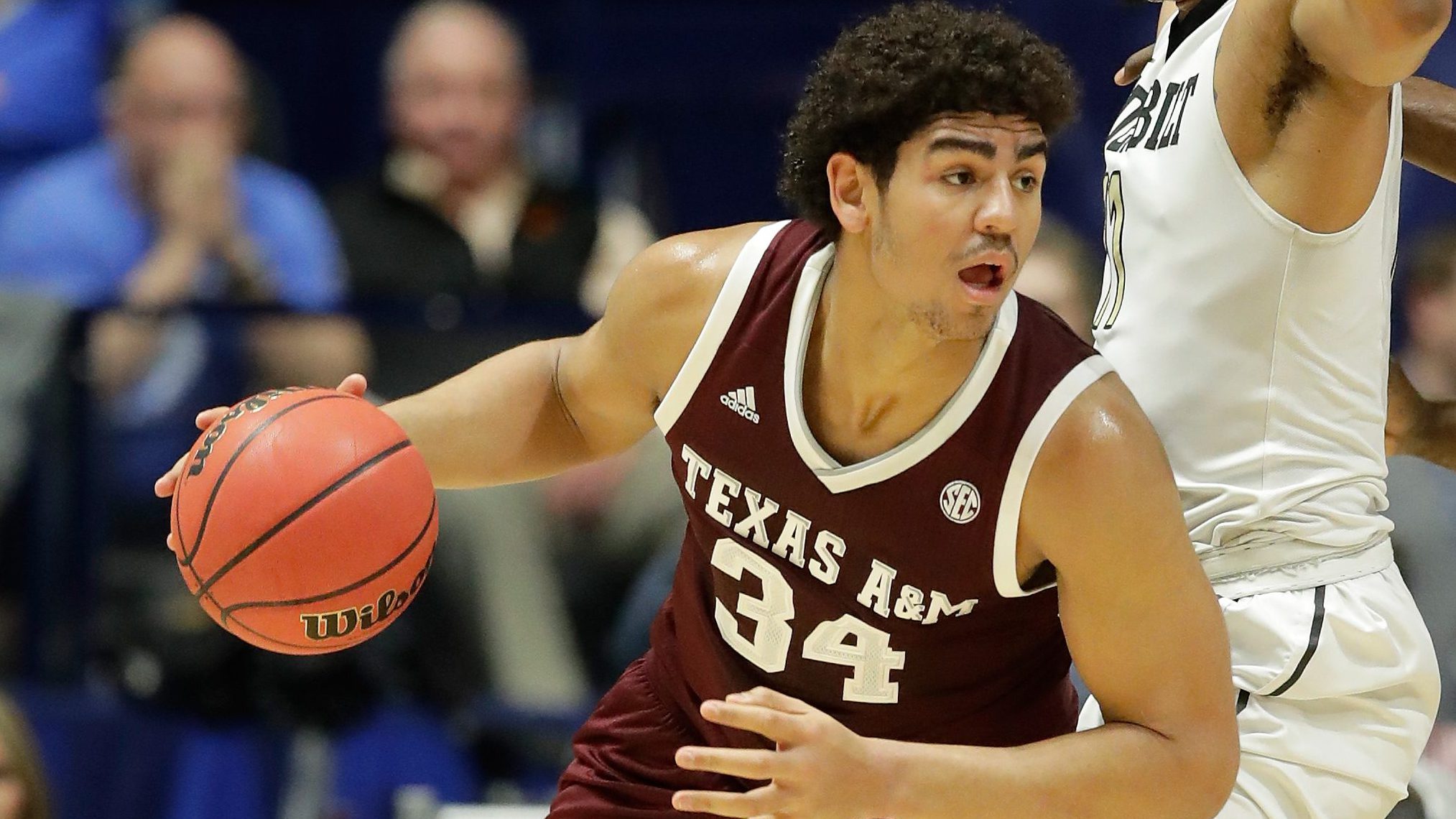 TEXAS A&M: Raise
The Aggies slipped up against a wounded Arizona team last week, but there's a lot to like with Billy Kennedy's team. The defense is among the best in the country with Robert Williams and Tyler Davis patrolling the paint, and the offense is steady as well. (TH)
TEXAS TECH: Fold
Texas Tech blasted Northwestern last month by 36 points, but lost to Seton Hall and needed OT to beat a solid Nevada team at home. Chris Beard has his team playing a lot of defense, but they're not making a lot of shots. The defense should translate against a tougher schedule, but getting more buckets seems unlikely. (TH)
UCLA: Check
I certainly wouldn't say that UCLA won't be an NCAA tournament team; they should be. But this season was thrown for a loop from the start thanks to some "sticky fingers" in China, and that may have upset the Bruins' routine during the first month. Now that a personnel move has been made, maybe Steve Alford's team can use this time to refocus as they prepare for conference play. There's some good young talent, most notably Jaylen Hands and Kris Wilkes, and Aaron Holiday and Thomas Welsh are two experienced options who can earn all-conference honors at season's end. This isn't a "fold" or "run away before you blow your mortgage payment" situation, but it's isn't one where you throw more money into the pot or go all-in, either. (RJ)
UCONN: Get Your Stuff And Go Home
This is rough to say as someone that grew up a UConn fan, but at this point there are no more excuses for Kevin Ollie and the Connecticut program. They're just not good enough. If the 35-point blowout against Arkansas wasn't enough of a sign, it was struggling to overtime wins against 1-10 Columbia and Monmouth at home. It's hard to think that less than four years ago, the Huskies were in the process of winning their second national title in four years. (RD)
USC: Check, but I'm ready to fold
The reason why I'd check when it comes to the Trojans is the sheer amount of talent on the roster. Jordan McLaughlin, Chimezie Metu, Bennie Boatwright, Elijah Stewart, etc. Andy Enfield has a host of options who can get the job done offensively, making USC a tough team for opponents to defend. That being said, if anything we've learned just how important DeAnthony Melton is. On a roster filled with guys who seemingly fill one particular role, Melton was the guy who served as the "mixing agent" on both ends. He can play with or without the ball in his hands on offense, and defensively he can take on a variety of assignments as well. When (or if) he returns USC becomes a better team immediately, but with there being no set time frame who knows if Melton will suit up. And if he were to be ruled out for the rest of the season as the school looks to stay in the NCAA's good graces, that would be the time to get out. (RJ)
VILLANOVA: Bet The Mortgage
They're the best team in the country, particularly is Mikal Bridges is going to continue to be a go-to scorer for them. If he's a guy that can get Jay Wright 17-19 points a night, Villanova is scary. The one place where I think they can be taken advantage of is up front. I'm not totally sold on Omari Spellman as a defender yet, and I don't think that they've been fully-tested with the schedule they've played. (RD)
VIRGINIA: Raise
I'll take the L on this one. I did not see a way for the Cavaliers to be able to continue to be as good as they've been defensively with the number of young guys on this roster, and I did not think that Kyle Guy was ready to be a go-to scorer in the ACC just yet. I was wrong. KenPom, who has them ranked 3rd nationally, is way too high on this group – I think Virginia is the new Wisconsin, where there's something weird about the formula that makes them pop in his metric – but they might be better than where they are sitting in both polls (16th). Wa-Hoo-Wa. (RD)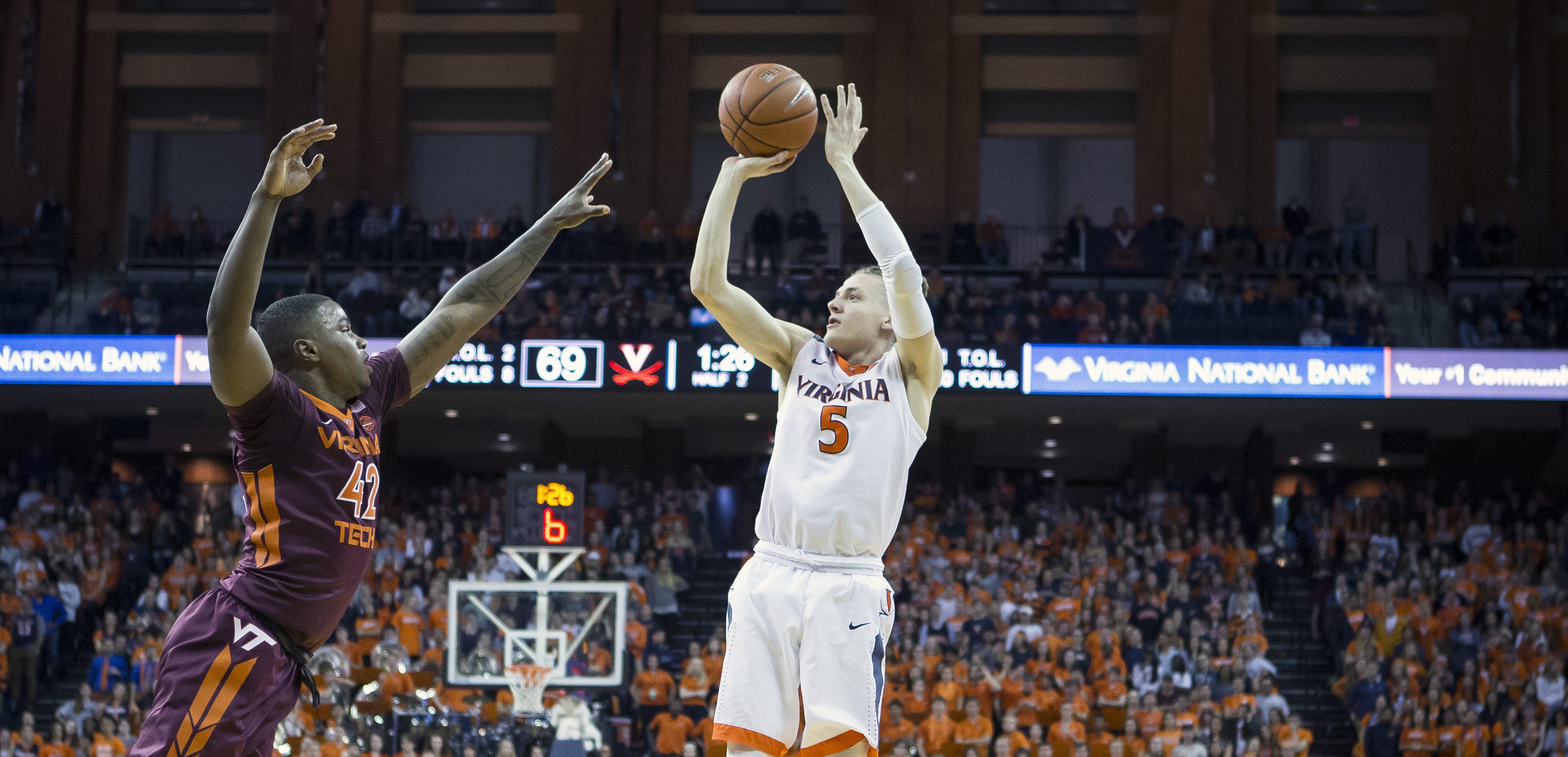 VIRGINIA TECH: Check
It's hard to tell if Virginia Tech is legitimate since their schedule has been so weak. Sporting the No. 340 non-conference strength of schedule in the country, the Hokies have only played one true road game, an unimpressive OT win over Ole Miss. This team might be good, but it's hard to tell since the schedule is so bad. (SP)
WEST VIRGINIA: Raise
The Mountaineers have come a long way since getting worked by Texas A&M in their season opener. West Virginia has won nine-straight since that drubbing, including a victory over Virginia. Press Virginia has been as good as ever with a 27.9 percent defensive turnover percentage. The question will be if the offense can shoot it well enough to not depend solely on those takeaways. (TH)
WICHITA STATE: Bet The Mortgage
The Shockers are really, really good. A one-point loss to Notre Dame is the only thing keeping them from a clean sheet, and they look to have a team as capable as any Gregg Marshall has fielded in Wichita. Now in the AAC, the Shockers are going to be more battle-tested then ever and should be in line for a high seed, making them a threat to return to the Final Four – and maybe even win the whole thing. (TH)
WISCONSIN: Fold
I just don't think it's going to happen for the Badgers this year. They have too many young guards and not enough reliable shooting or playmaking around Ethan Happ. The biggest issue that the Badgers now face is that they did not do anything in the non-conference and now enter the Big Ten season, where the conference as a whole is down. Forget finishing top four in the league, will they be able to rally like they did in 2016 and make the NCAA tournament? (RD)
XAVIER: Bet The Mortgage
Besides for a loss against red-hot Arizona State, the Musketeers are 9-0 with night double-digit wins this season. With a star in senior Trevon Bluiett and a rotation that goes nine deep, Xavier has capable players at every position and a ton of March experience from last season's Elite Eight run. (SP)