Kansas entered 2017-18 as a preseason top four team, the consensus favorite to win their 14th straight Big 12 regular season title and a contender to make a return to the Final Four and win Bill Self his second national title.
It made sense.
The Jayhawks had an All-American running the show at the point in Devonte' Graham. They had a former McDonald's All-American slotted to start alongside him, while two top 20 recruits – sophomore Udoka Azubuike and freshman Billy Preston – anchored a front line that was not deep but that did provide some quality size. There were some easily identifiable issues, but what team didn't have easily identifiable issues?
In short, there was no real reason to think that Kansas would not be able to do what they always seem to do.
And yet here we are, on Dec. 12th, and the Jayhawks are coming off of back-to-back losses for the first time in four years. That was the year that the Jayhawks lost at Colorado and at Florida with Andrew Wiggins and Joel Embiid on the roster. You have to go back all the way to Nov. 2005 to find the last time that the Jayhawks lost consecutive games that were not on the road. That year, they lost their first two games in the Maui Invitational, and after dispatching Chaminade in the seventh-place game, came back to Lawrence to lose at home to Nevada.
What happened here?
How is it that we all thought would be so good, that looked so dominant for stretches early on this season, lost back-to-back games in the manner that they did?
1. KANSAS DOES NOT HAVE NEARLY ENOUGH BODIES
You cannot talk about Kansas without first mentioning that the Jayhawks are playing with seven scholarship players right now. We've been through this over and over again, so I won't spend too much time on it, but ignoring this problem would be like blaming Goodyear for your flat tire while ignoring that you drove your car directly into a pothole.
As it currently stands, the only players that Bill Self has available to him off the bench are sophomore Mitch Lightfoot and freshman Marcus Garrett. Lightfoot is a stretchy four that should be playing sparingly at this point in his development; he's being asked to provide 15 minutes a night as the only big man on the roster other than Azubuike. Garrett is a top 50 recruit that has a chance to be a good player and a valuable contributor down the road, but right now he's not quite ready to provide quality minutes playing, at times, the small-ball four role Josh Jackson played last season.
This is a problem that could get solved by the end of the month. Sam Cunliffe, a transfer from Arizona State that averaged 9.5 points last season, will be eligible for the second semester. At the very least, he'll provide another shooter, another athlete and five more fouls on the perimeter. The issue is whether or not Preston or high school senior Silvio De Sousa will get eligible. Preston is still sitting out as Kansas and the NCAA work through who paid for the car Preston crashed last month. De Sousa needs to get a high enough test score to graduate and be eligible to enroll early.
Preston should help provide offensively – more on that in a second – while De Sousa would essentially be another big, physical body that can give the Jayhawks rebounding, rim protection and five more fouls.
Both are necessary.
2. KANSAS NEVER REPLACED THE TOUGHNESS THEY LOST WITH JOSH JACKSON AND FRANK MASON III
I discussed this with Jeff Goodman on the most recent episode of the College Basketball Talk podcast. (See below.)
There has never been a player better suited to being a small-ball four in college than Josh Jackson. Let's for get, for a second, that he was a 6-foot-8 two-guard that could block shots, rebound the ball, make threes and create off the bounce as well as most college point guards. He was also a winner, competitive as all hell and unafraid of the contact and physicality that comes with playing in the paint in the Big 12.
The same can be said for Frank Mason III, who was a pitbull of a point guard. He, too, was uber-competitive and unafraid of a fight, figuratively speaking.
The Jayhawks not only had two alphas on last year's roster, both of those alphas were all-americans-turned-NBA players. Jackson was the No. 4 pick in the draft while Mason, a second-rounder, looks to be the best rookie point guard in an organization that also drafted De'Aaron Fox.
Who does Bill Self turn to to find that kind of mental and physical toughness?
Devonte' Graham is a leader in his own way, but he's not Mason and he doesn't lead by example the way either of those two did. Svi Mykhailiuk is not tough enough to handle playing the four the way Jackson did. He was barely tough enough to handle the on-ball pressure Arizona State put on him on Sunday. Lagerald Vick is tough, but he's also a role player and a spot-up shooter that stands all of 6-foot-4 and 180 pounds. He's not replacing Jackson at the four. Malik Newman isn't the answer. Mitch Lightfoot certainly isn't the answer.
There isn't an answer, far as I can tell.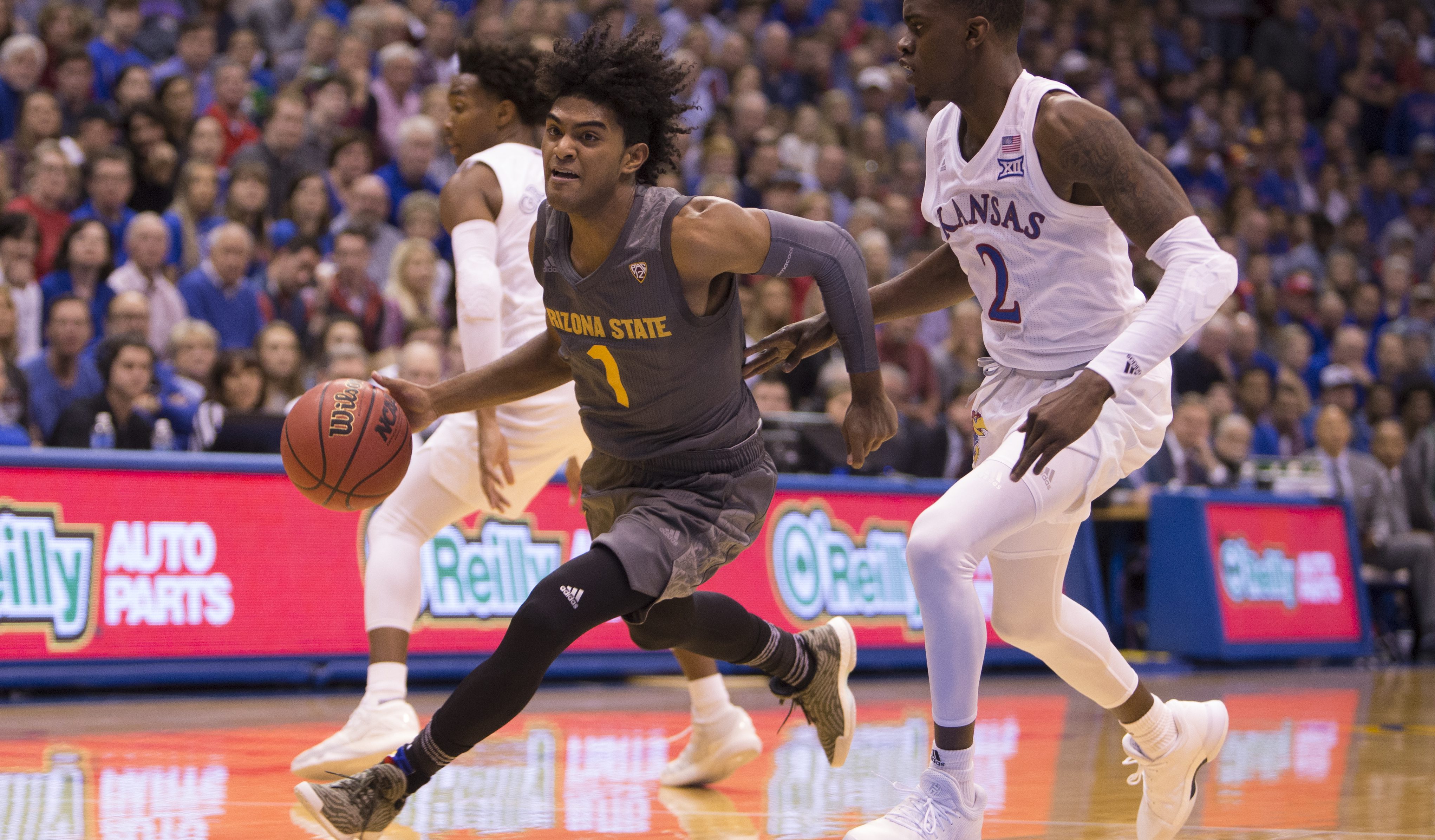 "This is the softest team that Kansas has had since I've been here," Self told reporters on Monday.
There are two places where that lack of toughness has manifested itself.
It starts on the defensive end of the floor, where Kansas arguably lost their two-best perimeter defenders in Jackson and Mason. Graham and Vick are plus-defenders, but Graham has, in the past, been at his best when he's chasing an off-guard around screens and denying him the ball, and Vick needs to guards wings; he's just not big enough to defend in the paint.
Svi is not a good defender. Period. Newman is somewhere between average and not good himself. Combine that lack of perimeter defense with the fact that Azubuike has to limit how aggressive he is as a shot-blocker because of foul issues, and you get a team that can absolutely be exploited by opponents that can put the ball on the floor and get to the rim. Arizona State – with their trio of dynamic playmakers in Tra Holder, Shannon Evans and Remy Martin – will make some of the nation's best defensive teams look silly. Washington also has some better-than-you-think slashers on their roster.
It's a major problem.
"I'm not ready to accept that that's the best we've got, but it's pretty embarrassing to keep looking at the tape afterward and say this is what we don't have," Self said. "We've been saying it now the entire year, at least from a defensive and competitive standpoint. Maybe we need to do something to shorten the game. Maybe we need to do something to figure out a matchup zone to play or something like that."
The other place the toughness issue arises is in the ability of the Jayhawks to protect the ball. They gave up roughly a dozen points against Arizona State with pick-six turnovers, and most of those were simply an issue of getting their pocket-picked by an aggressive perimeter defender.
That leads to a bigger discussion, because …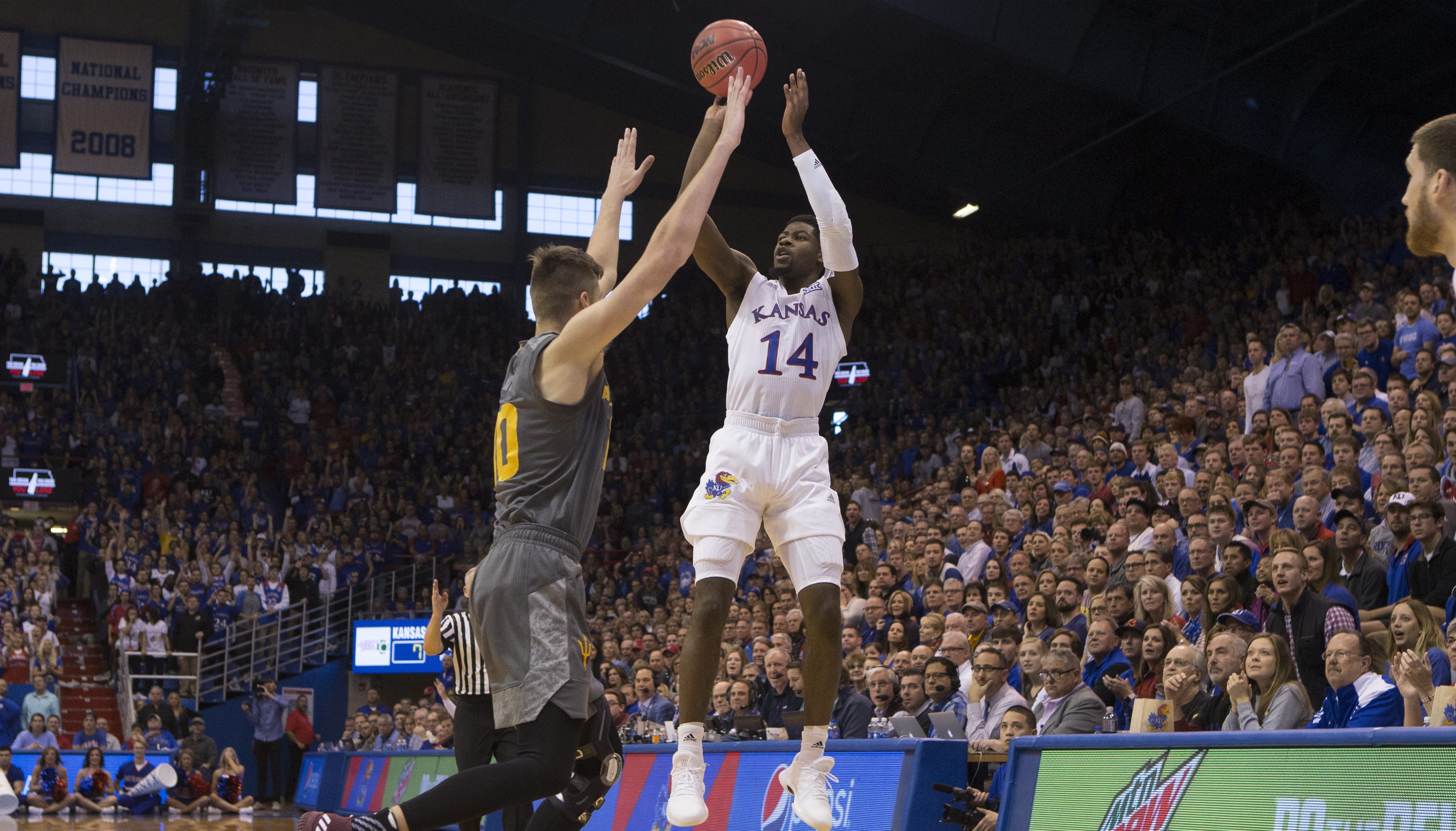 3. KANSAS ONLY HAS ONE PLAYER THAT CAN CREATE A SHOT
That's Devonte' Graham.
He is, legitimately, a top ten player in college basketball and a top four point guard in the sport, depending on what you think of Jalen Brunson, Joel Berry II and Trae Young.
But he's also the only guy that you can trust to make a play for himself, or to make a teammate better by creating a shot for him. Svi is a spot-up shooter that can, upon occasion, attack a close-out. Vick is also a spot-up shooter than can attack a close-out. Azubuike can finish a lob and score off of an offensive rebound, but for the most part he is a catch-and-dunk big man. Put another way, you're not giving him the ball on the block and expecting him to be able to draw a foul or score. Lightfoot isn't really an offensive threat, and Garrett isn't really ready.
That leaves Newman, and he was supposed to be the guy that made the difference this season. Except … he's not the guy we thought he was in high school. In four games against high-major competition, Newman is averaging 8.8 points, shooting 37.5 percent from inside the arc, 29.2 percent from three and attempting 60 percent of his field goals from beyond the arc. The most damning stat, however, is that in 129 minutes of action in those four games, Newman has attempted two free throws.
Two!
And he's not the only one at fault in that regard.
There are just two teams in college basketball that, based on free throw rate (FTA/FGA), get to the free throw line less than Kansas does: Jackson State and Sam Houston State, and they don't even have the benefit of playing buy games where they are all-but guaranteed to get a friendly whistle in Phog Allen Fieldhouse.
There are a few things that lead to that stat:
Kansas does not have penetrators that look to put the ball on the floor and get fouled.
Kansas does not have post presence that can draw fouls.
When Kansas does get the ball into the paint, it quite often ends up being some form of a lob for a dunk, which is not the easiest way to draw fouls.
The perimeter players on the Kansas roster all want to be shooters.
And that's not necessarily a bad thing.
Svi shoots 46.2 percent from three. Vick shoots it at 45 percent. Newman is knocking down 40.5 percent of his threes while Graham is hitting 40 percent of his attempts.
The problem is what happens when teams chase them off the three-point line.
Washington did it. They did everything they could to keep Kansas from getting open three-point looks, to the point that, in their 2-3 zone, they Vick – at the high post – to play 2-on-1 with Azubuike against their middle defender. Vick scored 28 points and had seven assists, and – it's going to sound crazy – when I say this, but he was exposed in that game:
Svi was exposed in the same way against Arizona State, who dogged him with smaller, quicker defends and forced him into a 3-for-14 shooting night while turning the ball over four times:
This is something that I think Billy Preston can help solve. He is a bucket-getter. He's not exactly Perry Ellis, but he is a guy that can ably fill that hybrid-four role that Self loves to use. He's the guy that can get a post touch, force a double, draw a foul, get a defense moving. He's the guy that can be the pressure release for guards that are getting swarmed. He's the guy that can make a team pay if they don't want to guard him at the high-post of a 2-3 zone.
And who knows when, or if, he'll actually play this season.
I'm officially worried about this Kansas team, more so than I am with Duke or Arizona.
It's too early to make any predictions regarding the Big 12 title streak, but if Kansas does not get the reinforcements that they so desperately need, it will soon be time to have a serious conversation about whether or not the Jayhawks are the best team in the Big 12.