NEW YORK – The moment when Mikal Bridges' star turn was complete came with a little more than eight minutes left in No. 4 Villanova's 88-72 win over No. 12 Gonzaga on Tuesday night.
Eric Paschall set, and slipped, a ball-screen, creating just enough resistance that Bridges was able to turn the corner on Zach Norvell Jr.
Two dribbles was all it took for Bridges to split the Gonzaga defense, elevate over 6-foot-10 Killian Tillie and 6-foot-11 Jacob Larsen, and throw down a dunk that woke a sleepy Madison Square Garden and immediately sent ripples pinging throughout the twittersphere.
And he wasn't done.
11 seconds later, at the other end of the floor, Gonzaga's Josh Perkins broke through Villanova's defense and appeared to have a layup to answer Bridges' violent two points, and the 6-foot-7 wing came out of nowhere to swat the shot out of bounds.
Even before Tuesday's outburst, Bridges had quietly been having an all-american caliber season. If you had been paying attention, nothing that happened on Tuesday night was really all that surprising.
Not everyone had been paying attention.
---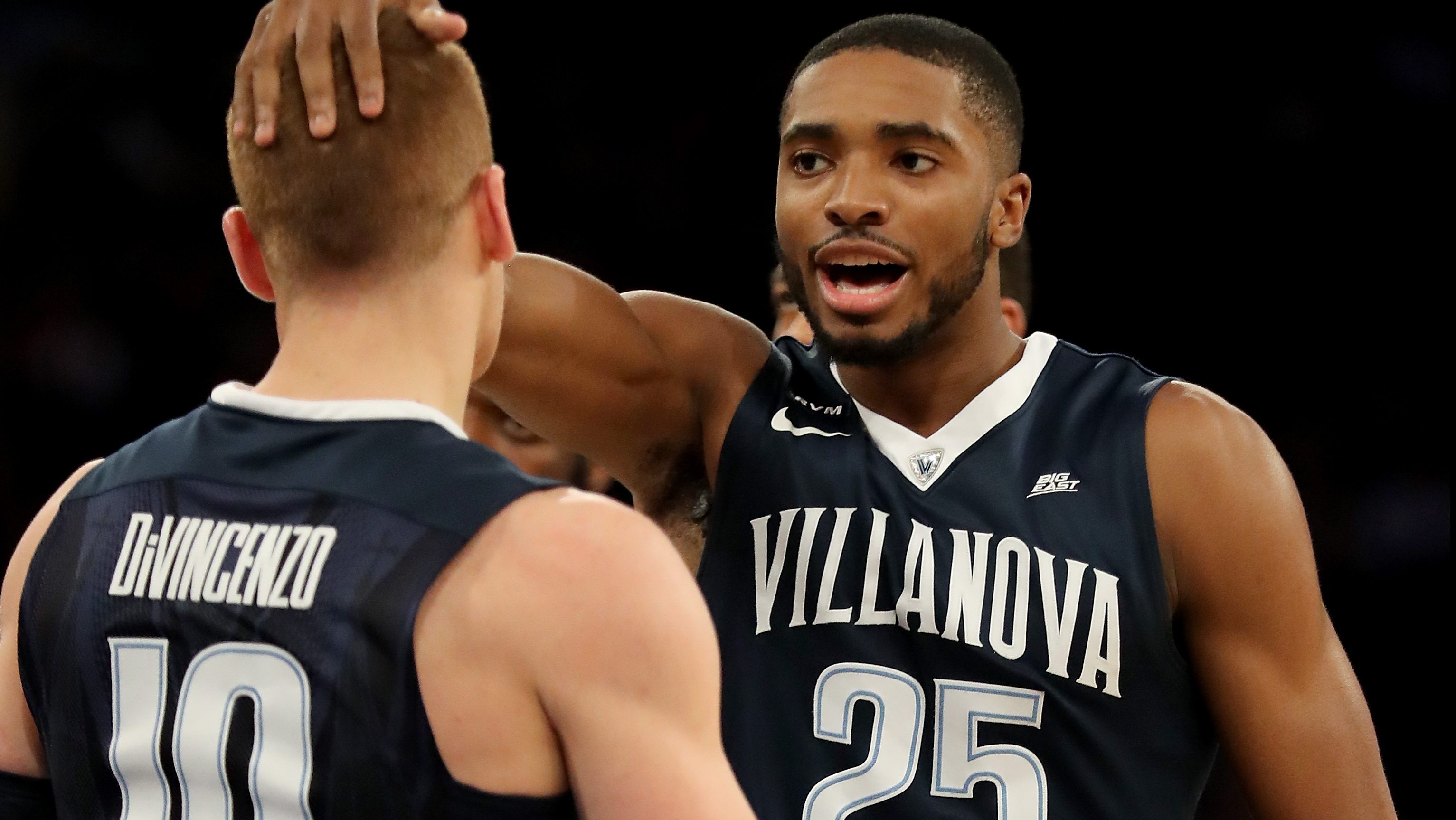 ---
The idea of Mikal Bridges, Lottery Pick, is not new.
His length. His athleticism. That defensive versatility. The three-point range. The package has been there for years. On paper, he's looked like everything the NBA is desperate to find, a player to invest millions and millions of dollars in to effectively defend on one end and space the floor on the other.
We all saw it at the Final Four in 2016, when Villanova won a national title, and we all thought we were going to see this from Bridges last year. Only, it wasn't his time. Bridges knew his role. He knew he was the fourth option offensively on a team that included all-american and first round pick Josh Hart, one of the top five point guards in the country in Jalen Brunson and the man that gave Villanova their first national title in 31 years in Kris Jenkins.
So he deferred.
"Last year he would have passed up a lot of those shots," head coach Jay Wright said, "just to get it to Kris or Josh."
That's what they do at Villanova. You wait your turn. Six of the 11 scholarship players on Wright's roster have redshirted at some point in their college career, whether by design — like Bridges, like Donte DiVincenzo — or due to circumstance — Eric Paschall is a transfer, Phil Booth was injured last year, Omari Spellman was ineligible as a freshman.
"The Main Line's not a bad place to be," Wright said with a laugh after it was pointed out to him just how many guys he's had sit out.
It has created a culture of development on the Main Line. In hindsight, a redshirt year is ideal. The players are still in practice, but without games to play, their season becomes nothing more than an extra five months to get better. Spellman used that year to shed the baby fat that he had as a high schooler. Bridges went the other way, using his year off to add the strength he needed to handle the physicality of Big East basketball. Some take that year to extend their jump shot. Others use it to add a mid-range game, or a step-back jumper, or a little bit of extra burst on their first step.
And it helps that those are the players Villanova targets, guys, as Wright put it, "that have a chance to be pros and have the character to work hard to get there."
But they also understand that there won't be anything given to them. There are no guarantees about playing time. Wright has proven he's willing to reward his young guys that are good enough — Brunson started 39 games for a title-winning team as a freshman, Spellman is starting now as a redshirt freshman — but you're more likely to spend your first season at Villanova as a practice player. Jermaine Samuels was a top 40 recruit in the Class of 2017 and picked Villanova over Duke, Kansas and Indiana. He played one minute against Gonzaga on Tuesday. He took a DNP-CD against Tennessee in the Battle 4 Atlantis. He's averaged 5.6 minutes this season and scored a total of eight points.
It's worth noting here that Jay Wright has had one player transfer out of the program since the Villanova revival in 2013. That was Dylan Ennis, who saw the writing on the wall when the Wildcats landed a commitment from Brunson.
Which brings me back to Bridges.
"He knows this year he's the leader, he's the captain. He's playing with more freedom and aggressiveness," Wright said. "He knows it's his turn. He's ready for it. He's worked hard on his game, and he's ready."
The proof, Bridges and Wright will both tell you, is that dunk.
"Ever since my freshman year, I laid the ball up a lot and coaches, seniors, they used to get on me for that," Bridges said. "Go up and be strong."
"I watched the old guys get on him about that," Wright added. "If he would go to the basket and make a layup, get blocked, fouled, the old guys would get on him. 'You gotta dunk that, dude. Go stronger.' It had an impact."
'It' meaning the Villanova Way.
---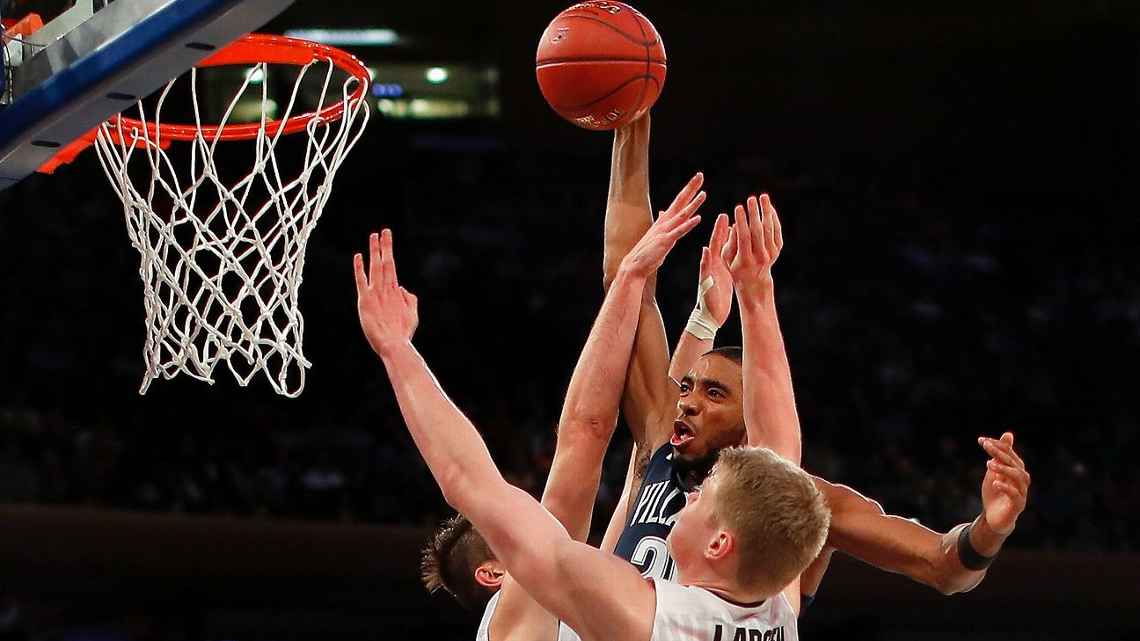 ---
Everything that has made Bridges a terrific prospect thorough his basketball life was on display on Tuesday.
Defensively, he quite literally defended 1-through-5. On one possession, he would hound Gonzaga point guard Josh Perkins for 94-feet, applying the pressure that kept the Zags from looking all that comfortable on the offensive end of the floor. On the next possession, he was matched up against Tillie, a potential first round draft pick in his own right, in the post and blocked a Tillie turnaround jump shot.
Offensively, he shot 5-for-8 from three, which bumped his season-long shooting percentage up to 51.0 percent on just under six attempts per game. 3-and-D indeed.
But that dunk …
That dunk was the exclamation point, all the proof needed to see that Bridges has made the leap from prospect to player, that he not only has the ability to be a star at this level and thrive at the next, but that he has the confidence in his ability to ensure both of those statements are true.
That dunk was Bridges way of letting us know the Villanova Way had worked on him, "because," as Wright says, "he's doing it all this year."