I think it's time for us to have a conversation about No. 1 Duke.
The Blue Devils are, rightfully, the No. 1 team in the country.
They are undefeated on the season with wins over Michigan State, Florida and Texas as well as Wednesday night's victory over Indiana in a raucous and rowdy Assembly Hall.
They're 9-0 on the season, and two of the guys on their roster are going to be in the mix for All-American, if not National Player of the Year, come season's end.
And yet, if you've watched these games, you've probably come away feeling a little unsure about this team. After all, they looked like the No. 1 team in the country for all of about 20 minutes during the PK-80, when they erased a 16-point second half deficit against Texas and a 17-point second half deficit against Florida.
They never really looked like a title challenger against Indiana, particularly on the defensive end of the floor, and it took an out-of-body experience from Grayson Allen for the Blue Devils to put away Michigan State.
I was joined by myself on Thursday to talk through everything Duke, from the travel to the defense to how much you can trust a team that seems to only win games late.
ME: In a vacuum, it's hard to argue against just how impressive Duke's wins are. Florida is a Final Four team. Michigan State can win a national title. Texas has shown second weekend upside. I don't care how bad Indiana will be this season, getting a win in that arena and in that atmosphere in the first true road game for a team where eight of the nine rotation players are either freshmen or seldomly-used sophomores is not easy to do.
But the way Duke went about getting those wins is a major red flag. How can you trust a team that consistently digs themselves a hole? How can you trust a team that hasn't proven they can defend for 40 minutes? It's great that they've been able to flip a switch and turn into their best selves with five minutes left, but why can't Coach K get them to play like that for 40 minutes instead of five minutes?
ALSO ME: Those are valid concerns, and I'm not sure that there is anyone saying they aren't. But what you have to remember with this group is that they are young. They are inexperienced. There are some issues with depth that have yet to be addressed. Sometimes it takes freshmen a while to learn how to play at the college level and that's what we're seeing with Duke, except that they aren't losing games while doing, at least not yet. Of course they're not a finished product three weeks into the season, so I'm more pleased about the fact that they have guys that can find a way to win even when things aren't going right than I am worried about how freshmen look like freshmen.
ME AGAIN: But have the freshmen really looked like freshmen? The four in the starting lineup are all averaging at least 12.8 points. Marvin Bagley III is putting up 22 and 11. Wendell Carter, the "other" freshman big man, is putting up 13 points, nine boards and 2.3 blocks a night. Trevon Duval is averaging 13 points and six assists despite the fact that he cannot shoot. Even Gary Trent Jr., who has probably had the most underwhelming start of any of the four, has made a habit of making critical, winning plays.
So who actually looks like a freshmen?
HELLO. IT'S ME: All of them, once you get past the counting stats.
BACK TO THE FIRST ME: So Marvin Bagley III, National Player of the Year front runner, is playing like a freshman? Are you off your meds?
ME NO. 2: Yes, but that's neither here nor there.
Bagley has been dominant, there is no question about that, but acting like he's played flawless basketball is kind of silly. He gets worn out during games, although some of that has to do with how hard Duke rides him. He was exhausted for long stretches against Indiana and decided that getting back in transition defense was optional. That's what freshmen do. Veterans either get back or sub themselves out to get a breather.
And he's not alone there. Duke's man-to-man defense is a mess. Their zone isn't all that much better. KenPom's adjusted defensive efficiency metric ranks Duke as the nation's 46th-best defense, but that isn't telling the whole story. KenPom's formula is still using some predictive elements from last season's team, and if you look at Duke's raw defensive numbers, they ranks 102nd in points-per-possession allowed. They don't force turnovers and they don't get defensive rebounds. That combination is less-than-ideal, and it's the biggest reason the Blue Devils keep putting together these slow starts.
They can't get stops. It happens with freshmen-laden teams.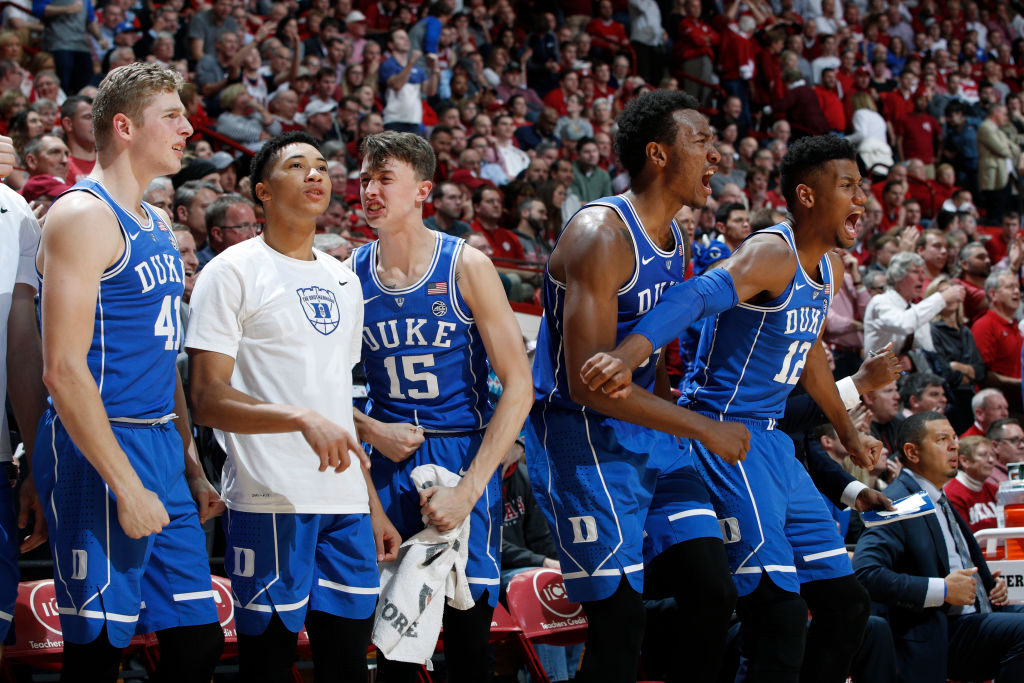 ORIGINAL ME: And what is it about the way that Duke has defended over the course of the last four or five seasons that leads you to believe that they are going to be able to figure this thing out by the time March rolls around? Only once since 2011 has Duke finished as a top 25 defense, according to KenPom, and that came the year that they won the national title, when they entered the ACC tournament as a defense ranked outside the top 60.
OTHER ME: That certainly is a concern, but since the season started, tell me when Coach K has actually had a chance to regroup and find a way to fix what ails Duke.
I'll wait.
They played nine games in 19 days. They've traveled to Chicago. They played three games in four days in Portland — including a title game that ended at 1 a.m. ET Monday morning — before heading to Bloomington for a Wednesday tip in the ACC/Big Ten Challenge. When have they had the time to get on their practice court and solve their problems? They haven't.
And that's to say nothing of the fact that these kids have been run into the ground by now. Bagley played at last 38 minutes in each of the last three games. Allen played all 40 minutes in the last two games and like would have against Texas if he didn't get into foul trouble. Duval has topped 35 minutes in each of the last four games. Other than Carter, who seems to be physically incapable of staying out of foul trouble, Trent is the starter getting the most rest and he's still clocked more than 33 minutes a night over the course of the last four games.
I just don't think you can truly judge them until they're back onto a relatively normal schedule.
FIRST ME: I get that, but if the issue really was that they were exhausted, wouldn't that mean that Duke died at the end of these hard-fought, competitive games? If their legs are shot, explain this stat: In the final five minutes (and overtime) of Duke's last three games, the Blue Devils have held Texas, Florida and Indiana to a combined 5-for-25 shooting and outscored them 56-19.
At the end of games.
At the end of an insane two weeks of travel.
After their best players have played 30-35 minutes already that night.
And you're going to try and tell me that the reason they start slow is that they are too tired? It's too early to have started drinking.
FINAL ME: It's never too early for that, but no, that's not what I'm saying.
My point is that the way Duke's first three weeks have played out makes it difficult to truly get a grasp on who they are. Maybe they are a bad defensive team that has been bailed out by the fact that their front line is utterly unstoppable. Maybe they're a good defensive team that just has to spent a couple of days at practice tweaking what clearly hasn't been working to date. We don't actually have an answer yet.
And we won't until their schedule normalizes.
But at the end of the day, this is a team with two potential all-americans, five or six potential NBA players and a 9-0 record with four impressive wins that they didn't necessarily play well enough to get.
If they can overcome adversity while still trying to figure things out, if they're learning lessons without taking losses, the only thing I keep asking myself is what this team will be if and when they do put it all together?
Scary, that's what.
ME: Whatever. You're still an idiot.