The latest edition of the only Player of the Year Power Rankings that you need to be paying attention to.
The player that was No. 1 in last week's rankings is no longer in our top ten.
That's what happens when you shoot 26 percent from three over a five-game stretch and struggle as another player on your team goes absolutely bonkers in the most riveting week of regular season college basketball in years.
What may be crazier is that players No. 4 and 5 from last week's rankings are no longer on this list, either.
Allonzo Trier and Arizona fell off a cliff in the Bahamas, while Miles Bridges has been dealing with an ankle injury that has kept him from making much of an impact.
The result is that a freshman has climbed to the top while being chased down by four upperclassmen and a freshman having a season that we have literally never seen before.
1. MARVIN BAGLEY III, Duke: For the second straight week, we have a Duke player atop our Player of the Year rankings.
Only …
This week's Duke player is different than last week's Duke player, and that's because Marvin Bagley III took over for the Blue Devils twice in the span of three days to lead them to wins against Texas and No. 6 Florida.
On the season, Bagley is now averaging 22.3 points and 11.3 boards through eight games despite the fact that, in one of those games, he was pulled midway through the first half with an eye injury. He has six double-doubles on the season, four 20-and-10 games and two 30-and-15 performances. He went for 34 points and 15 boards to lead Duke back from down 16 in the second half to beat Texas in overtime and, two nights later, had 30 points and 15 boards as he helped Duke erase a 17 point deficit in the final 10 minutes against Florida.
Through the first two-and-a-half weeks of the season, Bagley has proven to be the most dominant big man in college basketball and the best player on the best team in the country. That is a good combination of things to be.
2. JORDAN MURPHY, Minnesota: Minnesota has played seven games this season. Murphy has a double-double in all seven of them. He's gone for 20-and-10 in four of those games, and if it wasn't for Saturday's matchup with No. 25 Alabama going utterly and completely off the rails, then Murphy would have probably ended up getting there again; he had 19 points and 12 boards in the first half, the biggest reason that the Golden Gophers were up by 17 points and cruising when things got weird.
There's nothing pretty about Murphy's game. He's the best junkyard dog in the country. He attacks the glass, he finishes everything around the rim, he'll out-tough anyone. This is who he's been forever, but he finally found the motor to back his talent up. The results speak for themselves.
3. BONZIE COLSON, Notre Dame: Colson has continued to quietly go about his business, anchoring an offense that has vaulted the Irish into the top five of the AP Poll. After finishing last season as a second-team all-american, Colson is now averaging up over 20 points. He is the piece that Notre Dame's offense orbits around. His ability to score one-on-one combined with the fact that the Irish have about 400 players around him that can shoot threes makes them so hard-to-guard. Ask Wichita State. Colson had 25 points and 11 boards as Notre Dame erased a 14-point halftime deficit in the Maui Invitational title game.
4. JALEN BRUNSON, Villanova: We entered the season expecting Brunson to separate himself as the best point guard in college basketball, and he has done just that. He's leading the Wildcats in scoring while shooting nearly 48 percent from three as a junior. The one problem with placing Brunson this high at this point in the season is that we don't really know how good Villanova is just yet. They won the Battle 4 Atlantis, but thanks to the dumpster fire that was Arizona, the best team they beat in the event was Tennessee. We may not get a real sense of just how good the Wildcats are until they square off with Gonzaga in the Jimmy V Classic.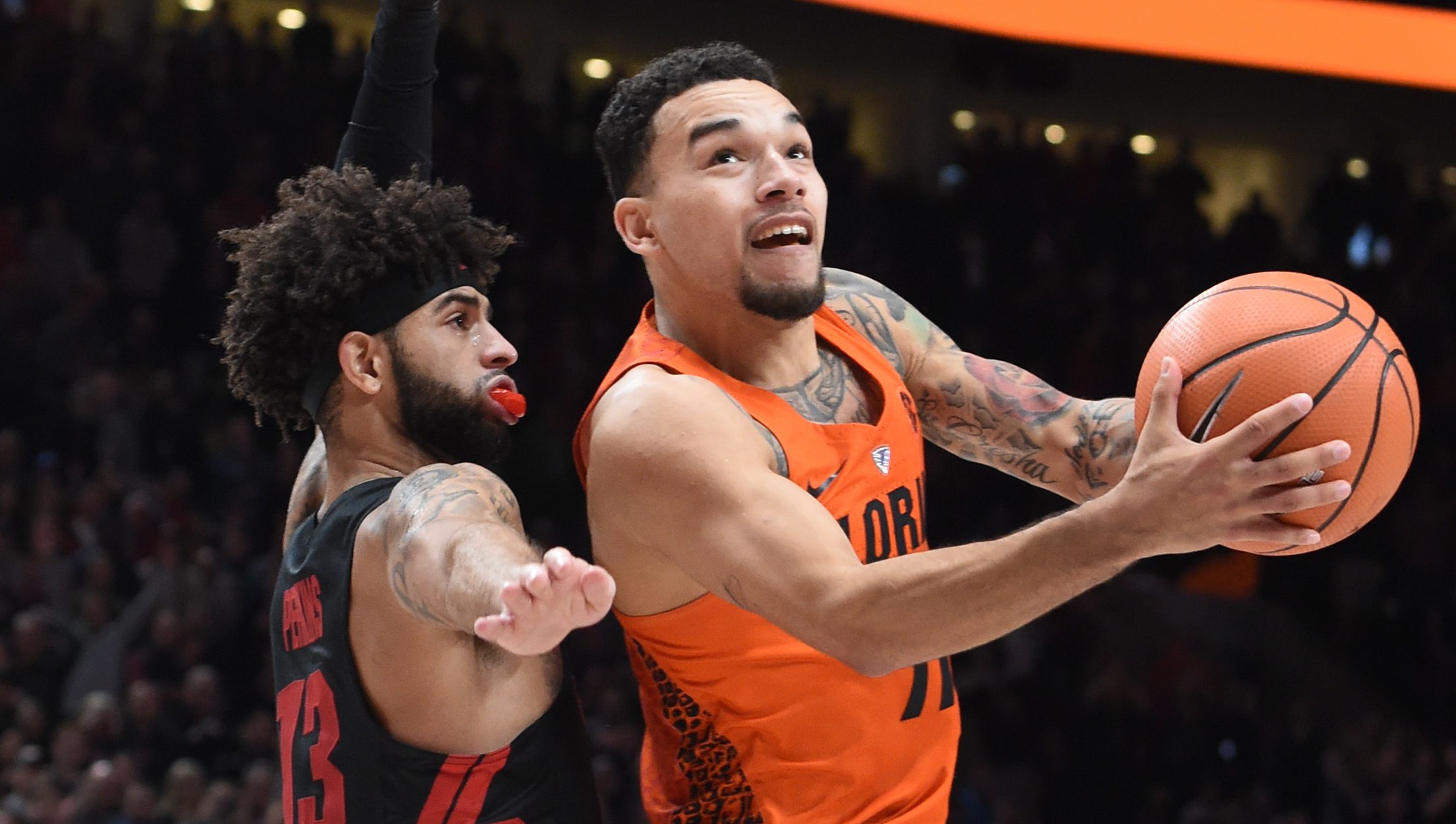 5. CHRIS CHIOZZA, Florida: Florida is this year's UCLA. They had moderate preseason expectations, and after putting up massive numbers against poor competition early, they proved themselves to be as dangerous and entertaining as anyone in the country when they started to play real teams. Chiozza is Lonzo Ball in this narrative, the engine that makes the Florida offense run.
But like UCLA, I'm not quite ready to fully jump on the bandwagon just yet. We need to see whether or not defense is going to be an issue for a team that doesn't really have all that much size, and we need to see what happens to them when those threes stop falling at the rate they're falling. But that's neither here nor there when it comes to Chiozza, who has gone from an underlooked piece on last year's to one of the best at his position in the country.
6. TRAE YOUNG, Oklahoma: I'm still not quite sure just how good Oklahoma is going to end up being this season, but I am sure that Young is going to end up being the most productive point guard in college basketball. Through five games, Young is averaging 28.2 points, 8.6 assists, 4.2 boards and 2.2 steals. He's even blocked three shots. He's using 36 percent of Oklahoma's offensive possessions while posting an offensive rating of 127.5, which is an insane level of efficiency on that kind of usage. Here is how Young's start compares to other players that have had similarly insane statistical seasons: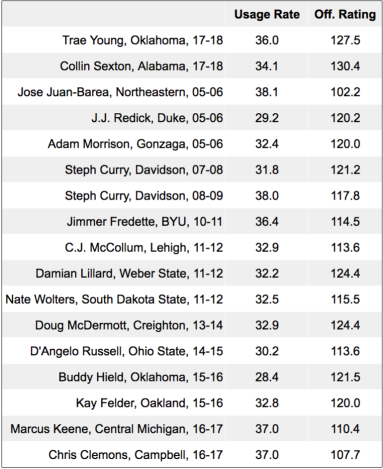 Since 2004, there has not been a single player with a usage rate of 36.0 and an offensive rating anywhere near the 127.5 that Young is putting up. If he keeps this pace up – he probably won't, mind you – he'll be the first player since 1992 to average 28 points and eight assists.
While his raw numbers are not as impressive – Sexton is averaging 25.2 points and 4.4 assists after going for 40 against Minnesota – but his advance statistics are just as insane as Young's are.
7. TRA HOLDER, Arizona State: Arizona State has quite a bit in common with Florida in the sense that their current lofty record and media bandwagon is a direct result of having a roster loaded with talented, thrilling guards and a run of lights-out shooting. Holder personifies that. He's currently averaging 23.3 points, 6.0 boards and 5.5 assists while shooting 50 percent from three on nearly seven attempts per game. He's coming off of a 40-point outburst in a blowout win over No. 15 Xavier, and he's one of two Sun Devils averaging better than 19.5 points and five assists. We'll see how long it lasts, but for now, Holder deserves all the attention he's getting.
8. TREVON BLUIETT, Xavier: Bluiett and Xavier had a dud last weekend, getting smoked by an Arizona State team that couldn't miss. Bluiett did not play great in that game, but he is still having a fantastic start to the season, averaging 21.3 points and 3.3 assists while still shooting better than 50 percent from three.
9. MANU LECOMTE, Baylor: Lecomte was a decoy in Baylor's win over Creighton in the title game of the Hall of Fame Classic in Kansas City. But he's still be the best player for a Baylor team that looks like they will once again be a top 20 program.
10. COLLIN SEXTON, Alabama: See above.