Arizona is on the verge of making history in the worst kind of way.
The Wildcats entered Thanksgiving week sitting at 3-0 on the season and No. 2 in the AP poll and proceeded to put together the worst week that any team ranked No. 2 in the AP poll has ever produced. The Wildcats went 0-3 in the Battle 4 Atlantis. They lost to an N.C. State team that was picked to finish 12th in the ACC and that lost to Northern Iowa in their next game. They lost to an SMU team that was picked to finish fourth in the AAC and that lost to Northern Iowa in the tournament opener. And, finally, they lost to No. 18 Purdue, which doesn't seem so bad until you realize that: A) Purdue was in the seventh-place game because they lost to Tennessee and Western Kentucky, and B) that Purdue team beat Arizona by 25 points.
The only way this trip could have been a bigger disaster was if the FBI had walked on the court and arrested Sean Miller, but at least then Miller wouldn't have had to watch his team get embarrassed. That might not have been a negative.
So we know the what.
But what about the why?
How did a team that common sense told us was one of the nation's very best and that still features the potential No. 1 pick in the 2018 NBA Draft and a candidate to win the 2018 National Player of the Year award manage to drive off a cliff?
I broke down the tape and spoke to people that scouted Arizona to try and figure it all out.
ARIZONA IS NOT A GOOD DEFENSIVE TEAM
This isn't exactly breaking news. Giving up 90 points (on 73 possessions) to N.C. State and 89 points (on 69 possessions) to Purdue is a pretty clear indication that there are a number issues that need to be worked out.
The biggest problem that Arizona is facing is with their biggest players. Simply put: Right now, Deandre Ayton and Dusan Ristic should not be on the floor together. Ayton is a five, and at the college level, he is more or less everything you want out of a five defensively. The height, the length, the athleticism. You want him to be the guy that protects the rim and hedges on ball-screens.
In theory, he also should be able to cover fours, but at this point in his development, he just is not there yet. Ayton is a 19-year old 7-footer. How many times in his life has he had to defend someone on the perimeter? How many times has he had to close-out on a shooter or chase someone like Purdue's Vince Edwards or SMU's Ethan Chargois off the three-point line? Two decades ago, Ayton would have been fine covering fours, but the concept of small-ball was quite literally built around the idea of making bigger defenders uncomfortable by pulling them away from the basket.
Watch these clips. In the first, you'll see Ayton get sucked into the paint, over-helping and leaving Edwards wide open for a three:
Arizona's pick-and-roll coverage in general has been awful, and there is plenty of blame to spread around. Parker Jackson-Cartwright quite simply is not big enough to be the point of Arizona's defense. Sean Miller's best teams came when he had great on-ball defenders in his back court, particularly at the point guard spot. T.J. McConnell and Nick Johnson and Rondae Hollis-Jefferson and Kadeem Allen. These guys are NBA-level perimeter defenders, and Jackson-Cartwright just is not.
And he doesn't get much help, either. Ristic is about as mobile as birch tree, and neither of Arizona's bigs coming off the bench seem all that adept at defending in space. Even Ayton has his issues in this area. Watch how easy it is to get open threes and layups:
It's more than just an issue with ball-screens.
Arizona cannot seem to stop anyone from getting into the paint. Allonzo Trier is not a defender, and he's not on the floor to be. Emmanuel Akot has the potential to be sensational on that end of the floor, but he's a freshman that was pulled out of high school a year early. Brandon Randolph is another freshman that just isn't ready. Neither is Alex Barcello. Part of the reason that you saw Dylan Smith start twice in the Bahamas is that he actually defends.
For a team that plays the Pack-Line defense, Arizona has no line and they have no pack. Penetration is too easy. Help is too often non-existent, and when it is, lacking rotations lead to far too many wide open threes:
Watch the last clip in that video again.
That is just atrocious.
Four Arizona players make defensive mistakes on one possession:
Keanu Pinder gets beaten on a straight-line drive all the way to the rim.
Instead of cutting off Edwards' drive and forcing a kick0ut, Trier, who was out of position as it is, takes a lazy swipe at the ball.
Ayton — who, to his credit, is trying like hell to do the right thing by fronting the post and not letting a 7-foot-3 Isaac Haas duck-in — is pinned on the wrong side of Haas, completely eliminating him as a rim protector.
Jackson-Cartwright doesn't get to the charge spot and instead stays connected to Nojel Eastern, who is 1-for-4 from three in seven games this season.
I'm being kind to Dylan Smith, because he's hugging Carsen Edwards in the weak-side corner. If Ayton is able get around Haas and challenge that shot, Edwards has a dump-off to Haas for a dunk because Smith didn't rotate down.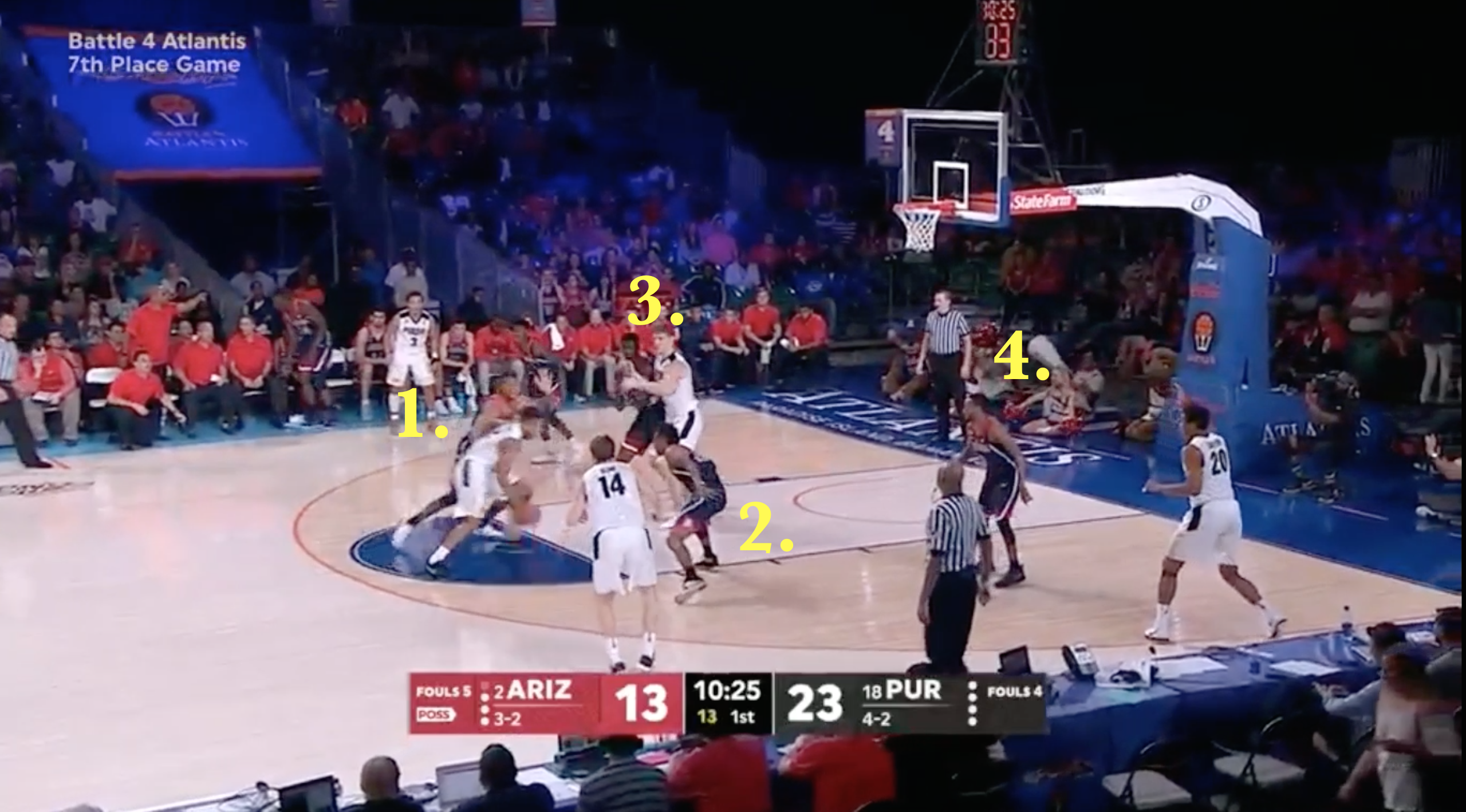 The proper way of playing Pack-Line defense is the exact opposite of everything that happens on this possession with the exception of what Pinder did. He's a power forward trying to guard an all-league wing. The expectation is that he gets beat off the bounce, and at the very least, Pinder does his job and forces Edwards middle. But Trier isn't there to cut off the drive, Ayton isn't there to block the shot an Jackson-Cartwright isn't there to take the charge.
So Pinder is the one left looking bad when the guys on his team are the ones that didn't do their job, either.
And, if you go watch the tape, you'll see that's hardly an isolated incident.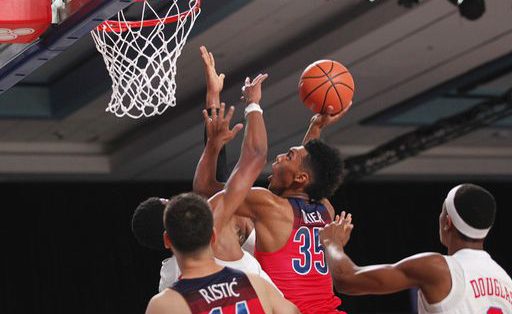 THERE ARE SOME ISSUES ON THE OFFENSIVE SIDE OF THE BALL AS WELL
The biggest problem that Arizona has is at the point guard spot. Jackson-Cartwright just isn't the kind of offensive weapon that opposing defenses are going to worry about. When you have to deal with Ayton in the paint and you have to try and keep Trier from going for 30 points, you are perfectly OK with Jackson-Cartwright being the one that tries to beat you. The same can be said for Barcello and Smith.
Jackson-Cartwright is a good shooter, but he doesn't shoot a lot of them. He's a capable creator off the dribble. He would be fine as a back-up point guard, but when coupled with the issues that he has on the defensive end of the floor, he's a liability for this team in a position where they lack depth to begin with.
Then there is the issue of who is Arizona's best weapon offensively. Ayton is quite clearly the most talented player on the roster, but Trier has emerged as the go-to guy. That could, in theory, create some issues, but as long as Ayton gets his touches and the offense runs through him, this probably isn't all that big of a deal; I'm not sure how many better scorers there are in the country than Trier, and in a late-clock situation, he's the guy that should have the ball in his hands.
Frankly, I think anyone blaming the offense for what happened in the Bahamas can't see the forest for the trees.
Trying to navigate egos and shots around Trier and Ayton is a good problem to have. Any questions about offensive balance will be answered assuming that Rawle Alkins is cleared to play when he's healthy. Determining roles and minutes and rotations are things that most teams have to work through during non-conference play. They clearly must shoot the ball better than they did in this event. They have room to improve.
But at the end of the day, Arizona is still putting up points.
They just can't stop anyone.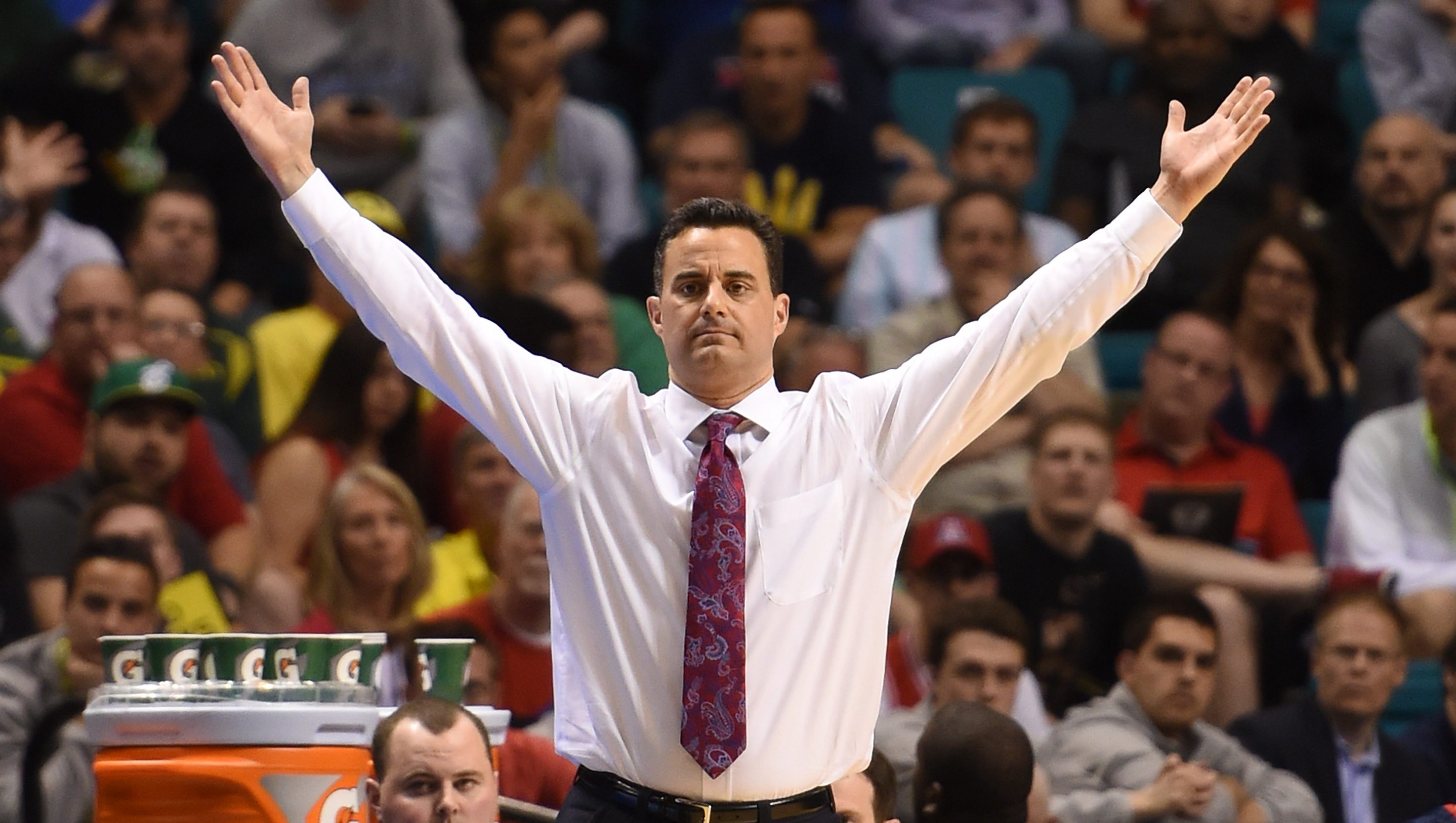 ABOUT THAT FBI INVESTIGATION …
I don't think that's playing too much of a role in how the Arizona players are performing once they actually get out onto the court.
But I think it would be naïve to say that it isn't affecting the team in some way.
It starts with the coaching staff. Book Richardson is no longer there, which means that the guy that recruited so many of these kids to Tucson, the man that presumably had the best relationship with them on the staff, is gone. The dynamic within a team is that head coaches are the ones to break a player down and assistant coaches build them back up. Miller has never exactly been known as Mr. Congeniality and that was before the stress of the last two months started weighing on him, and now the guy that helped smooth things over is gone? Not ideal.
In Book's place, Austin Carroll has been asked to step into an on-court role for the first time in his career from a staffer position. Then Mark Phelps was suspended for five days earlier this year.
Sean Miller might not be in trouble yet, but I'm sure he's had plenty on his mind over the course of the last two months. In fact, I think it's safe to say that Miller is probably a sociopath if he's not distracted by the fact that his right-hand man, his assistant for the last 11 years, was facing years in jail over federal criminal charges. If Book decided to talk, he would have all the goods on anything Miller has done outside NCAA rules.
Imagine trying to do your job with that in the back of your mind.
Those are the men that are tasked with getting this Arizona team prepared to play. Scouting reports, game-plans and, frankly, simply teaching the principles of their offense and defense to a bunch of freshmen. It would make sense if the players aren't getting coached up the way that they have in the past, especially when you consider that the big offseason change Miller made on his staff was to bring in Lorenzo Romar, whose Washington teams were known for their inability to even pretend to play defense.
To me, that's where you see the effects of the FBI investigation. Arizona has not been coached the way that they need to be coached.
SO IS IT FIXABLE?
I think it is, but only to a point.
I don't think that Trier is ever going to be a plus-defender. I don't think that Jackson-Cartwright or Ristic will ever be plus-defenders. If and when Alkins makes his return, I don't think that he's ever going to be a plus-defender.
Miller can put together the best defensive scheme in the history of basketball and it's only going to be so good when the players executing that defense just aren't all that good.
But that doesn't mean that this team can't win games. They can. I don't think a Pac-12 title is out of the question given just how questionable that conference has looked through three weeks. And I don't think that a trip to the Final Four is a lost cause, either. How many times will Arizona take the floor this season in a game where they don't have the two best players?
Play Ayton at the five. Get Akot to a point where he is actually able to contribute positive minutes. Utilize Pinder and Ira Lee at the four. Get these guys to learn how the Pack-Line defense actually works.
The truth is that Arizona is probably not the second-best team in the country. But you don't have to be the second-best team in the country to win the things they want to win. They just have to be the best team in the Pac-12 and get hot for three weeks in March.
They can still do that.
Sean Miller will have his work cut out for him now, but there is still a lot of season left to play.