On the strength of 30 points and 15 rebounds from Marvin Bagley III, No. 1 Duke erased a 17-point deficit in the final 10 minutes to take home the title in the PK80 Motion bracket, beating No. 7 Florida 87-84 in yet another thrilling, come-from-behind win.
The Blue Devils picked up three of them in four days in Portland.
They trailed Portland State in the second half on Thursday in their tournament opener before coming back to win. They were down 16 points to Texas on Friday evening in the semifinals of the event before forcing, and winning in, overtime. And they were dead in the water against Florida, down 74-57 with an offense that was sputtering and an inability to find an answer for the high-octane, four-guard offense that the Gators and Mike White run.
Gary Trent Jr. added 15 points for the Blue Devils, including four free throws in the final 1:11 to give the Blue Devils the lead. Grayson Allen finished with 14 points and seven assists.
Jalen Hudson led the way for the Gators with 24 points, 10 boards, three assists and three steals.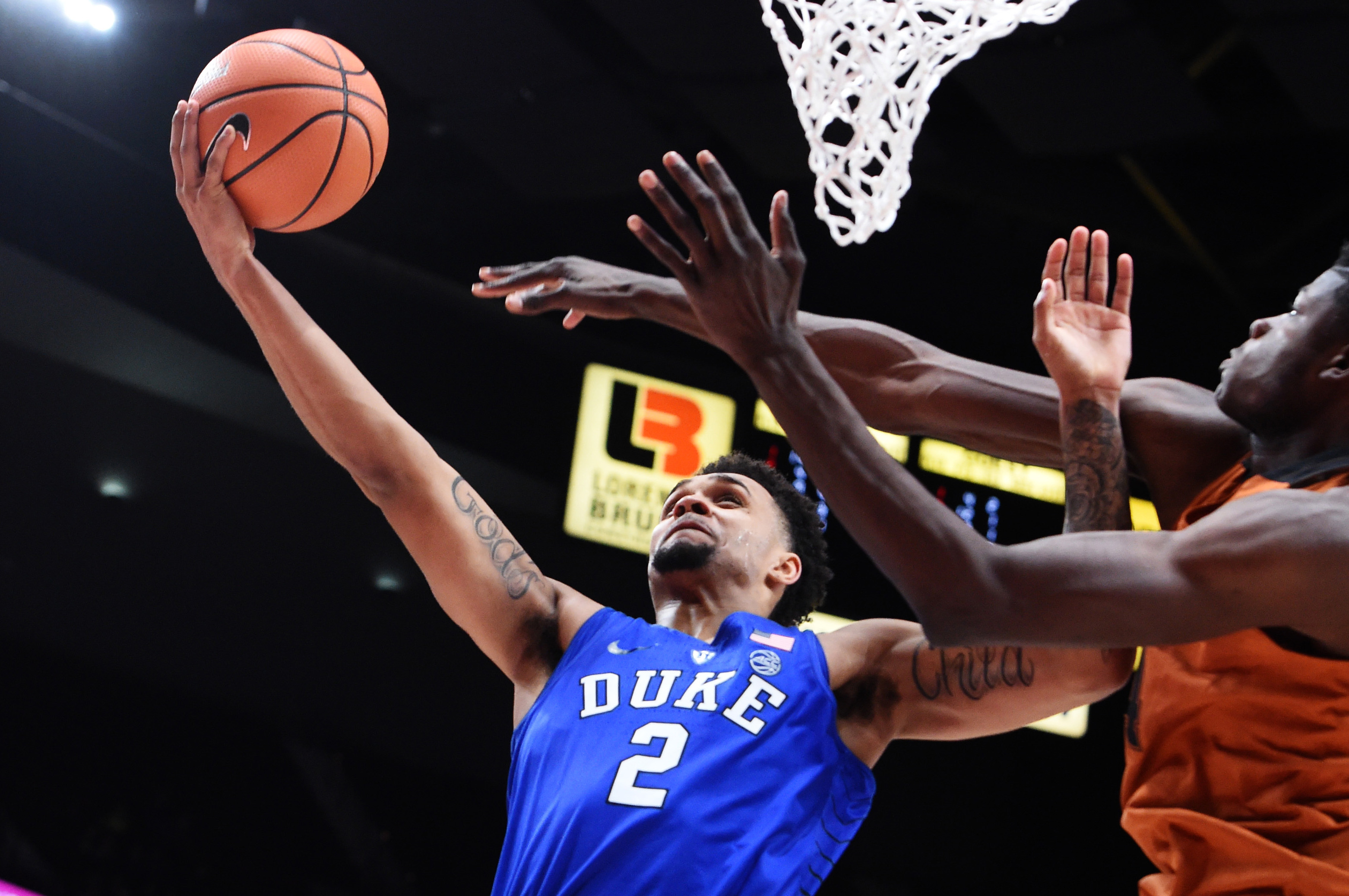 Here are five things we learned on Sunday night:
1. Marvin Bagley III is the truth: He had 30 points and 15 boards on Sunday night. That came after he posted 34 points and 15 boards against Mo Bamba in the semifinals. He's now averaging 22.3 points and 12.5 boards through eight games despite the fact that against Michigan State he was yanked midway through the first half after getting his eye scratched.
At this point, you're a fool if you don't realize just how good Bagley is in the post. Twice in the last three days he's carried this Duke team back from a second half deficit of at least 16 points to win by overpowering whoever Texas, a likely tournament team, and Florida, a potential Final Four team, threw at him. He's got the total package in the paint, but what makes him so damn tantalizing as a prospect is this:
Bagley not only keeps Chiozza from beating him off the bounce and to the rim, he is able to euro-step around a defender and finish awkwardly at the rim while his momentum is taking him a different direction. People that are 6-foot-11 and that have the post skill that he has are not supposed to be able to move like that.
What a player, and what a performance.
2. Don't let what Gary Trent Jr. did in the final two minutes get swept under the rug: With two minutes left and Duke down 84-81, Trent grabbed a tough defensive rebound in traffic. 49 seconds left, he made a pair of free throws that gave Duke their first lead in the second half. 56 seconds after that, he picked Hudson's pocket and then proceeded to make another pair of free throws with nine seconds left to put Duke up 87-84. He also was involved defensively on the final possession, when Florida failed to get a clean look at a three.
Trent came into college with the reputation for being a big time scorer and shot-maker. He's yet to really find his rhythm on that end of the floor — he had 15 points on Sunday and it was probably his best game to date — but those five plays he made were winning plays in key moments on a massive stage. Trent also made the go-ahead three against Michigan State with three minutes left in the Champions Classic on a night were he finished 3-for-14 from the floor.
He may look like a freshman at times, but most freshman don't shine in big moments like Trent has this season.
3. Florida lost this game, but they might be the most dangerous team in the country: Duke is a very, very good team, and the Gators had them on the ropes. You could probably make the argument that Florida gave this game away — more on that in a second.
But I think the biggest takeaway we should have about the Gators from this week is that they may be the most dangerous team in college basketball. I hesitate to call them the best team in the sport because they have some issues on the defensive end of the floor, but the way that this team can put up mountains of points in no time at all is ridiculous.
They have four guards on their roster — Chris Chiozza, KeVaughn Allen, Egor Koulechov and Jalen Hudson — that are legitimately capable of putting up 30 points on any given night. All four can reel off four or five threes in a row, and all four are extremely difficult to cover 1-on-1; even Koulechov, who is known more for being a spot-up shooter than a slasher, is dangerous because he's getting guarded by opposing power forwards.
The way that they play, and the freedom and confidence that White gives them offensively, makes them so entertaining.
And so lethal.
They're going to be undersized every single night, and there will be some ugly nights when those threes aren't dropping, but when the Gators are playing their best basketball they can run anyone in the country out of the gym.
4. So why did the Gators took the air out of the ball down the stretch? It cost them a win: Florida scored 74 points in the first 30 minutes of the game. They were running and gunning and sitting pretty with a 17-point lead. Then they started to take the air out of the ball to try and drain the clock, and it didn't work. Duke held their own when they had a chance to set their defense, and the slower tempo allowed them to work the ball into Bagley and Wendell Carter in the post.
Yes, the fact that Duke started scoring consistently slowed down Florida's transition game. Yes, tired legs probably played a factor. And yes, it makes sense to run clock and reduce the number of possessions remaining when holding a big lead in a game.
I don't necessarily think White made the wrong decision — process over results and all — but it certainly did not work on this occasion.
5. When do we start getting concerned about the fact that Duke can't stop digging holes for themselves?: It's starting to become a thing. They played three games in Portland and had to come back from a hole they dug themselves in all three games.
On the one hand, it's a great sign that the Blue Devils are able to make the plays that they need to make in big moments in order to complete these comebacks. It's also promising that they realize even when they are down big that their best option is to pound the ball inside to the big fellas. As Jeff Eisenberg put it on the CBT podcast, they're learning lessons without losing games. They're doing the things that freshmen do — make mistakes — but they have the talent and grit to land come-from-behind wins despite those mistakes.
That matters.
But why does it take them 30 minutes to start playing hard?
And why is their defense so inconsistent for the first 25-30 minutes?
The answer: I have no clue.
But I'm starting to wonder if Duke should just start every game by awarding their opponent ten points.