CHICAGO — The second game of the Champions Classic wasn't quite as "artistic" (using Bill Self's words for the first game) as Duke's statement win over Michigan State but the clash between college basketball bluebloods still showed us a few things about two intriguing top-ten teams.
1. Kansas needs more help for Devonte' Graham when it comes to creating offense
One of the major issues for Kansas on Tuesday night was creating effective offense in the half court. Last season the Jayhawks could rely on Frank Mason, Devonte' Graham, and to a lesser extent Josh Jackson, to create offense. This current Kansas group is lacking players who can create their own shot in the half court.
The numbers that Kansas put up on the offensive end on Tuesday indicated the struggle. The Jayhawks finished shooting 35 percent (24-for-68) from the floor while their three-point percentage (28 percent on 8-for-28) was even worse.
The length, athleticism and depth of Kentucky's defense wearing down a team that effectively played only six players definitely had something to do with it. But Kansas looked like they really needed some help for Graham out there. There are only so many times that the preseason All-American floor general can run pick-and-roll with Udoka Azubuike. Especially since Azubuike seemed to be at his best when he could seal and score on post touches.
Malik Newman (4-for-14 shooting for 12 points) struggled to score over length at the rim as he was often trying to do too much on the offensive end. Newman is still a potentially lethal three-point shooter, if he gets hot, but he doesn't look like a shot creator for himself or others in the half court at this current juncture. Newman really struggled scoring over length at the rim against Kentucky.
Svi Mykhailiuk (17 points) hit some momentum-shifting shots from the perimeter, but he also had an average night on the offensive end creating for himself as catch-and-shoot jumpers remain his most consistent mode of offense. Lagerald Vick might actually be the second best shot-creator for the Jayhawks at the moment. That's not really saying much. Vick also struggled to a 4-for-13 night from the field.
It will certainly help the Kansas offense to get Arizona State transfer guard Sam Cunliffe at the semester break. Freshman forward Billy Preston is also a noted offensive threat, but Kansas has a long way to go if they're going to be an effective offensive team. Let's just keep it simple: Graham needs more help.
2. Kentucky freshman Kevin Knox looks like the real deal
We've grown to expect Kentucky freshmen to immediately contribute and become key players since John Calipari has masterfully worked the one-and-done recruiting landscape over the last decade.
There were also some serious questions as to whether freshman wing Kevin Knox, rated by some services as the best Kentucky freshman, could be an effective and potential go-to guy for the Wildcats. The 6-foot-7 Knox answered many of the those questions with his stellar play on Tuesday night. Knox buried three first-half three-pointers as he finished with a game-high 20 points on 8-for-13 shooting.
Consistent perimeter shooting was always a major question mark for Knox throughout his high school career. But a hot hand early for Kentucky was a pleasant surprise. Looking like he was ready to play in a huge spotlight game while other Kentucky freshmen struggled, Knox carried the Kentucky offense at times despite not getting nearly enough shot attempts until late in the game.
When Kentucky found themselves down by two points with 33 seconds left, they put the ball in Knox's hands, letting him go to work as his tough runner along the baseline rimmed out. Even though Knox missed a tough and contested look, just the fact that he looked comfortable the ball in his hands in a critical spot is an important development for a young Kentucky team that needs a takeover guy.
While Knox's perimeter shooting could ebb-and-flow at times this season, he certainly seems ready to play during big moments. The development of Knox as a potential go-to bucket-getter this season will be fascinating to watch.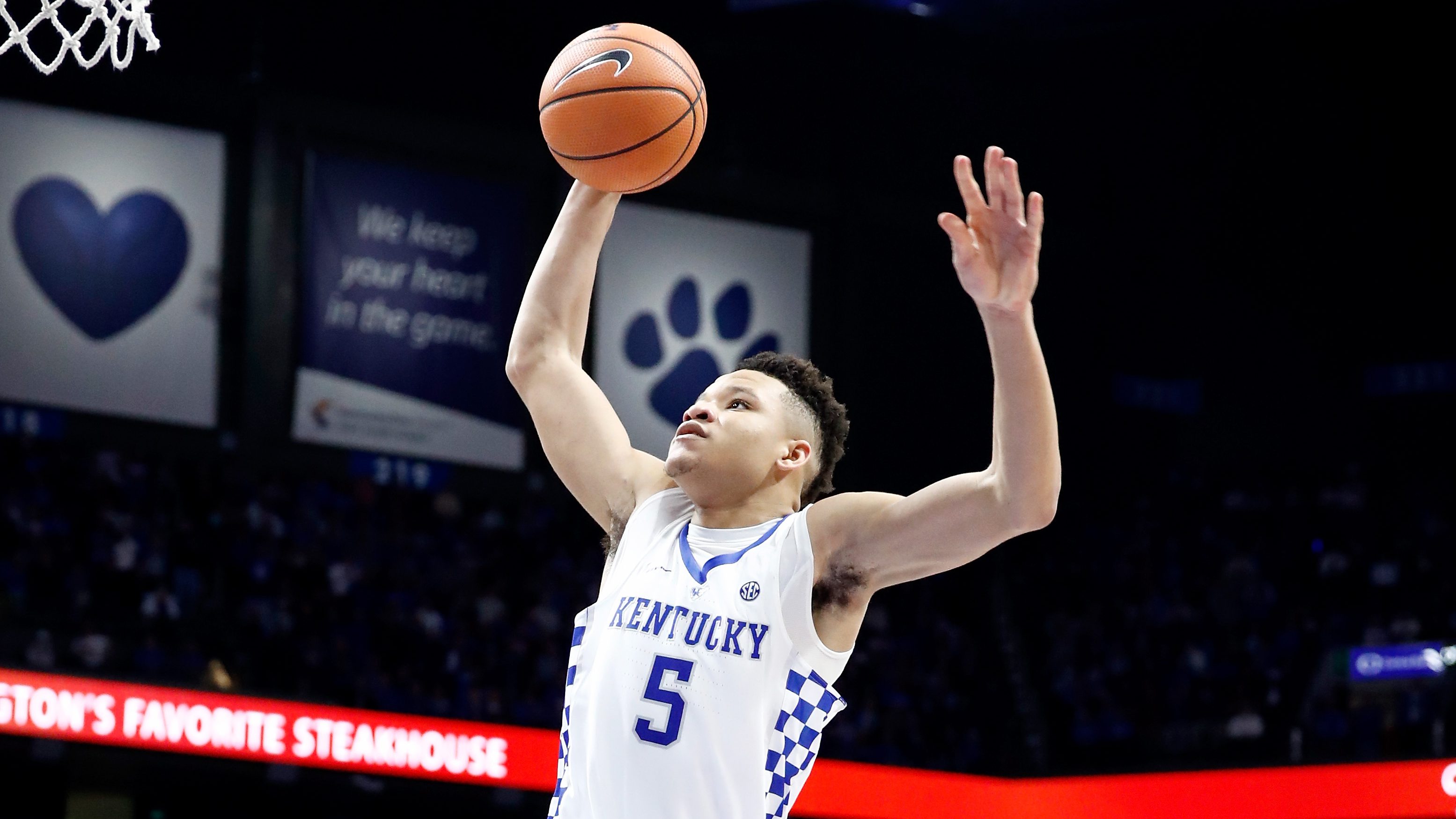 3. Udoka Azubuike needs more post touches for a struggling Kansas offense
Kansas was completely overmatched on the interior in terms of sheer bodies on Tuesday night. That didn't prevent sophomore big man Udoka Azubuike from having a very solid night for the Jayhawks.
Facing four or five different Kentucky big men, many of them former McDonald's All-Americans, Azubuike finished with 13 points and eight rebounds on 5-for-5 shooting, severely outplaying his Wildcat counterparts.
Looking slimmer and more mobile than last season, the power-based Azubuike is still at his best when he can manhandle lesser opponents in the paint. Besides for the interior buckets, Azubuike was also effective as a screener while doing a great job of walling up on the defensive end without getting into severe foul trouble. This game would have been very ugly if Azubuike got in foul trouble. Thankfully, Azubuike did an admirable job of defending without fouling as the Jayhawks didn't have a lot of size without Preston in the lineup.
For as good as Azubuike was, one of the big problems for Kansas was getting him enough effective opportunities to make plays in the post. It seemed like only Devonte' Graham was doing a good job of working the ball inside for post touches as the other players on the floor for Kansas often hunted their own offense while basically ignoring their lone post target.
Azubuike is never going to be a major scorer commanding double teams based on his post skill. But his power post game is a major asset for a Kansas team that needs all the easy buckets they can get at this point in the season. If Kansas is struggling on offense like they did tonight, they need to get Azubuike more touches to put pressure on opposing defenses.
4. Kentucky's depth will still create issues and keep them in games
Kansas wasn't the only team to struggle on the offensive end on Tuesday.
Kentucky's offense looked just as ugly as they shot 41 percent (23-for-55) from the field and 23 percent (3-for-13) from three-point range. Point-guard play was also an issue for Kentucky as they turned the ball over 18 times — including six alone from freshman Shai Gilgeous-Alexander.
Despite all of the offensive issues and only one player on the roster, Kevin Knox, making a three-pointer, Kentucky still found themselves with a chance to tie or take the lead with under 30 seconds left against a top-five opponent.
It's a testament to how Kentucky can still wear opponents down by throwing body-after-body at them in all facets of the game. The Wildcats were able to stay in this game in the second half by hitting the offensive glass hard and scoring whenever they could in transition.
Even with freshman big men Nick Richards and P.J. Washington combining for only one field goal and 11 combined rebounds in 37 total minutes, Kentucky was able to throw talented depth like Sacha Killeya-Jones and Wenyen Gabriel on the floor to give another look.
Killeya-Jones, who spent most of his freshman season stuck on the bench, was particularly solid for Kentucky as his length and perimeter shooting helped the Wildcats. Finishing with eight points and nine rebounds, while blocking three shots, Killeya-Jones looked like another intriguing development for Kentucky to come out of this game.
It's part of what makes Kentucky so dangerous. It's a collective group with a lot of promise and potential that is still figuring everything out, and yet, they're still staying close against a top-five team like Kansas. Like many Calipari one-and-done operations, we probably won't understand Kentucky's identity or personnel until the calendar rolls over into the new year.