CHICAGO – No. 1 Duke knocked off No. 2 Michigan State behind a 37-point explosion from Grayson Allen on Tuesday night.
They won despite losing Marvin Bagley III to an eye injury midway through the first half.
Those two things are facts. Here are five things we learned in the process:
1. DUKE'S ZONE LOOKS LIKE IT HAS SOME STAYING POWER
Duke surprised a lot of people when they came out in a 2-3 zone to start Tuesday night's game. Mike Krzyzewski has been a proponent of an extended, half-court man-to-man that it is weird to see the Blue Devils doing anything other than denying passing lanes, extending out to half court and daring an opponent's ball-handlers to try and beat them one-on-one.
But that's not what we got in the United Center on Tuesday night, and it worked.
"I thought they were just playing 2-3 against lower-major teams and when they played higher-major teams they'd go back to man," Miles Bridges said. "They were deflecting almost every pass. I guess I had five turnovers, Cash had four turnovers, Josh had five turnovers. We couldn't even get the ball moving like we wanted to."
Duke didn't necessarily come into this game thinking that they were going to play only zone, but it was hard to get out of it once they saw how effective it could be. Michigan State had just 14 points with seven minutes left in the first half. They were down 38-34 at the break, and of those 34 points, 13 came in transition and nine came on three straight possessions in a one minute span where the Spartans buried a three. For the most part, that zone took away everything that Michigan State wanted to do.
And it makes sense when you think about it.
Duke has as much size, length and athleticism along their front line as they've had in years, and the combination of Trevon Duval and Grayson Allen at the top of the zone causes havoc. It's the method that Jim Boeheim has used so successfully over the last 40 years.
"We were worried about fouls," Krzyzewski said. "In man, they were deeper than us and would wear us down. The nervousness of the game, we might get some dumb fouls."
And they did.
But in the end the zone ended up being enough.
2. TREVON DUVAL IS A HELL OF A PLAYER
Entering the season, Duval was the biggest question mark on this Duke roster. We knew Grayson Allen had an all-american season under his belt. We know that Gary Trent was a scorer. We knew that Marvin Bagley III and Wendell Carter would be able to anchor the front line.
What we were unsure of was whether or not Duval was the answer to Duke's woes at the point guard spot.
He sure looked that way on Tuesday night, finishing with 17 points, 10 assists, six steals and three boards while sparking Duke's transition game and finding a way to create offense when the Blue Devils needed a bucket.
He's still not a shooter – 7-for-20 from the floor, 0-for-4 from three, 3-for-7 from the line … that's not good – and that certainly is a concern for the kind of NBA prospect he can be in the long-term. And to be frank, Duval was at his best after Bagley was out of the game, when he didn't have to worry about running offense through the most talented player on the Duke roster.
But that's neither here nor there.
Duke just beat the No. 2 team in the country without Bagley, and Duval was the second-best player on the floor in the game. That means something.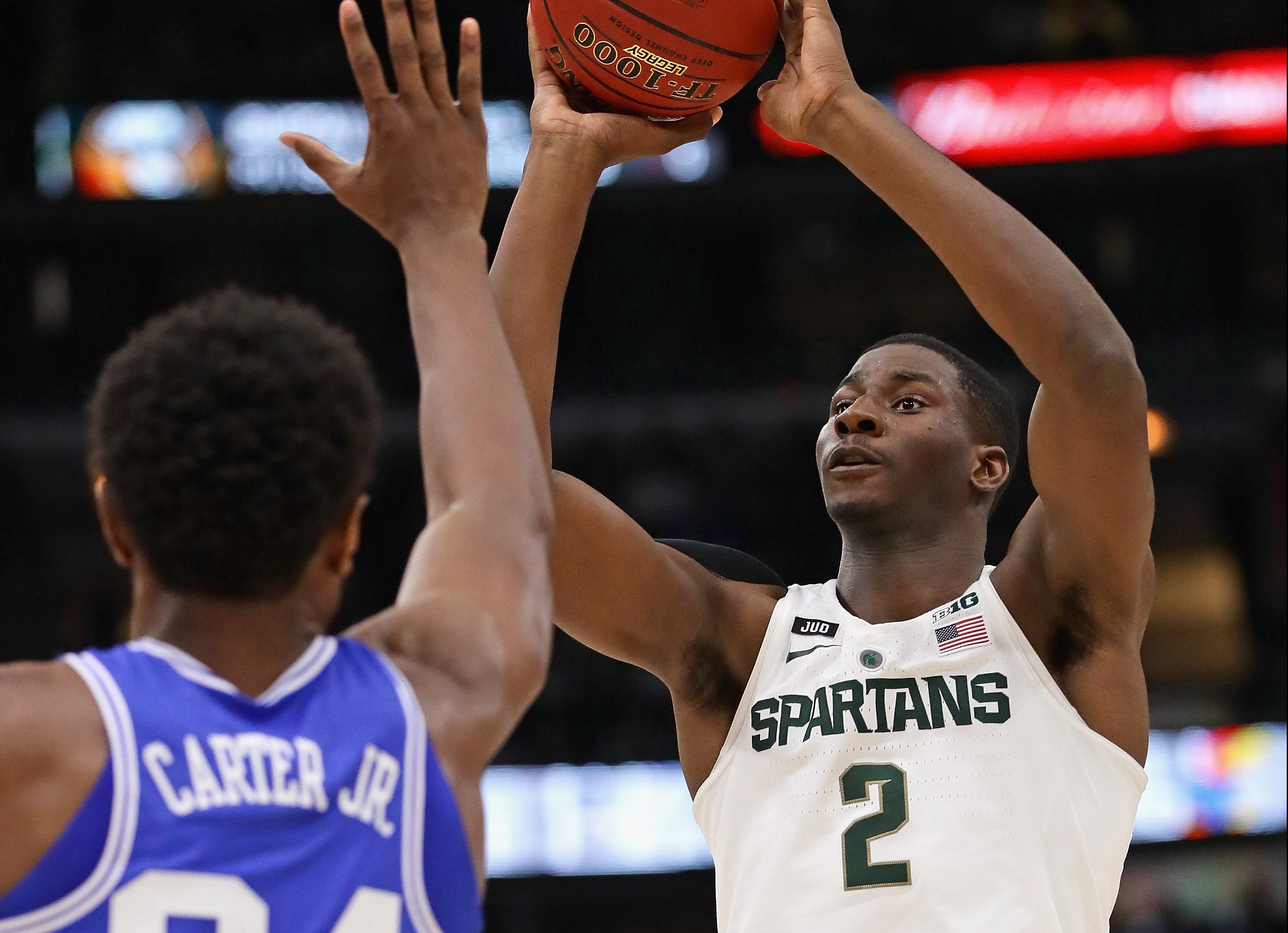 3. MICHIGAN STATE HAS THEMSLEVES A PLAYER IN JAREN JACKSON
Miles Bridges did everything he could to bring Michigan State back in this game, and Nick Ward was a bastion of productivity, as he always is.
But the guy that made a name for himself on Tuesday night was Jaren Jackson, a five-star, 6-foot-11 freshman forward that has the talent to be a top ten pick whenever he decides to enter the NBA Draft. He finished with 19 points and seven boards, but more important was the fact that he went 3-for-5 from three and blocked three shots. Players that provide rim protection on end and floor-spacing on the other are, quite literally, the most valuable commodity in basketball when it comes to role players, and Jackson may be the best at that role in the country this year.
He's the perfect four-man to play alongside Bridges and Ward, and while Michigan State is leaving Chicago with a loss, they should sleep well knowing that their front line made Bagley and Carter look normal.
4. JAVIN DELAURIER IS GOING TO PLAY A MAJOR ROLE FOR THE BLUE DEVILS
DeLaurier didn't play much as a freshman and didn't get much attention heading into this season. He may have been a top 50 prospect coming out of high school, but when you're behind three five-star players on the depth chart a year after failing to crack the rotation, it's hard to get too excited.
But DeLaurier proved who he can be on Tuesday night, finishing with four points, seven boards, four assists, three steals and two blocks. He's not all that skilled, but he is long and athletic, and he plays hard. Those are things that are incredibly value to a team that has a plethora of scorers in their starting lineup, particularly when that team is going to be playing quite a bit of zone this year.
In fact, DeLaurier made arguably the biggest play of the game on Tuesday. With just over three minutes left, he grabbed an offensive rebound and kicked the ball out to Grayson Allen, who gathered an assist by swinging the ball to a wide-open Gary Trent. Trent buried a three that broke a 75-all tie and gave Duke a lead they would never relinquish.
DeLaurier isn't ever going to be a star, but he'll thrive in the role he's asked to play.
5. MICHIGAN STATE'S BACK COURT IS STILL A QUESTION MARK
Cassius Winston had 11 assists on Tuesday night. He also had five turnovers, shot just 1-for-5 from the floor and finished with just three points. Josh Langford made some plays in transition, but he was 3-for-9 from the floor and missed some critical shots in the second half.
Those were the major question marks with this team heading into the season.
Could Winston protect the ball? Would he and Langford be able to provide a scoring punch in the back court? If they couldn't, would there be someone off the bench that would be able to find a way to chip in?
On Tuesday night, the answer was … not really?
It came against the No. 1 team in the country, yes, and their performance was certainly far from bad, but it wasn't enough for them to get a win over Duke. They need to be better.