1. THIS CROP OF FRESHMEN BIGS ARE THE REAL DEAL: We, as media, have a tendency to overhype freshmen each and every year in college hoops.
That's just the way that this works. When there is something new and exciting on the horizon, we gravitate towards it. There's something about the unknown and untapped potential that gets everyone excited. Sometimes, that hype pays off. Sometimes, it doesn't. The early returns are in, and while there is still a very long way to go, it looks like this group of freshmen are going to be as good as advertised.
Deandre Ayton was fantastic in two games for Arizona. His size, his length, his presence in the paint reminds me of Greg Oden, and while Ayton is a different player – Oden was a better defender, Ayton is more of a new-age, stretch-five – there seems to be little doubt that he is going to spend this entire season being awesome. The same can be said for Marvin Bagley III, who averaged a cool 24.5 points and 10 boards in two games this weekend. Bagley isn't the only star freshman big man on that Duke roster, either, as the high-low partnership that he is going to have with Wendell Carter this season has the potential to be game-changing.
Jaren Jackson has been an under-discussed member of this freshmen class, but he fits perfectly at the four in Michigan State's front line and has a shot to prove to everyone just how talented he is on Tuesday, as the Spartans and the Blue Devils face off in the Champions Classic. UNLV's Brandon McCoy went for 25 points and 18 boards in their opener. Villanova's Omari Spellman had a double-double. Iowa's Luka Garza looked like a steal.
And we haven't even seen Michael Porter Jr. play yet. as he went out after two minutes in Missouri's win over Iowa State.
Then there is Mo Bamba …
2. THE TEXAS ADDITION OF DYLAN OSETKOWSKI CHANGES THEIR CEILING: … who was terrific in his own right in the opener against Northwestern State, but who may not even be the most important addition that the Longhorns made this offseason.
Bamba is a defensive menace. He is 7-foot-1 with a 7-foot-9 wingspan and will be the single-best rim protector in college basketball this season. He's Rudy Gobert, only with a last name that makes you want to sing a Ritchie Valens song. He changes what Texas can do defensively. Having him in front of the rim will allow Shaka Smart's 'Havoc' style of play to take more chances knowing that missing on a steal may not actually lead to a layup or a dunk.
The addition of Matt Coleman helps as well. Andrew Jones isn't exactly a point guard, and playing two lead guards together is the lineup du jour in college basketball.
But if you talk to people around the Texas program, they'll tell you that Osetkowski is the best basketball player on the team. Not the best talent. Not the best prospect. Not the best playmaker. The best basketball player. He is 6-foot-9, he rebounds the ball, he makes threes, he can score in the post but, perhaps most importantly, he can handle the ball and facilitate offense. He takes the pressure off of the Texas playmakers offensively the same way that Bamba takes the pressure off of Texas perimeter defenders.
There is a different between being a facilitator and being a playmaker. Jones and Coleman are both playmakers. They thrive in transition, they can get an open shot for someone off the dribble or in ball-screen actions. They're very good Big 12 guards. But they're not exactly the kind of facilitator that can get Texas into a set or run offense. Osetkowski can do that. He will let Smart run offense through him while getting Coleman and Jones into spots on the floor where they can make a play.
At the risk of overreacting to three days' worth of games, I think that the Longhorns are the second-best team in the Big 12.
3. BUT LET'S NOT WRITE-OFF WEST VIRGINIA JUST YET: Yes, they were bad. Yes, they got blown out by a team that didn't have their starting point guard who was a freshmen anyway. Yes, they deserve to drop out of the top 25 for that.
And to a point, I think we may have overrated the Mountaineers entering the season. They lost a number of critical program and system guys this offseason. I actively overlooked that because they've lost a number of program and system guys in past seasons and improved. When Jonathan Holton graduated, Nathan Adrian stepped up. When Jaysean Paige graduated, Jevon Carter stepped up.
Maybe that well has run dry. I'll admit as much. But there are two reasons I'm not ready to waive the white flag yet.
1. West Virginia is a team that thrives on energy, and they played a game in Germany that tipped at midnight local time, which is a nine-hour flight away if you can find something direct. This wasn't a home environment. This wasn't a game played in a gym like Hilton Coliseum or Phog Allen Fieldhouse. This was on a German Army Base. I don't know how much of a role that played, or if jet lag contributed, but I can't pretend those factors don't exist.
2. It's also important to note that so much of what West Virginia does is built on actually being able to score. That sounds simple, but with the way that the Mountaineers play defense – Press Virginia and all – they cannot get into their defense if the ball doesn't go through the basket. Against the Aggies, they shot 40 threes out of 70 field goal attempts. They only made 12, meaning that they were only able to get into their press on 30 percent of those possessions. They also only grabbed 11 offensive rebounds, posting an offensive rebounding rate of 22.9 percent. They finished no worse than sixth-nationally in offensive rebounding rate the last three years, twice cracking 40 percent.
Not having Esa Ahmad really hurt them. Ahmad is not a great offensive rebounder, but he's pretty good. He's not great scoring around the rim, but he's pretty good. He's the one guy on the roster that they might be able to look to offensively in the paint. His presence allows them to score on more possessions, and that is what matters for West Virginia.
It's been proven that shooting threes well is the most efficient form of offense. But for the Mountaineers, the way that they play, it's more important to score on the highest number of possessions possible, even if they're scoring in a less-efficient way.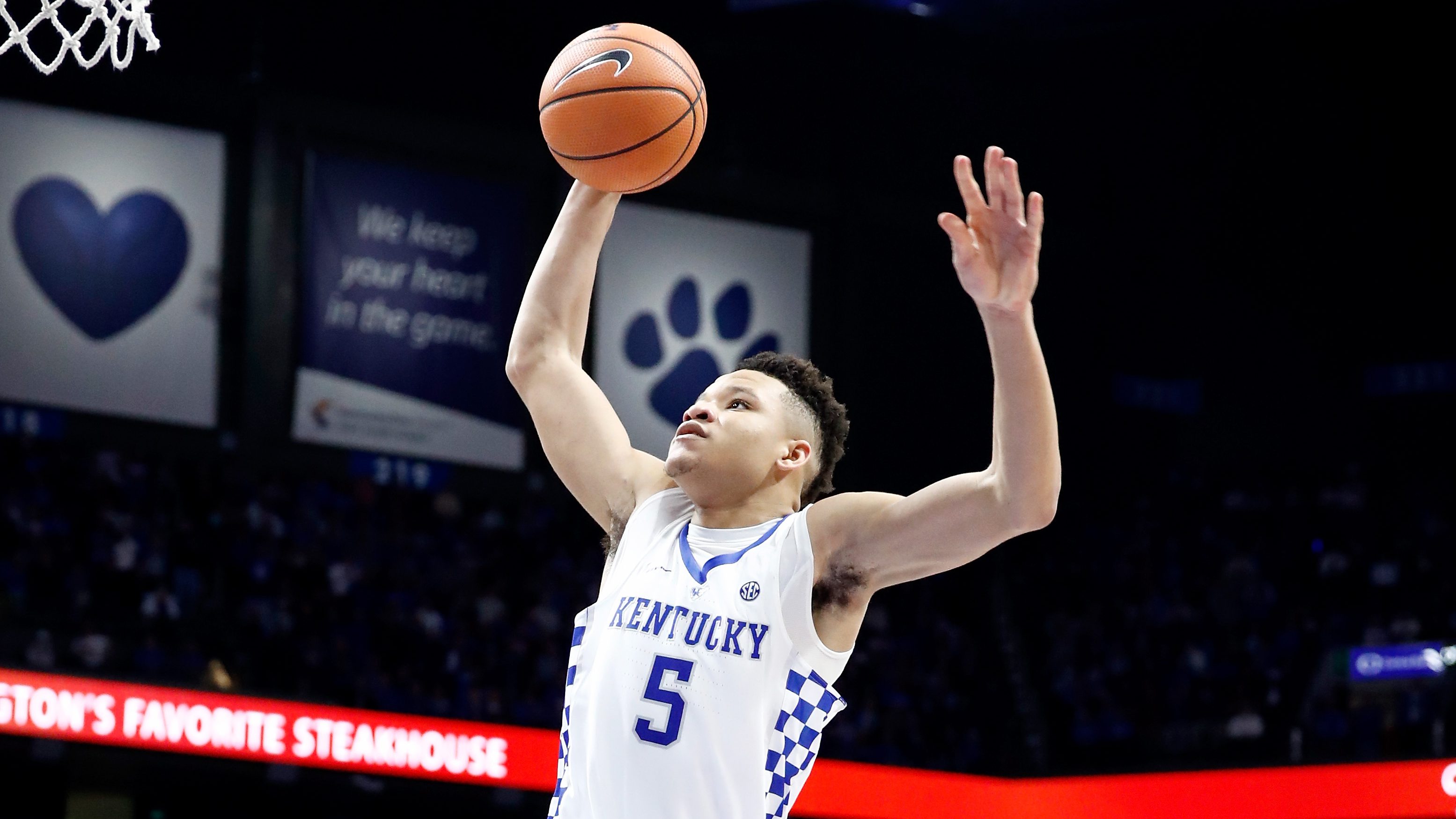 4. KENTUCKY HAS A LONG WAY TO GO, BUT WE KNEW THIS: Kentucky is a long, long way from being a finished product.
On Friday night against Utah Valley, the issue they had was on the offensive end of the floor. They just couldn't find a way to get good shots in the half court. On Sunday, it was defensive that killed them. They looked lost trying to defend Vermont's ball-screen actions.
They started two different lineups in those two games, and both lineups featured five freshmen.
It showed.
We know the Wildcats were going to take some lumps early on this season. The issue isn't how they're playing now. It's whether or not they get better as the season moves along.
5. TUESDAY NIGHT IS GOING TO BE UNBELIEVABLE: I am more excited for the Champions Classic than I have been for this event in years.
Maybe ever.
It starts with No. 1 Duke taking on No. 2 Michigan State in a battle of front courts that should make every NBA scout – both amateur and professional – get excited. Then there is the battle between point guards that need to prove themselves, and that's before we talk about how their are two first-team preseason all-americans on the floor in Grayson Allen and Miles Bridges.
And that's just the opener.
The nightcap will feature a Kentucky team that may end up starting a team with no one shorter than 6-foot-5 against a Kansas team that has been playing small-ball lineups that feature four guards 6-foot-6 and below. This will be the real test for the Wildcats, playing a veteran team that has national title aspirations, but it will be a good gauge game for Kansas as well. Kentucky may not be great yet, but they are big, and if there is any question about these Jayhawks, it's how they are going to handle size.