You know the deal this time of the year.
Every outlet digs through the college coaches that haven't won enough games over the course of the last four or five seasons and churns out their 'Coaches On The Hot' list. It's never a fun process to predict that people with families and mortgages, people who we've developed professional relationships – some better than others – with, are going to lose their jobs, but it is what it is.
Most years, every one of the men that show up on a list like this are aware that they are going to show up on lists like this. If you've gone four years without a trip to the NCAA tournament at a high major program, you're probably in some trouble.
This year is different, however.
Because this year, with the FBI's investigation into corruption in college basketball, the 'hot seat' is anyone who has cheated to get a player. Any coach that facilitated a payment from a shoe company to a kid's family; anyone who took money from an agent or a financial advisor to shuttle a player to that individual; anyone who did business with Jim Gatto or Merl Code or Christian Dawkins; hell, anyone who has an assistant on their staff who did any one of those things, they're in the line of fire this year.
We know who some of those coaches are – Sean Miller, Andy Enfield, Jim Larrañaga, Brad Underwood, Bruce Pearl, Mike Boynton – but we don't know all of them.
Not even close.
It's impossible to know where the FBI's investigation is turning to next. I can make some educated guesses, but that's all based on speculation and connecting dots. The FBI spent more than two years on the investigation and we didn't get a whiff of it until that Tuesday morning in late-September when the college hoops world was flipped upside-down.
Which is to say it's hard to know which coaches are actually going to end up losing their job, and who is truly worried about it.
THE FBI IS MAKING THEM SWEAT
BRUCE PEARL, Auburn: I think that it is fair to make the argument that Sean Miller, Andy Enfield and Jim Larrañaga all deserve a spot on a list like this. Miller's program is as connected to this investigation as any, with assistant coach Book Richardson getting fired; two current, unnamed players being linked to money changing hands; and a recruit, Jahvon Quinerly, being forced to decommit after as much as $20,000 earmarked for Quinerly was allegedly given to Richardson. That's before you get into the discussion of Arizona and Nike outbidding Miami and Adidas for a player that eventually committed to North Carolina.
Larrañaga has copped to being the 'Coach 3' that is mentioned in the complaint filed by the FBI, the one that is discussing getting $150,000 from Adidas to land current UNC-commit Nassir Little, while Enfield had an assistant, Tony Bland, get fired as well. He, like Richardson, was caught taking bribes, and some of that money was meant for players currently on the roster.
But Pearl, more than any of those three men, is the one in the most trouble because he's already had a run-in with the NCAA. In 2010, he lied to investigators about recruiting violations that he committed – bringing a player to a barbecue, of all things – and was actually still waiting out his show-cause penalty when he was hired by Auburn in 2014. He couldn't recruit for the first couple of months that he was on the job. Now, he's the coach of a program that had an assistant, Chuck Person, fired for taking more than $90,000 in bribes, with some of that money meant to be passed along to players on the Auburn roster. It has already cost Pearl a five-star recruit in the Class of 2018.
And to be frank, the pressure would be mounting on Pearl even if he didn't have these off-the-court issues hanging over the program. This is his fourth year at the helm of the Tiger program. He's never won more than seven SEC games in a season. He's never finished better than 18-14 overall. The team he has this season is good enough to reach the NCAA tournament – it will be a disappointing year if they do not reach that level – but there are many paths to failure. Austin Wiley isn't fully healthy yet. There's the risk that some of Auburn's best players have a fight on their hands with the NCAA when it comes to eligibility. (UPDATE: Wiley and Danjel Purifoy are being held out of games indefinitely.) There's also a risk that the pieces just don't come together; just because a team that missed out on the NIT looks like it should be better doesn't mean that it will be better.
The window is closing for this group as well. It would not be shocking to see both Wiley and Mustapha Heron bolt for the pros this season. If that happens, Pearl's tenure would look like this: Four seasons, no postseasons, involvement in another NCAA scandal and little positive momentum.
Would you feel your job was safe?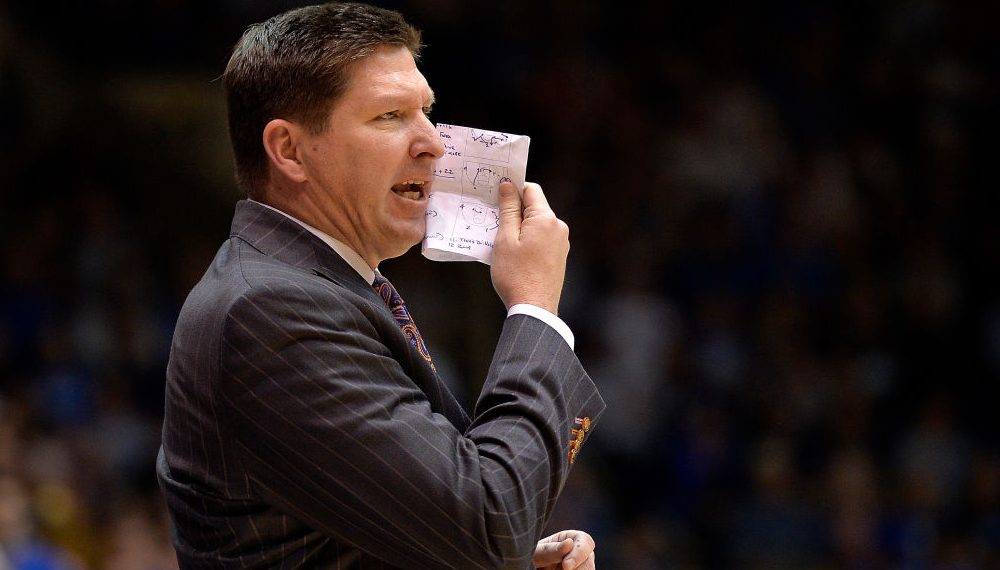 DON'T SIT DOWN WITHOUT POTHOLDERS IN YOUR DRAWERS
BRAD BROWNELL, Clemson and PAT CHAMBERS, Penn State: At this point, it makes too much sense for these two gentlemen to be lumped together.
For starters, they are the only two high-major head coaches that are currently employed despite missing the last six NCAA tournaments at their current job. The only other guy that could have been on this list is also employed, but Lorenzo Romar saw his salary drop by 70 percent because he's now an assistant at Arizona instead of the head coach at Washington. He was fired despite holding a commitment from Michael Porter Jr.
That's where we're at with these two. Now, Brownell has actually reached an NCAA tournament during his tenure and Chambers finally has the Penn State program trending in the right direction – I don't think a tournament berth is out of the question with the young talent he has – but I'm not sure that being the basketball coach at a football school can save you if you've missed seven straight NCAA tournaments.
It's worth noting here: Chambers has not gotten a contract extension since 2015, and his current deal only runs through 2019. Brownell was extended in April; he's under contract through 2021.
MARK FOX, Georgia: I feel for Mark Fox. He's a good head coach at a football school in a football state. He's been with the Bulldogs for nine seasons now, but has made just two NCAA tournaments, the most recent of which was in 2015. His teams are never terrible – he hasn't finished below .500 in the SEC since 2013 – but they're rarely all that great. Last year might have been the year that saved him, but star forward Yante Maten injured his knee down the stretch of the season.
JEFF LEBO, East Carolina: Now in his eighth season with ECU, Lebo has a record of 114-117. In three seasons in the American, he's gone 41-57 overall with a 16-38 mark in league play. He's never been to the NCAA tournament as a head coach despite coaching at four different programs. In 2013, he was given an extension that runs through 2021.
JIM CHRISTIAN, Boston College: It feels like Jim Christian actually has some positive momentum right now. A back court of Jerome Robinson and Ky Bowman is actually quite good, even by ACC standards, and the addition of grad transfer Deontae Hawkins should help bolster BC's front court. That said, he's just 29-67 in three seasons and coming off of a 2-16 year in the ACC. Those two wins were a two-win improvement on the 2015-16 season. He was given a contract extension in August by an athletic director that resigned in February. It's time to win something.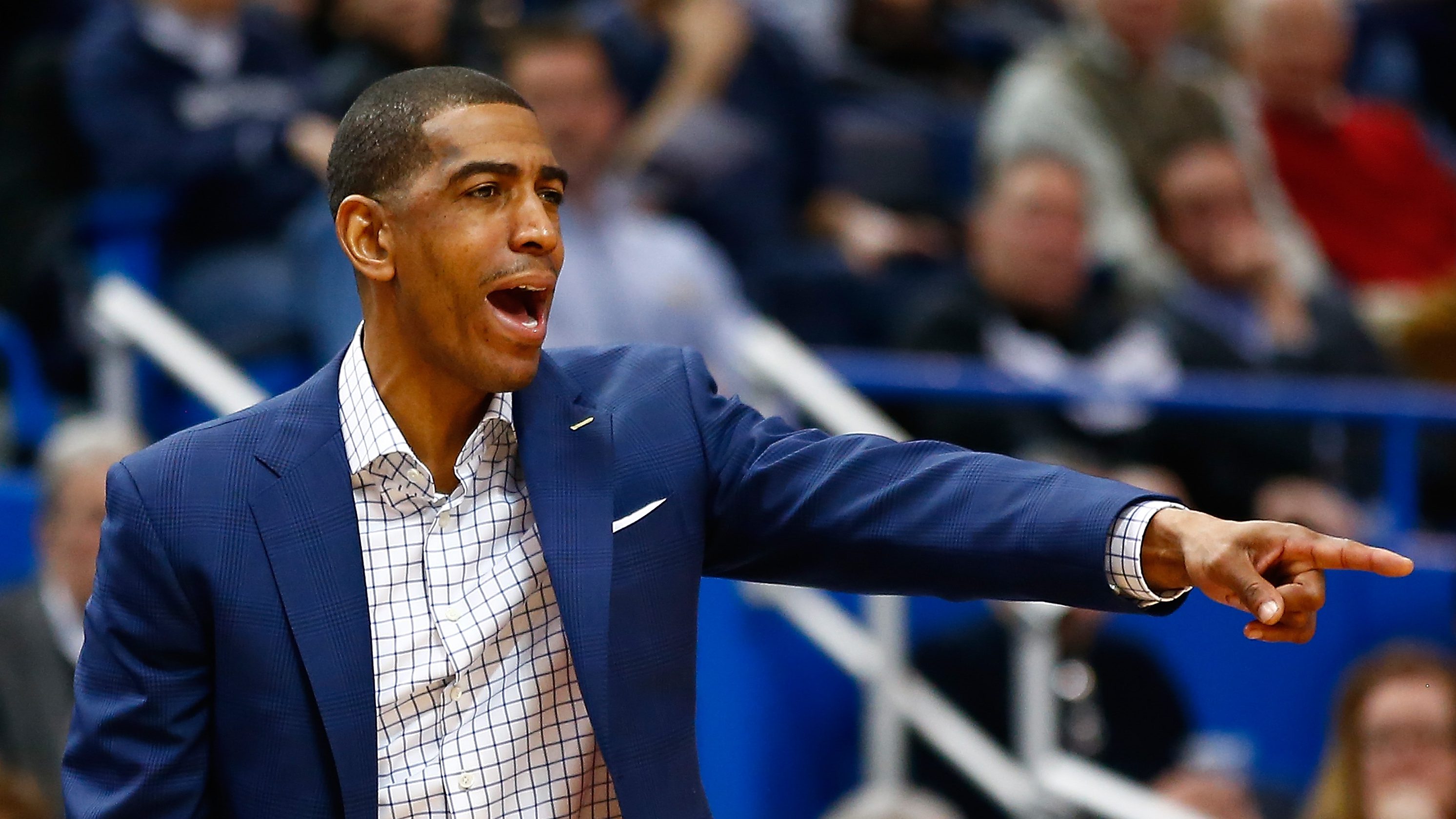 JUST DON'T BE TERRIBLE, OK?
KEVIN OLLIE, UConn: It sounds ridiculous to have a UConn coach on the hot seat less than three years removed from winning a national title, but that's exactly where we are with Kevin Ollie right now. Ollie has missed two out of three NCAA tournaments since winning that title and has yet to finish better than a tie for third in the AAC, a league that just got tougher with the addition of Wichita State. Last year can be forgiven after injuries to Alterique Gilbert and Terry Larrier. There are no excuses this season, now with Jalen Adams back as well. Ollie signed a contract this year that runs through 2021.
TIM MILES, Nebraska: Miles is in a tough spot. Four players, including two starters, transferred out of his program during the offseason, and six week ago, his athletic director was fired because the sports teams at Nebraska weren't winning enough. That's bad news for Miles, who hasn't been to the NCAA tournament since 2014, his second year with the program. But the Huskers routinely sell out their arena – they're annually top 15 in total attendance in all of college basketball – and Miles actually has something of a promising group this year. Georgetown transfer Isaac Copeland is eligible to play, Louisville transfer Anton Gill is healthy, Glynn Watson is back for his junior season and the Huskers have been recruiting fairly well.
ERNIE KENT, Washington State: Kent is heading into his fourth season in Pullman, and he's yet to win more than 13 games in a year or seven games in the Pac-12. This season, the Cougars lose their three best players and four starters off of last year's roster. If Wazzu reverts back to the 2015-16 team, the one that won nine games and went 1-17 in league play, Kent, who got an extension through 2022 in May, will be in some trouble.
DAVE LEITAO, DePaul: This is only Leitao's third season with the Blue Demons, but DePaul has not seen any improvement since his arrival. They've won 18 games in two years and are all of 5-31 in the Big East during that stretch. But Eli Cain is back, key transfers are eligible and a couple more are still sitting out. There should be some improvement. DePaul is going to need it to justify their new, $173 million arena.
BRUCE WEBER, Kansas State: Weber alleviated some of the pressure that he was under last season by getting to the NCAA tournament and winning a game, but he still went just 21-14 overall and won a First Four game. The Wildcats lost their best player during the offseason but Weber still signed an extension through 2021. No one in Manhattan is expecting a Final Four, but in a year where the Big 12 is wide open, Weber probably just needs to avoid finishing near the bottom of the league.
JOHN GIANNINI, La Salle: Giannini has been with La Salle since 2004, but he's managed to get to just one NCAA tournament – a Sweet 16 run in 2013 – in that time frame. In the last four years, he's finished no better than .500 in league play or 17-16 overall. That includes bottoming out with a 9-22 season in 2015-16.