The moment that Martin Inglesby knew Bonzie Colson was the right player for the Notre Dame program didn't come during an EYBL game against a top recruit in his class or while watching Colson finish off his third workout of the day.
It came during a high school practice, one that Colson left early. He had rehearsal. He was starring in the St. Andrew's School's production of Grease.
"He's really comfortable in his skin," said Inglesby, who is now the head coach at Delaware but, at the time, was a longtime assistant on Mike Brey's staff. "He's a bright kid, really articulate, well-rounded. Going to St. Andrews was really good for him. Every year there he had to be in a play. I remember going up to watch his workouts, and he'd have to leave basketball practice to go to play practice. I'd call him and he'd be coming from study hall, and I was like, 'This kid fits us.'"
And while the Notre Dame coaching staff would love to be able to say that they knew he was going to be great, they knew something that no one else did the first time they set eyes on their future all-american, the truth is … well … they didn't. Colson is a power forward that stands all of 6-foot-5 on a good day. In high school, he had a little, shall we say, baby fat around the midsection, and his high-waist and skinny legs meant that he wasn't exactly what you'd call a layup line scout.
"He's exceeded my expectations," head coach Mike Brey told NBC Sports.
But the kid had strong bloodlines. His father was a former Rhode Island star and an assistant coach with Al Skinner at Boston College. What's more is that Brey not only knew Big Bonzie as a rival assistant in the Big East, but they were also rivals in the high school ranks. The elder Colson was playing for Dunbar High in Baltimore when Brey was coaching at DeMatha.
And the younger Colson?
He was able to produce at every level he had played at. High school, AAU, the EYBL. His style of play, the ability he had to space the floor, the toughness battling bigger players in the paint, fit how Notre Dame runs their offense.
"Let's get him," Brey remembers thinking at the time. "The way we play, we'll figure it out."
---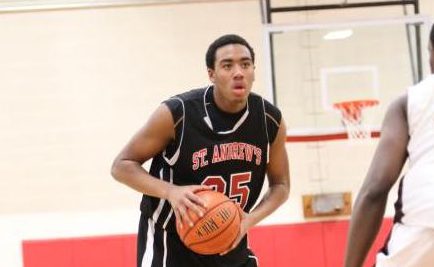 ---
There really is no great story about how Notre Dame discovered Bonzie Colson.
They didn't watch him go for 30 points against a kid they were recruiting. There was no monster performance when they got to a gym early and had to watch the end of the previous game. Colson didn't come from some out-of-the-way, backwoods town that doesn't show up on GPS. He's from New Bedford, Mass., a suburb outside Providence less than an hour from Boston.
The Irish, believe it or not, discovered Colson in a recruiting service they subscribe to.
You see, Notre Dame has a type. Brey and his staff know their school. They know their program. They know that not everyone can thrive in those academic environs, that the recruits they bring to South Bend must value a degree from, say, the Mendoza College of Business over major minutes early in their career.
"I always look for key words that fit us," said Inglesby. "High basketball IQ, feel for the game, versatile forward. Something like that."
That's what Colson's profile said. So Inglesby called up Colson's high school coach, Mike Hart, who said more of the same. He's a good kid, undersized with a chip on his shoulder because so many people told him he wasn't good enough. Inglesby made it a point to see Colson play the next chance he got, which came at an EYBL event in Los Angeles in April of 2013.
Colson was playing for BABC, but the program didn't have the kind of talent that typically populates the roster. Still, they were winning enough and Colson was playing well. After watching him play that first game, Inglesby came away impressed, even more so after seeing the box score. 18 points, eight boards, five assists, four blocks.
The next time Colson played that weekend, Inglesby and Brey were sitting one court away.
"Just watch this kid, No. 35."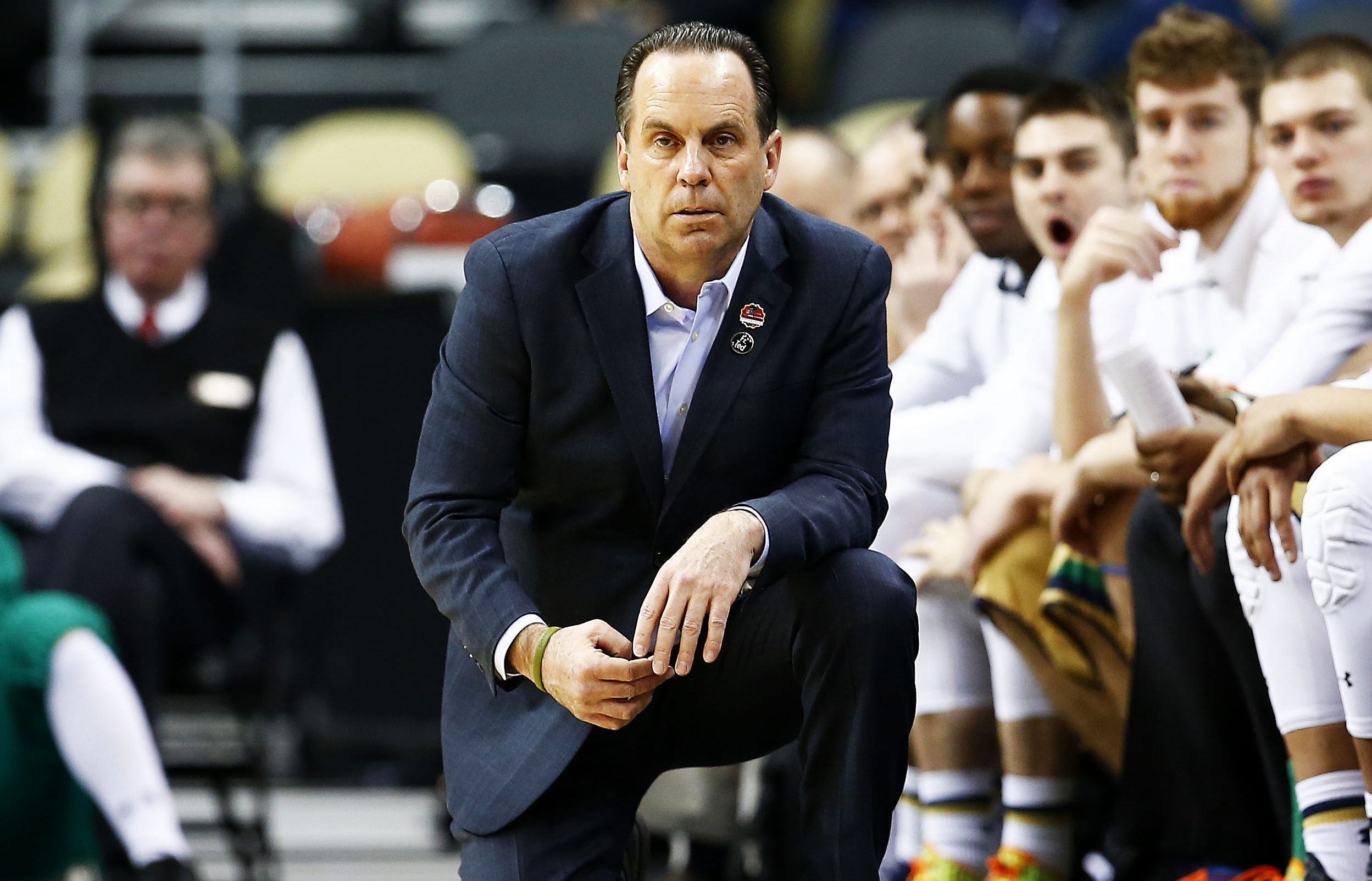 Every time Brey did, Colson was making something happen. There was a tip-in, a 15-footer jumper, an offensive rebound in traffic. Every time the Irish head man glanced over to that court, Colson was making something else happen. Brey, like Inglesby, was intrigued. At dinner that night, the pair decided to make sure that they saw Colson play twice the next day, the last day of that live period, and he again impressed.
"He was a little out of shape, awkward body, but damn did he produce every time he got on the floor," Inglesby said.
They started recruiting Colson after that, but it wasn't as if they were immediately sold on him. He could play, they knew that, but a 6-foot-5 power forward is a 6-foot-5 power forward; there's a reason you don't often see them in the ACC. What the staff couldn't shake, however, was that production. Playing in the EYBL, Colson was going up against the big men that he'll eventually see down the road should he wind up at an high-major program. And in the spring and summer of 2013, Colson's final season of AAU ball, he was the single-most efficient offensive player on the EYBL circuit.
"Every time someone would say, 'size, all that,' Martin would go 'Coach, look at the latest update,'" Brey said. "Every time we wanted to doubt him, he would show me the efficiency stats."
"We just kept coming back to, 'I don't know what number he is, but he's a basketball player.'"
---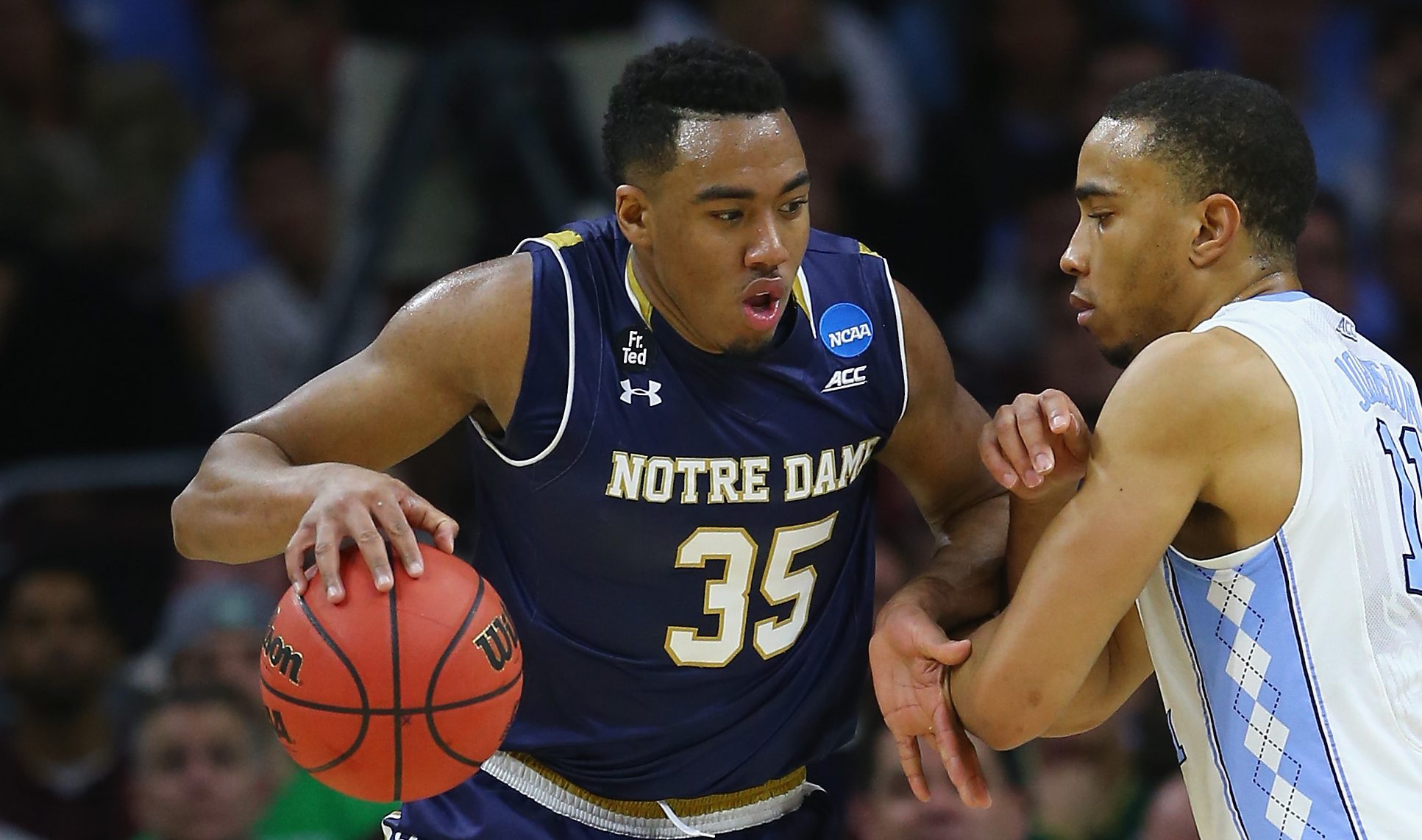 ---
The academic standards required by Notre Dame would, at face value, appear to be a hindrance for an ACC basketball program. The enrollment requirements and the strenuous workloads significantly diminishes the pool of players that Brey and his staff are able to recruit from.
That's an obstacle to work around, but it's become one of the most influential factors in the culture that he's been able to build on this team.
Beyond the simple fact that a smaller pools of potential recruits allows the Irish to narrow their focus onto top targets more quickly, the academic component has allowed Brey to hold on to players that may have transferred out of another program frustrated by the lack of early playing time. You see, Notre Dame is something of a throwback. Brey is loyal to his upperclassmen. They're going to get their starting spot and major minutes while the underclassmen are forced to ride the pine for one, two or even three seasons, if they happen to redshirt.
In the one-and-done era where early entry to the NBA Draft has become an annual tradition for college basketball's best and brightest stars, Notre Dame has been able to stay old, to promote from within, to have that next man up ready when, say, Jerian Grant and Pat Connuaghton graduates, or Demetrius Jackson and Zach Auguste leave school.
It's a credit to the Notre Dame coaches for developing the players they bring in.
But in order for those coaches to be able to develop them, they actually have to be there.
"I think they've seen a track record of guys ahead of them, but it also helps that they're there for the degree, too," Brey said. "So when they are, as a sophomore, thinking about leaving, and they're like, 'well, I'm two years into the Mendoza Business School degree,' I can keep them another year that other people can't."
"Yes, they've been unhappy. Yes, they've thought about transferring, but they hang in there with us another year, and by their junior year, they're playing. Matt Farrell, his dad probably wanted to kidnap me when he was a sophomore and wasn't playing. Now, I'm a family member."
In the process, Brey has built up a reputation for making players better. There's a culture within that locker room, a belief that as long as you put in the work, your time will come. That's part of what made Notre Dame appealing to Colson, particularly the success that Brey has had with skilled, undersized forwards: Luke Harangody, Tim Abromaitis, Pat Connaughton.
"Those undersized players, they really develop in the system," Colson said. "The offense we run really fits for them. Small-ball, move, pass. I think that kind of fits who I am as a basketball player."
Colson knew what he was in for when he signed on with the Irish. He's shed 20 pounds from the 240 that he weighed when he arrived in South Bend – the, as he puts it, "overweight baby fat" – and was playing well in practice, but he was the eighth-man in a seven-man rotation. By mid-January, he had taken six DNP-CDs and was "taking my practices as games," he said. "Playing hard, taking charges, fouling hard. That was my game."
It paid off early in ACC play, when star Zach Auguste was forced to miss some time due to an academic misstep. Colson stepped in an immediately started producing, scoring 10 points in 22 minutes in a win at Georgia Tech after failing to get in any of the previous three games. He was good enough in Auguste's absence that Brey had to find minutes for him, and by the end of the year, it paid off. In February, Colson had a three-game stretch were he went for 16 points in 14 minutes at Boston College, had 16 points in 19 minutes against Clemson and then posted a season-high 17 in a win at Louisville.
His true coming out party came a week later, when he scored 14 of his 17 points in the first half of an upset-win over eventual national champions Duke in the ACC tournament.
As a sophomore, Colson started and averaged 11.1 points and 6.7 boards in 25 minutes, but the real leap came as a junior, when he was named an all-american after averaging 17.8 points and 10.1 boards. The 6-foot-5 Colson often played the role of center for that Notre Dame team, the centerpiece of an offense that was, oftentimes, unstoppable.
What makes Colson to unique is that, while he truly is 6-foot-5, he has no neck. If you line him up, shoulder-to-shoulder, with someone that is 6-foot-7 or 6-foot-8, their shoulders are at the same level, meaning that, functionally, he is a 6-foot-8 player with a 7-foot-3 wingspan.
"He's sneaky long because of it," Brey said. "You don't expect it."
"His dad is 6-10. His mom is tall. He's hoping he's still going to grow," Farrell, a senior, all-ACC point guard and one of Colson's best friends, says with a smile.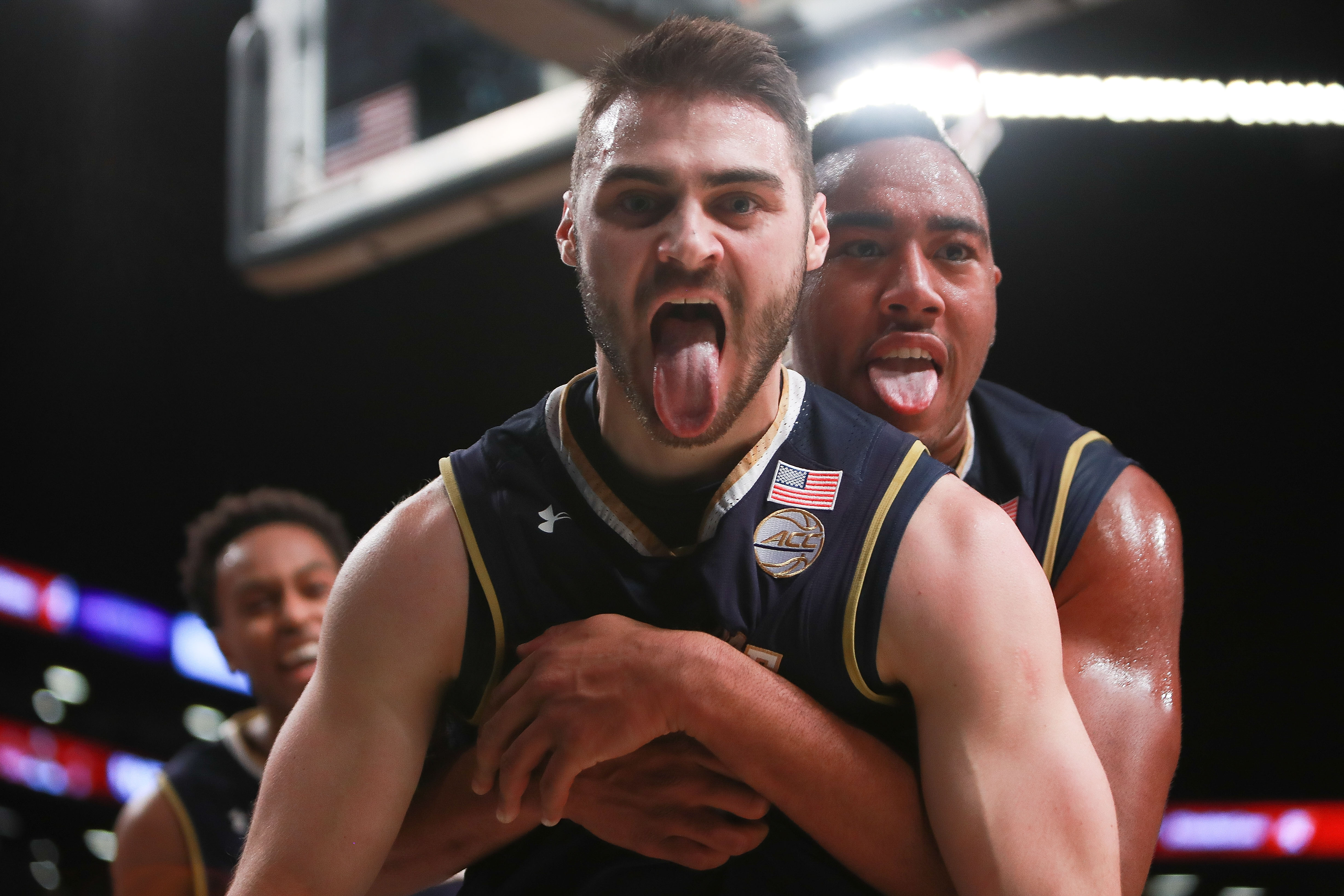 The size disadvantage is not as bad as it seems, which is critical given Colson's elaborate offensive repertoire. He has the entire package. He shot 43.3 percent from three last season. He can score in the post. He's a killer from 17-feet and in. He can pass out of double-teams as well, which is where this all comes together: Notre Dame can put four shooters on the floor around him, which puts defenses in a bind. Either you try to stop him one-on-one (more on that in a second) or you send another defender, at which point Colson makes the right pass and the Irish get an open three.
"We try to isolate him," Farrell said. "He's just so hard to guard. He can shoot, he can hit that step back, he's long enough that he can finish around the rim. He's hard to guard from the post out because when he's fading away, he's got those long arms where he can get that off. He plays angles well. He's so unique."
Much of Colson's improvement one-on-one can be credited to Notre Dame assistant Ryan Humphrey. Humphrey was part of Brey's first teams at Notre Dame, a 6-foot-10 low-post bruiser that averaged 19 points, 10 boards and three blocks as a senior before getting selected as the 19th pick of the 2002 NBA Draft. He bounced around the NBA for five years before spending some time playing in Europe. He's retired now, and joined Brey's staff in the spring of 2016.
And as soon as he got onto campus, he made a point to seek out Colson.
To play one-on-one.
"If he can score on me, he can score on anyone," Humphrey said with a smile.
He was right.
"Our first workout and I couldn't score on him," Colson said. "It was a big reality check on where my game needs to be. He's been out of the game for eight years and he's still locking me up?"
Those one-on-one games, which Colson credits with "expanding my game," still persist, although it's tough to figure out who, exactly, is winning these days. The one thing they do agree on is, as Colson puts it, that "he doesn't call any fouls."
---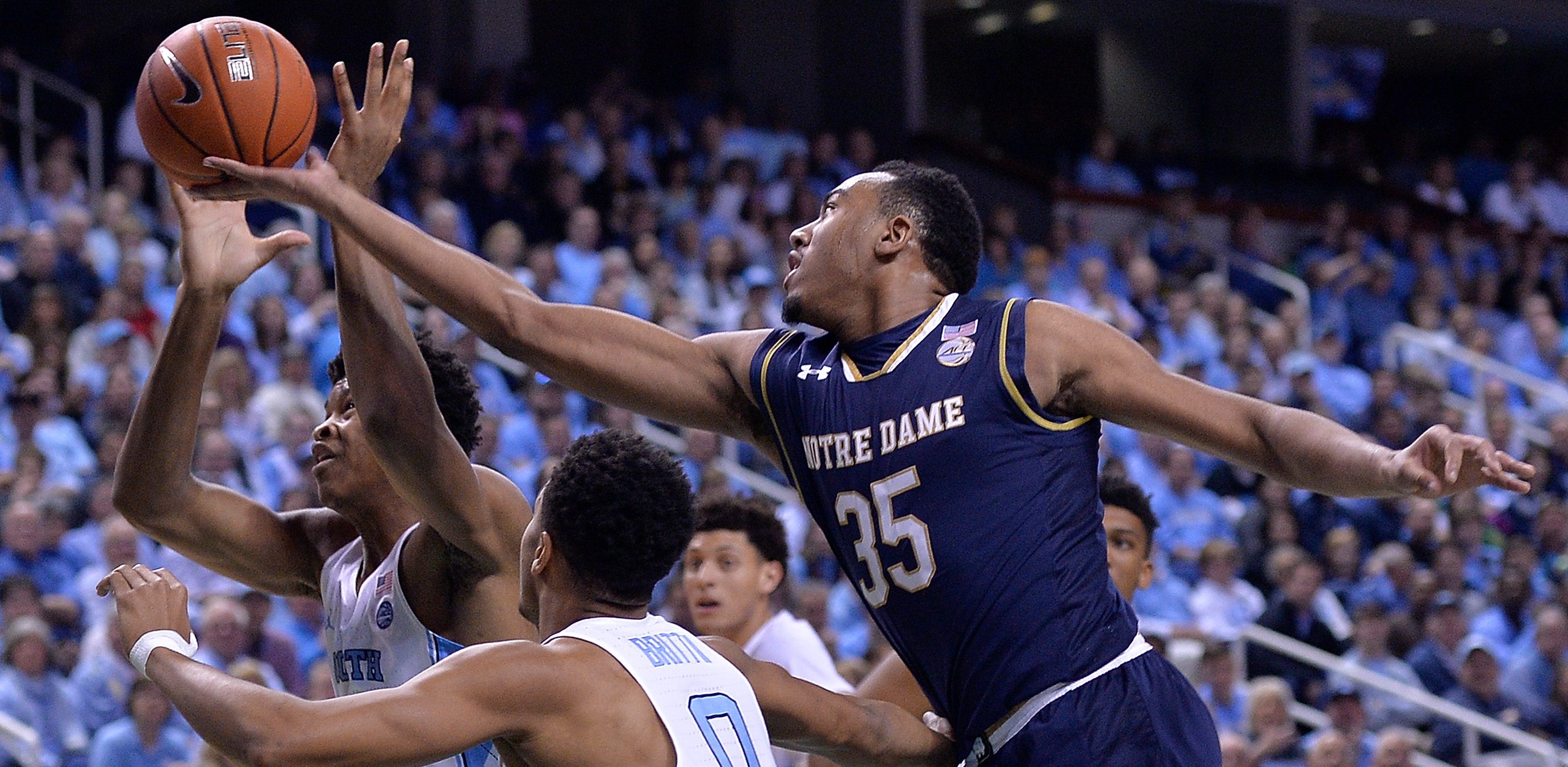 ---
Bonzie Colson was never a diamond in the rough.
His father was an assistant coach on Al Skinner's staff at Boston College. He played for St. Andrew's School, a powerhouse high school program in Rhode Island that has produced the likes of Michael Carter-Williams and Cole Swider, a top 40 prospect committed to Villanova. He played AAU ball for BABC, which had, in the two previous years, had produced Nerlens Noel, Wayne Selden, Georges Niang, Jake Layman and Andrew Chrabacz.
Everyone saw Colson.
They just didn't know what they were looking at.