Beginning in September and running up through November 10th, the first day of the regular season, College Basketball Talk will be unveiling the 2017-2018 NBCSports.com college hoops preview package.
Today, we are previewing the SEC.
The SEC has generated quite a bit of hype this offseason.
Some of it is justified.
Increased recruiting efforts by the likes of Alabama, Missouri, Auburn and Mississippi State mean that there are a number of teams that aren't accustomed to NCAA tournament buzz getting some in October.
That's before you consider that Kentucky, Florida and Texas A&M all look top 25-good while Ole Miss, Vanderbilt and Arkansas have 'tough out' written all over them.
But we've heard this story before.
Will this season be any different than the last?
FIVE THINGS YOU NEED TO KNOW
1. Kentucky is ridiculously talented, but the pieces may not fit together
The Wildcats are loaded with talent once again. When Jarred Vanderbilt returns from his foot injury, John Calipari will have eight five-star prospects at his disposal this year. Three of them – Wenyen Gabriel, Sacha Killeya-Jones and Hamidou Diallo – spent last season as a part of the program in one way or another, and that doesn't even include Shae Gilgeous-Alexander, who has quietly been climbing up NBA Draft boards.
Kentucky should be terrific on the defensive end of the floor thanks to all that length and athleticism. The problem is on the offensive side of the ball. For starters, there just isn't enough shooting on the roster to be able to space the floor. There also is a lack of elite-level playmaking and shot creation. Put another way, if Kentucky finds themselves in a grind-it-out half-court game, how are they going to be able to create offense? Who on this team scares you if you are an opposing coach?
Part of the problem is the roster construction. Much like the 2014-15 team, Kentucky may have too many big guys. Don't be surprised to see Kevin Knox, who should be a four at the college level, play the majority of his minutes on the perimeter. But unlike that Kentucky team, this one doesn't have the same caliber of potential NBA talent. There is no Karl Towns or Devin Booker. There is n Tyler Ulis or Harrison twin. I would even argue that Knox is less effective on the perimeter than Trey Lyles was.
I trust in John Calipari to figure this thing out, to find a role for each of his guy's to play and a way to get them to buy into that role. He's one of the best at that.
I just can't see how that is going to play out from where I'm sitting.
2. Texas A&M can actually contend for the SEC crown
I firmly believe that this season, and it starts with their front court, which is as big and as talented as anyone. The name to know is probably Robert Williams, a 6-foot-10 sophomore from tiny Oil City, Louisiana, who opted to forgo the NBA and return to college for his sophomore season. He is a potential top five pick, should his jumper and perimeter ability catch up to his ridiculous athleticism and physical tools, but he probably won't be the best big on the Texas A&M roster this season.
That title belongs to Tyler Davis, a 6-foot-9 behemoth. He's the rock on the low block for the Aggies, who can score and draw fouls in the paint and own the glass. Throw in shooters like Tony Trocha-Morelos and D.J. Hogg to space the floor, and that's going to be tough to deal with.
The concern is in the back court. Texas A&M was without a point guard last year and brought in three potential cures to that issues: freshman Jay Jay Chandler, redshirt freshman J.J. Caldwell and grad transfer Duane Wilson, who left Marquette to enroll with the Aggies. One of those three is going to have to step up and take over the position this year.
3. Kentucky isn't the only team with awesome freshmen
While the Wildcats have the most – as in number – talented recruits on their roster, they don't have the most – as in best – talented newbies in the SEC.
That title probably belongs to Missouri's Michael Porter Jr., a 6-foot-10 freak-of-nature athlete who already has advanced perimeter skills and an impressive ability to knock down the three. I'm not comparing him to Kevin Durant as a player – Nno one should ever be compared to Kevin Durant as a player unless it's to say "he's not ever going to be as good as Kevin Durant" – but I could see his freshman season following in the footsteps of Durant's: Massive numbers on a team that he carries, early round NCAA tournament exit after landing a middling seed. Simply put: Missouri's supporting cast is either A) a freshman, like his younger brother Jontay, or B) not all that talented.
While Porter could end up being the first pick of the 2018 NBA Draft, the first point guard taken off the board looks like it could end up being Alabama's Collin Sexton. Sexton is interesting for a couple reasons:
He's a high-volume scorer that did so much of his work by drawing fouls. Is he going to get the same calls at the college level that he got in high school and AAU?
He's a guy that could average 20 points on a team that desperately needs a scoring boost. The Crimson Tide finished 158th nationally in offensive efficiency last season. They were 10th in defensive efficiency. They need Sexton.
The addition of both Porters immediately makes Missouri one of the most interesting teams in the country, let alone the league. Will that be enough for Cuonzo Martin to get to his third NCAA tournament in ten seasons as a head coach? On the other hand, Alabama has a legitimate argument to be considered a top three team in the league. We'll see if either of those things lasts.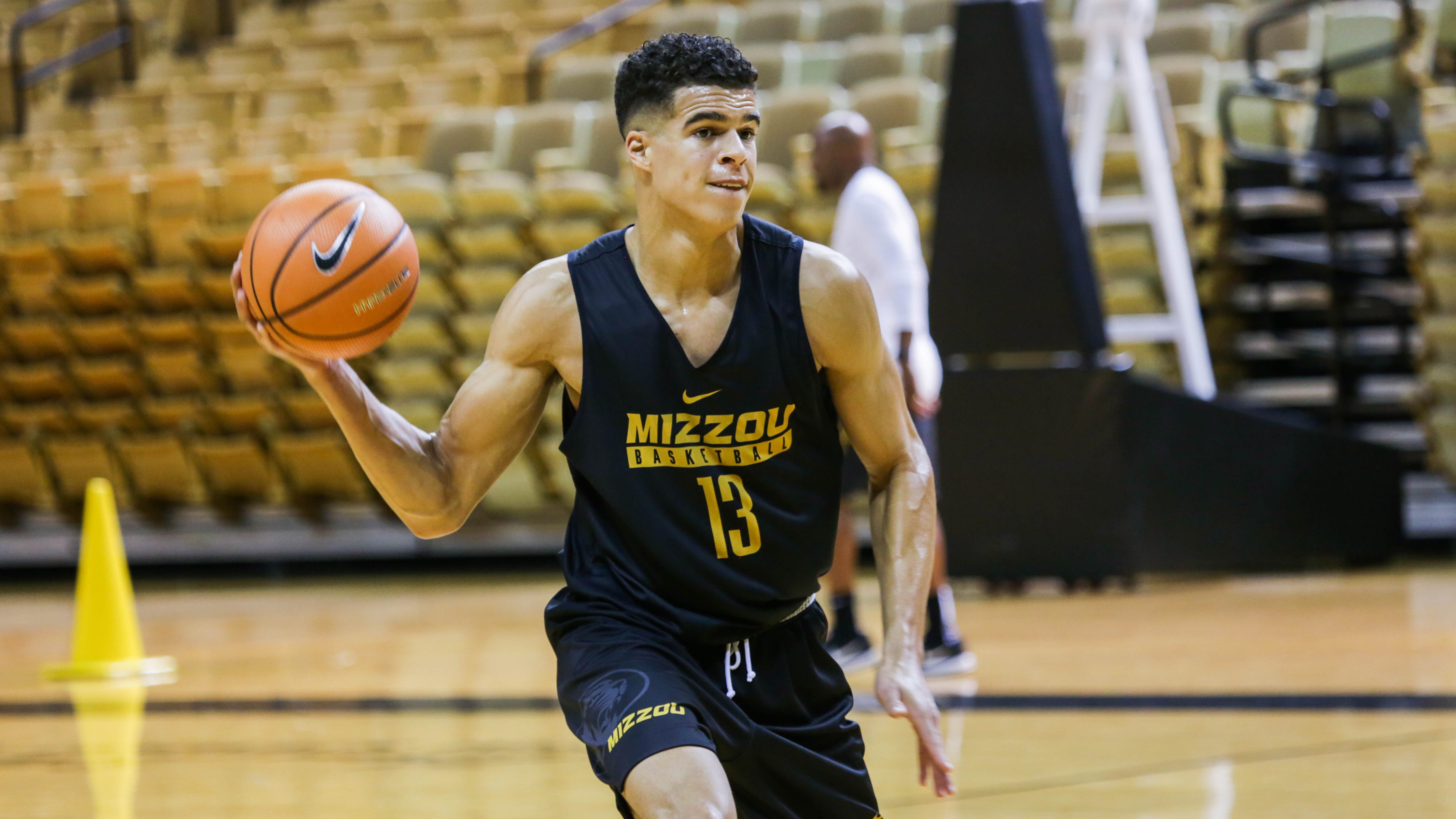 4. The losses suffered by Florida are going to hurt more than you think
The good news for the Gators is that they returned KeVaughn Allen, who is one of the most dangerous scorers in all of college basketball. He's capable of popping off for 30 points on any given night, and if he, as an upperclassmen this season, can find a way to iron out some of those inconsistencies, we're talking about a potential SEC Player of the Year candidate.
That's big.
But it's also burying the lede, because the Gators lost three critical pieces from last season's team: Kasey Hill, Devin Robinson and Justin Leon. Hill never did live up to the hype that he had coming out of high school, but by the time that he graduated from Florida he was a veteran leader, an above average playmaker and a defensive menace at the point. Throw in Robinson and Leon, two versatile, athletic forwards that were switchable defensively, and this group is going to take a big step down from the team that finished last season ranked as college basketball's No. 2 defense, according to KenPom.
I think Chiozza will be fine at the point, and Egor Koulechov and Jalen Hudson should be able to impact this team immediately, but unless the likes of Keith Stone and DeAundre Ballard are ready to fill the void left by Robinson and Leon, the Gators are going to have some growing pains.
5. Critical seasons are on tap for Bruce Pearl and Ben Howland
For the last three years, we've been hearing about how the influx of talent and investment into coaching ability was going to change the trajectory of SEC basketball for the teams not named Kentucky and Florida in the league. To date, that hasn't exactly gone as planned. Frank Martin reached the Final Four last season with a once-in-a-generation South Carolina team. Rick Barnes has been fine at Tennessee; the Vols play hard and win above their talent level, and they have a solid young core that could make them relevant in a year or two.
Pearl and Howland are a different story. Pearl is in year four now, and after arriving at Auburn with a massive amount of hype, he's yet to even sniff the NCAA tournament. This year's team has the talent to do so, but the cloud of the FBI's investigation into corruption in college basketball is hanging over the program. A former assistant coach, Chuck Person, was arrested after taking more than $90,000 in bribe money from a financial advisor, some of which was supposed to be earmarked for players on the Auburn roster.
Auburn has a roster that is good enough to make the NCAA tournament this season. Will all of those players remain eligible all season long? Will Bruce Pearl still be employed in March?
Howland is in a bit of a different situation. Mississippi State has had a number of strong recruiting classes in a row, and with Quinndary Weatherspoon retuning to school and being joined in Starkville by his brother, Nick, the Bulldogs look like a team that should be able to make a run, particularly when you factor in Lamar Peters. But chemistry issues have dogged this program, and Howland has never really been one for team-building activities, so there are some real concerns.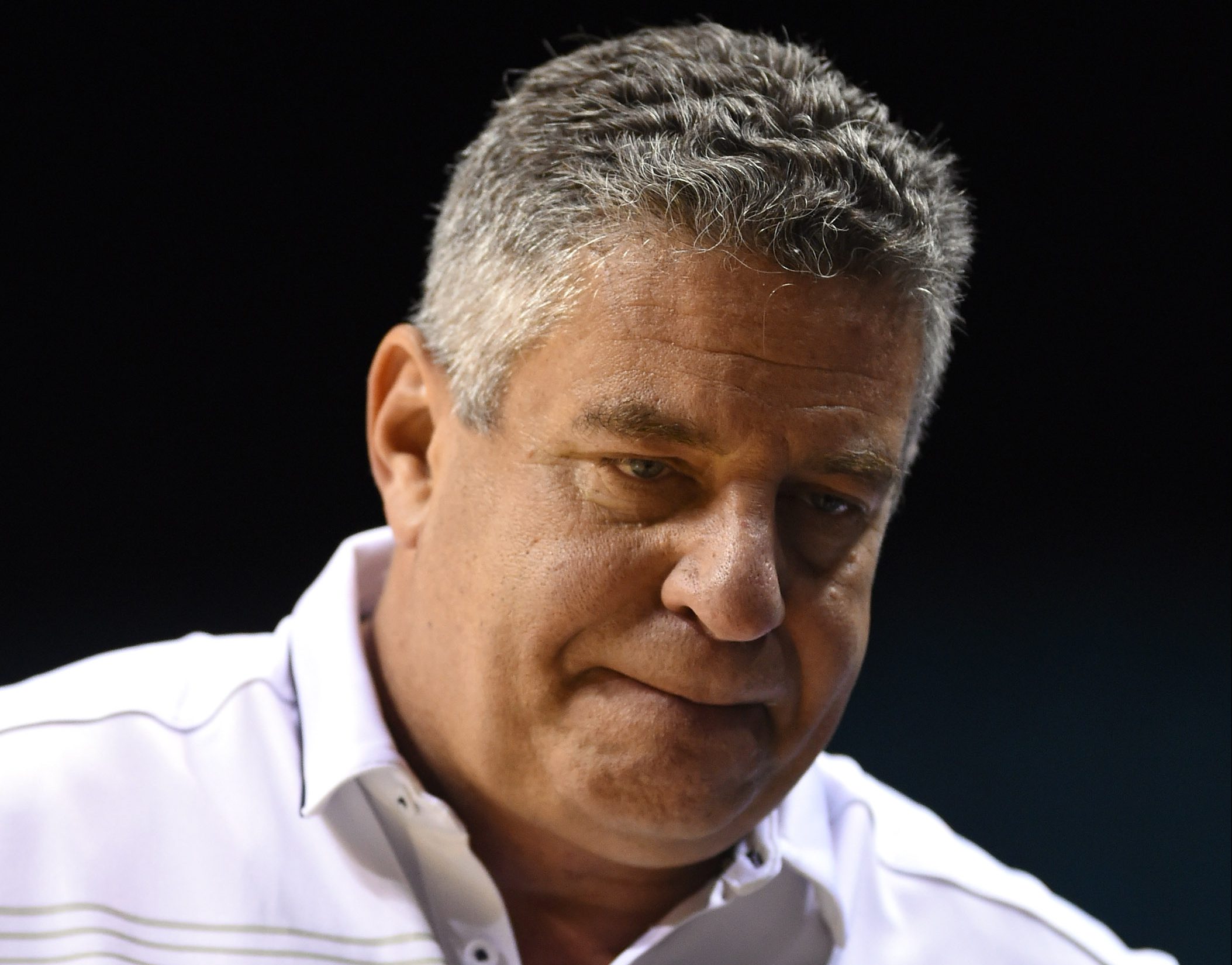 PRESEASON SEC PLAYER OF THE YEAR: Tyler Davis, Texas A&M
I'm not sure that there is a tougher big man to guard in college basketball than Tyler Davis. At 6-foot-10 and 261 pounds of solid muscle, Davis has slimmed down from the 300-pound behemoth that committed to A&M. He immovable when he gets position on the block, and while he's something of a land warrior when it comes to protecting the rim, he does have some solid moves on the block, a soft touch around the rim and the ability to use his body to create angles.
THE REST OF THE ALL-SEC FIRST TEAM
Michael Porter Jr., Missouri: Porter is an obscenely talented freshman, a player that has the potential to end up being the No. 1 pick in the 2018 NBA Draft. His 6-foot-10 size, athleticism and ability to play on the perimeter like a guard makes him a candidate to score 20 points per game this season.
KeVaughn Allen, Florida: Allen is one of the most dangerous scorers in college basketball. We all saw him go for 35 points on Wisconsin. Consistency is the issue with him.
Yante Maten, Georgia: Perennially underrated playing for a middlling SEC program like Georgia, Maten's flown under the radar over the course of the last two seasons. He's the best big man in this league, and that's saying a lot.
Robert Williams, Texas A&M: Big Bob Williams made the decision to return to school for his sophomore season, something that was relatively unexpected but that really helped boost the stock of the Aggies.
FIVE MORE NAMES TO KNOW
Hamidou Diallo, Kentucky
Mustapha Heron, Auburn
Collin Sexton, Alabama
Quinndary Weatherspoon, Mississippi State
Terrence Davis, Ole Miss
BREAKOUT STAR: Grant Williams, Tennessee
Grant Williams doesn't look like a guy that would be a great basketball player. Generously listed at 6-foot-5 and 235 pounds, Williams has the build of a tight end, not a power forward, but that didn't stop him from putting together a terrific freshman season. He averaged 12.6 points, 5.9 boards and 1.9 blocks and, with the Volunteers losing a couple of scorers off last year's roster, he'll be asked to play a bigger role this year. He'll be a name SEC teams have to pay attention to.
COACH UNDER PRESSURE: Mark Fox, Georgia
Mark Fox is one of the more well-respected coaches in the SEC. His teams run good offense, they're well-disciplined defensively, generally-speaking they tend to play above their talent level. He's good at what he does. He's also a basketball coach at a football school in a football state, and while he's done well to make the program respectable – he's been there for eight seasons, reached two NCAA tournament and three NITS and hasn't finished below .500 in the league since 2012 – but at some point winning matters. With J.J. Frazier gone, Fox is heading into Yante Maten's senior year without much coming down the pipeline.
ON SELECTION SUNDAY WE'LL BE SAYING …
How did the SEC end up getting seven teams into the NCAA tournament?
I'M MOST EXCITED ABOUT …
… the one season that we'll get Michael Porter Jr. on a college campus. He has a chance to be special.
EIGHT NON-CONFERENCE GAMES TO CIRCLE ON YOUR CALENDAR
11/10, Texas A&M vs. West Virginia (Germany)
11/14, Kentucky vs. Kansas (Chicago, Champions Classic)

11/26, Texas A&M at USC
12/5, Texas A&M vs. Arizona (Phoenix)
12/9, Florida vs. Cincinnati (Newark, N.J.)
12/23, UCLA vs. Kentucky (New Orleans, CBS Sports Classic)
12/29, Louisville at Kentucky
1/27, Kentucky at West Virginia
POWER RANKINGS
1. Texas A&M: The Aggies have a front court that is absolutely loaded. One of the best in the country. Picking them to win the conference means betting that Billy Kennedy will be able to figure it out with the young point guards on his roster.
2. Kentucky: This is a young, athletic and talented Kentucky roster that doesn't seem to fit together all that well. I have expanded thoughts here, but in a nutshell: I think they'll take their lumps early but that John Calipari will figure it out.
3. Florida: Florida will be good, but as I wrote earlier, I'm not buying the hype that this is a top ten team entering the season.
4. Alabama: I'm not sure what else there is to add about Alabama from what I wrote earlier. This is a team that was elite defensively and lacked scoring before going out and landing Collin Sexton.
5. Missouri: This is where the SEC gets really interesting. The top four in the league is pretty clear-cut, but the teams ranked 5-10 can pretty much be put into any order. I bet on talent, which is why I have Michael Porter Jr.'s team at the top of this group, but my concerns about this roster makeup can be read in full here.
6. Tennessee: The Vols are my sleeper in the SEC this season. This is a young group that plays hard, defends well and has an up-and-coming star in this league in Grant Williams. Rick Barnes is a better coach than you realize.
7. Ole Miss: I have no idea what Andy Kennedy is going to do with this front court to replace Sebastian Saiz, but I do know that a back court that includes Deandre Burnett, Terence Davis, Markel Crawford, Breein Tyree and Devontae Shuler – and that doesn't include Cullen Neal – is one of the nation's most underrated.
8. Arkansas: I don't get the hype Arkansas has gotten this offseason. They lost one of the SEC's best rim protectors and rebounders in Moses Kingsley and once of the best floor-spacers in Dusty Hannahs, and they're supposed to get better?
9. Vanderbilt: The loss of Luke Kornet is really going to hurt this group. Matthew Fisher-Davis is one of the better guards in the SEC you probably haven't heard of, and the 'Dores are going to be old and well-coached, but I'm not seeing tournament upside here.
10. Auburn: The Tigers have top four upside, particularly in Austin Wiley can get healthy (and in shape) and Mustapha Heron continues to develop as a scorer. But I'm still not sold on this team being able to overcome everything that is currently swirling around the program.
11. Georgia: I think Mark Fox is a terrific coach and Yante Maten is a terrific player, but there just isn't enough talent on this roster to beat out what is a good middle-of-the-pack in the SEC.
12. Mississippi State: As much talent as there is on the Bulldogs roster, I'm worried about their front court. Mario Kegler was the one guy that could space the floor. He transferred.
13. South Carolina: The loss of Sindarius Thornwell is a blow, but losing P.J. Dozier might have hurt more. He was a guy the Gamecocks could have built around this season. Not anymore.
14. LSU: I do think that the future is bright for LSU under Will Wade. They are already recruiting well, landing a top point guard prospect in the Class of 2017 in Tremont Waters. But when the best thing you can say about a program is 'they're recruiting well,' it's not a good sign for the present.