It's officially time for the NBC Sports College Basketball Preseason Top 25 to be revealed.
A couple of quick notes about how these rankings were put together: Travis Hines, Scott Phillips, Raphielle Johnson and myself all filled out our own individual top 25 poll.
Those polls were combined and voila, the NBC Sports top 25 came to be.
The five teams that received votes but didn't make their way into the actual top 25 were Providence, Oregon, Rhode Island, Michigan and Virginia Tech.
Drop us a line in the comments or @CBTonNBC if you disagree with any of the rankings.
So let's get into it.
Here is the top 25:
---
1. MICHIGAN STATE SPARTANS
Who's gone: Eron Harris, Alvin Ellis III
Who do they add: Jaren Jackson, Xavier Tillman
Projected starting lineup: Cassius Winston, Josh Langford, Miles Bridges, Jaren Jackson, Nick Ward
WHAT WE LIKE: We can't talk about Michigan State without first mentioning Miles Bridges, who was named the NBC Sports Preseason National Player of the Year after making the decision to put the NBA Draft off for a year and return to school. A freak athlete with perimeter skill and positional versatility, he is the most valuable player in college basketball this season when you factor in his skill on the offensive end of the floor and the versatility he provides defensively.
But he's far from the only weapon that Tom Izzo will have at his disposal. There is Nick Ward, who averaged 13.9 points and 6.5 boards in just under 20 minutes last season. There is Jaren Jackson, a five-star prospect and the perfect fit at the four alongside Ward and Bridges. But perhaps more than anything, the best thing you can say about Michigan State is that last year's promising freshmen class are all now sophomores.
WHAT WE DON'T LIKE: Michigan State's guards concern me. Cassius Winston is a slick passer that was awful turnover prone last year, Tum Tum Nairn is a speedster that doesn't really do much else and Josh Langford is talented and made perimeter jumpers last year but he must improve on his consistency. Throw in Matt McQuaid and this group is far from bad, but if there is a weakness that can be attacked on my pick to win the national title, this is it.
I'm also curious about how Bridges is going to be used this season. He played as a small-ball four a year ago. This year, he'll be at the three full-time. He's good enough that it shouldn't make much of a difference, but, as we touched on in this story, it's something to monitor.
---
2. DUKE BLUE DEVILS
Who's gone: Jayson Tatum, Harry Giles III, Luke Kennard, Frank Jackson
Who do they add: Marvin Bagley III, Gary Trent Jr., Wendell Carter, Alex O'Connell, Trevon Duval, Jordan Tucker
Projected starting lineup: Trevon Duval, Grayson Allen, Gary Trent Jr., Marvin Bagley III, Wendell Carter
---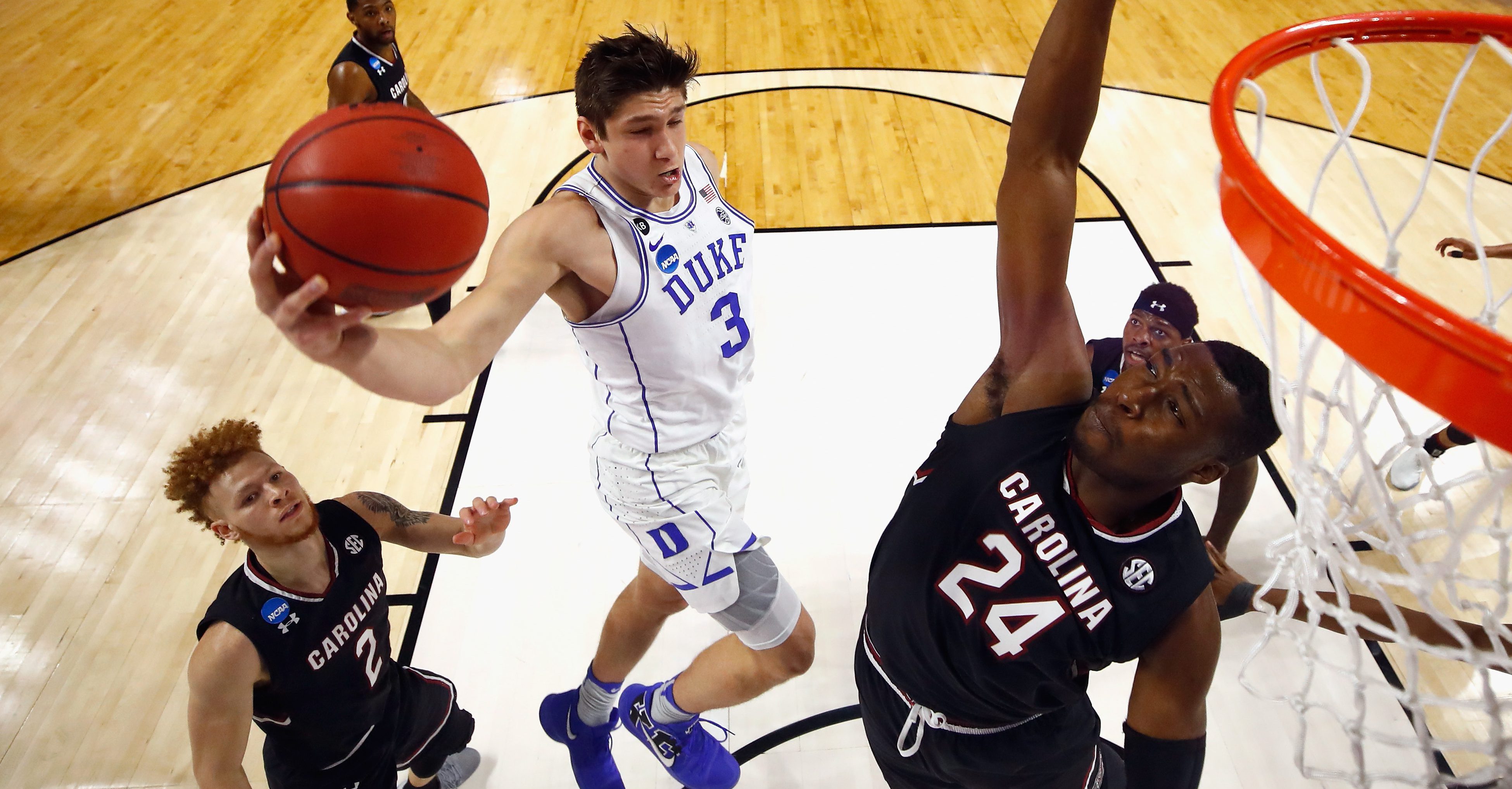 ---
WHAT WE LIKE: Coach K has the most talented starting five in college basketball at his disposal. Think about it: Duke has the Class of 2017's top power forward who doubles as the best player in the class and a potential No. 1 pick in 2018 in Marvin Bagley III. They have 2017's top point guard recruit in Trevon Duval, the second-best center in Wendell Carter and a fourth five-star in Gary Trent Jr. that some rank as 2017's best shooting guard.
All of that is before you factor in senior and a former second team all-american and last year's Preseason National Player of the Year Grayson Allen. Coach K has told us that Allen is finally healthy after getting surgery on a bum ankle. They're still flawed — we'll get to that — but to me they're the most talented team in the country.
WHAT WE DON'T LIKE: I am not convinced that Duval is the point guard that this group needs. He's a terrific talent, but he's not necessarily a guy that makes teammates better and he's yet to spend any time as a facilitator at any level. Think about it like this: Duval could end up being the fifth-best offensive weapon that the Blue Devils will have at their disposal. His job will be to run the offense and distribute the ball, not to shoot 15 times a night.
And speaking of shooting, Duval has yet to prove that he is the kind of floor-spacer Duke will need. Ever since Tyus Jones left, Duke has had issues at that spot, and I'm far from convinced that won't continue this season.
---
3. ARIZONA WILDCATS
Who's gone: Lauri Markkanen, Kadeem Allen, Kobi Simmons, Chance Comanche
Who do they add: Deandre Ayton, Emmanuel Akot, Brandon Randolph, Ira Lee, Alex Barcello, Dylan Smith
Projected starting lineup: Parker Jackson-Cartwright, Allonzo Trier, Rawle Alkins, Deandre Ayton, Dusan Ristic
---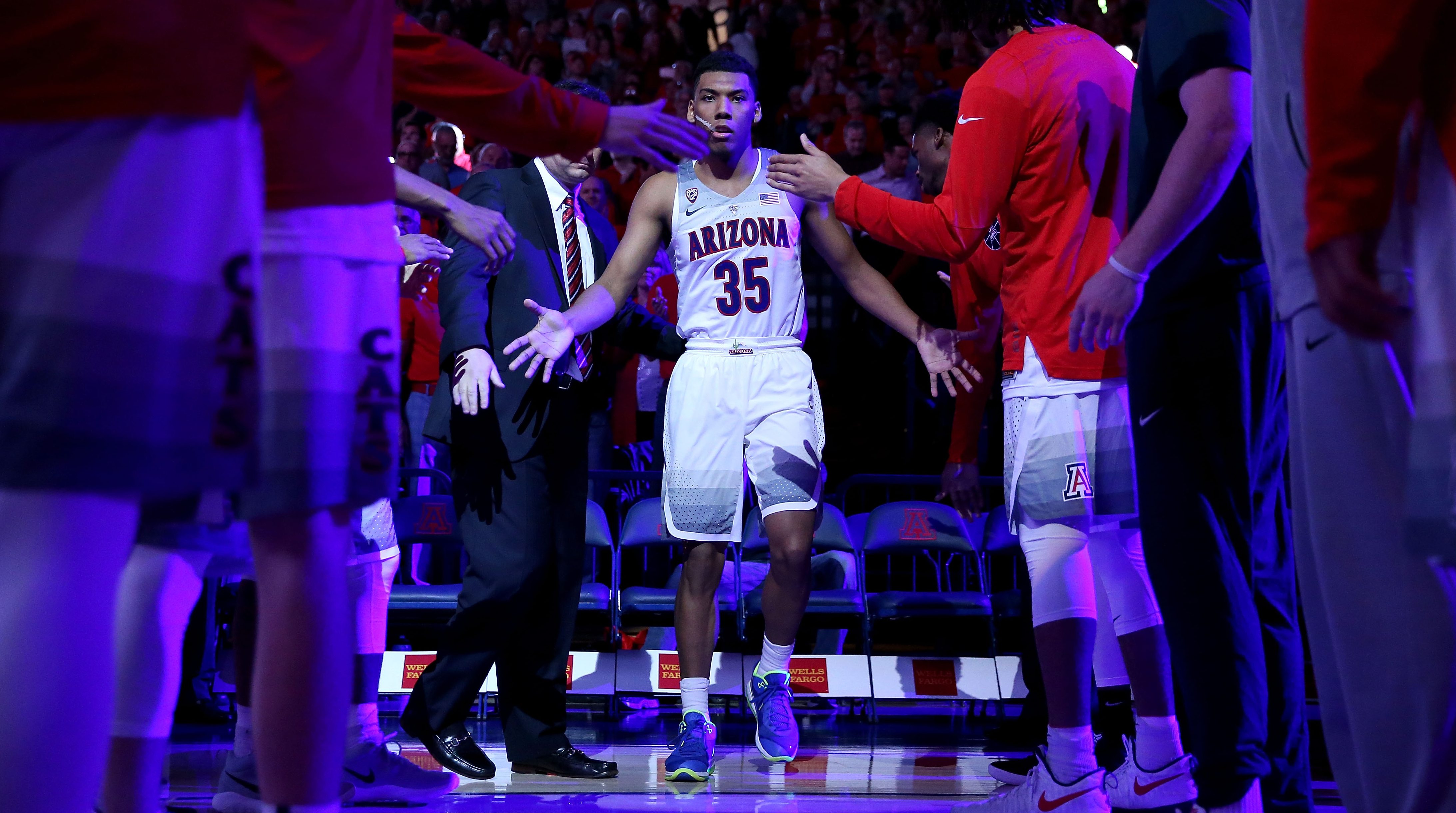 ---
WHAT WE LIKE: The amount of talent that Arizona has on their roster is impressive. The Wildcats will not only roster a preseason first-team all-american and a guy that could potentially lead all of high-major basketball in scoring in Allonzo Trier, they will pair him with freshman big man Deandre Ayton, who just so happens to be the potential No. 1 pick in the 2018 NBA Draft. Rawle Alkins is back – battling a foot injury, but still back – and Emmanuel Akot, Brandon Randolph, Ira Lee and Alex Barcello round out a very good recruiting class.
But there's more than just talent here. Arizona will likely be starting a senior at the point in Parker Jackson-Cartwright and a senior at center in Dusan Ristic. More than any other team near the top of the polls, Arizona can blend elite talent, experience, depth and coaching.
WHAT WE DON'T LIKE: There are three major concerns with this group. The first is Alkins' foot injury. He's a scorer and a high-volume shooter, meaning that implementing him into the team isn't going to be easy once rotations and roles have been defined. Then there is the question about whether or not Jackson-Cartwright is the answer at the point. Sean Miller has had two tough-minded, defense-oriented leaders running his program the last four years, and PJC has yet to prove that he falls into that category.
The biggest issue, however, is the looming FBI investigation into corruption in college basketball. Assistant coach Book Richardson has already been fired, another former assistant appears to be implicated as well as two current players on the roster, although they are unnamed. Keep an eye on that.
---
4. KANSAS JAYHAWKS
Who's gone: Frank Mason II, Josh Jackson, Landen Lucas, Carlton Bragg
Who do they add: Malik Newman, Billy Preston, Marcus Garrett, Sam Cunliffe
Projected starting lineup: Devonte' Graham, Malik Newman, Sviatoslav Mykhailiuk, Billy Preston, Udoka Azuibuike
---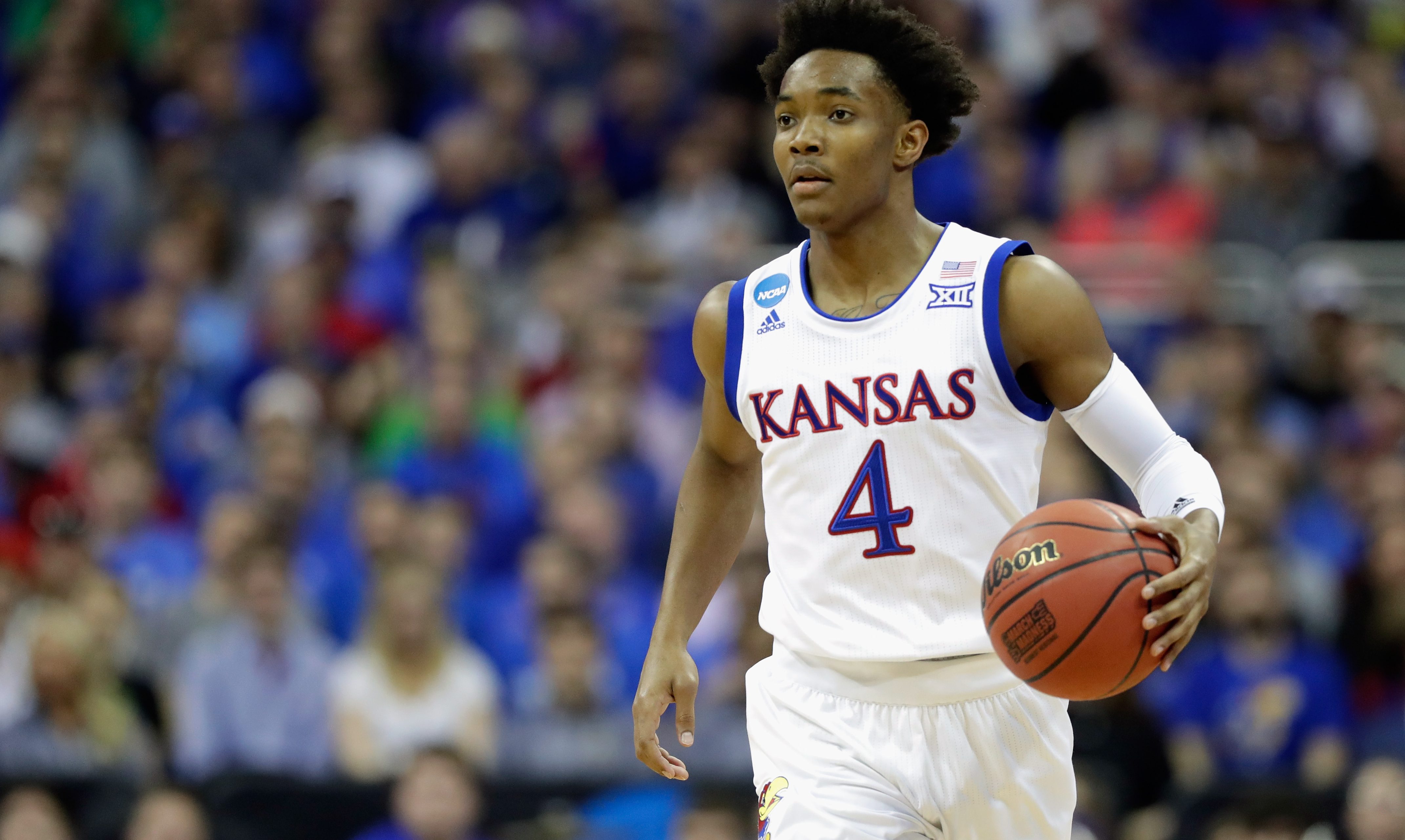 ---
WHAT WE LIKE: I don't just like, I love the Kansas backcourt. Devonte' Graham is finally going to have a chance to handle the point guard role full-time, and it should come as no shock to anyone if he ends up being an all-american come season's end. He'll be joined by a former five-star recruit in Malik Newman, who looks like the odds-on favorite to end up as the leading scorer for the Jayhawks this year. Svi Mykhailiuk and LaGerald Vick are both back while Marcus Garrett and Sam Cunliffe, who will be eligible in December, join the fray.
This group is deep and talented and, if Kansas is going to go as far as the Final Four this year, will need to be the backbone that anchors this team.
WHAT WE DON'T LIKE: This is a weird roster construction. I'm not sure how else to put it. For a program that has thrived using two-big lineups and running a high-low offense, the Jayhawks, just like last season, has a total lack of depth on the front court. Udoka Azubuike is healthy after breaking his wrist last season, Billy Preston is a five-star freshman that should have an immediate impact on the front line and Mitch Lightfoot is a four-year guy that will be asked to play a role he may or may not be suited for.
That's it.
The problem is that unlike last year, Kansas doesn't have a Josh Jackson, a guy they can plug-and-play as a small-ball four. I'm not sure what, exactly, Bill Self is going to do with this group, but he's going to have to find a way to fill that hole at the four-spot.
---
5. VILLANOVA WILDCATS
Who's gone: Josh Hart, Kris Jenkins, Darryl Reynolds
Who do they add: Jermaine Samuels, Collin Gillispie, Dhamir Cosby-Roundtree, Omari Spellman
Projected starting lineup: Jalen Brunson, Phil Booth, Donte DiVincenzo, Mikal Bridges, Omari Spellman
---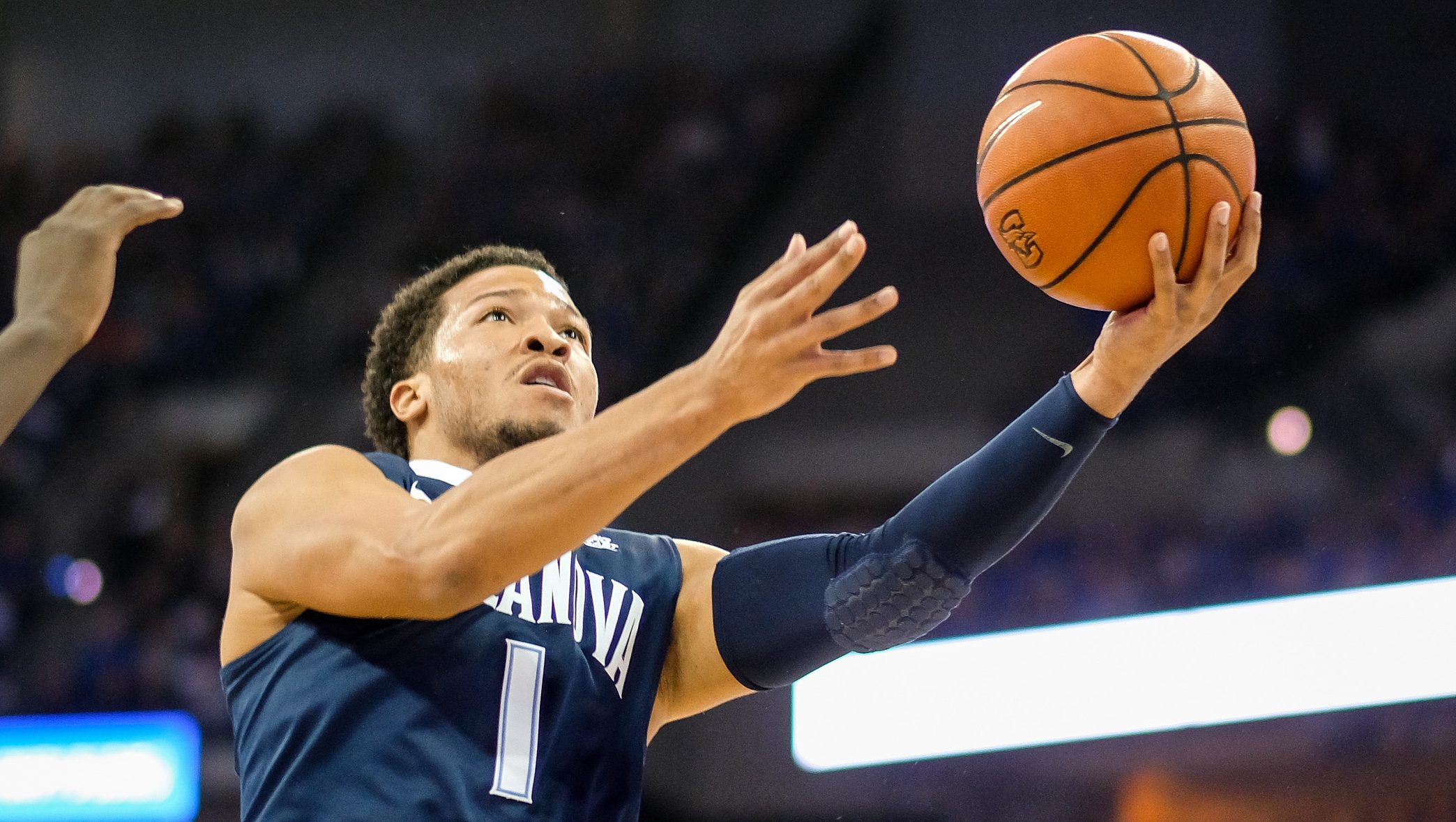 ---
WHAT WE LIKE: Everything about the program? At this point, I'm not sure what else there is to say about Villanova. Their point guard, Jalen Brunson, turned into one of the nation's best by the end of last season, and there's no reason to think that he can't build off of a strong finish to Big East play. There isn't anyone in the country better to lead a team than Brunson, particularly a program like Villanova.
What I mean by that is that egos are prevalent on this roster. Recruits know that they may not play the second they arrive on campus, but as long as they put in the work and keep getting better, they will be able to fill a role when their time comes. That's why, despite the loss of Josh Hart and Kris Jenkins, no one is predicting a drop-off. Because Donte DiVincenzo is ready for a bigger role and Omari Spellman is improved after a redshirt year. Phil Booth is back, as is Mikal Bridges and Eric Paschall.
As long as Jay Wright is on the sidelines, Villanova's name will show up at or near the top of every preseason top 25.
WHAT WE DON'T LIKE: The biggest concern with Villanova is probably a lack of high-end talent and playmakers outside of Brunson. We know they're going to be tough to defend. We know they're gong to execute offensively. We know Brunson is going to be awesome. But on the nights where Brunson is taken away and the Wildcats are struggling to find a rhythm offensively, who can step up and get 18-22 points? Put another way, rare will be the night where Villanova's Plan A gets slowed down, but when it does, who do they go to?
---
6. WICHITA STATE SHOCKERS
Who's gone: No one
Who do they add: Samajae Haynes-Jones, Asbjorn Midtgaard
Projected starting lineup: Landry Shamet, Connor Frankamp, Zach Brown, Markis McDuffie, Shaq Morris
WHAT WE LIKE: The thinking with Wichita State is pretty simple, really.
This is a program coming off of a 31-win season that earned them the No. 8 spot in the final KenPom rankings, the kind of advanced metrics that spawned dozens of columns about how, as a No. 10 seed, Wichita State was the most mis-seeded team in NCAA tournament history. And that team is, with the exception of a back-up point guard that averaged less than 15 minutes last season, entirely intact.
Landry Shamet is back. Markis McDuffie is back. Darral Willis and Shaq Morris and Conner Frankamp are back. Perhaps most importantly, Gregg Marshall is back.
The only difference …
WHAT WE DON'T LIKE: … is that the Shockers are now a member of the American instead of the Missouri Valley. And frankly, I'm not all that worried about the bump-up in league – the Valley is never easy – but I am worried about the difference in travel. Instead of having to go from Wichita to Missouri or Iowa or Illinois for league games, the Shockers will now be traveling to places like Storrs, CT, and Florida. It's not just the distance, either. Now, instead of getting 3-4 days in between league games, Wichita State will be at the mercy of the American's TV deals. A Thursday road trip leading into a Saturday afternoon game is not ideal.
But that's the second-biggest issue currently facing this team.
As it stands, the two best players on Wichita State are still recovering from foot injuries. Shamet should be ready to go by the time the season start, but McDuffie could be out for a month of the season. Maybe more. Put another way, Wichita State is ranked where they are based on the idea that they'll be back to full strength when it matters.
---
7. FLORIDA GATORS
Who's gone: Kasey Hill, Canyon Barry, Justin Leon, Devin Robinson
Who do they add: Isaiah Stokes, Egor Koulechov, Chase Johnson, DeAundre Ballard, Michael Okauru, Jalen Hudson, Dontay Bassett
Projected starting lineup: Chris Chiozza, KeVaughn Allen, Egor Koulechov, Kevarrius Hayes, John Egbunu
---
---
WHAT WE LIKE: Coming off of a trip to last year's Elite 8, the Gators lost three of their top four scorers. Their starting center, John Egbunu, is still dealing with the recovery from a torn ACL. The good news is that the guy they did bring back is KeVaughn Allen, last year's leading scorer and one of the most dangerous and explosive scorers in the country.
The Gators also add some quality newcomers to the mix. Egor Koulechov and Jalen Hudson are talented transfers that will be eligible this season and provide some perimeter depth, and Mike White did bring in a solid recruiting class.
WHAT WE DON'T LIKE: Mike White has always been a guy that has played smaller lineups that pressure the ball, force turnovers and just make life an all-around nightmare for opponents. He did that with this group last season, and much of the cause of that success was due to the ability of Justin Leon and Devon Robinson on that end. They were long, lanky, athletic defenders that were switchable and could make plays on that end. They're gone, and I'm not quite sure who is ready to fill that role.
I'm also concerned about Chris Chiozza at the point. He's not the defender that Kasey Hill was, and if Florida's defense, which was second in the country last season, according to KenPom, is going to take a step back this season, that means they are going to need to make strides on the offensive end of the floor. Can Chiozza lead the way offensively?
---
8. KENTUCKY WILDCATS
Who's gone: De'Aaron Fox, Malik Monk, Bam Adebayo, Isaiah Briscoe, Derek Willis, Mychal Mulder, Dominique Hawkins
Who do they add: Hamidou Diallo, Quade Green, Kevin Knox, Nick Richards, P.J. Washington, Jarred Vanderbilt, Shai Gilgeous-Alexander, Jemarl Baker
Projected starting lineup: Quade Green, Hamidou Diallo, Kevin Knox, Jarred Vanderbilt, Nick Richards
CONTENDER SERIES: Kentucky 
---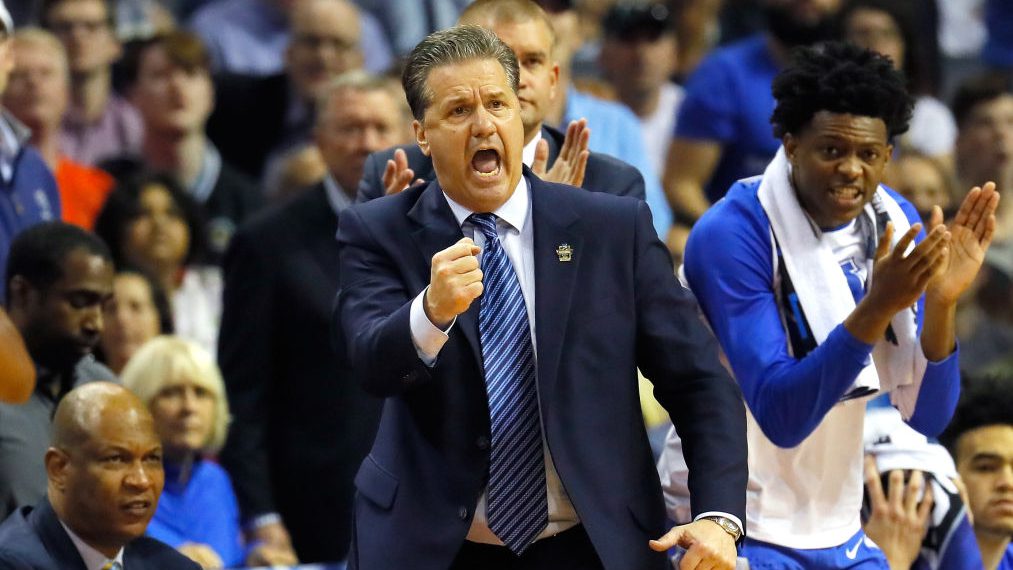 ---
WHAT WE LIKE: There's not denying the talent on Kentucky's roster. They have eight former five-star recruits on their roster, three of whom spent last season with the program. They have size, they have length and they have athleticism. Even without Jarred Vanderbilt, who is dealing with an injury that could keep him out until January, there is enough potential on the defensive end of the floor to consider this group an SEC title contender and a threat to get to the Final Four.
WHAT WE DON'T LIKE: Defense isn't going to be Kentucky's issue.
Scoring the ball is.
Part of it is going to be perimeter shooting. Simply put, Kentucky just does not have that many guys that can consistently knock down threes. If you're team cannot consistently knock down threes, you cannot space the floor. It's that simple.
But beyond that, the Wildcats don't exactly have a go-to guy. There is no one on this roster that is going to scare opposing coaches offensively. They don't have a Malik Monk or a De'Aaron Fox or a Karl Towns. They don't have anyone that is going to be impossible to stop 1-on-1, and it's going to make them easier to guard. The bigger issue is that they don't exactly have someone that makes offense easy in critical possessions. When there are 12 seconds left and Kentucky is down by one, who do you actually want getting a shot? That's something Coach Cal is going to have to figure out. If you're interested, we went deep on the Wildcats earlier this month.
---
9. CINCINNATI BEARCATS
Who's gone: Troy Caupain, Kevin Johnson
Who do they add: Keith Williams, Trevor Moore, Eliel Nsoseme, Cane Broome
Projected starting lineup: Cane Broome, Jarron Cumberland, Jacob Evans, Gary Clark, Kyle Washington
---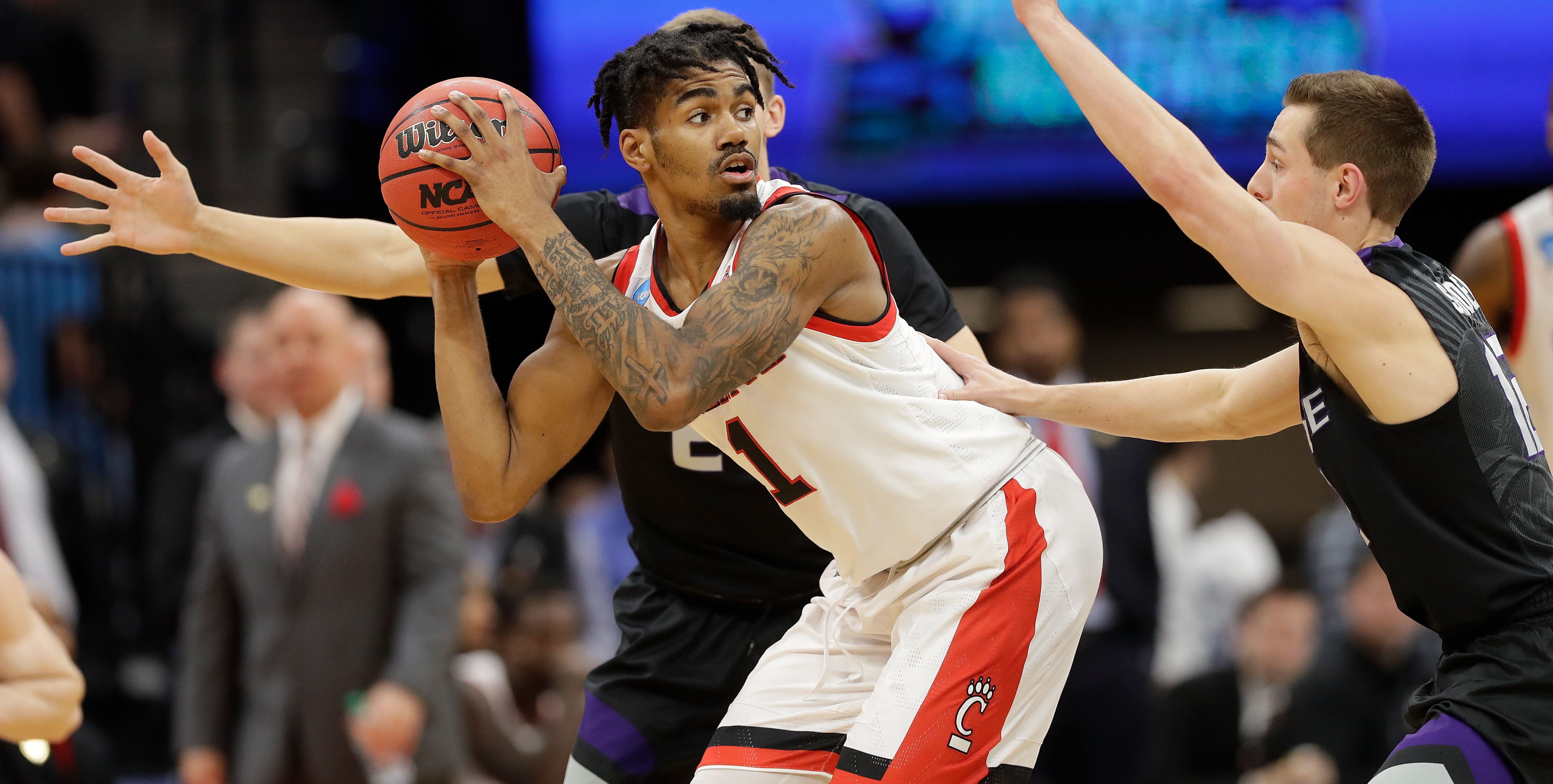 ---
WHAT WE LIKE: Cincinnati's front court is absolutely loaded. Gary Clark is one of the nation's most underrated bigs while Kyle Washington developed into a nice complimentary piece alongside him. Throw in last year's leading scorer Jacob Evans, and that is going to be tough for anyone opponent to matchup with.
And that's before you factor in the talent on the perimeter. Jarron Cumberland was super-productive in limited minutes as a freshman, and Cane Broome averaged 23 points in the NEC before transferring to Cincinnati. It's a step up, and he won't put up those same numbers, but Broome can clearly play at that level.
WHAT WE DON'T LIKE: The big question I have is at the point guard spot. Losing Troy Caupain is going to hurt. He was a veteran, he was a leader and he was a point guard. Broome might be able to play that role, but he was a scorer first and foremost at his previous stop. Justin Jenifer hasn't proven to be a guy that can play major minutes yet, so who steps up for Mick Cronin?
Beyond that, there isn't much I don't like here. They don't have the higher-end talent and that caps their ceiling somewhat, but overall this is just a good, tough, veteran basketball team that is going to be a tough out for anyone.
---
10. USC TROJANS
Who's gone: Charles Buggs
Who do they add: Derryck Thornton, Charles O'Bannon, Jordan Usher
Projected starting lineup: Jordan McLaughlin, De'Anthony Melton, Elijah Stewart, Bennie Boatwright, Chimezie Metu
There is a lot of talent on the USC roster for now, especially now that Metu, Stewart and Boatwright are all returning. The Trojans will push Arizona for the Pac-12 title if they decide to defend.
---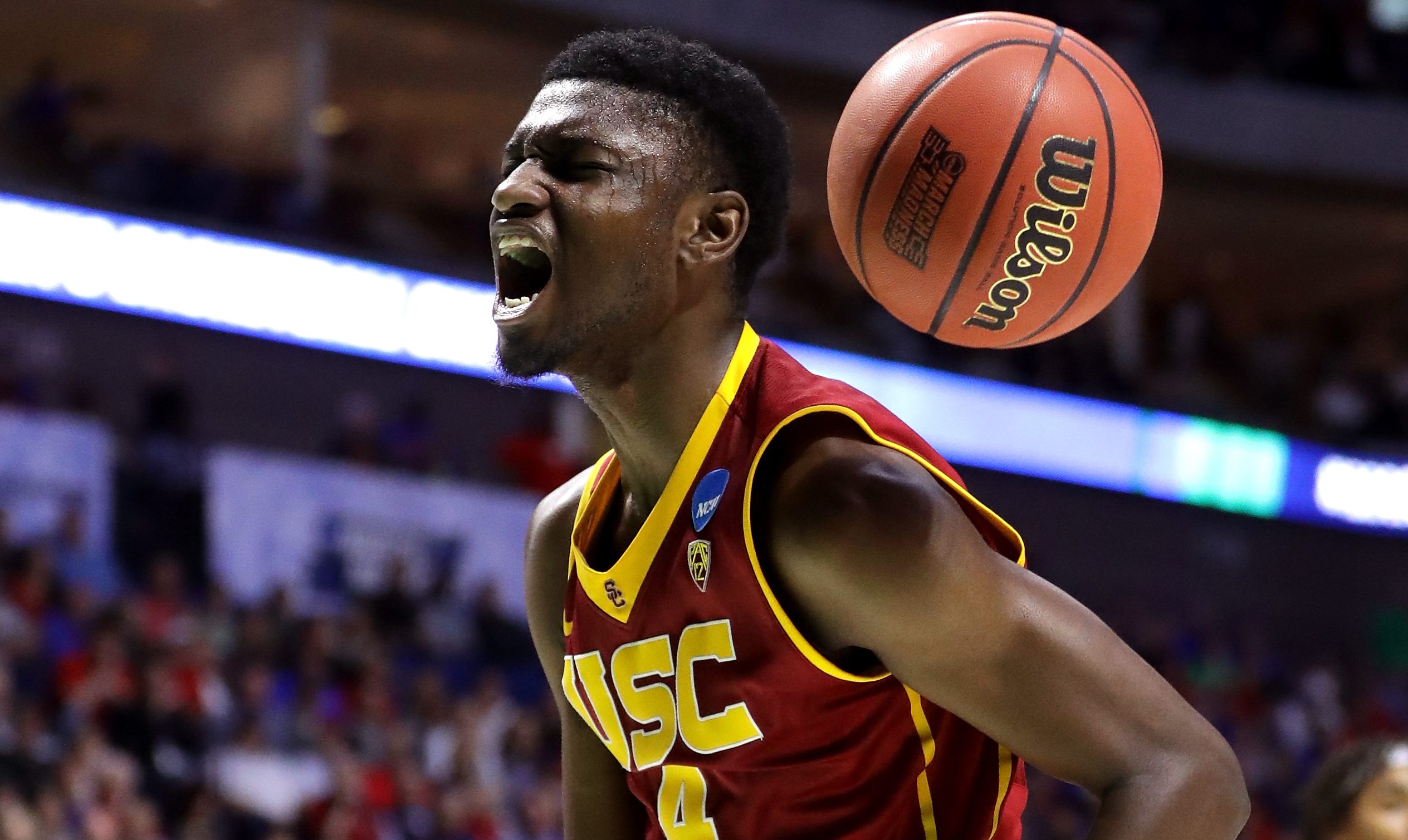 ---
WHAT WE LIKE: There is a ton of talent on this USC roster, so much so that their second five might be able to go .500 in the Pac-12 this season. They're deep, they're long, they're athletic and they're built precisely the way you would expect an Andy Enfield team to be built. The star is … well, I'm not really sure. It might be Jordan McLaughlin, the senior point guard that is criminally underrated nationally. It might be Chimezie Metu, although he might not actually be USC's best big man. That title may belong to Bennie Boatwright.
Then there is De'Anthony Melton, a potential NBA Draft pick, and Elijah Stewart, a double-figure scorer that could end up in the league himself, and all of that ignores that there just so happens to be a former five-star point guard that is eligible to play this season in Derryck Thornton.
WHAT WE DON'T LIKE: The biggest issue on the court for USC is going to be on the defensive end of the floor. They have yet to finish in the top 80 in defensive efficiency under Andy Enfield, and I'm not sure that changes this season. But perhaps more concerning is their part in the FBI investigation into corruption in college basketball. Tony Bland, an assistant coach on Enfield's staff for four years, has been arrested and two unnamed players currently on the roster were linked to payments made by a financial advisor. Keep an eye out there.
---
11. MIAMI HURRICANES
Who's gone: Davon Reed, Kamari Murphy
Who do they add: Lonnie Walker, Chris Lykes, Deng Gak, Sam Waardenburg
Projected starting lineup: Ja'Quan Newton, Bruce Brown, Lonnie Walker, Anthony Lawrence, Dewan Huell
---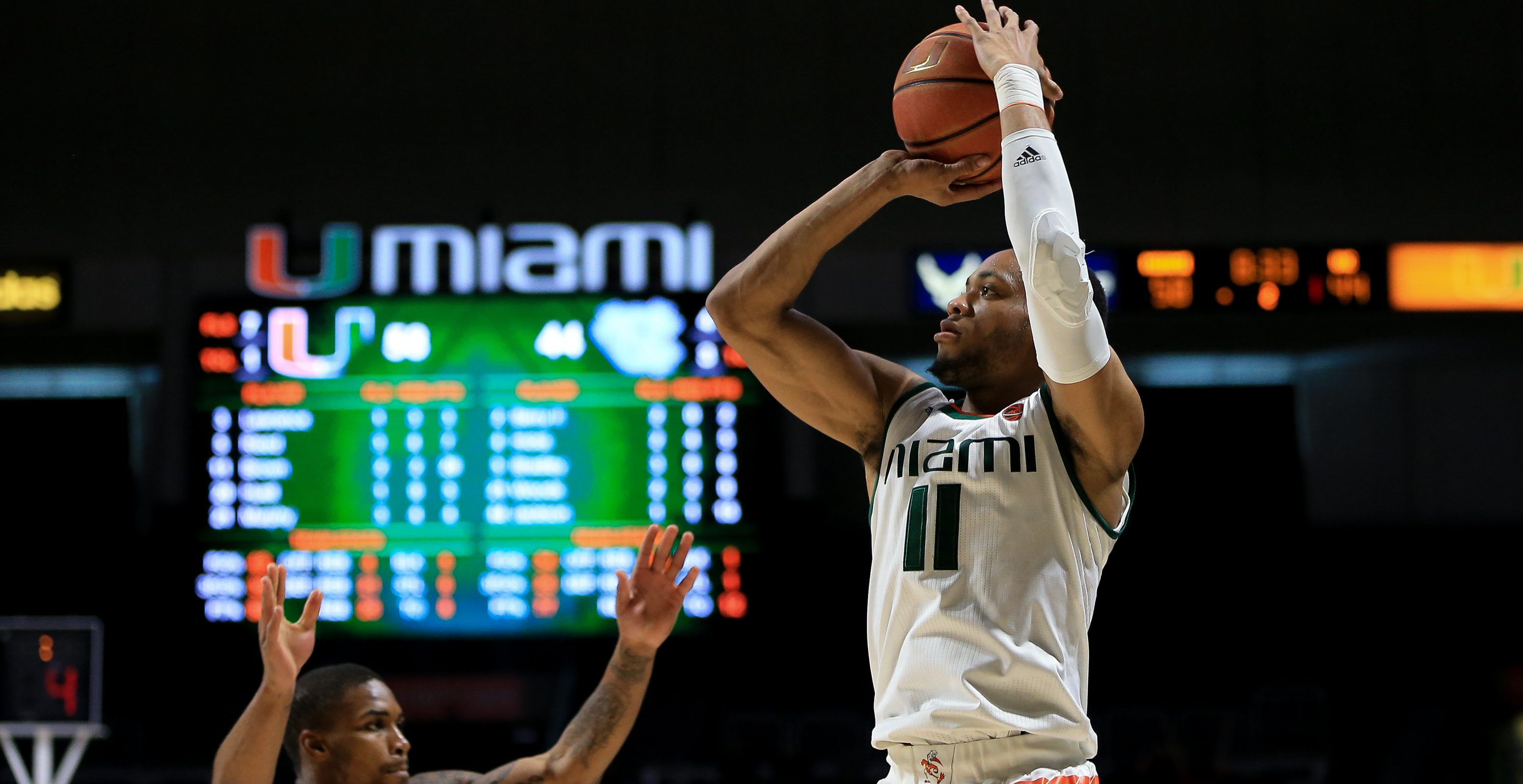 ---
WHAT WE LIKE: The guards on this roster are just so talented. Everyone in the ACC should know Ja'Quan Newton by now. He may not end up being an all-american, but he is a very good college player. Bruce Brown and Lonnie Walker, however, could end up being all-americans as well as lottery picks. Brown is the more intriguing of the two, as we've already seen him have success at the college level and we know that he can play on-the-ball and operate in ball-screens. If Miami wins the ACC – which I believe they can do – he'll play a major role.
Walker is, by some accounts, the best shooting guard in the 2017 recruiting class, a big-time athlete and scorer that ended up picking Miami over programs like Villanova and Arizona. He could end up being a 15-point scorer. Dewan Huell is the name to watch here, as he is a former five-star recruit and the most likely player to take over a starring role in Miami's front court.
WHAT WE DON'T LIKE: The loss of Davon Reed cannot be understated. He was a 6-foot-6 wing with a 7-foot wingspan that was strong enough to hold his own in the paint, athletic enough to defender guards, shot 40 percent from three and could pop off for 20 points on any given night. He was a floor-spacer, Miami's best perimeter defender and the player that gave them lineup versatility. He let them play big or small. Can Anthony Lawrence – or anyone? – fill that role?
---
12. LOUISVILLE CARDINALS
Who's gone: Rick Pitino, Brian Bowen, Mangok Mathiang, David Levitch, Tony Hicks, Jaylen Johnson, Donovan Mitchell
Who do they add: Malik Williams, Darius Perry, Jordan Nwora, Lance Thomas
Projected starting lineup: Quentin Snider, V.J. King, Deng Adel, Ray Spalding, Anas Mahmoud
---
---
WHAT WE LIKE: Rick Pitino was fired. David Padgett is the interim. Brian Bowen will not play for this team.
We've known that for more than a month now. So let's talk about what this group actually has at their disposal, and there are a lot of quality pieces available. Deng Adel, Quentin Snider, V.J. King, Ray Spalding, Malik Williams, Anas Mahmoud. These are all good ACC players, many of then veterans, that fit in well with the way that Louisville teams have played in recent years. On paper, the Cardinals should be near the top of the ACC.
WHAT WE DON'T LIKE: Well, for starters they have a head coach that has never been a head coach before. So that's concerning, as is the fact that this is a group that has to be utterly exhausted with playing through scandal at this point in their career. And that's before we get to the fact that someone is going to have to take a major step forward this season. Louisville needs a star. Will it be Snider? King? Adel? Someone needs to fill that role.
---
13. WEST VIRGINIA MOUNTAINEERS
Who's gone: Tarik Phillip, Nathan Adrian, Teyvon Myers, Brandon Watkins
Who do they add: Derek Culver, Brandon Knapper, D'Angelo Hunter, Teddy Allen, Wesley Harris
Projected starting lineup: Jevon Carter, Daxter Miles Jr., Esa Ahmad, Lamont West, Sagaba Konate
---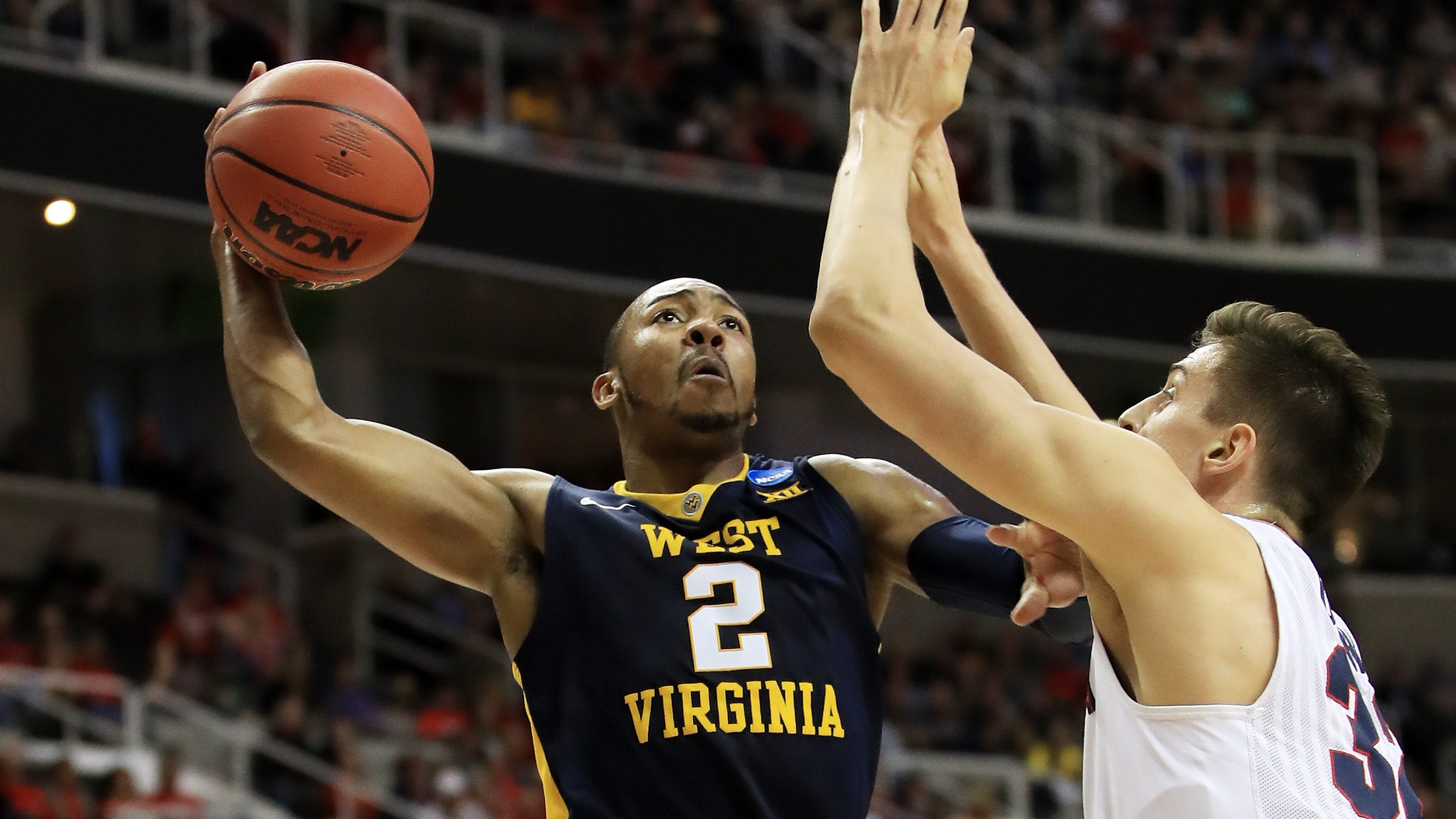 ---
WHAT WE LIKE: At this point, I'm just going to assume that Bobby Huggins is going to put a good team on the floor regardless of the situation. The names don't even matter. It's the system and the coach, and Huggs is going to get the players he needs onto his roster and figure it out from there. That said, Jevon Carter is back for what feels like his 17th season in college hoops and he just may be the best all-around player in the Big 12. Esa Ahmad seems primed for a monster year, but he'll miss the first half of the season as he tries to get eligible again.
WHAT WE DON'T LIKE: I'm not convinced that a pressing team has all that high of a ceiling. They rely on forcing opponents to make mistakes, and the one thing that good teams all have in common is that they have good guards and good guards tend to make fewer mistakes than bad guards.
---
14. NOTRE DAME FIGHTING IRISH
Who's gone: Steve Vasturia, VJ Beachem
Who do they add: DJ Harvey, Nikola Djogo
Projected starting lineup: Matt Farrell, Temple Gibbs, Rex Pflueger, Bonzie Colson, Martinas Geben
---
---
WHAT WE LIKE: At this point, I'm fine thinking of Notre Dame as the new Wisconsin. It doesn't really matter who is on the roster, we can just assume that the two or three years they've spent in the Notre Dame program has allowed them to develop enough that they will be able to carry the torch when it is their time. Matt Farrell and Bonzie Colson proved as much last season, and now it is time for Temple Gibbs and Rex Pflueger to do the same.
WHAT WE DON'T LIKE: The biggest issue with this team is size up front. There are going to be times where Colson plays the five for the Irish, and he is all of 6-foot-5, although his 7-foot-2 wingspan and lack of a neck mean that he plays much, much bigger than that. But someone is going to have to be able to provide minutes, toughness, fouls and simply just eat some space in the paint for them. Is Martinas Geben ready to be the guy?
---
15. XAVIER MUSKETEERS
Who's gone: Edmond Sumner, Malcolm Bernard, RaShid Gaston
Who do they add: Kerem Kanter, Paul Scruggs, Naji Marshall, Elias Harden
Projected starting lineup: Quentin Goodin, J.P. Macura, Trevon Bluiett, Kaiser Gates, Sean O'Mara
---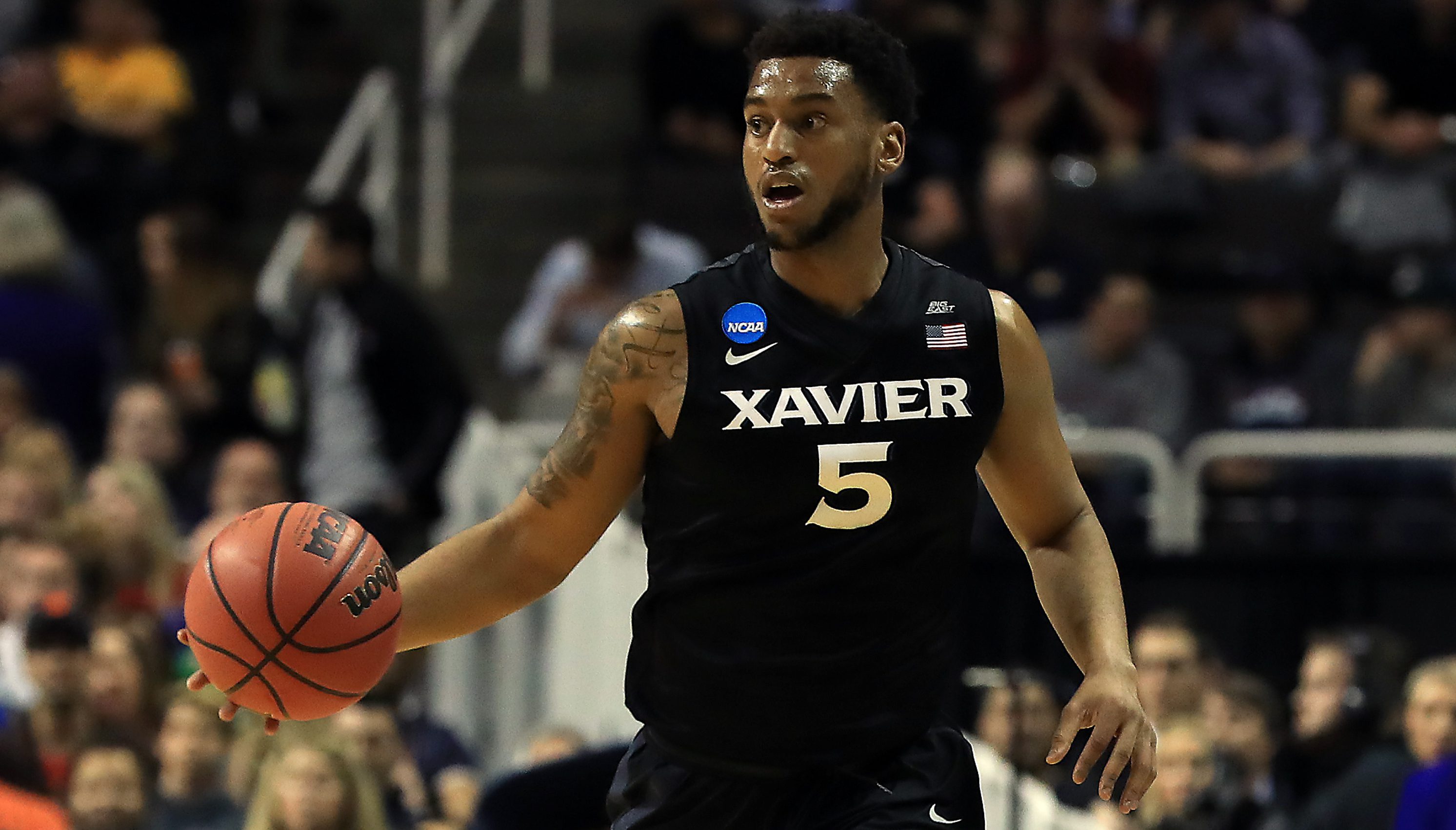 ---
WHAT WE LIKE: Trevon Bluiett is back! A potential first-team all-american and Jalen Brunson's biggest contender for Big East Player of the Year honors, Bluiett was the best player in the NCAA tournament for three weeks last season. Hell, if he hadn't sprained his ankle midway through league play, he might have won the Big East's top honor last season. There are other pieces on this roster to be excited about – J.P. Macura, Quentin Goodin, Kerem Kanter, Xavier's freshmen – but if Bluiett had not returned, the narrative about this group would be much different. Right now, they have Final Four upside.
WHAT WE DON'T LIKE: The point guard spot is going to be a concern for this team. Quentin Goodin is coming off of a foot injury and is still learning how to play the position at the college level. He was pretty good in replacing Edmond Sumner last season, but he looked like a freshman that was thrust into the starting lineup unexpectedly midway through the season. Eventually, I do think that he will thrive in that role, but will that happen by league play or by his junior season?
---
16. SETON HALL PIRATES
Who's gone: Madison Jones
Who do they add: Myles Cale, Sandro Mamukelashvili, Jordan Walker
Projected starting lineup: Khadeen Carrington, Myles Powell, Desi Rodriguez, Ishmael Sanogo, Angel Delgado
---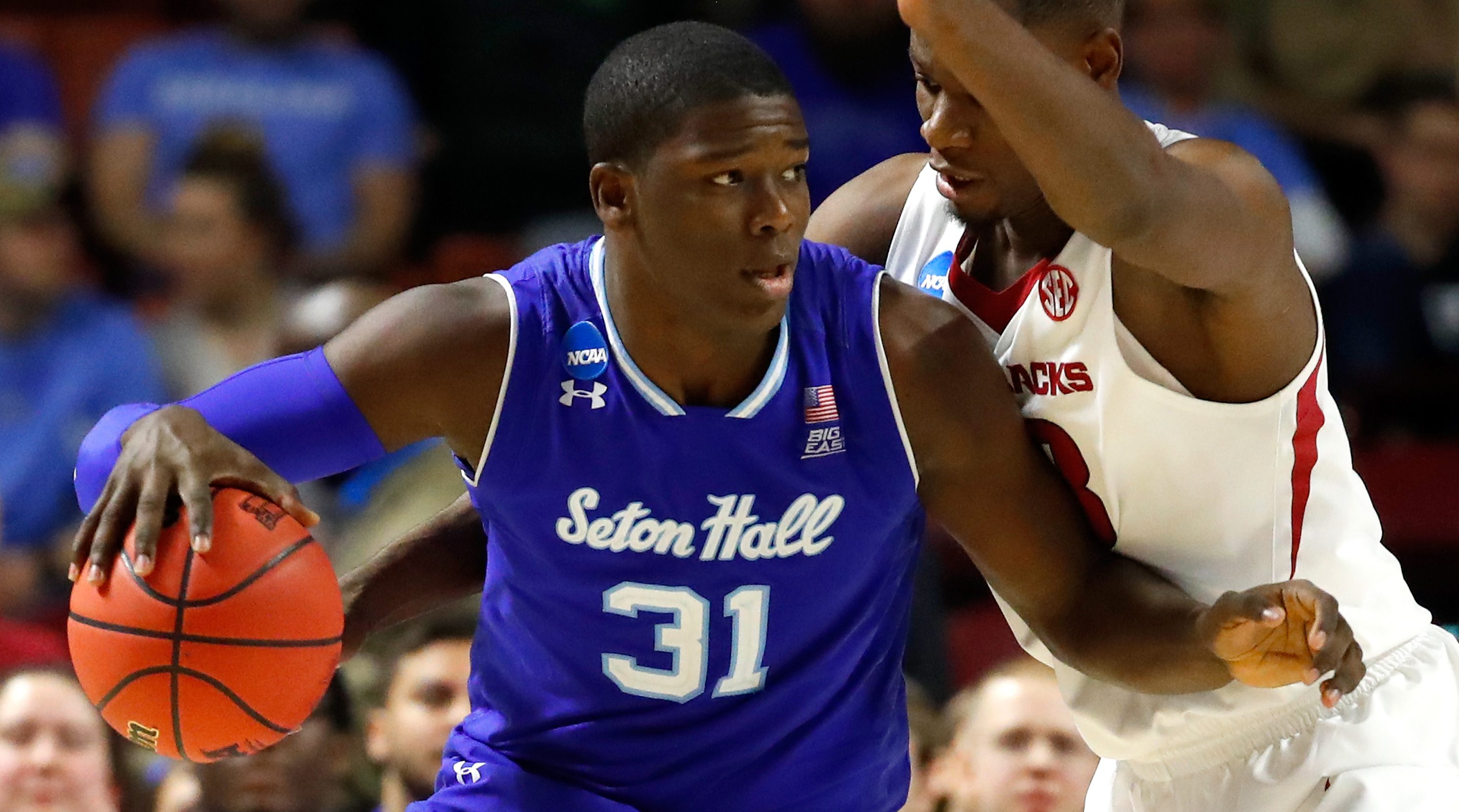 ---
WHAT WE LIKE: I love the combination of youth and experience on this roster. The core of this team is a group of four seniors that have been building to this for three years. Angel Delgado is so much better than people realize – as in first-team all-american good – while Khadeen Carrington is a potential first-team all-Big East player. Desi Rodriguez can be inconsistent, but when he's on he's as dangerous as anyone in the league. That trio with high-level role players like Ishmael Sanogo, Myles Cale and Myles Powell makes for a really dangerous basketball team.
WHAT WE DON'T LIKE: Maybe I'm reading too much into it, but I am somewhat concerned about Khadeen Carrington's transition to the point guard spot. He's spent his college career as a guy that is going to attack and try to score, and now he is being asked to change his mindset to be a facilitator, to be the guy that sets the rest of this team up. That's not easy to do. Carrington is talented, but being a point guard is a mindset as much as it is a skill. His adjustment will be critical to whether or not the Pirates will actually push Villanova in the Big East race.
---
17. NORTH CAROLINA TAR HEELS
Who's gone: Justin Jackson, Kennedy Meeks, Isaiah Hicks, Nate Britt
Who do they add: Jaleek Felton, Cameron Johnson, Sterling Manley, Brandon Huffman, Andrew Platek, Garrison Brooks
Projected starting lineup: Joel Berry II, Kenny Williams, Theo Pinson, Luke Maye, Garrison Brooks
---
---
WHAT WE LIKE: The Tar Heels are coming off of back-to-back national title game appearances, but they lose three key seniors from that team as well as Justin Jackson and Tony Bradley. Berry will be a National Player of the Year contender when he gets healthy, and I could make the argument that the experience the rest of this roster gets while he's out with a broken hand will make UNC better in the long run. Jalek Felton and Seventh Woods will be an interesting battle for playing time.
WHAT WE DON'T LIKE: This front line is not going to look like the front line of a typical North Carolina team. The best, most experienced player on the front line is Luke Maye, who had a couple of explosive performances last season but who is nothing like a typical, bully-on-the-block big that we're used to seeing from Roy Williams.
As much as any coach in the country, Williams wants to play with two big men. Will he actually be able to do that this year? His front line consists of Maye and a handful of freshmen that aren't exactly one-and-done candidates. That said, Cam Johnson and Theo Pinson are, in theory, good forwards for a small-ball lineup. Can this old dog learn a new trick?
---
18. UCLA BRUINS
Who's gone: Lonzo Ball, T.J. Leaf, Ike Anigbogu, Bryce Alford, Isaac Hamilton
Who do they add: Jaylen Hands, Kris Wilkes, LiAngelo Ball, Cody Riley, Jalen Hill, Chris Smith
Projected starting lineup: Jaylen Hands, Aaron Holiday, Kris Wilkes, Cody Riley, Thomas Welsh
---
---
WHAT WE LIKE: Even after losing Lonzo Ball, Bryce Alford and Isaac Hamilton, the Bruins have a loaded back court, one as talented as any out west. Jaylen Hands and Kris Wilkes are the prized freshman in that group – and deservedly so, they're both quite talented – but the star of this show appears to be Aaron Holiday. The sixth-man last season, Holiday is a talented playmaker and the kind of defender that UCLA desperately needs more of. He has a chance to be an all-american this season.
That's not it, either. Thomas Welsh is a veteran presence up front. Cody Riley and Chris Smith are both four-star recruits that should have an impact immediately, and Prince Ali is a former five-star prospect that is now healthy. There is no talent deficit in Westwood. That said …
WHAT WE DON'T LIKE: … the issue that Steve Alford has had since he arrived at UCLA has been on the defensive side of the ball, and I'm not convinced those issues are going to be solved this season. It really is that simply. If UCLA guards, they have a chance to be really, really good.
---
19. TEXAS A&M AGGIES
Who's gone: J.C. Hampton, Javario Miller
Who do they add: Duane Wilson, J.J. Caldwell, Jay Jay Chandler, T.J. Starks
Projected starting lineup: Duane Wilson, Admon Gilder, D.J. Hogg, Robert Williams, Tyler Davis
---
---
WHAT WE LIKE: This Texas A&M front line is so much better than you probably realize. It starts with Robert Williams, who would have been a top ten pick in the 2017 NBA Draft had he wanted to be a one-and-done player. Williams may not actually be the best player on that Aggie front line, either, as the newly-slimmed down Tyler Davis might be the strongest player in college basketball. Throw in Tony Trocha-Morelos and D.J. Hogg as floor-spacers, and suddenly you have a group that an compete with anyone.
WHAT WE DON'T LIKE: I'm still not convinced that Billy Kennedy has found an answer at the point guard spot. He currently has two on his roster – freshman Jay Jay Chandler and redshirt freshman J.J. Caldwell – and neither of them started when the Aggies played Texas in an exhibition; Duane Wilson, a graduate transfer from Marquette, did. As good as that front line is, how much of an impact will they have if there aren't any guards on the floor that can get them the ball?
---
20. MINNESOTA GOLDEN GOPHERS
Who's gone: Akeem Springs
Who do they add: Isaiah Washington, Jamir Harris, Davonte Fitzgerald
Projected starting lineup: Nate Mason, Dupree McBrayer, Amir Coffey, Jordan Murphy, Reggie Lynch
---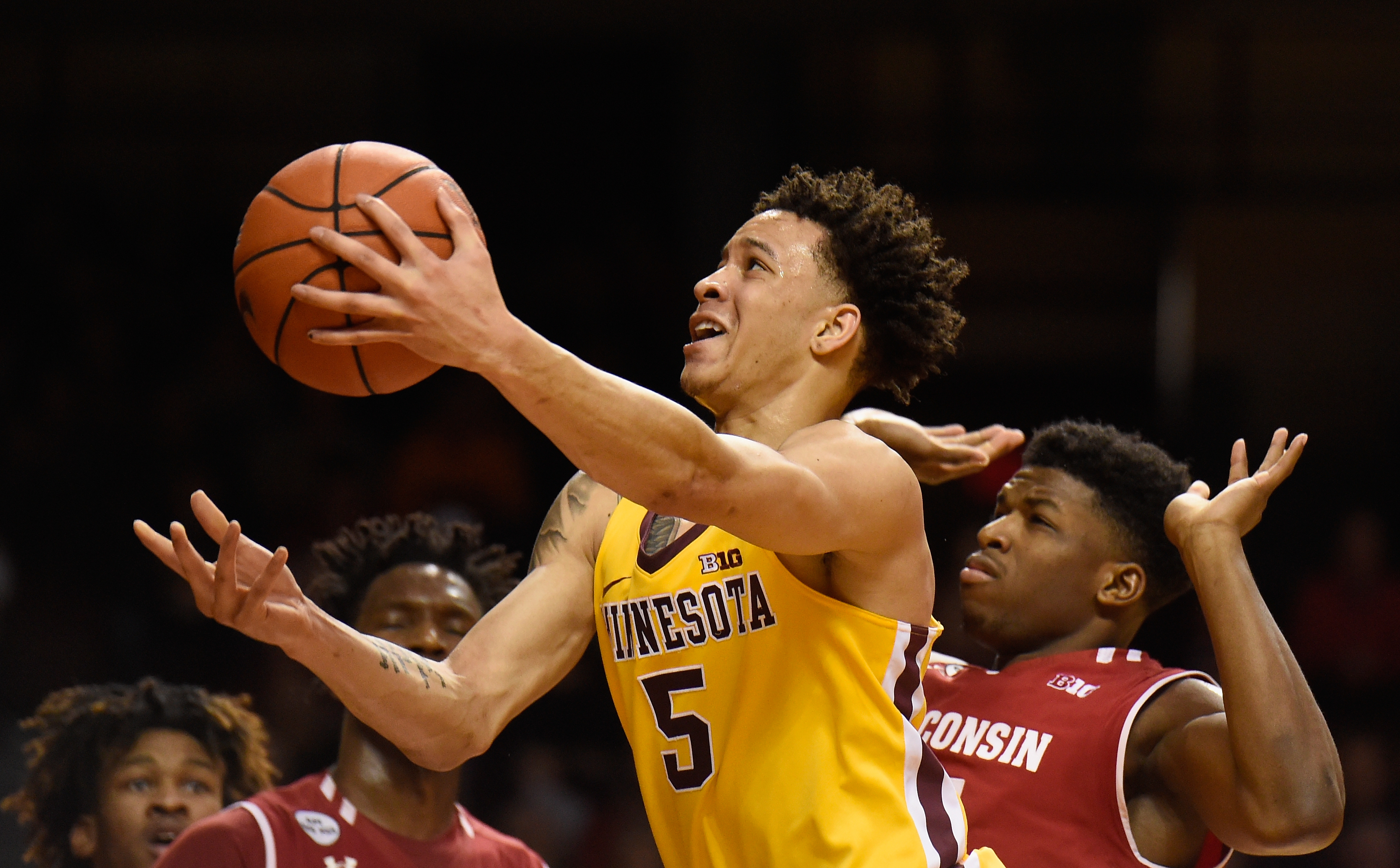 ---
WHAT WE LIKE: Minnesota was the most surprising team in college basketball last season, as Richard Pitino went from the hottest hot seat to putting together a team that earn a No. 5 seed. This group is built around terrific guard play, specifically Nate Mason, a tough and talented lead guard that has been perennially underrated nationally. Dupree McBrayer is more than capable, and Reggie Lynch is one of the nation's premier rim protectors, but the guy to watch here is Amir Coffey. He's that versatile, do-it-all big wing that is en vogue in basketball right now. He's a potential first round pick if he can boost that three-point percentage.
WHAT WE DON'T LIKE: How is Minnesota going to handle being the hunted this year? It's one thing to put together a tournament season that no one expected. It's an entirely different story to do so when everyone in the conference knows that you're a top three team and a major résumé-boosting win.
---
21. NORTHWESTERN WILDCATS
Who's gone: Sanjay Lumpkin, Nathan Taphorn
Who do they add: Anthony Gaines, Aaron Falzon, Rapolas Ivanauskas
Projected starting lineup: Bryant McIntosh, Scottie Lindsey, Vic Law, Aaron Falzon, Dererk Pardon
---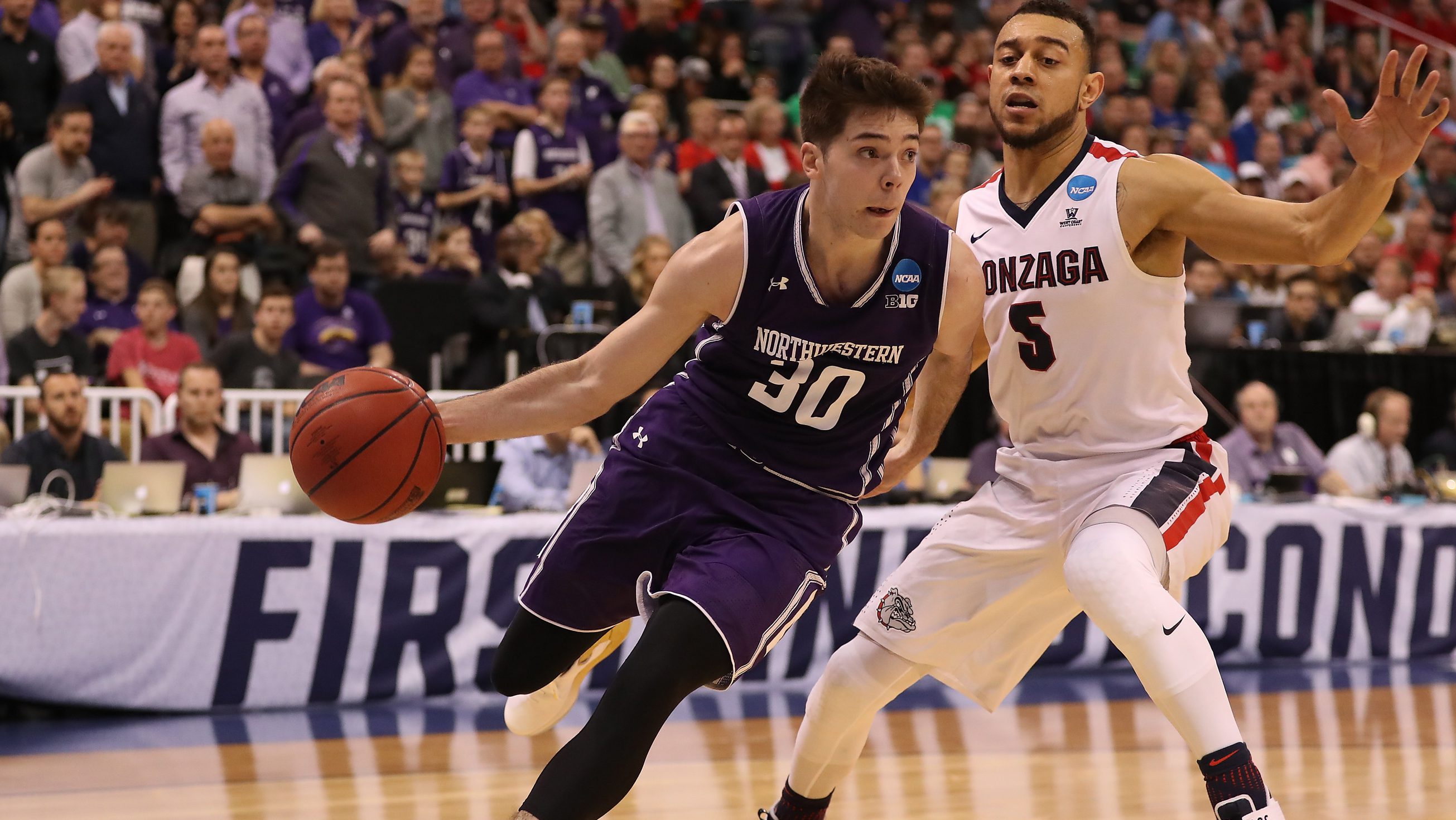 ---
WHAT WE LIKE: The Wildcats, a year removed from their first-ever trip to the NCAA tournament, bring back essentially everyone from last season. Bryant McIntosh will contend for Big Ten Player of the Year, while the pairing of Scottie Lindsey and Vic Law alongside him is an underrated perimeter. On paper, the Wildcats look like Michigan State's biggest threat in the Big Ten.
WHAT WE DON'T LIKE: I'm not completely sold on Northwestern's front line. Dererk Pardon is good at what he does – getting some boards, blocking some shots, finishing around the rim – but beyond that, there isn't all that much to discuss. The key may end up being the health of Aaron Falzon, who started 32 games as a freshman and who can space the floor with his shooting, but replacing Sanjay Lumpkin will not be that easy.
---
22. SAINT MARY'S GAELS
Who's gone: Joe Rahon, Dane Pineau
Who do they add: Kristers Zoriks, Malik Fitts, Cullen Neal
Projected starting lineup: Cullen Neal, Emmett Naar, Calvin Hermanson, Evan Fitzner, Jock Landale
---
---
WHAT WE LIKE: The Gaels are just so efficient on the offensive end of the floor. They've had a top 20 offensive with a top three effective field goal percentage in each of the last two years, years in which this core has been together. They have shooters everywhere on the floor, one of the best big men in the country in Jock Landale and a point guard – and coach – who make ball-screens look simple. They should be the best team in the WCC this season.
WHAT WE DON'T LIKE: There is a lack of athleticism on the roster, which is part of the reason they have been up-and-down on the defensive end of the floor. There is also something of a concern with the addition of Cullen Neal, who has a reputation for being something of a gunner. But that concerns me less than this: I need to see this Saint Mary's group prove it before I buy into them as something more than a first weekend tournament team.
---
23. ALABAMA CRIMSON TIDE
Who's gone: Nick King, Jimmie Taylor, Shannon Hale, Corban Collins
Who do they add: Collin Sexton, John Petty, Daniel Giddens
Projected starting lineup: Collin Sexton, John Petty, Dazon Ingram, Braxton Key, Daniel Giddens
---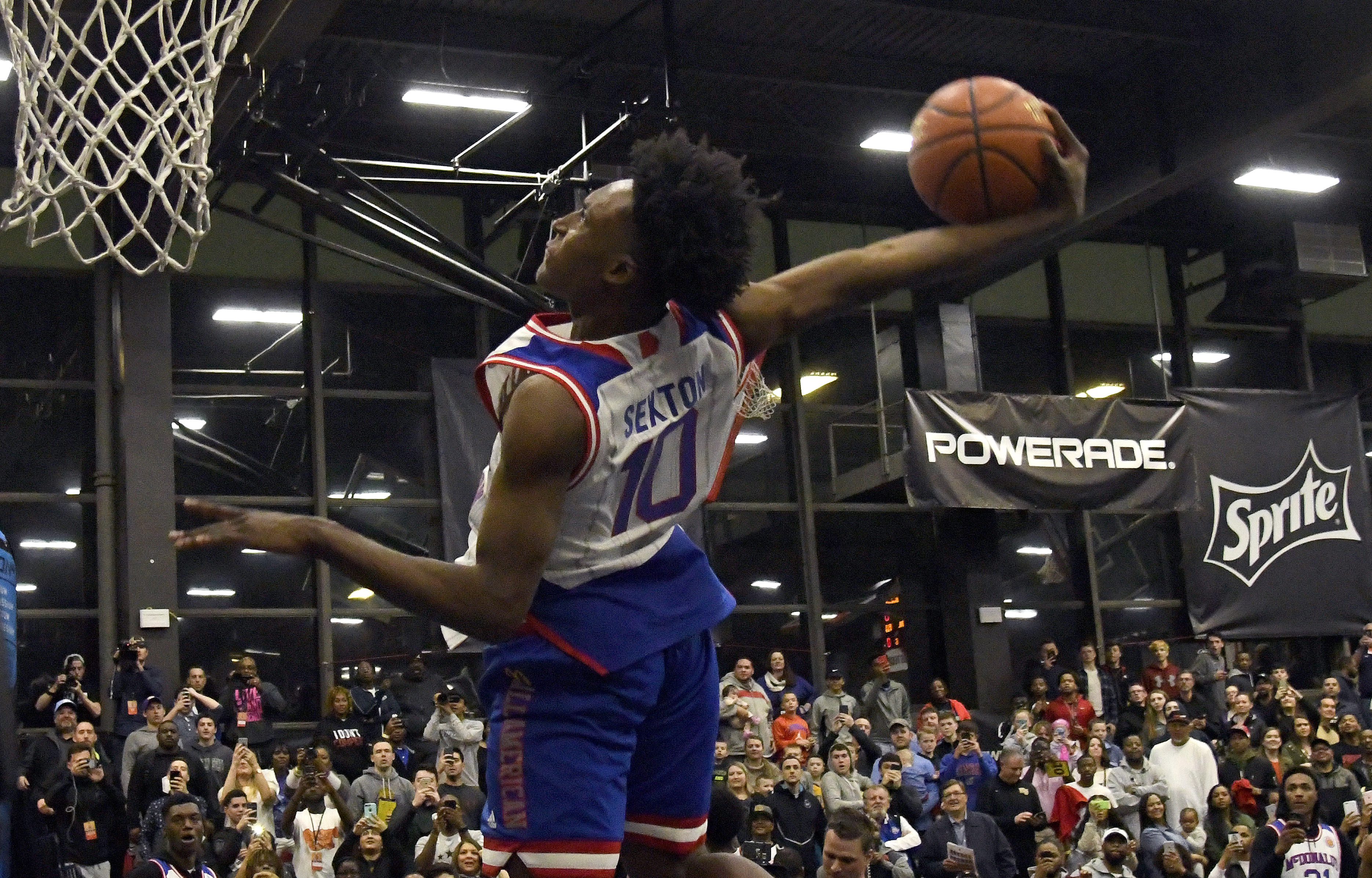 ---
WHAT WE LIKE: Alabama was the No. 10 defense in all of college basketball last season, according to KenPom, and they not only return the majority of that team, but they add Collin Sexton, who is the best scorer in the freshman class. Sexton isn't the only newcomer, either, as Avery Johnson brought in a loaded crop of newbies. John Petty should contribute major minutes, as should Ohio State transfer Daniel Giddens, but it's also worth noting that Braxton Key returned for his sophomore season.
WHAT WE DON'T LIKE: There are a lot of way that I can see this Alabama season going off the rails, and they all seem to involve Collin Sexton. He is a terrific scorer, but what if he doesn't perform on the defensive end of the floor the way that Alabama did last year? What if, as Alabama's point guard, he becomes just a little bit too shot happy? And what happens if a shot-happy Sexton doesn't get the calls that he got at the high school level?
Perhaps the biggest question mark is in regards to his eligibility. A man that appears to be Sexton's father attended a dinner with a financial advisor and a member of the Alabama staff, who was paid $10,000 to set the meeting and has since been fired.
---
24. GONZAGA BULLDOGS
Who's gone: Nigel Williams-Goss, Przemek Karnowski, Jordan Mathews, Zach Collins
Who do they add: Jacob Larsen, Zach Norvell, Corey Kispert, Jesse Wade
Projected starting lineup: Josh Perkins, Silas Melson, Zach Norvell, Johnathan Williams III, Killian Tillie
---
---
WHAT WE LIKE: There is actually a fair amount of talent on this Gonzaga roster. Josh Perkins, Silas Melson and Johnathan Williams III are all veteran that have played, and won, a lot of games. Killian Tillie and Rui Hachimura are young bigs with NBA upside. Zach Norvell, Jesse Wade and Corey Kispert look like they're the core for Gonzaga's next generation.
WHAT WE DON'T LIKE: The problem is that we don't really know if any of these guys are up for the roles they're going to be asked to play. Melson has never been the starting two-guard. Perkins has been a starting point guard before, but he's never been the guy. Williams has, but that was on a bad Missouri team. Tillie and Hachimura are prospects more than products and the three freshmen are, well, freshmen.
The future is bright for Gonzaga. There's a lot of unknown in the present.
---
25. PURDUE BOILERMAKERS
Who's gone: Caleb Swanigan, Basil Smotherman, Spike Albrecht
Who do they add: Nojel Eastern, Sasha Stefanovic, Aaron Wheeler, Matt Haarms
Projected starting lineup: P.J. Thompson, Carsen Edwards, Dakota Mathis, Vince Edwards, Isaac Hass
---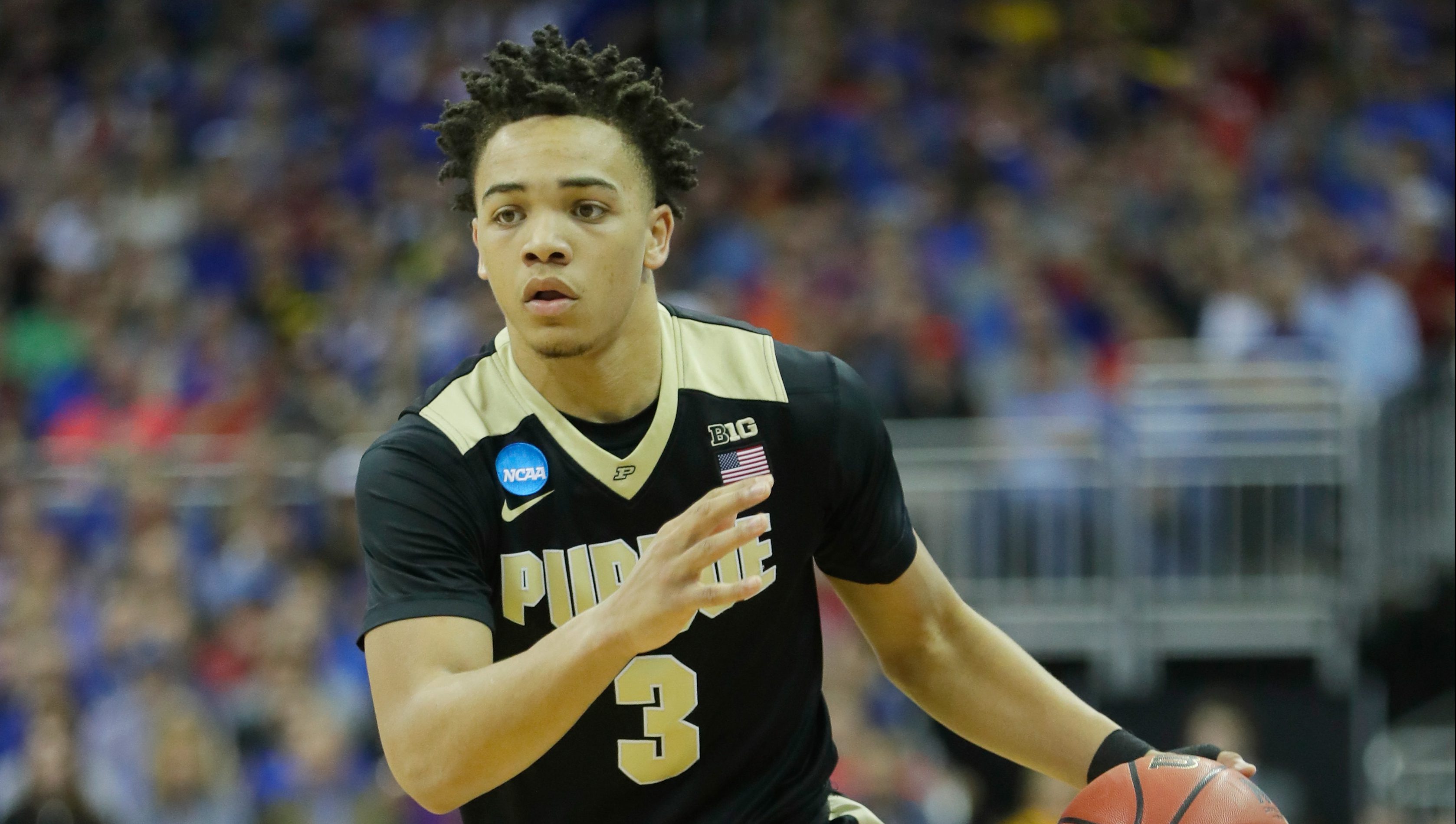 ---
WHAT WE LIKE: Losing Caleb Swanigan would be a major blow for anyone, but the reigning Big Ten regular season champs should have enough left over to weather the storm. It starts with Vince Edwards, who was everything we wanted O.G. Anunoby to be last season. He's an underrated talent that provides valuable lineup versatility.
Isaac Hass will hopefully be capable of playing more minutes this season, but the guy to be excited about is Carsen Edwards. He was a double-figure scorer as a freshman and played well for Team USA in the U-19 World Cup as well as for Purdue in the World University Games.
WHAT WE DON'T LIKE: The depth up front is going to be a real issue for Purdue, as the only bigs on the roster are a pair of slow-footed 7-foot-2 players and a redshirt junior that has played in all of 18 games in his career. But what you may not have realized about this group is that they were far less reliant on post play than you may realize last year. They were seventh nationally in three-point percentage and second in assist rate. Some of that was because defenses had to swarm Swanigan, but this wasn't just a one-man show.