The question of what programs qualify as "high-majors" and which are "mid-majors" has been one that's been up for argument since the late-1990's (a gift given to us by the Bowl Championship Series).
For the sake of this post, members of the following conferences will be excluded: ACC, American, Atlantic 10, Big 12, Big East, Big Ten, Mountain West, Pac-12, SEC.
We'll also be leaving out BYU and Gonzaga of the WCC, which is likely to fire up our readers with Saint Mary's' interests.
While it can certainly be argued that some teams within some of these conferences would qualify as mid-major, the split described above makes the below list a little easier to navigate.
While this portion of college basketball has taken some hits in recent years due to conference realignment, with Wichita State now in the American and many of the Atlantic 10's gains (to make up for the losses of Butler, Temple and Xavier) coming at the expense of the CAA, there are still incredibly talented teams and players to keep an eye on.
Below are some of the best mid-major programs in the country entering the 2017-18 season.
1. Saint Mary's
After winning 29 games and going 16-2 in WCC play, Randy Bennett's Gaels are viewed as the preseason favorites to win the conference in 2017-18. And given the talent that's returning to Moraga, that line of thinking makes sense. Senior center Jock Landale, who averaged 16.9 points and 9.5 rebounds per game, is one of the top big men in the the country and will once again lead the way for the Gaels. In total Saint Mary's returns its top three scorers from last season, with forward Calvin Hermanson (13.1 ppg, 3.0 rpg) and guard Emmett Naar (9.4 ppg, 5.6 apg) being the others, and four starters are back with forward Evan Fitzner completing the quartet.
Saint Mary's will have to account for the losses of assist co-leader Joe Rahon and their second-best rebounder in Dane Pineau. The Gaels have multiple front court options who can provide depth beyond Landale, Hermanson and Fitzner, and the addition of Ole Miss transfer Cullen Neal will help on the perimeter.
2. UT-Arlington
Scott Cross' Mavericks won 27 games and the Sun Belt regular season title in 2016-17, with one of their wins being an impressive 65-51 conquest at Saint Mary's. UTA may only return two starters from that team, but one happens to be a front court player who deserves more attention nationally in senior Kevin Hervey. Hervey averaged 17.1 points, 8.5 rebounds and 2.1 assists per game last season, and along with guard Erick Neal will lead the way offensively for the Mavericks. As a junior Neal averaged 10.6 points, 3.5 rebounds and 6.6 assists per game, and he's also led UTA in steals in each of his first three seasons with the program.
With a total of six seniors among the nine returnees, including another quality guard in Kaelon Wilson, UTA has the experience needed to not only hit the ground running come November but be the kind of team you don't want to see in an NCAA tournament matchup. Likely motivated by missing out on the NCAA tournament last season, UT-Arlington is a team to keep an eye on this season.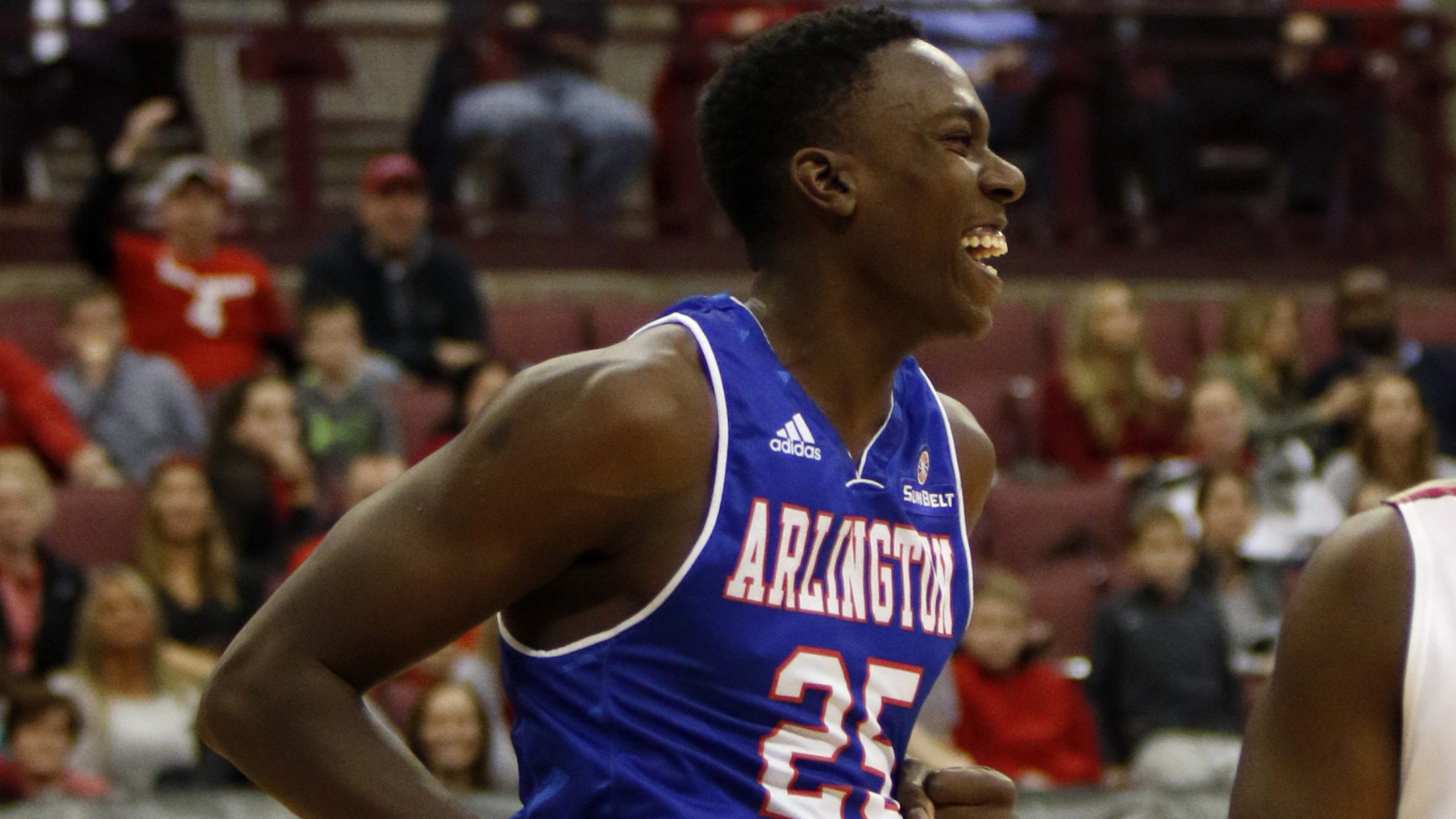 3. Missouri State
With Wichita State having moved on to the American Athletic Conference, the question in the Missouri Valley is which team (or teams) can step forward and carry the conference banner nationally. Paul Lusk's Bears are one possibility, as Missouri State will be led by a senior forward in Alize Johnson who was not only the top newcomer in the Valley but a first team all-conference selection as well. In his first season with the program Johnson averaged 14.8 points and 10.6 rebounds per game, posting 17 double-doubles while shooting 48.8 percent from the field and 38.8 percent from three.
Johnson is one of four starters back from a team that won 17 games last season, and in total six of the team's top seven scorers are back. The front court tandem of Johnson and Obediah Church should be one of the best in the Valley, and senior Ronnie Rousseau III and junior Jarred Dixon among the players on the perimeter who will look to help account for the loss of second-leading scorer Dequon Miller.
4. Oakland
Four starters return from a team that won 25 games and a share of the Horizon League regular season title a season ago, with guard Martez Walker (17.8 ppg, 4.0 rpg) and forward Jalen Hayes (15.9, 8.0) leading the way for Greg Kampe's squad. In total nine contributors from that team are back, and of the five newcomers four will be eligible to compete immediately with former Illinois guard Kendrick Nunn being one of those four.
If there's an area where Oakland can stand to improve from last season it would be their perimeter shooting, as they made just 33.3 percent of their attempts from beyond the arc. That's an area where the aforementioned Nunn can help, as he shot nearly 38 percent from three in his three seasons at Illinois. Under Kampe the Golden Grizzlies have been able to incorporate transfers into their rotation and reap the rewards more often than not, and that could once again be the case in 2017-18.
5. Middle Tennessee
Kermit Davis has led the Middle Tennessee program to 24 wins or more in five of the last six seasons, and in each of the last two campaigns not only have the Blue Raiders reached the NCAA tournament but they've won a game once there as well. In what should be a competitive race at the top of Conference USA, the Blue Raiders are one of the teams that will at the very least contend for the league's automatic bid.
Losing two of their top three scorers in JaCorey Williams and Reggie Upshaw Jr. is something that Middle Tennessee will have to account for, but three starters return led by senior guard Giddy Potts. In addition to averaging 15.5 points and 5.3 rebounds per game last season, Potts shot 48.2 percent from the field and 38.4 percent from three. The key for the Blue Raiders will be to get scoring from players other than Potts, but with a number of the team's supplementary contributors back (including point guard Tyrik Dixon) and some talented newcomers they could make a third straight NCAA tournament.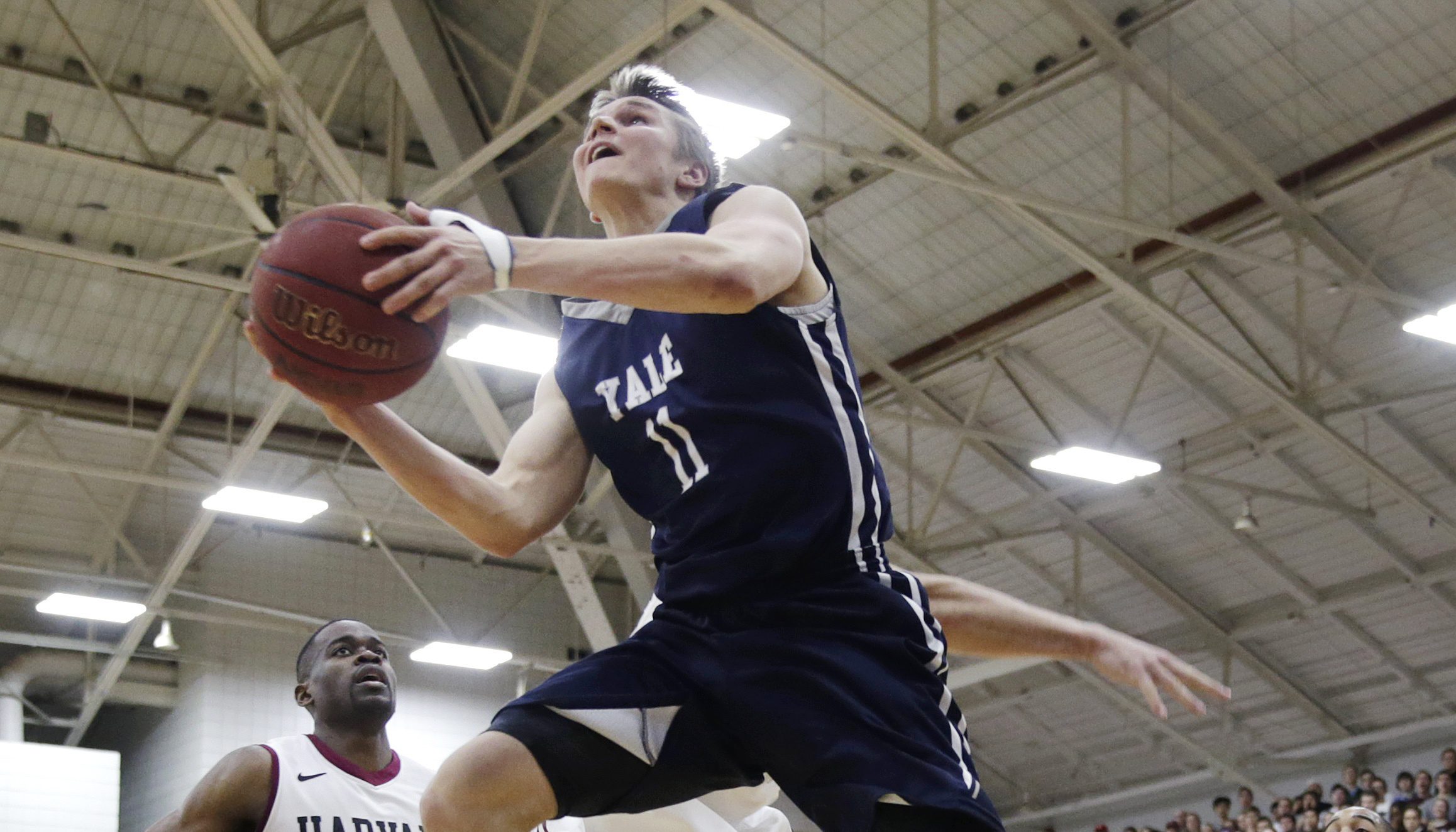 6. Yale
After earning the program's first NCAA tournament berth since 1962 in 2016, the Bulldogs won 18 games and reached the title game of the first Ivy League tournament last season. Head coach James Jones welcomes back the top two scorers from that team in junior guard Alex Copeland and sophomore forward Miye Oni, and Yale will also have point guard Makai Mason. Mason, who key in the team's win over Baylor in the 2016 NCAA tournament, missed all of last season with a broken foot.
The losses of forward Sam Downey and guard Anthony Dallier is something that Yale will have to account for, but rotation players Blake Reynolds and Jordan Bruner should be ready to take a step forward for the Ivy League favorites.
7. College of Charleston
Since Earl Grant took over as head coach in 2014 the Cougars have made significant strides, going from nine wins in his first season to 17 in 2015-16, and from 17 to 25 wins last season. And with the top five scorers from a season ago, led by preseason CAA Player of the Year Joe Chealey (17.8 ppg, 3.5 rpg, 3.2 apg), the Cougars are well-positioned to earn the program's first NCAA tournament bid since 1999. Forward Jarrell Brantley and guard Grant Riller were also double-digit scorers last season, with Brantley ranking third in the CAA with an average of 8.2 rebounds per game.
Under Grant's tutelage the Cougars have taken better care of the basketball, and they've also made significant strides offensively. And with the scoring options that this team has, the College of Charleston could prove to be a team worth avoiding come March.
8. Vermont
John Becker's Catamounts ran the table in America East last season, going 19-0 against conference competition to earn the program's first NCAA tournament bid since 2012. Four starters return from last season, led by the conference's top freshman in Anthony Lamb. The 6-foot-6 sophomore averaged 12.8 points and 5.5 rebounds per game last season, shooting 51.2 percent from the field and 41.3 percent from beyond the arc. Senior guard Trae Bell-Haynes was named America East Player of the Year for his efforts, and forward Payton Henson and guard Ernie Duncan will once again be key contributors as well.
If there's one concern for UVM heading into the season, it has to be how they'll account for the loss of guard Dre Wills. While he averaged just 6.4 points and 3.6 assists per game, Wills was the player they called upon for their toughest defensive matchups on the perimeter. While other teams in an improved America East will make things tougher for Vermont, the Catamounts remain the favorites to win the conference title.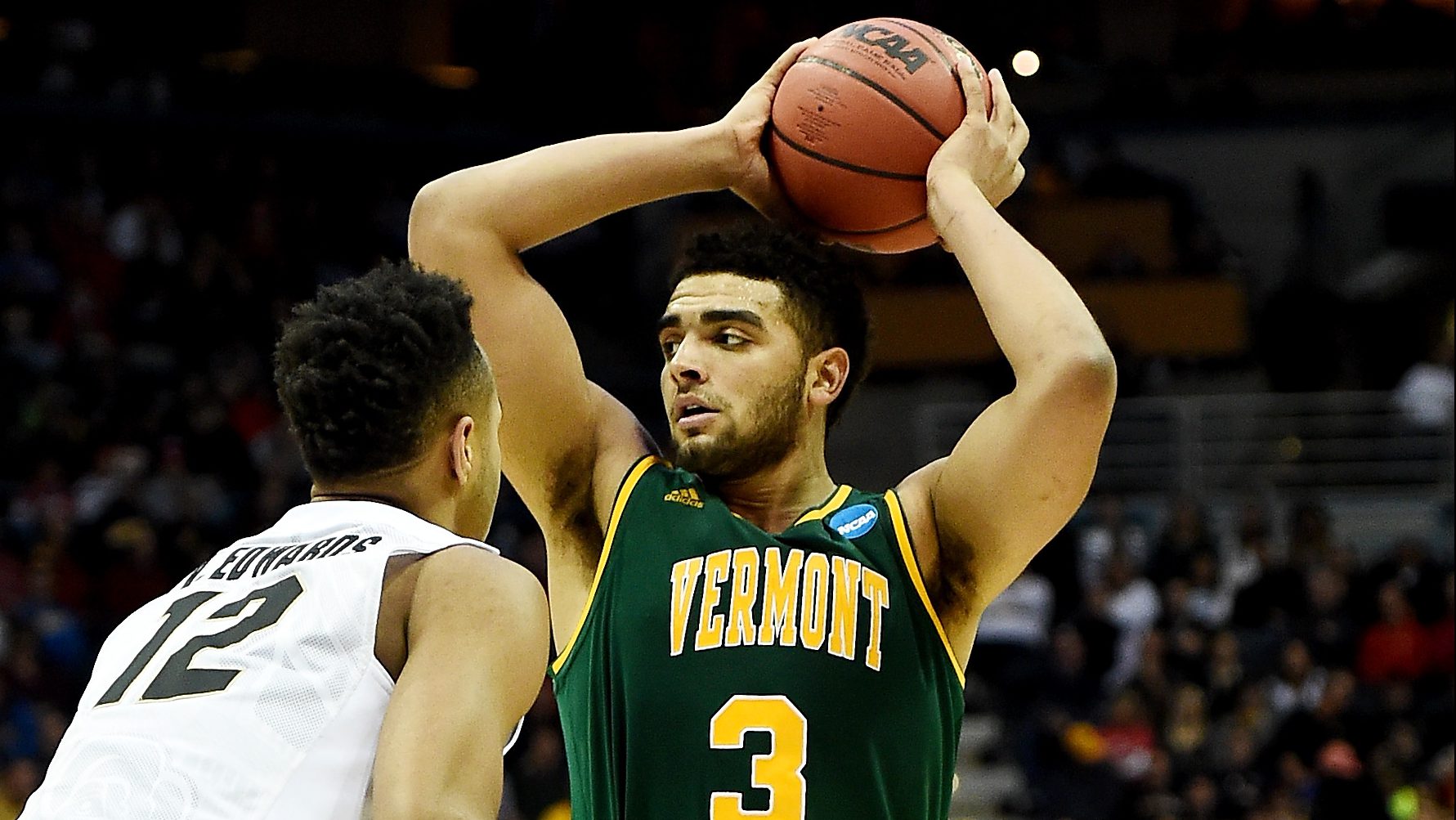 9. Bucknell
Bucknell may not have gone undefeated in its run to the Patriot League crown last season, but the Bison left no doubt as they won the regular season title by three games before claiming the automatic bid. Head coach Nathan Davis welcomes back his top nine scorers from last season, led by forward Zach Thomas (15.9 ppg, 6.6 rpg) and Patriot League Player of the Year Nana Foulland (15.0, 7.8, 2.1 bpg).
Guards Kimbal McKenzie and Stephen Brown were also double-digit scorers for the Bison, who ranked 20th in the nation in effective field goal percentage (55.3 percent). Bucknell led the Patriot League in both offensive and defensive efficiency last season, and given all of the returnees it would not come as a shock if the Bison duplicated that feat in 2017-18.
10. FGCU
The Eagles have made two consecutive NCAA tournament appearances under head coach Joe Dooley, and the pieces are in place to extend that streak to three. Four starters return from last season's team, led by last season's A-Sun Newcomer of the Year in guard Brandon Goodwin. In his first season on the court for FGCU after transferring in from UCF, Goodwin averaged 18.5 points, 4.5 rebounds and 4.1 assists per game, shooting 51 percent from the field. Goodwin's ability to produce in an efficient manner makes him, and by extension FCGU as a whole, a difficult team to defend.
Guards Zach Johnson and Christian Terrell and forward Antravious Simmons are also back, and in the front court the addition of transfers Ricky Doyle (Michigan) and Michael Gilmore (VCU; eligible in December) will give FGCU additional depth inside. Also worth keeping an eye on inside are freshman Brian Thomas and redshirt sophomore Brady Ernst, with the latter beginning his collegiate career at Iowa State before averaging 9.4 points and 6.5 rebounds per game at Indian Hills CC last season.
11. San Francisco
With so much attention being paid to the triumvirate of Saint Mary's, Gonzaga and BYU from a national standpoint, some of the other programs in the WCC can be overlooked on occasion. Get familiar with Kyle Smith's USF Dons, because he welcomes back all five starters from a team that won 20 games in his first season as head coach. Senior forward Chase Foster is the top returning scorer as he averaged 10.1 points per game, and the Dons also have two WCC All-Freshman Team honorees back in guards Jordan Rahtino and Charles Minlend.
Forwards Matt McCarthy and Nate Renfro provided additional experience in the front court, with juniors Mladen Djordjevic and Frankie Ferrari doing so on the perimeter. Don't be surprised if USF finds a way to crack the predicted top three of Saint Mary's, Gonzaga and BYU in the WCC this season.
12. Belmont
Since making the program's first Division I NCAA tournament appearance in 2006, Belmont has failed to win at least 20 games in a season just once. Last year's group won 23 games, but for the second consecutive campaign Rick Byrd's squad fell short of the NCAA tournament. Despite losing their top two scorers in Evan Bradds and Taylor Barnette, Belmont is once again considered to be the favorite to win the OVC. Amanze Egekeze, who averaged 11.3 points and 5.5 rebounds per game last season, is back as are guard Austin Luke and guard/forward Dylan Windler.
Guard Kevin McClain and center Seth Adelsperger are among the returnees who will look to earn more minutes, and a freshman class that includes guards Gray Murphy and Pedro Bradshaw will have the opportunity to contribute as well. Losing Bradds, Barnette and Nick Smith will have an impact, but at this point it's more than reasonable to trust Coach Byrd and his staff to figure things out.
13. Mercer
After winning 19 games in each of the program's first two seasons in the Southern Conference, Mercer finished below .500 (15-17) for the first time since the 2010-11 season in 2016-17. Bob Hoffman's program appears poised for a bounce-back campaign however, as the Bears return all five starters from that team led by senior guards Ria'n Holland, Jordan Strawberry and Demetre Rivers. In his first season with the program Holland, whose career began at Wichita State before spending a season at Indian Hills CC, averaged 17.2 points and 3.3 rebounds per game, shooting 37.3 percent from three and posting an effective field goal percentage of 52.7 percent.
In the front court, seniors Desmond Ringer and Stephon Jelks will lead the way, as they combined to average 14.9 points and 12.5 rebounds per contest in 2016-17. With the talent and experience on this roster Mercer is more than capable of winning what should be a tight SoCon race with Furman, Samford and ETSU in the mix as well.
14. Albany
Vermont is the preseason favorite in America East, but the Catamounts will not lack for challengers with Will Brown's Great Danes leading the charge. UAlbany is led by a very impressive backcourt tandem in juniors David Nichols and Joe Cremo, with the former being a first team all-conference selection last season and the latter landing on the second team. Nichols and Cremo combined to average nearly 34 points and seven assists per game, and when a team has guards this good they'll be in the mix more often than not.
Also in the perimeter rotation is Devonte Campbell, one of America East's top defenders who also averaged 7.0 points and 4.8 rebounds per game in 2016-17. In the front court seniors Travis Charles and Greg Stire both return, which should help the Great Danes account for the loss of their leading rebounder from a season ago in Mike Rowley.
15. Louisiana Tech
The Bulldogs have won 23 games in each of Eric Konkol's first two seasons at head coach, and similar success could be in the offing for this program in 2017-18. Three starters, all guards, return led by one of Conference USA's top defenders in senior Jacobi Boykins, and sophomores DeQuan Bracey and Derric Jean. In addition to his abilities as a defender (2.0 spg), Boykins averaged 14.7 points, 4.7 rebounds and 2.2 assists per game in earning third team all-conference honors as a junior.
Bracey and Jean were two of C-USA's top newcomers last season, with Bracey earning a spot on the All-Freshman team. Another sophomore guard, Jalen Harris, averaged 10.1 points per game in a reserve role and joined Bracey on the All-Freshman team at season's end. The losses of forwards Erik McCree, who led the team in scoring and rebounding, and Omar Sherman do hurt, but the Bulldogs won't lack for options with juniors Joniah White and Pensacola State CC product Harrison Curry among the players who will fight for minutes. If Louisiana Tech can solidify its front court rotation, the guards are good enough to lead the Bulldogs to a Conference USA title.
16. Harvard
Tommy Amaker's Crimson were the preseason pick to win the Ivy League in the official poll, edging out Yale and Princeton for that honor. Four of the team's top five scorers from a season ago return, led by first team All-Ivy selection and Ivy League Rookie of the Year Bryce Aiken. As a freshman the 6-foot tall Aiken averaged 14.5 points, 2.8 assists and 2.2 rebounds per game, starting just nine of the 26 games in which he played. With Siyani Chambers having graduated, Aiken stands to figure even more prominently in the Harvard offensive attack.
Forwards Seth Towns and Chris Lewis and guard Corey Johnson all return as well, with the 6-foot-7 Towns looking to build on a freshman season in which he averaged 12.3 points and 4.4 rebounds per game. With the aforementioned Chambers and forward Zena Edosomwan being the most noteworthy departures, Harvard will at minimum contend for the Ivy League crown. It's also worth noting that the program has just three seniors on the roster, meaning that a program that went to four straight NCAA tournaments from 2012 to 2015 could go on another run if they reach the Big Dance this season.
17. Grand Canyon
After spending four years as a provisional Division I member, Dan Majerle's Antelopes are finally eligible to earn an NCAA tournament bid. GCU's roster is well-stocked to do just that, with guard Joshua Braun (17.5 ppg, 4.6 rpg) leading the way. With leading scorer Dewayne Russell gone, Braun will be the feature offensive option for a team that also returns the likes of guards Oscar Frayer and Gerard Martin, and forward Keonta Vernon.
The loss of Russell hurts, but GCU should be fine when it comes to the point guard position due to the arrival of Oregon transfer Casey Benson. Part of the rotation on a team that reached the Final Four last season, Benson is immediately eligible to compete. The question mark for GCU, which will have to deal with New Mexico State and CSU Bakersfield at the top of the WAC, comes in the front court. If some options step forward alongside Vernon, the Antelopes could earn a tournament bid in their first season of eligibility.
18. Furman
As noted above the SoCon race is expected to be a tight one, with Furman in the mix along with Mercer, Samford and ETSU. As for the Paladins, they return the conference's top player in senior guard Devin Sibley. Sibley, who averaged 17.7 points, 4.1 rebounds and 2.3 assists per game last season, is one of four starters back from a team that won 22 games. That experience should help first-year head coach Bob Richey, who in addition to Sibley has another talented senior guard to work with in Daniel Fowler.
The key for Furman will be to account for the production lost due to the departure of forward Kris Acox, who averaged 13.0 points and 7.7 rebounds per game as a senior. Matt Rafferty (7.1 ppg, 5.3 rpg) and Geoff Beans (6.3, 2.5), with the latter shooting 39.1 percent from three last season, are among the front court options who will look to fill the void left by the loss of Acox.
19. Western Michigan
Steve Hawkins' Broncos went just 16-16 overall last season, but WMU's 11 conference wins were good enough to gain a share of the MAC West top spot. Four starters from that team return, led by senior guard Thomas Wilder. Wilder averaged 19.3 points, 4.3 rebounds and 3.8 assists per game last season, shooting 45.8 percent from the field and 44.4 percent from three. Simply put, he's one of the top shooters in college basketball.
Sophomore wing Reggie Jones earned MAC All-Freshman Team honors after averaging 9.4 points and 3.5 rebounds per contest, with fellow sophomore Brandon Johnson starting all 32 games and averaging 8.0 points and 5.5 rebounds per game. Add in the team's best defender in junior guard Bryce Moore, and centers Seth Dugan and Drake LaMont, and Western Michigan has the talent needed to make a run at the MAC title.
20. Western Kentucky
Rick Stansbury's Hilltoppers are a bit of a wild card in this, as they'll be counting on multiple transfers to have an immediate impact. There's also the question of "what could have been" regarding the Mitchell Robinson, but his departure given the circus that came with his short time on campus could prove to be a blessing in disguise for WKU. Former Buffalo guard Lamonte Bearden is eligible after sitting out last season, and grad students Dwight Coleby (Kansas) and Darius Thompson (Virginia) will be eligible immediately.
WKU also adds Northwest Florida State transfer Moustapha Diagne, a one-time four-star recruit who signed with Syracuse before not being cleared academically. The newcomers will help Stansbury fill holes on a roster that lost four starters from a season ago, with leading scorer Justin Johnson (14.5 ppg, 9.4 rpg) being the lone returnee. There's no question that WKU has a talented roster. But will all of the pieces mesh and make the Hilltoppers contenders in a Conference USA race that won't lack for quality programs? That remains to be seen.
Others considered (in alphabetical order): CSU Bakersfield, East Tennessee State, Iona, Louisiana, New Mexico State, Northern Iowa, Old Dominion, Samford, Santa Clara, South Dakota State, UAB, UNC Asheville, UNC Wilmington.