The most difficult thing to do when putting together a list of the nation's best back courts if figuring out who, exactly, belongs listed as a member of the back court. 
Take Miles Bridges, for example. Last season, he played the four for Michigan State, typically lining up alongside Nick Ward on the Michigan State front line.
But given his skill-set and his physical tools, he natural position is probably as a three. Then if you actually go back and watch the film, the role he played was essentially as a scoring guard, a walking mismatch that took bigger defenders out to the perimeter. 
Positionless basketball, by definition, makes identifying positions a nightmare. 
So we worked through a lot of these. Bridges is listed as a member of the front court. Louisville's Deng Adel is in our back court rankings because, like Arizona's Rawle Alkins, he's a natural wing. Kevin Knox is a forward even if he's going to end up playing some on the wing this season.
So with that in mind, let's get to our list of the top back courts in the country.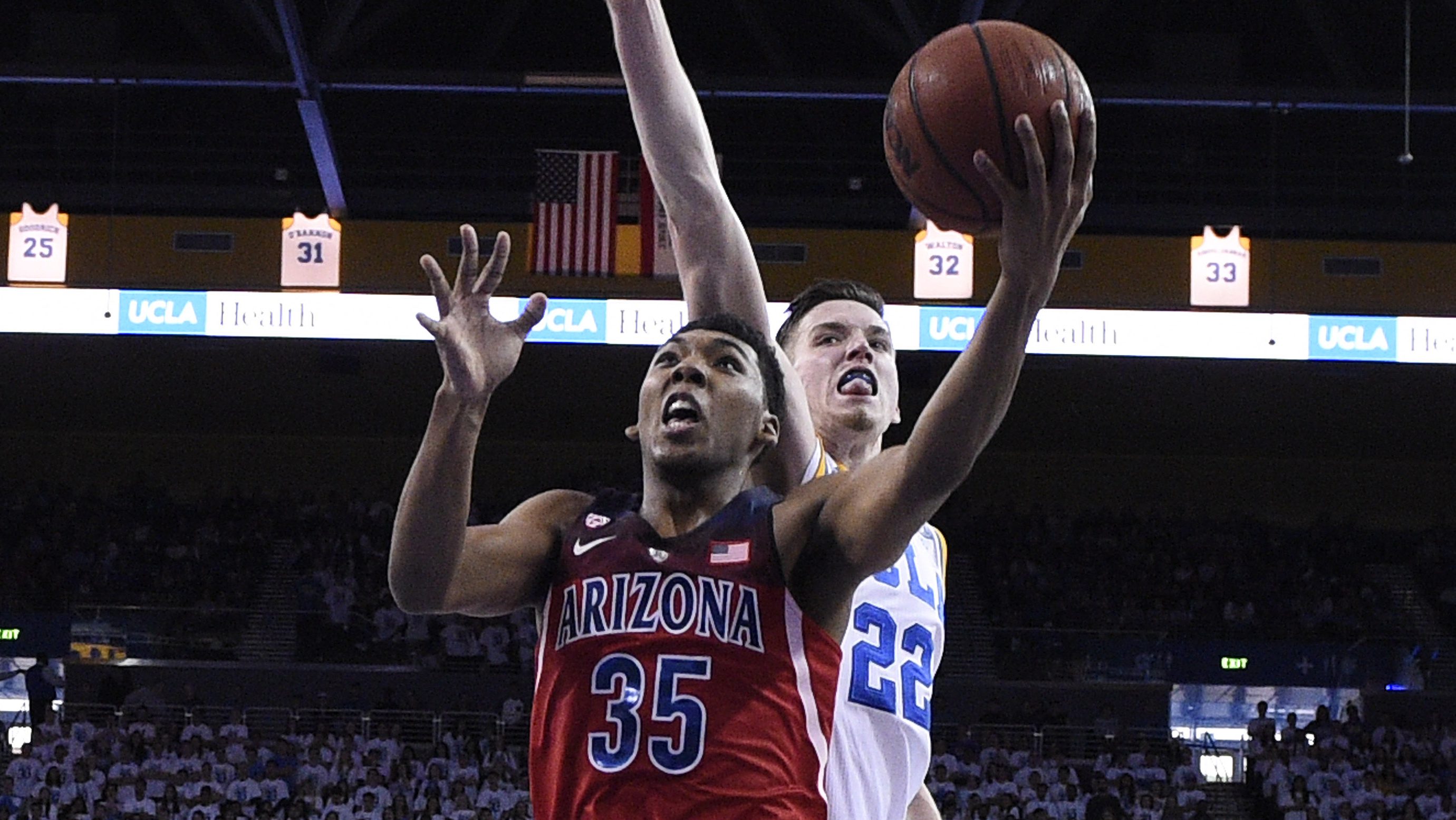 1. ARIZONA: Allonzo Trier, Rawle Alkins, Parker Jackson-Cartwright, Brandon Randolph, Dylan Smith
Let's start with the good, because there is plenty of it.
Allonzo Trier is going to be in the mix for National Player of the Year. He could end up averaging 20 points for a team that could end up being the best in the country. I'm not sure there is a better pure scorer in college basketball this season. He's joined on the perimeter by Rawle Alkins, a former five-star recruit and a potential first round pick that should be in line for an uptick in shots once he returns from a foot injury.
Brandon Randolph is an impressive freshman that will give some good minutes early in his career, and UNC-Asheville transfer Dylan Smith is, at worst, a serviceable backup at the point.
And that is going to be where the big question with this group lies. The one constant with Arizona over the course of the last four years as been terrific leadership and a defensive menace at the point guard spot. First, it was T.J. McConnell. Then it was Kadeem Allen. Now, it looks like that job is going to be Parker Jackson-Cartwright's to lose. And he's not bad. In fact, when you consider the number of people that are going to be needing shots in that offense, it's not a bad thing to have a point guard on the floor that wants to be a facilitator.
But the question I have is whether or not he can be the defender they need at that point guard spot, and if he is built to be the leader that can get a guy like Trier or Alkins to give up shots when it behooves the team.
2. MIAMI: Bruce Brown, Lonnie Walker, Ja'Quan Newton, Dejan Vasilijevic, Chris Lykes
Miami might have my favorite back court in college basketball this season.
Jim Larrañaga's best teams have come when he has talented and aggressive guards that thrive in ball-screens, and that's what he has at his disposal this season. Most ACC fans probably know the name Ja'Quan Newton by now. He's a senior and a former top 50 prospect that has had a couple really good years for the Canes.
But he's not the guys here to get excited about. Lonnie Walker, a top 15 prospect in the Class of 2017 and a potential lottery pick, is. He's arguably the best off-guard in this class, and so long as his knee is healthy, he should have a big year. He's also the second-best prospect on this team. Bruce Brown is the star. A former football player and a dynamic athlete at the combo-guard spot, Brown is projected by many to develop into an all-american player this season.
And if he does, he'll be the anchor that Larrañaga can build an ACC title contender around.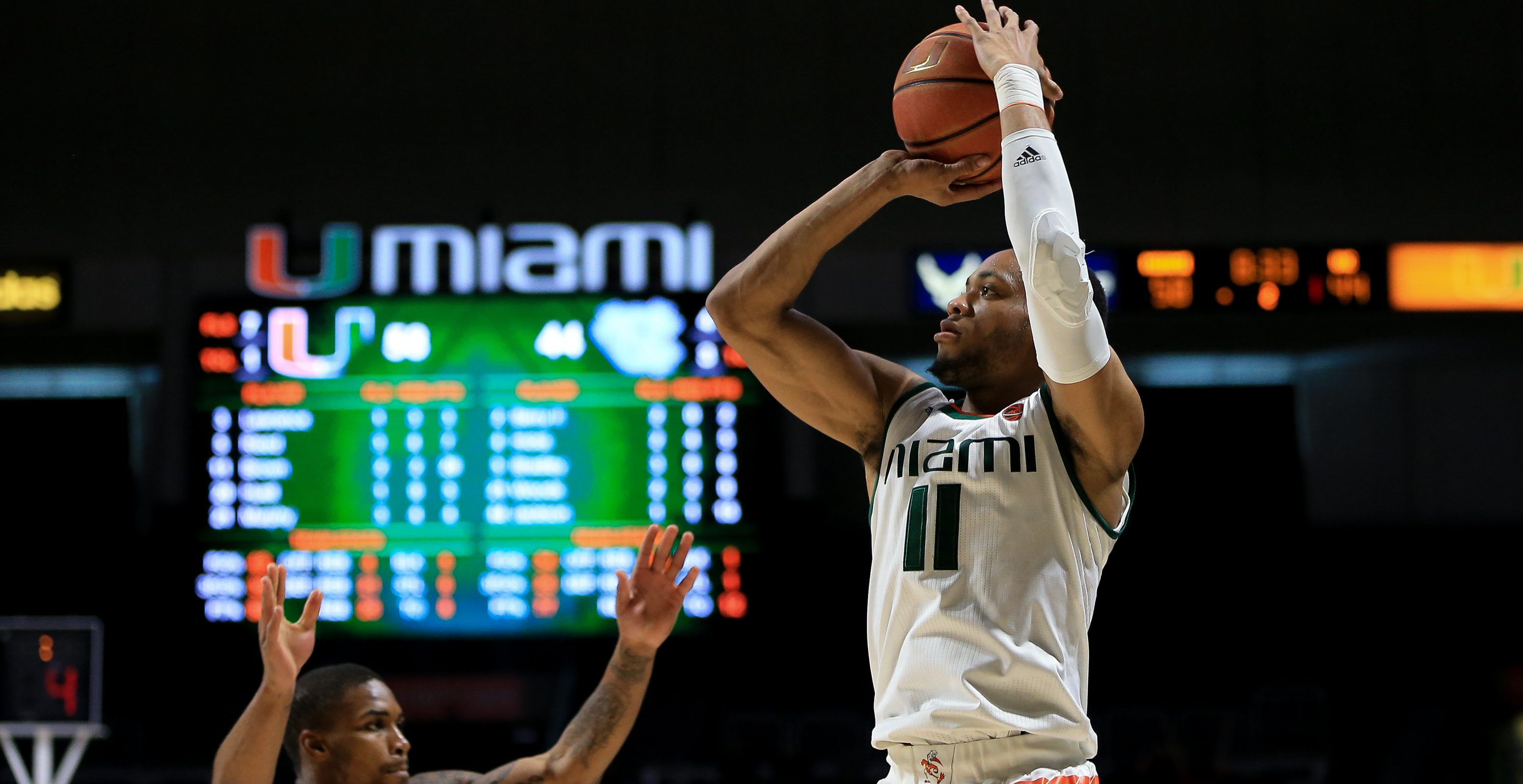 3. VILLANOVA: Jalen Brunson, Phil Booth, Donte DiVincenzo, Collin Gillispie
The Josh Hart era is now over, and it may have ended midway through last season, when Jalen Brunson went from being his sidekick to the best player on Villanova's roster.
There is nothing flashy about Brunson's game. He's not going to break ankles and he's not going to dunk on anyone. What makes him so good is that he understands the game on a level that very few people do, and that he is hyper-efficient with the possessions that he does use. At the end of a day, the most important stat when it comes to a point guard is wins, and there are very few guards that have won more over the course of the last two years than Brunson.
The rest of Villanova's back court rotation is impressive as well. Phil Booth is healthy again after missing most of last season through injury, and Collin Gillispie is likely going to be the next star Villanova point guard. The name to know here, however, is Donte DiVincenzo, a redshirt sophomore that was very impressive in limited minutes last season. He may not be Hart, but he has a real shot to be an all-Big East player this season.
This group isn't going to awe you or make NBA scouts swoon, but don't be surprised when they once again win more than 30 games and a Big East regular season title.
4. KANSAS: Devonte' Graham, Malik Newman, Svi Mykhailiuk, LaGerald Vick, Sam Cunliffe, Marcus Garrett
At this point, we know what this back court is, or at least what they're going to be this year, right?
Malik Newman is a former five-star recruit that will probably lead the team in scoring. Devonte' Graham is the point guard that is finally going to be able to play full-time point guard and looks to be in line for an all-american season. Svi Mykhailiuk is a 20-year old senior that may, finally, live up to his hype this season while LaGerald Vick and Sam Cunliffe are the athletic wings that will space the floor and make plays defensively. The only real unknown is probably Marcus Garrett, and there has been some talk that the 6-foot-5 freshman could end up being better than most realize.
The far more interesting discussion will be with how this group has to play. Specifically, will they be asked to play small-ball again? Kansas, as we discussed in detail here, has a weird roster this year, one that isn't really built to play with two big men but that lacks the kind of small-ball four that Josh Jackson was last year.
There are questions with this group, but it certainly isn't talent.
5. DUKE: Grayson Allen, Gary Trent Jr., Trevon Duval, Alex O'Connell, Jordan Tucker
If we're talking raw talent, I'm not sure that anyone's back court truly stacks up to Duke's. We've been over this before: Trevon Duval is the No. 1 point guard and a top five prospect in the Class of 2017. Gary Trent Jr. is a top two shooting guard in the class. Alex O'Connell and Jordan Tucker are four-star freshmen.
And then there is Grayson Allen, a much-maligned senior that struggled through last season as he dealt with the fallout of his inability to control his feet and nagging ankle injury. But he's healthy now, meaning that, in theory, he is back to being the guy that he was as a sophomore, when he averaged 21.6 points, 4.6 boards and 3.5 assists while shooting 41 percent from three.
So why is Duke at fifth on this list?
Part of it is their questionable perimeter shooting. Part of it is that there may not be enough shots to go around. But the biggest issue is at the point guard spot, where Trevon Duval is slated to be the guy that finally replaces Tyus Jones. The question is whether or not he is the kind of point guard that can actually do that. Duval has more Derrick Rose in him than Jones. He's big, he's athletic and he's terrific getting downhill, but he's not a shooter and he has never proven to be the kind of facilitator that Duke will need. Duval may actually be the fifth-best scorer in Duke's starting lineup. Does he know that?
It's the same issue that has plagued Duke each of the last two seasons, and I'm just not yet convinced that Duval is the player that is going to solve that equation. If he is, if he lives up to the hype, then I think it is safe to say that this Duke team will be the favorite to win the national title.
And if he is, having then sixth will look almost as silly as having Kentucky's back court ranked sixth heading into last season.
6. USC: Jordan McLaughlin, Elijah Stewart, De'Anthony Melton, Jonah Mathews, Chuck O'Bannon Jr., Shaqquan Aaron, Derryck Thornton Jr.
I love USC this season, and much of it has to do with the depth of talent in their back court.
Jordan McLaughlin is one of the most underrated point guards in the country. Elijah Stewart and De'Anthony Melton are two of the better athletes you'll find on the wing who skillsets – Stewart is a scorer where Melton is a swiss-army knife – compliment each other. Chuck O'Bannon Jr. is a top 40 recruit that will provide quality depth alongside Shaqquan Aaron and Jonah Mathews, while Derryck Thornton Jr. is the ultimate wildcard: A former five-star recruit and a transfer from Duke that didn't find the fit that he needed at the point.
The Trojans don't have the star power of some of these other groups, but they have a number of really good, veteran players that understand and excel in their role. That matters.
7. XAVIER: Trevon Bluiett, J.P. Macura, Quentin Goodin, Paul Scruggs, Elias Harden, Naji Marshall
J.P. Macura is a perennially underrated talent. Quentin Goodin had some promising moments as a freshman at the point. Paul Scruggs, Elias Harden and Naji Marshall are all four-star recruits that will have a varying, but likely significant, impact on the Musketeers.
But the reason that Xavier is ranked this high on this list is the presence of Trevon Bluiett. Bluiett was arguably the best player in the NCAA tournament through the first three rounds last season. Hell, if he didn't sprain his ankle midway through Big East play last season, he might have been able to play his way into the conversation for the league's Player of the Year.
Expect more of the same from Bluiett this year.
8. SETON HALL: Khadeen Carrington, Desi Rodriguez, Myles Powell, Myles Cale
Seton Hall head coach Kevin Willard has quietly put together one of the best rosters in the country that no one seems to be talking about, and this list doesn't even include the Hall's all-american big man Angel Delgado.
As good as this group has a chance to be, it all is really going to come down to the play of Khadeen Carrington. A 6-foot-2 combo-guard, Carrington is going to be tasked with playing the point full-time this season, a change from his role as a go-to scorer over the course of the last two years. Desi Rodriguez has quietly put together a fantastic career, while the Myles' – Cale and Powell – are promising youngsters that will carry the program when the old guys finally graduate, but none of it will matter if Carrington's adjustment to a new position doesn't go well.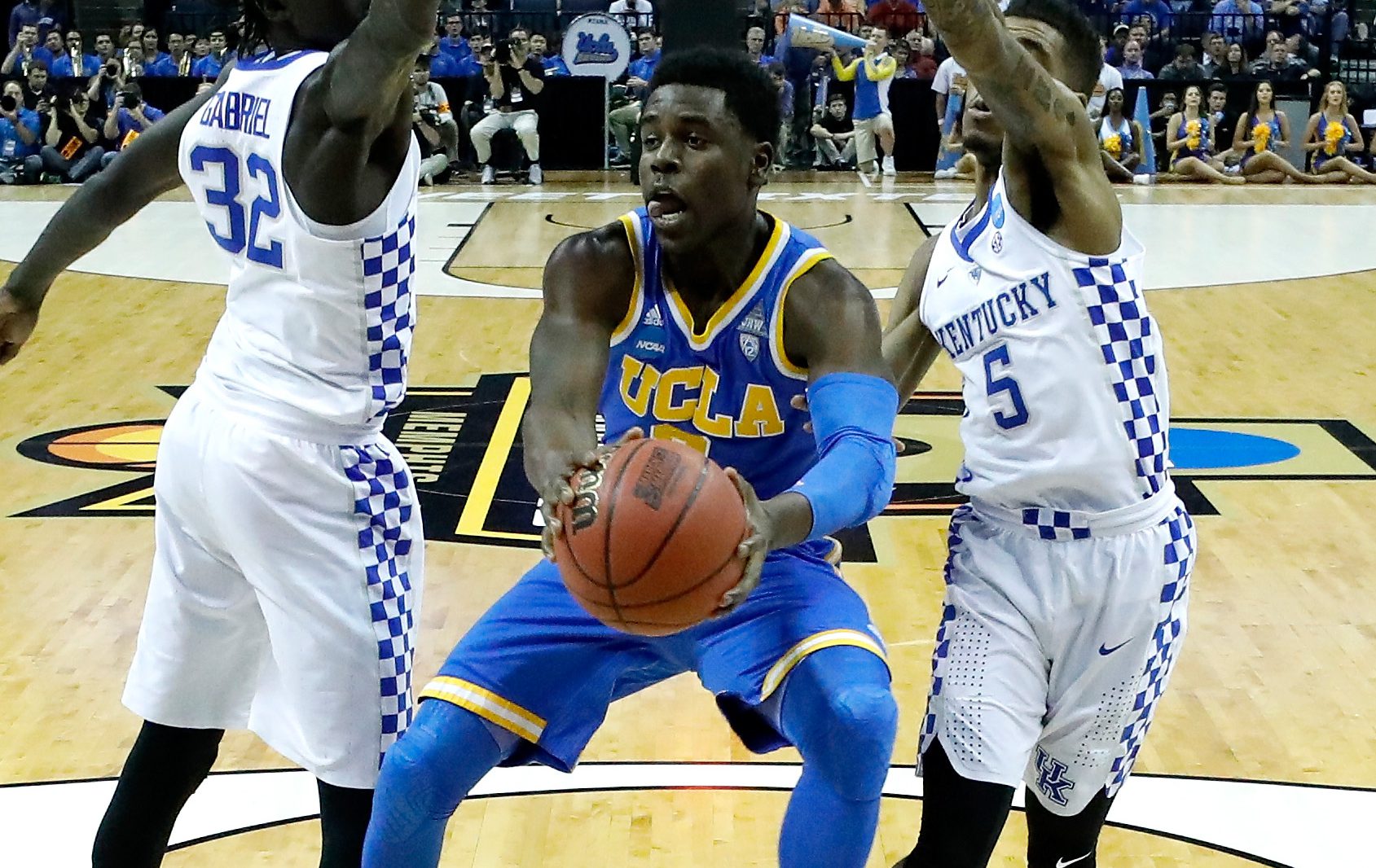 9. UCLA: Aaron Holiday, Jaylen Hands, Kris Wilkes, LiAngelo Ball, Prince Ali, Chris Smith
It's hard to believe that a team could lose a talent like Lonzo Ball and remain among the best back courts in the country, but that's exactly what happens when you have a guard as good as Aaron Holiday on the roster.
Holiday and Kansas' Devonte' Graham have a lot in common in the sense that they are point guards that are going to be allowed to play the point this season. Holiday will be joined by a pair of five-star prospects in Jaylen Hands and Kris Wilkes, while Prince Ali, a redshirt sophomore, should be ready to chip in this year, but the key may end up being how LiAngelo Ball fits in with this group. Lonzo's younger brother, Gelo is not on the level of his older brother. How will LaVar react to that?
10. NORTH CAROLINA: Joel Berry II, Jalek Felton, Kenny Williams, Cam Johnson, Seventh Woods
This is going to sound weird, but bear with me: It's not actually a bad thing that Joel Berry II broke his hand. I'm not even calling it a silver lining. I'm flat-out saying North Carolina will be better in the long-term because of it.
Berry is a senior. He was an all-league player the last two years. He was part of the most heart-breaking national title game loss of all-time and followed that up the next season by winning a national title and Final Four MOP. He's a winner. He can miss a month and he won't miss a beat.
But the rest of the guys on this list? Jalek Felton is a freshman. Seventh Woods is a sophomore that barely played. Kenny Williams and Theo Pinson are going to be asked to play bigger roles this season than they have in years passed, while Cam Johnson is a transfer from Pitt trying to learn a new system.
Berry will be out a month. He'll miss two weeks of games. Those two weeks will allow some of these younger guys to get thrown into the fire in games that, frankly, don't mean all that much.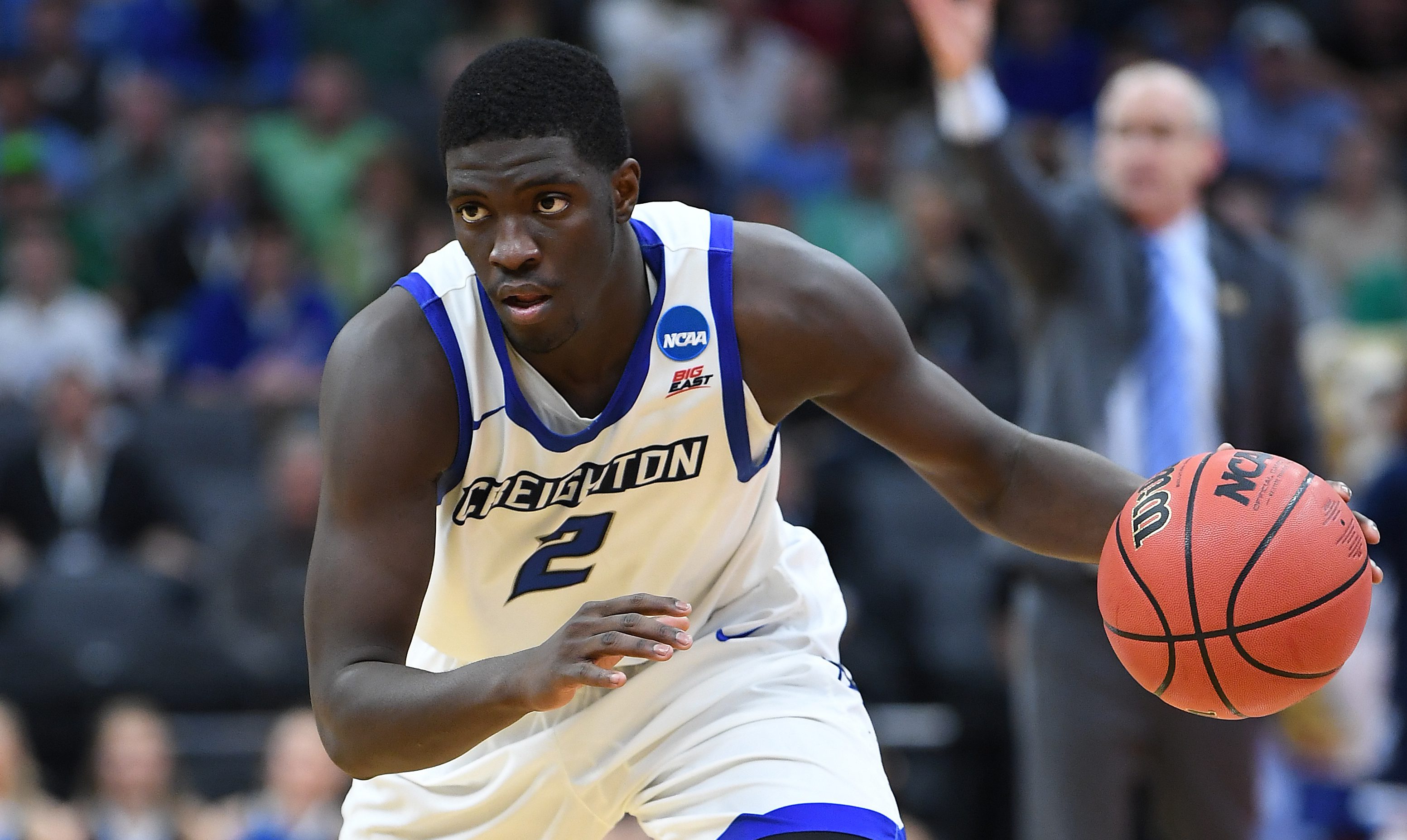 11. CREIGHTON: Marcus Foster, Khyri Thomas, Davion Mintz, Kaleb Joseph, Tyler Clement, Ty-Shon Alexander, Mitchell Ballock: Marcus Foster will put up all-american numbers this season and Khyri Thomas may actually be the single-most under-appreciated player in college basketball, but until we know the answer at the point, Creighton will have serious question marks
12. ALABAMA: Collin Sexton, John Petty, Avery Johnson Jr., Dazon Ingram, Ar'mond Davis, Riley Norris: Alabama was top ten nationally in defensive efficiency last season but missed the NCAA tournament because they couldn't score. So what did Avery Johnson do? Oh, he went and signed Collin Sexton, the best scorer in this high school class.
13. KENTUCKY: Hamidou Diallo, Quade Green, Shai Gilgeous-Alexander, Jemarl Baker: Like Alabama, this Kentucky team should end up being one of the nation's best defensive back courts. Unlike Alabama, they don't have a scorer of the ilk of Collin Sexton. The other issue: Who is going to make jump shots?
14. LOUISVILLE: Quentin Snider, Deng Adel, Dwayne Sutton, V.J. King, Darius Perry: Deng Adel is going to have a chance to prove he can carry a team and Quentin Snider is back for what feels like his 17th season, but the key to this Louisville group is V.J. King. Can he take the 'Donovan Mitchell leap' if Rick Pitino is not coaching?
15. NOTRE DAME: Matt Farrell, Temple Gibbs, Rex Pflueger, D.J. Harvey: Matt Farrell was one of the most improved players in the country last season. I fully expect both Temple Gibbs and Rex Pflueger to take a similar leap, while D.J. Harvey is talented enough to have an immediate impact.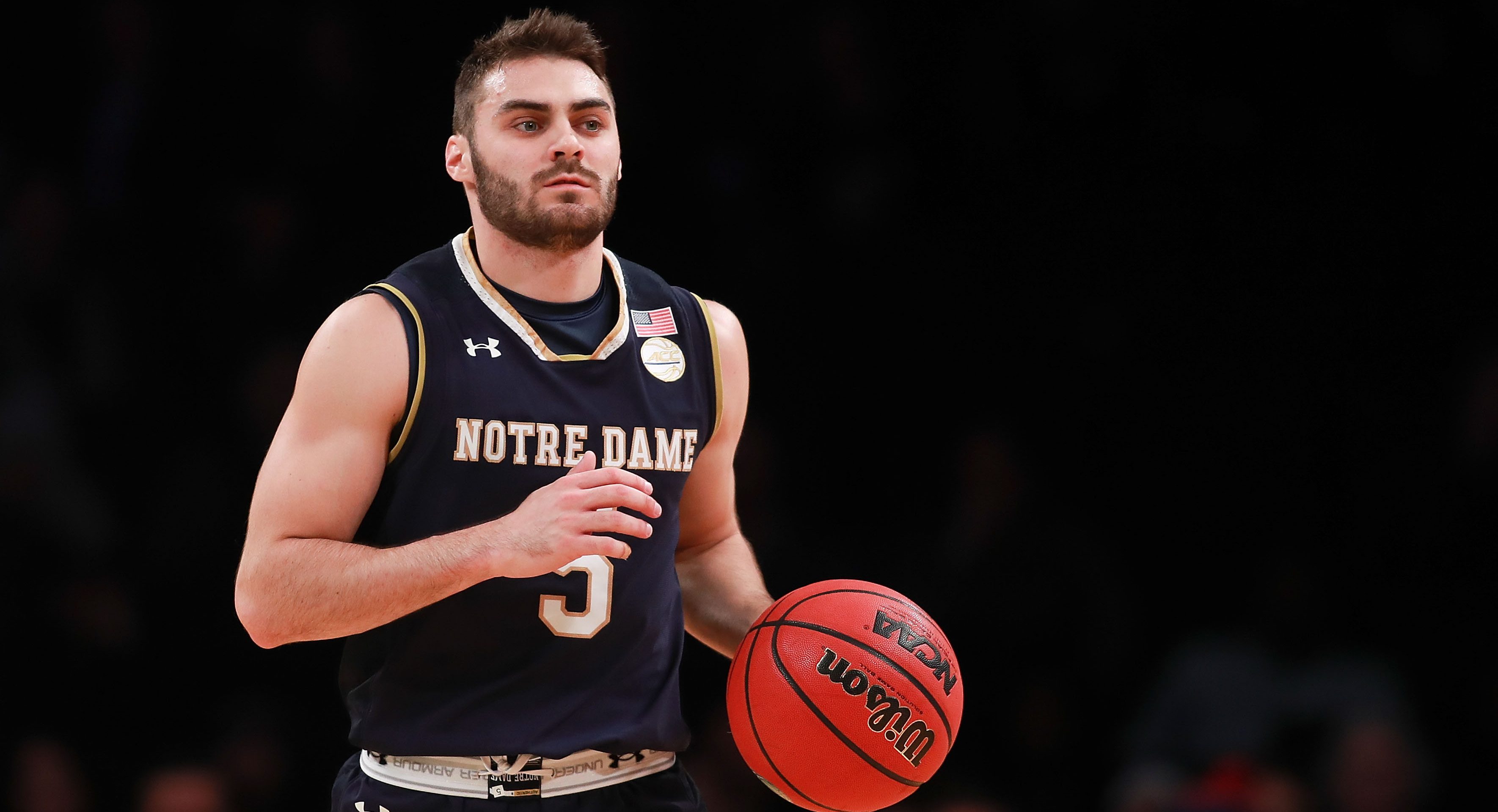 16. MICHIGAN STATE: Cassius Winston, Josh Langford, Matt McQuaid, Tum Tum Nairn, Kyle Aherns: The Spartans team is the toughest to rank on this list. Based on last year, they don't deserve to be on this list. But the best thing about freshmen is that they become sophomores. Right, Cassius Winston and Josh Langford?
17. MINNESOTA: Nate Mason, Dupree McBrayer, Isaiah Washington, Amir Coffey: Nate Mason is a criminally underrated point guard. Dupree McBrayer and Isaiah Washington are both talented, but the x-factor is Amir Coffey. He's a versatile wing that lets Richard Pitino play with different looks.
18. ST. JOHN'S: Shamorie Ponds, Marcus Lovett Jr., Justin Simon: I was torn on where to rank this group, but the bottom-line is this: Ponds and Lovett are going to be a nightmare for opponents to defend on a nightly basis.
19. NORTHWESTERN: Bryant McIntosh, Scottie Lindsey, Vic Law, Isiah Brown, Jordan Ash, Anthony Gaines: After getting to the NCAA tournament for the first time in the history of the program, the Wildcats bring back basically everyone, including stars Bryant McIntosh and Scottie Lindsey.
20. YALE: Makai Mason, Miye Oni, Trey Phills, Alex Copeland: Laugh if you want, but Makai Mason has already committed to Baylor for his grad transfer season and Miye Oni, just a sophomore, has attracted NBA scouts to New Haven. Should I mention Alex Copeland actually led the team in scoring last season?