The discussion of transfers in college basketball seemingly reached a crescendo last week, as the Division I Transfer Working Group updated us on some of their latest discussions and set social media on fire.
They are considering eliminating permission to contact legislation. They are discussing the ramifications of eliminating a sit-out year for first-time transfers. There may be changes coming to the graduate transfer rule.
And through it all, no one can seem to actually get the facts of the issues at hand correct.
(I did, however. Right here on this podcast.)
Are you sick of talking about transfers yet?
Hope not.
Because there's something else that needs to be mentioned.
Over the weekend, Eli Boettger published the most comprehensive study of transfer movement over on Athletic Director U. If this is something that intrigues you, I highly suggest that you give it a read. There's a lot in there.
The most interesting nugget is buried about halfway into the study: "Nearly 60% of transfers, instead of joining other D-I teams, have left D-I basketball completely since the 2012 offseason." The number, exactly, is 58.77%, meaning that of the roughly 800 transfers that have popped up annually in each of the last five or six years, roughly 480 of them — or three out of every five — end up transferring out of Division I basketball.
And that's to say nothing of the players that transfer down a level, from the ACC to the Atlantic or from the Atlantic 10 to the CAA or the CAA to the MEAC.
"The idea that college basketball players tend to transfer to better teams is almost entirely a myth," the study reads, and that confirms a thought that I, and many others, have had about the "transfer epidemic" for a long time: the overwhelming majority of players transferring are leaving school to go down a level. For whatever reason, they ended up at a school where they were never going to find a way to get playing time, so they decided to transfer out and find someplace at the lower level where they will be able to see the amount of minutes and shots they desire.
There is one potential flaw I see in the study. When Boettger is evaluating "better teams", he is doing so based off of winning percentage. But that doesn't necessarily capture it perfectly. For example, Elijah Long transfer out of Mount St. Mary's, who went 20-16 last year, and into Texas, coming off of an 11-22 season. That's a transfer to a better team.
So what the study doesn't show is how many of the 41.23% of Division 1-to-Division I transfers leave to go to a higher level of basketball, which is the crux of the concern many have for the current and future transfer market. High-majors mining low- and mid-majors for talent they missed on during the initial recruiting process.
I reached out to Boettger about this. Since 2012, there have been 4,360 players that have transferred out of a Division I basketball program. Of those 4,360, only 375 have been "up-transfers", players leaving a lower league for a team in a more high-profile conference.
Specifically, there have been just 246 players from outside a Power 6 conference (ACC, Big East, Big Ten, Big 12, Pac-12, SEC) to transfer into a Power 6 program, and just 129 more players to transfer from one of the bottom 20 conferences into the AAC, Atlantic 10, Mountain West, WCC, Conference USA and Missouri Valley*.
In other words, only 8.6 percent of the players that have transferred since 2012 — the "transfer epidemic era", if you will — have left their school for a program at a higher level.
The chart, via Boettger, is below. The left side is the where the transfer left, and the top is where the transfer ended up.
*(For simplicity's sake, these six leagues represent mid-majors in the chart below.)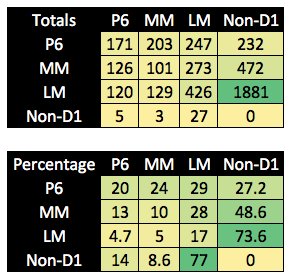 You can follow Boettger on twitter here.