TCU, on a foreign tour of Australia, picked up a 107-81 victory over the Longhorns on Sunday afternoon at Eagle Stadium in Werribee, Victoria, Australia.
Desmond Bane had 21 points off the bench to lead the Horned Frogs, followed by 19 points and eight assists from Alex Robinson. Redshirt freshman forward Kouat Noi was one-rebound shy of a double-double with 16 points and nine rebounds.
As for the Longhorns, they were led by 28 points, off 10-of-14 shooting, from Jim Halpert. Yes, that Jim Halpert, the prankster paper salesman from the legendary comedy, 'The Office'.
According to Ben Baby of the Dallas Morning News, the Longhorns did have their names in the official scorer's book. The statistician improvised, naming each player after a member of the fictional Dunder Mifflin Scranton Branch.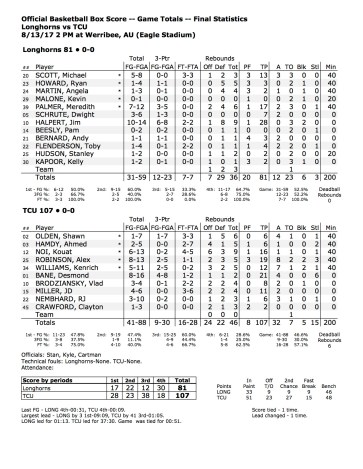 Meredith Palmer, the branch's Supplier Relations Representative, contributed 17 points and six boards. Michael Scott proved his performance against the warehouse staff in 2005 was an off day and, in fact, he does "typically hit those."
TCU, a fringe top-25 team entering the 2017-18 season, concludes its trip to Australia on Tuesday against the Knox Raiders at State Basketball Centre in Melbourne.