Late on Wednesday night, Jontay Porter finally made it official, announcing to the world the worst kept secret in all of college basketball: He will be reclassifying and enrolling at Missouri this fall, joining his brother, Michael Jr., and father, Michael Sr., with the Tigers for the 2017-18 season.
Michael Jr. is a potential No. 1 pick in the 2018 NBA Draft and a guy that could end up being the best player in college basketball this season. Jontay is not quite on that level, but he is a terrific offensive weapon. At 6-foot-11 and left-handed, Porter can do just about everything offensively: He makes threes, he can beat defenders off the dribble, he can score in the post, he's a willing and capable passer out of double-teams, he can score on rim-runs and ball-screen actions as a roller or a pop-man.
While there are going to be issues for both brothers adjusting to playing basketball at the high-major level, particularly on the defensive end of the floor, on paper, it's hard to imagine a better combination of a four and a five to play "small-ball" at the college level, mostly because neither brother is small. Michael Jr. is the "little" one at 6-foot-10.
But beyond the issues that will inevitably pop up for the freshmen during their first year on campus, the biggest concern with this group is going to be whether or not Missouri head coach Cuonzo Martin will embrace the small-ball ideal.
Or if he even has the pieces to do so.
Let's start with the former.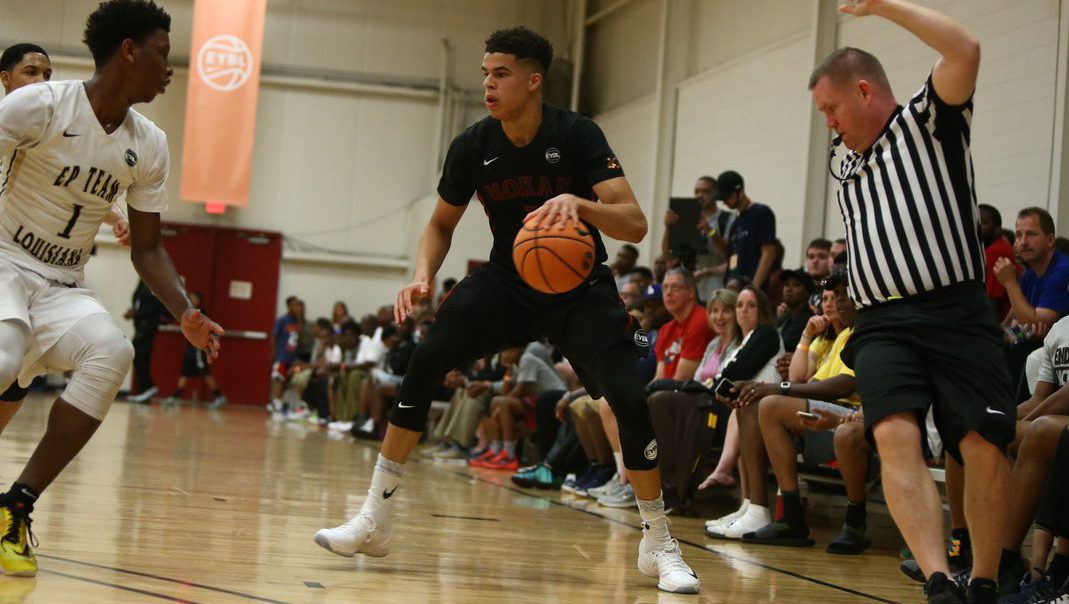 Martin is a throwback. He likes playing two bigs. He likes throwing the ball into the post and letting the big uglies go to work. He's a midwest guy that played his college ball at Purdue in the early 90s. Of course he's going to think this way.
"I'd rather have a low-post big that can dominate in the post and score the basketball and not just a guy on the perimeter to make plays," Martin told me this summer. To his credit, I'm not sure that Martin has ever had a chance to coach two players with the size and perimeter skills of the Porters. As good as Jaylen Brown and Ivan Rabb were with Cal, neither of them could shoot, and Tyrone Wallace, who was a star point guard on that team, shot 29.2 percent from three for his career. The question is going to be whether or not he's willing to change the way he coaches and the way he wants his teams to play to take advantage of what he has at his disposal.
"But I think to have a big guy that's just a space-eater nowadays is tough," he continued, and it sounds like this old dog may actually be learning a new trick. "You can't defend on the perimeter, you can't make plays offensively. Then all of a sudden it becomes five-against-four in a lot of ways."
"I think with most cases, like when I was young I watched the NBA, whatever games I could watch, you watch how the game is played because you want to be that. I think with a lot of not only young guys but their coaches, they teach those guys to play on the perimeter because that's the game, go inside and outside. If you've got good spacing I think you have a chance to be very successful."
The question now becomes whether or not Missouri has the personnel around the Porters to make this work, and that I'm not quite so sure of.
The only perimeter weapon on the roster that is at all proven is Terrence Phillips, a rising junior point guard that averaged 10.7 points and 4.4 assists while shooting 35.6 percent from three. There is Kassius Robertson, but he's spent the last four seasons playing at Canisius. There will be an adjustment coming in moving up a level, but at the very least he is a guy that can shoot it from three. Kevin Puryear and Jordan Barnett are both back as well, but Puryear is a post that can make jumpers while Barnett is a three that shot just 30 percent from three last season. Neither are really ideal pace-and-space options, and neither is Jeremiah Tilmon, a top 35 recruit that is the kind of low-post presence Martin is more accustomed to. He's athletic, he blocks shots, he rebounds and he's, shall we say, a 'work-in-progress' offensively.
What do you do, as a coach, when putting your five best players on the floor makes it difficult to play the way that would be best-suited for your two potential first round picks?
That's going to be the question that Cuonzo Martin tries to answer over the course of the next three months.