Did you really need LaVar Ball to get a female referee removed from a game for the simple act of doing her job to know that he's a jerk?
This is the same guy that has gotten his son's high school coach fired after a 30-3 season for "not being experienced enough," told a female radio host to "stay in your lane" before selling BBB branded t-shirts with that saying for $50 a piece and spent all spring and summer berating officials as the head coach of LaMelo Ball's Big Baller AAU team, once pulling his team off the court before the game was over. The only surprising part of last week's confrontation was that adidas actually acquiesced to LaVar's demands.
Seriously.
Think about that.
The organizers of an AAU tournament being hosted by a billion-dollar apparel company sided with the coach of an AAU team that went 3-3 at the event instead of the referee that was being paid to officiate the game.
It's absolutely baffling.
And it's about par for the course for LaVar, who has just about completed an eight-month journey from entertaining sideshow — a loudmouth sports dad trying to create buzz for the Big Baller Brand, a startup apparel company he's running to try and change the shoe game, by saying he's better than Michael Jordan and getting into verbal battles with Charles Barkley — to misogynistic egomaniac.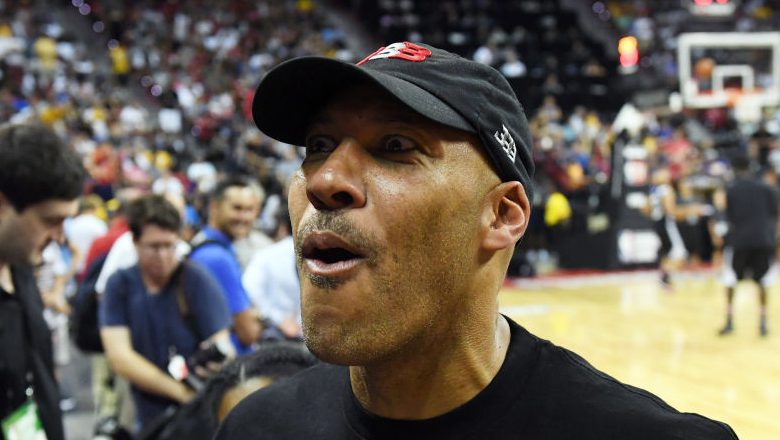 LaVar isn't a total zero, mind you. You'd be hard-pressed to find anyone that would have anything negative to say about his three sons beyond the fact that they're his children, and it's not easy to raise three boys who all excel at their craft — Lonzo was the No. 2 pick in the 2017 NBA Draft, LiAngelo will play at UCLA starting next season and LaMelo is a 15-year old in the Class of 2019 putting up 50-point nights while playing in tournaments against kids two years his senior — and have never, to my knowledge, been in any actual trouble. He can be overbearing while loving his children and raising them to be great kids; that doesn't preclude him from being a good father.
Personally, the antics have reached a critical mass for my taste. I'm over him, but I'm not naïve enough to think he's going away anytime soon. Lonzo has a better shot than anyone from the loaded 2017 draft at turning into a Hall of Fame-level talent, and LaMelo still has two more years left of high school. At minimum, LaVar is going to be in the national consciousness for another decade, and simply being a misogynist isn't going to keep his family's celebrity from rising, not in a country where Chris Brown beats up Rihanna and remains a star, R. Kelly still has fans and our President can be caught on tape explaining how, exactly, you're allowed to grab women when you're famous and still win an election.
LaVar Ball's actions are incomparable.
As far as we know, he just thinks that women should stay in their lane and keep out of sports, and he's far from the only man that believes as much.
Welcome to America. It is what it is.
Which is why my concern here is LaMelo and what kind of negative impact this could have on him in the long-term.
He is a celebrity in every sense of the word, the first athletic prodigy that has had to deal with the kind of fame and media attention typically reserved for the likes of a young Hollywood star.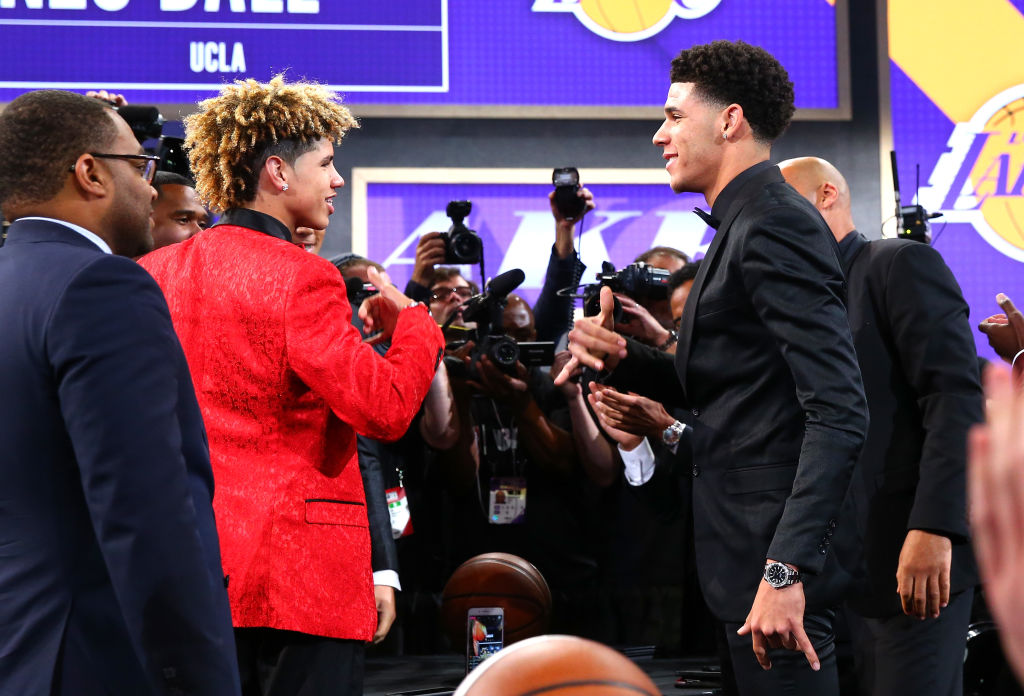 He has 2.3 million followers on Instagram. He's been on TMZ often enough that he has his own searchable tag. He had mobs of fans trying to rush past security to get pictures with him at a game on Wednesday night in Las Vegas, a game that was so crowded that LeBron didn't even bother trying to get in, a game that more than 8o,000 people were watching at one time and that has been viewed 1.3 million times in total. When his teams left games in Vegas they had to do so through the back exit of the gym.
And he's 15 years old.
Fame like that is hard for anyone to handle, let alone someone that isn't old enough to drive or grow a mustache. I can name a dozen can't-miss prospects that never lived up to their hype, and it's not hard to find a long list of child stars that couldn't handle the fame of Hollywood. LaMelo has to navigate both of those paths and do so while growing up in the age of social media. For LaMelo, the downside of this notoreity is palpable. Any post he makes on Instagram or Twitter gets hammered by trolls. Back in May, someone edited together a lowlight reel of a game LaMelo played, a two-minute clip of turnovers and airballs and porous defense that ended up trending on just about every social media platform in existence.
LaVar's personality, and the public's rejection of it, isn't the only reason that there is a backlash against LaMelo.
Part of it is the way that he, and the Big Ballers, play. It's reminiscent of the last pickup game of the day: They shoot a lot of threes, they play very little defense, they cherry pick layups and they try to win every game 130-120. It's not the prettiest brand of basketball. It's also not all that different from the way they played when Lonzo was running the show. What's changed is the exposure; Lonzo's teams were a story that you were told, something you heard about second-hand. LaMelo's games play out for everyone to see.
The way LaMelo himself plays doesn't help matters, either. He's a point guard that is quite literally allowed the freedom to do whatever he wants, whether that is firing up 40-footers as he dribbles across half court or trying to weave his way through five defenders before throwing a no-look pass.
Sometimes those things work, sometimes they don't. Sometimes he looks like a ball-hog, sometimes he looks like Steph Curry.
And while it's difficult to watch, there are three things that are important to remember:
LaMelo is 15 years old, on the young side for a member of the Class of 2019, playing against kids that are 17.
LaMelo's shot up from 5-foot-8 to 6-foot-3 in the last year and he may not be done growing just yet.
Behind all the pomp and circumstance there is a set of skills that makes LaMelo a player with some real potential. He's ranked between 7th and 21st by the major recruiting services, meaning he's projected as a player with a pretty good shot at the NBA but a step below being a can't-miss player. He could be D'angelo Russell. He could be Isaiah Briscoe.
Enter Tyus Jones.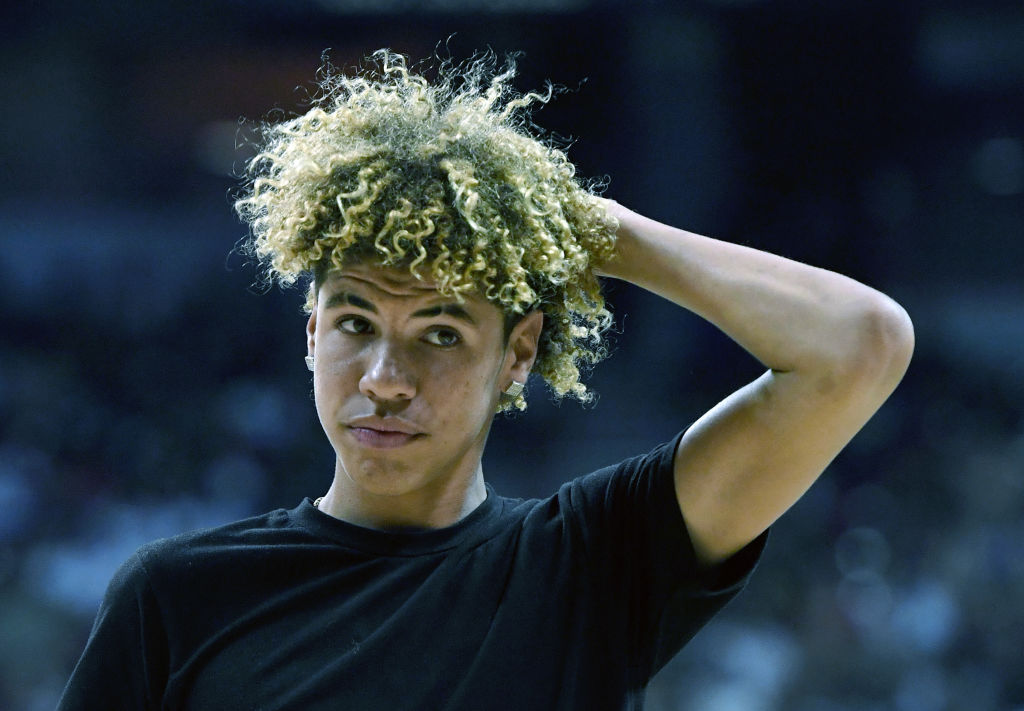 By any account, Jones is a terrific basketball player. He was a McDonald's All-American and, at worst, a top ten player in his high school class. He was the starting point guard for a Duke team that won the 2015 national title. He was a one-and-done player that eventually went as a first round pick in the NBA Draft. He is one of 450 people in the world that can say that their job title is "Current NBA Player". By definition, that makes him one of the roughly 100 best point guards on the planet. He was a multi-millionaire before he could legally buy a drink. I don't think you can look at his career and think of him as anything other than successful, and he's still only 21 years old.
He's also played in just 97 games through two seasons in the NBA. He's never started a game and is averaging just 3.8 points and 2.7 assists to date. In a league now driven by superstar point guards, he's so far removed from being in the conversation with Russell Westbrook and Chris Paul, Damian Lillard and James Harden, John Wall and Kyrie Irving that the casual NBA observer probably hasn't heard of him.
In the NBA, he's 'just a guy' despite the fact that simply being in the NBA means that there's nothing normal or average about his basketball ability.
Tyus Jones made it, and the truth is that LaMelo will have "made it" if he gets to the league.
It's also true that the perception will be that LaMelo was an overhyped fraud if he ends up being nothing more than Tyus Jones through his first two seasons. If he's not a transcendent talent, or at the very least a reliable annual pick to make the all-star team, he's a disappointment.
And that would not be fair.
So LaVar better hope he's right about his youngest son.
Because that is a lot of baggage to ask him to carry.