With the 2017 NBA Draft coming to a close, it's time to take a look at the 2018 NBA Draft and some of the best, most influential potential pros in the sport next season. 
Here is a first round mock draft for 2018. In a year, we can look back on this and realize just how naive we all were.
Scott Phillips contributed to this story.
1. Michael Porter Jr., Missouri, Fr.: The 6-foot-9 former Washington signee is a lethal scorer that plays on the perimeter and has a chance to be a National Player of the Year and No. 1 overall pick. He's got the size and athleticism to overwhelm smaller defenders and the quicks to light up college fours, Porter is also a strong rebounder who is tougher than some give him credit for.
The big question for Porter next season isn't about him, it will be how good that Tigers team is around him. New head coach Cuonzo Martin inherited a mediocre-at-best roster, but he's added some talented — but very young — pieces. If Porter Jr.'s younger brother, Jontay, also reclassifies to this year, Missouri might even be a sleeper NCAA tournament team.
     RELATED: It's All In The Family for the Porters
But even if Porter and Missouri misses the Big Dance, as expected, it shouldn't have any kind of major bearing on his draft stock as long as he is productive. Both Ben Simmons and Markelle Fultz went No. 1 in the draft after missing the NCAA tournament.
2. Deandre Ayton, Arizona, Fr.: Not many 7-footers move as well as Ayton, and it was part of the reason he was once considered the No. 1 prospect in this class. As a sophomore in high school, Ayton once gave future Final Four team North Carolina a double-double in an exhibition game in his native Bahamas.
With an ability to run the floor like a guard while being quick enough to switch onto some perimeter players, Ayton is a rare athlete at center who also has some intriguing offensive capabilities: He has a good touch from the free-throw line and mid-range and some fluidity on the perimeter.
But the big question is his motor. There are times when Ayton disappears for stretches of games, and then there are the stretches where he absolutely dominates everyone. It'll be fascinating to see which Ayton we see every game at Arizona. If he's engaged all year he has a chance to be a No. 1 pick.
3. Miles Bridges, Michigan State, So.: Bridges will test whether or not returning to school when you are a projected lottery pick is the dumbest thing that an athlete can do. Anyone that watched Michigan State play last season knows how good this guy is. He's a 6-foot-7 combo-forward that jumps through the roof and can be a multi-positional defender. In a league that prioritizes positionless basketball and values the ability to defend the rim and space the floor, Bridges shot 39 percent from three and averaged 1.5 blocks.
The big question for him next season is going to be his transition to being a full-time perimeter player. Bridges spent much of his freshman campaign playing a small-ball four role for the Spartans. But with Jaren Jackson and Nick Ward on the floor at the same time, he's going to be a small forward through and through. Is he skilled enough for that role, or will he be "exposed"?
4. Luka Doncic, Real Madrid: The random Euro dude you've never heard of. He's 6-foot-8. He's a shooting guard that knocked down 37 percent of his threes. He's from Slovenia. His dad's named Sasa. When my son was born I used my one name veto on 'Luka'. Draft Express thinks he's going No. 1 overall. I'll slot him in at No. 4 because his neckbeard hasn't fully grown in yet.
5. Robert Williams, Texas A&M, So.: Here's to hoping that Williams made the right decision. A 6-foot-9 center with a 7-foot-4 wingspan and freakish athleticism that averaged 11.9 points, 8.2 boards and 2.6 blocks as a freshman, Williams made the decision to return to College Station for his sophomore season when he had the chance to be a first round pick — potentially a lottery pick — in the 2017 NBA Draft. That's a serious risk, one that Cal center Ivan Rabb learned was not the best decision when he went from being a projected lottery pick to the No. 35 pick by returning for his sophomore campaign. The Aggies should be really good next season, and that will help, as will the fact that there is actually a point guard on the roster. But striking while the iron is hot is the key for potential lottery picks when it comes to cashing in on those guaranteed contracts.
6. Mohamed Bamba, Texas, Fr.: Gifted with an incredible 7-foot-9 wingspan, the 7-foot-1 Bamba has the chance to be one of the best defensive players in the nation this season. Not only can Bamba wall up at the rim and defend with his ridiculous standing reach, but he's also quick enough to switch and defend wings on the perimeter and stick with them. Rebounding also comes naturally to Bamba because his length enables him to snare rebounds well above rim level.
Offense is going to be the major question mark with Bamba. While Bamba has been able to finish over smaller defenders near the basket, he's a very skinny 210 pounds and he doesn't possess a lot of polish. Even if Bamba's offensive game doesn't show a lot this season, he has the kind of rare athleticism and tools that could make him a top three pick.
7. Jaren Jackson Jr., Michigan State, Fr.: Late-blooming big man Jaren Jackson Jr. has a chance to be a rare Big Ten one-and-done player. The 6-foot-10 Jackson just helped La Lumiere to a national championship at the high school level last season as he'll be a major piece for the Spartans this season.
Not only can Jackson produce at a potential double-double level but he's also a gifted three-point shooter who is effective in the pick-and-pop game. Young for his class, Jackson's body and skill level are still developing, but he showed signs of being a dominant sidekick for Miles Bridges.
8. Wendell Carter, Duke, Fr.: The 6-foot-10 Carter should be much more of an impact than Harry Giles III or Marques Bolden this season as he's a developed scorer who can play with his back to the basket or facing up. With a surprising amount of touch and perimeter skill for a 260-pound big man, Carter is the type of force who could attract double teams while opening things up for guys like Grayson Allen.
And Carter is no slouch athletically, either. Although he's not a freak like Ayton or Bamba, Carter is a very good athlete who can rebound in traffic and protect the rim as well. It would come as no surprise if Carter was actually the most effective big man of this list at the college level this season as he should have a very balanced roster around him.
9. Bruce Brown, Miami, So.: I'm all-in on Miami as a national title contender this season, and one of the biggest reasons why is Bruce Brown. He's a 6-foot-5 combo-guard with long arms and a physical frame, he shoots it well from three and can operate in pick-and-rolls and has a competitive fire about him that cannot be taught. I think there's a chance that he ends up being the ACC Player of the Year this year, and if Jim Larrañaga can work his point guard magic with him, he'll be a top ten pick in June.
10. Troy Brown, Oregon, Fr.: Brown is something of a swiss army knife in the sense that he can do a little bit of everything. He scores, he passes, he hits the glass and he does all this as a 6-foot-6 wing with a 6-foot-11 wingspan. He'll also be playing for a team that will showcase his versatility in Oregon. On paper, he looks like a guy that should fit the positionless mold of the modern NBA quite well. Having said that, he's not a great athlete and he's not a great shooter, which takes some of the luster off of the idea that he can guard multipositions and spread the floor.
11. Chimezie Metu, USC, Jr.: Metu is an interesting, still-developing prospect. He's got the physical tools to project as an NBA front court player as well as an improving offensive repertoire. The key for him is going to be seeing where he takes a step forward this offseason. He has a decent base of perimeter skills — he makes midrange jumpers and shoots 75 percent from the foul line — but ultimately he needs to extend that range and showcase more toughness in the paint, on the glass and protecting the rim.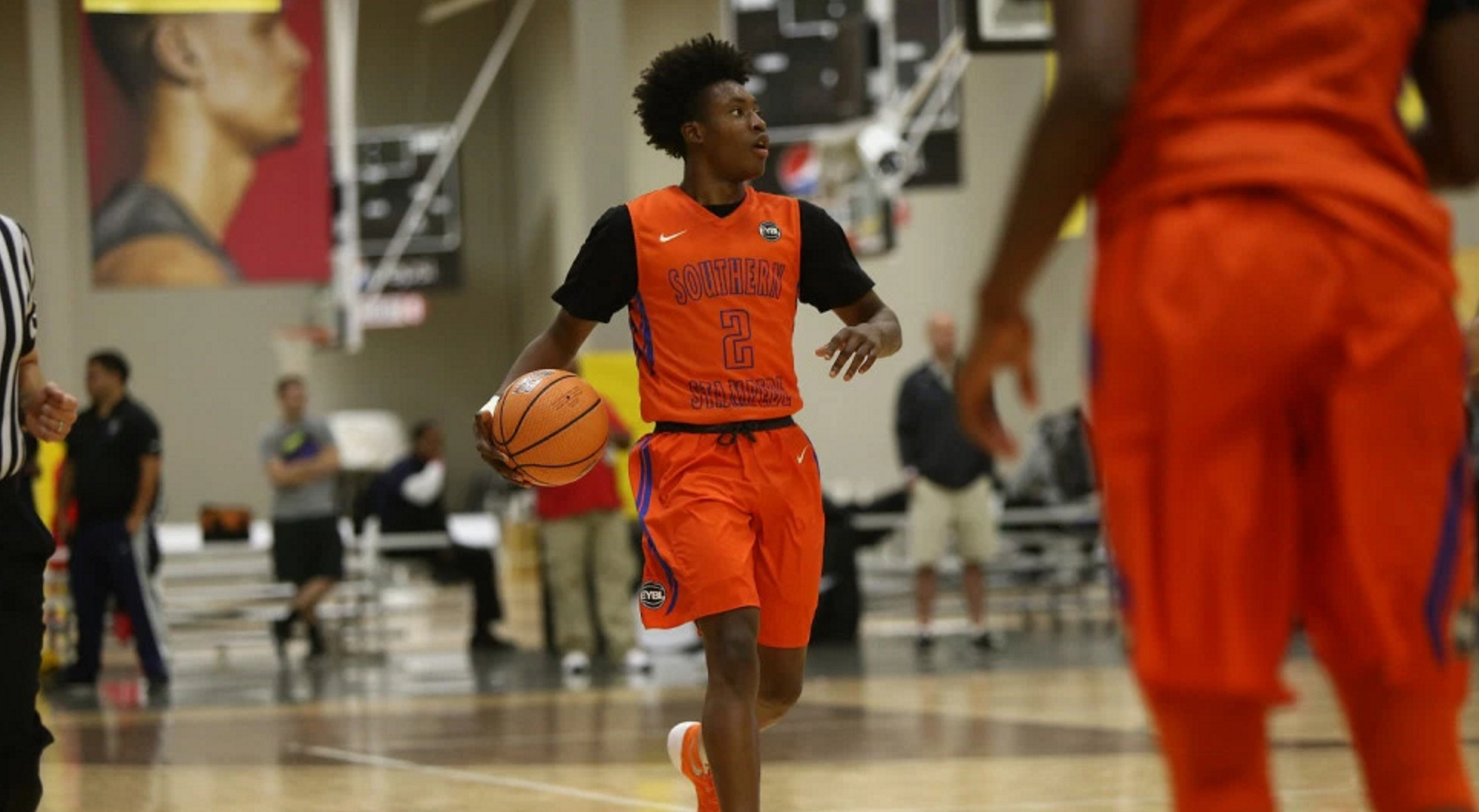 12. Collin Sexton, Alabama, Fr.: One of the best scorers at 6-foot-1 in recent memory, Sexton led the EYBL, Nike's AAU circuit, in scoring last spring by a full eight points, nearly 30 points per game. Sexton is undersized and incredibly intense bordering on insane, which means that he'll a fun player to watch and one that could become very popular with fans this season. The MVP of USA Basketball's gold-medal winning U17 World Championship team last summer, Sexton has a big-game mentality as he's one of the most competitive players in the class.
     RELATED: How Collin Sexton made himself a five-star
Perimeter shooting was is the shaky part of Sexton's scoring game. He has improved it steadily over time, but that's something he's going to need to develop if he's going to be a lottery pick as many project him to be.
13. Lonnie Walker, Miami, Fr.: Another one of the reasons I think that Miami is going to be awesome this season. Walker is a big, long and strong shooting guard than can play with the ball in his hands. He made 40 percent of his threes on the Nike EYBL circuit and he has the tools to be a big time defensive menace. He's one of my favorite guards in the Class of 2017.
14. Trevon Duval, Duke, Fr.: A freakish athlete at point guard who can play well above the rim, the 6-foot-2 Duval will help stabilize the point guard position for Duke this season. Working in a reliable jump shot is going to be the big thing to watch for Duval this season. The way the point guard spot is trending, he'll need to knock down catch-and-shoot jumpers — something that hasn't always been reliable. There are also times that Duval can play too fast as he can be reckless with turnovers and taking tough shots. But if Duval corrects those workable mistakes, then he has a chance to get Duke to another Final Four because they have plenty of offensive weapons.
15. De'Anthony Melton, USC, So.
16. Hamidou Diallo, Kentucky, Fr.
17. Mitchell Robinson, Western Kentucky, Fr.
18. Justin Jackson, Maryland, So.
19. Grayson Allen, Duke, Sr.
20. Devonte' Graham, Kansas, Sr.
21. Kevin Knox, Kentucky, Fr.
22. Shake Milton, SMU, Jr.
23. V.J. King, Louisville, So.
24. Killian Tillie, Gonzaga, So.
25. Quenton Rose, Temple, So.
26. Vince Edwards, Purdue, Sr.
27. Allonzo Trier, Arizona, Jr.
28. Ethan Happ, Wisconsin, Jr.
29. Marques Bolden, Duke, So.
30. Aaron Holiday, UCLA, Jr.