Over the course of the last three weeks, we've been churning out NBA Draft Prospect Profiles of the best players in this loaded draft for the fellas at Pro Basketball Talk.
You can find them here:
You can also find the latest NBC Sports Mock Draft here.
RELATED: Lottery Busts | First Round Values | Draft Sleepers
Today, we'll be going through some of the players projected to be picked late in the first round or early in the second round that could end up being a steal.
Harry Giles III, Duke: Everyone knows the story of Harry Giles by now. He was widely considered to be the best prospect in the loaded Class of 2016 throughout much of his high school career, but a trio of knee surgeries left him playing as a shell of himself during his one season at Duke. Now, instead of being a top pick in this draft he's going to be a roll of the dice towards the end of the first round.
Giles is a gamble. There's no doubt about that.
But I think that it's worth whatever risk there is for a team with a mid-to-late first round pick.
Giles never found his groove this past season. No one would tell you otherwise. He wouldn't tell you otherwise. There are, however, two things that need to be understood when talking about Giles: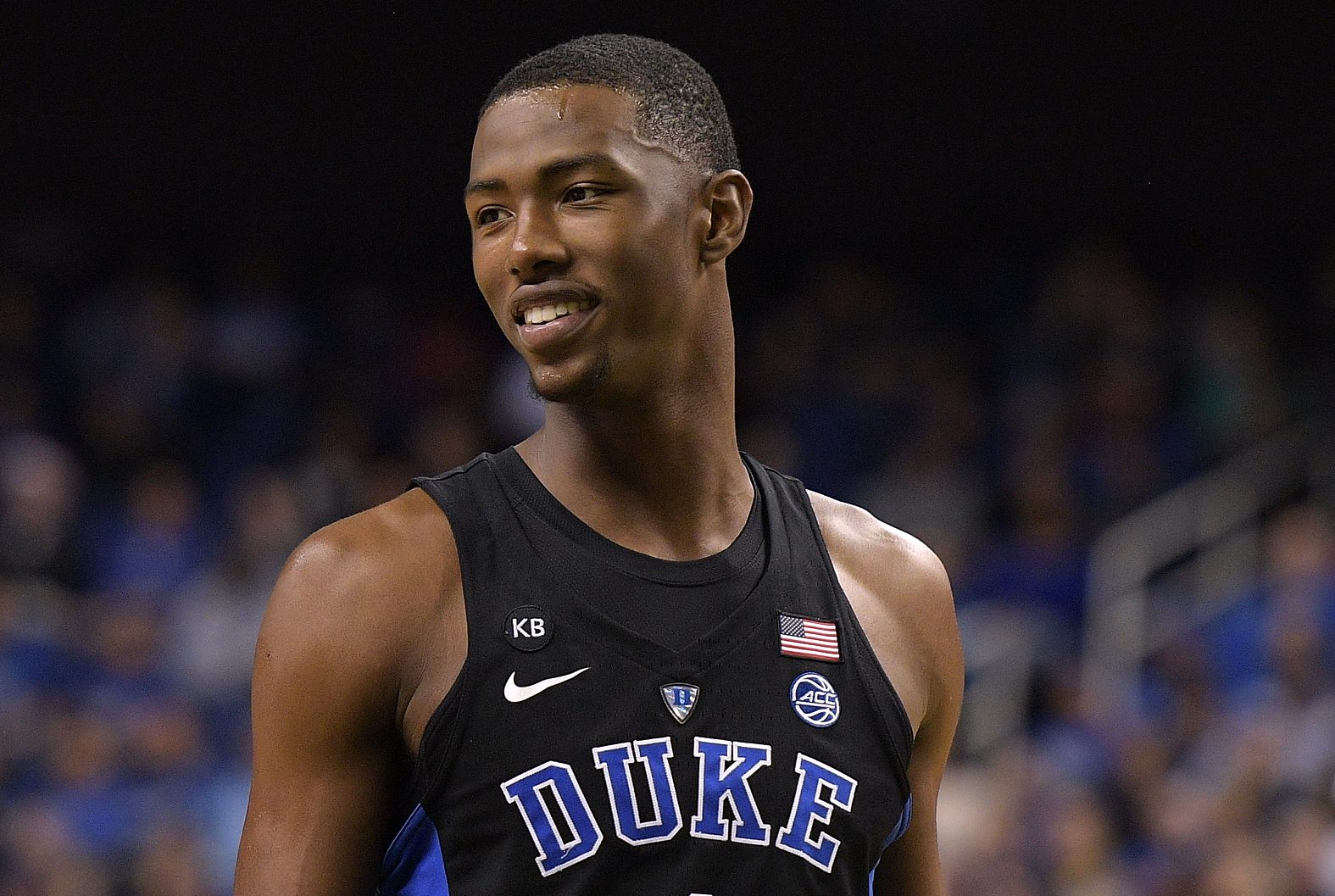 He never really had a chance to get into shape. His second torn ACL was suffered during the first game of his senior season in high school, back in November of 2015. By the time that he was finally ready to return to the floor following surgery to repair that injury, he underwent a arthroscopic procedure in his other knee, one that kept him off the court until the middle of December. By the time that he finally returned to action, he had been forced to sit out for 14 months only to immediately be thrust into the fold with less than two weeks to get into shape for a run through the ACC? That's a big ask, and it was clear for much of the year that Giles didn't have the legs or the wind that he needed to truly compete at that level.
At this point in his career, Giles has never really had an opportunity to develop his basketball skill. He tore the ACL, the MCL and the meniscus in his left knee in the summer after his freshman season, and lost that summer and his entire sophomore year. By the time he returned to the floor the following summer, he was trying to get into shape for a run through that live period and to get into shape for his junior season. The summer after his junior year, Giles was utterly dominant. He looked every bit the part of a future franchise player, and then his knees gave out on him again. In other words, Giles still showed some flashes of having the physical tools that made him so promising, but he has spent so much time focusing on rehabbing and getting into shape during offseasons that he's yet to have the chance to learn how to be a basketball player.
Giles is far from a lock, and at the end of the day, a team's doctors are going to be the ones that decide whether or not he is worth the pick; can his knees hold up over the course of an 82 game season?
At some point, that potential reward is going to outweigh the risk of Giles already being broken. Maybe he already is Greg Oden, and he'll probably never end up being Chris Webber or Amare Stoudamire like we thought. But if you can get a rich man's Leon Powe or a poor man's Tristan Thompson in the 20s, isn't it worth it? If you're paying a dollar for a lottery ticket, do you want to play Powerball or but a scratch-off?
D.J. Wilson, Michigan: I've long been on the D.J. Wilson bandwagon, and the rest of the basketball world has caught up. From a tools perspective, Wilson is everything that NBA teams are looking for these days. He's a 6-foot-11 forward with a 7-foot-3 wingspan that made 37 percent of his threes and blocked 1.5 shots per night. Rim protection and floor-spacing. That's what everyone wants in a player.
But what makes Wilson an intriguing prospect for me is that he's more than just a spot-up shooter. He has a really nice base of perimeter skills. He has some impressive footwork and is a more dextrous, fluid athlete than you may realize. He's also something of a blank canvas. He grew three inches late in his high school career, he spent much of his high school and college career battling injuries and he only just cracked the Michigan rotation as a redshirt sophomore. Put another way, he's greener than a typical 21-year old prospect would be. There's still room to grow.
And he needs to do some growing. He's still pretty soft when he's asked to battle inside — he averaged fewer rebounds than both Markelle Fultz and Lonzo Ball — and blocking a couple shots in the Big Ten is far different than blocking shots in the NBA. No prospect is perfect at the end of the first round, but Wilson is precisely the kind of project that can be built into something valuable.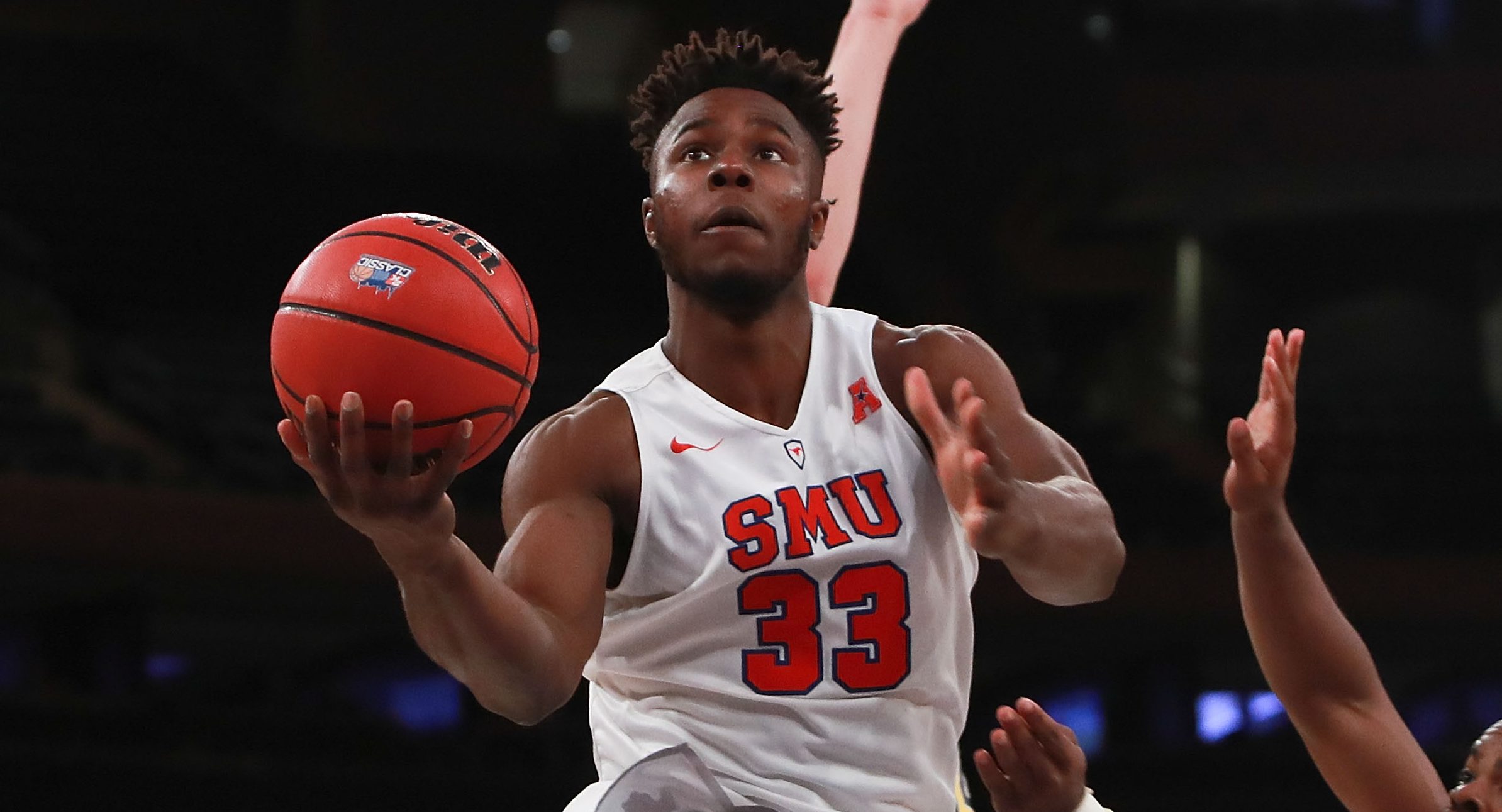 Semi Ojeleye, SMU: Ojeleye is as close to a finished product as you'll find in this draft. After spending a year-and-a-half riding the bench for Duke, he transferred to SMU where he erupted to average 18.2 points while shooting 42 percent from three on more than five attempts per game. He did all of this while playing the four for the Mustangs. Should I mention that he's 6-foot-7 and 241 pounds of solid muscle with a 40.5″ vertical and the kind of burst that let him finish near the top of the participants in this year's NBA combine in lane agility and the 3/4 court sprint?
Ojeleye has all the tools to be a mismatch four in the NBA, the kind of player that can slide over and play the three when needed while filling in as a small-ball five when needed. If he was more productive defensively — he has low steal, block and rebounding numbers — or had a monstrous wingspan to make up for his relative lack of height, we'd be talking about him as a lottery pick. He's my favorite late-first round pick in this draft.
Josh Hart, Villanova: On paper, Josh Hart looks like precisely the guy to follow in Malcolm Brogdon's footsteps next season: four-year college star turned second round steal. On the one hand, it makes sense. They're roughly the same size, they put up roughly the same numbers, they played for one of the sport's best coaches who would grace the cover of NCAA GQ. On the other hand, the comparison makes no sense. Brogdon thrived in the NBA because he's essentially a point guard that played out of position in college. Hart, on the other hand, entered Villanova as something of an undersized four that has turned himself into an NBA-caliber perimeter player.
The two situations are very different. But Hart is an experienced, versatile wing that can make threes, has developed his ability in the pick-and-roll and will play his tail off defensively. There's a spot for him in the league, just don't bet on him winning Rookie of the Year.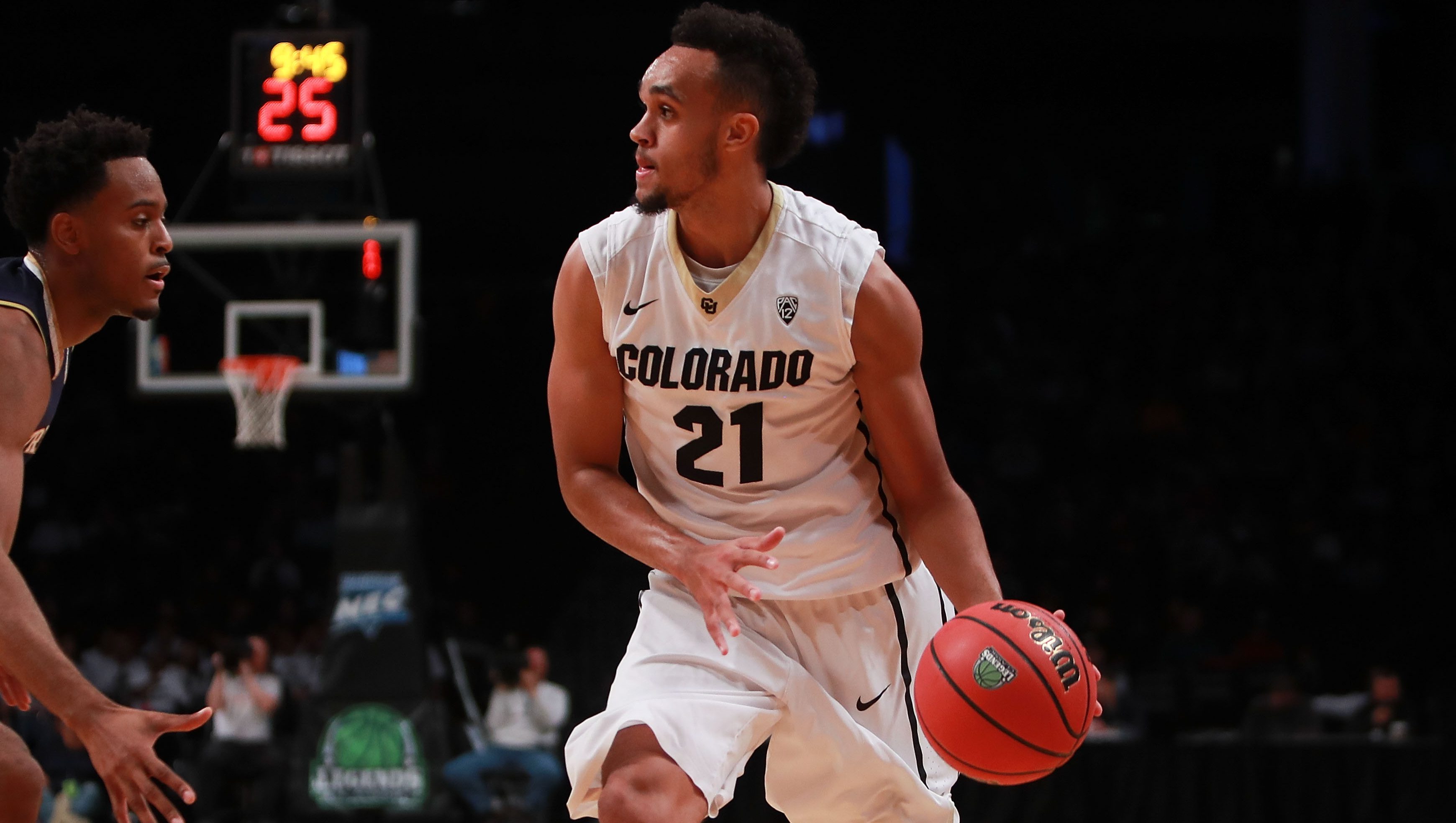 Derrick White, Colorado: Derrick White's story is incredible. If it was the plot of a movie it would be slightly more believable than Space Jam. As a high school senior, White is a sub-6-foot point guard that was gifted an offer to play for a Division II program in Colorado because the coach that was recruiting him to an NAIA school — the only coach recruiting him — got a bigger job. Fast forward five years and White has since grown to 6-foot-5 with a 6-foot-8 wingspan and a 36.5″ vertical that can play, and defend, either guard spot.
This isn't just some feel good story, either. White averaged 18.3 points and 4.3 assists while shooting 40 percent from three as the star of a Colorado team that finished in the middle of the pack in the Pac-12. He's legit, and he is probably going to be a first round pick on Thursday night.
Jordan Bell, Oregon: If, back in October, you would have told me that the first Oregon player to get drafted in 2017 would be Jordan Bell, Dana Altman's undersized, 6-foot-7 center, I would have laughed at you. But after his performance this season — which included a run to the Final Four where he looked like the second-coming of Ben Wallace — Bell has turned himself into a guy that could sneak into the back end of the first round. He's short but he is a mesmerizing athlete his a 7-foot wingspan that protects the rim and will be a nightmare switching pick-and-rolls.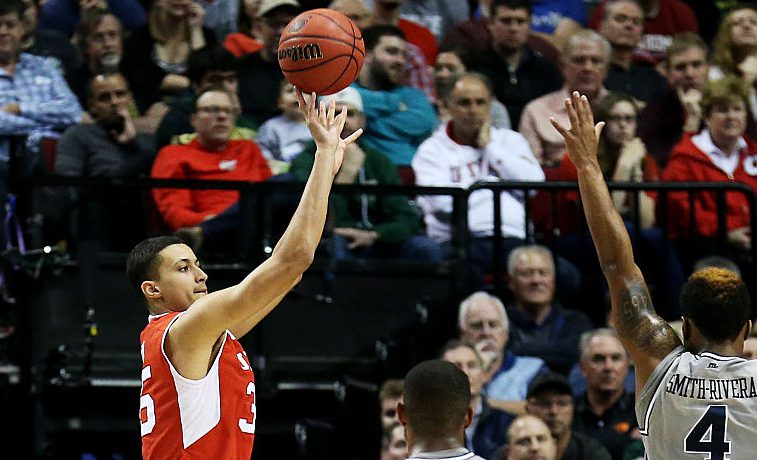 Kyle Kuzma, Utah: Kuzma has been rocketing up NBA Draft boards in recent weeks, as he has all the skills that NBA teams look for out of a power forward in the modern NBA. He is nearly 6-foot-10 with a wingspan above 7-feet. He's a plus-athlete that has proven to be an above-average passer for the four-spot. He played four years for Larry Krystkowiak, who has proven to be capable of identifying and developing talent that requires his guys to defend. The key for Kuzma's longterm potential, however, is going to be becoming a knock-down three-point shooter. He shot just 32.1 percent from three as a redshirt junior, and that was his best season shooting the ball.
Sterling Brown, SMU: Brown is 6-foot-5 with a 6-foot-10 wingspan that, at 225 pounds, is quick enough to defend on the perimeter and tough enough to guard bigger players in the paint all while shooting 45 percent from three. The younger brother of former first round pick Shannon Brown, Sterling has all the attributes that you look for in a 3-and-D guy.