Typically, when an NCAA investigation is looming and a head coach is pleading ignorance, claiming that it says nothing about the culture of his program and everything about a rogue staff member, that coach is, frankly, full of s***.
The term is plausible deniability.
Stay two steps away from the wrongdoing and they'll never be able to connect you to it.
That is precisely what Rick Pitino has been saying and said again today, after the NCAA suspended him for the first five games of the ACC season and determined that they will be vacating 108 Louisville wins, including the 2013 national title. He had no idea that Andre McGee was bringing strippers and hookers in Billy Minardi Hall, and he had no idea that McGee was paying — more than $5,000 over the course of four years, according to the NCAA — for those strippers and hookers to provide "adult entertainment and/or sex acts" for three different players on the team and as many as 15 recruits, four of whom were 16 years old at the time.
And I believe him.
I believe every word he's saying for no other reason than the fact that Pitino is not stupid and it would require him to be incredibly stupid to know that McGee was paying for strippers to dance for and hookers to have sex with members of his team, let alone with minors he was trying to entice to Louisville, and not put a stop to it.
Pitino is no angel. I'm not saying he is. But do you honestly believe that he would risk a job that pays him millions of dollars over this?
There's no way.
What Pitino is guilty of is trusting the wrong man.
Because that is, essentially, what this comes down to.
Coaches intentionally keep themselves out of the loop when it comes to what happens with recruits on official visits, but typically that's because the players on the team bring that kid along with them wherever they go that weekend. They'll go to a few parties, have a few drinks, flirt with a few girls, maybe hit up a football tailgate. Think of what you do or did during a normal weekend in college, and that's what these recruits do.
And those coaches don't want to know about it just like Pitino didn't want to know about it. They trust that the players on their team and the members of their staff coordinating the visits are smart enough to make sure the recruits don't leave with anything other than a hangover.
Unfortunately for Pitino, this was not the case, but that does not matter.
"By his own admission, the head coach and his assistants did not interact with prospects from 10 p.m. until the next morning," the NCAA said. "The panel noted that the head coach essentially placed a peer of the student-athletes in a position of authority over them and visiting prospects, and assumed that all would behave appropriately in an environment that was, for all practical purposes, a basketball dorm."
"This arrangement played a role in creating a location where the former operations director's activities went undetected."
And as a result, Pitino pays the price for what happened in his program. That's the way it worked for Syracuse head coach Jim Boeheim and SMU head coach Larry Brown, who were both suspended for nine games for violations that occurred under their watch. Ole Miss football coach Hugh Freeze is probably going to end up feeling the NCAA's wrath in the same way. Hell, Pitino got off light; he was only suspended for five games, and the NCAA accepted the program's 2015-16 postseason ban. They'll be able to play in the NCAA tournament this season.
So why is Pitino so mad?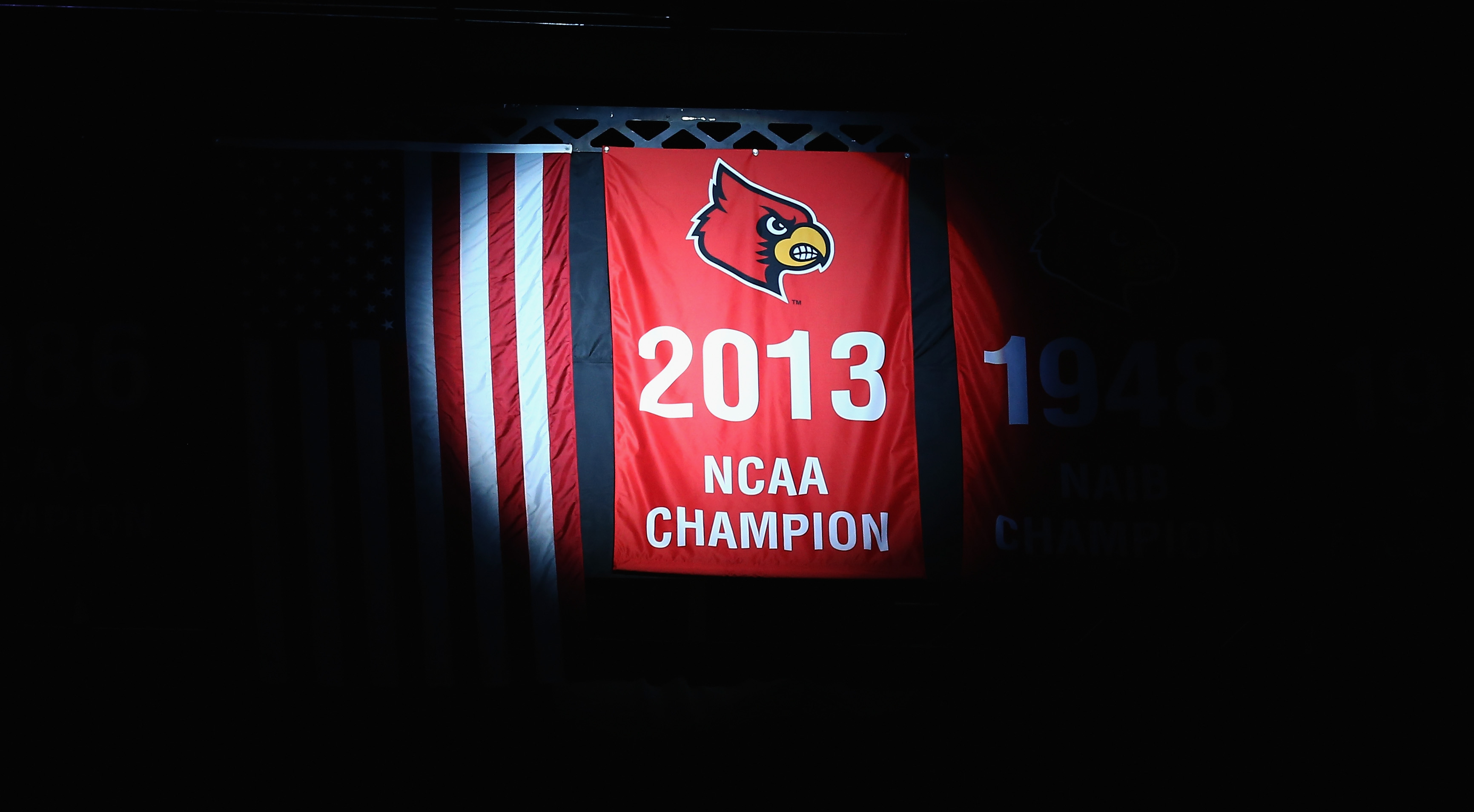 Because barring a successful appeal that does not appear to be all that likely, Louisville will be losing their 2012 trip to the Final Four and their 2013 national title, the first time in NCAA history that a national title will be vacated. He'll no longer be able to claim that he's one of 14 head coaches to win more than one national title. He'll no longer see a 2013 National Champions banner hanging above the court in the Yum! Center. It won't be on any Louisville programs. It will be scrubbed from Louisville's website. They will no longer be able to make '2013 National Champions' be one of the first things you see when you arrive at the Yum! Center.
Generally speaking, I think that vacating wins is the dumbest thing in the world. What this punishment is essentially saying is that Louisville didn't actually win the games they won from Dec. 2010 through July 2014. That 2013 run to the national title is one I'll never forget, from Kevin Ware's broken leg in the Elite 8 to the show that freshman Spike Albrecht put on in the first half of the national title game.
That happened.
But in this specific instance, I think that vacating wins — specifically, vacating the national title — is the worst punishment that the NCAA can hand down.
Think about the Kentucky-Louisville rivalry for a second. Big picture. In 2009, when John Calipari — Pitino's archnemesis — took over at Kentucky — Pitino's old stomping grounds and his biggest rival at the new gig — the running joke was that it would only be a matter of time because Coach Cal got Kentucky in trouble, right? It was only a matter of time before he had Kentucky vacating Final Fours the way that he left Memphis and UMass with vacated Final Fours, yes?
Fast forward eight years, and it's Pitino and Louisville, not Calipari and Kentucky, that will be taking down Final Four banners and vacating a national title.
That indignity is worse than any punishment the NCAA could have given out to the program itself, and given the magnitude of the violations in the NCAA's eyes, that's just the way that they wanted it to be.
So even if Pitino didn't know about what McGee was doing, it doesn't matter.
In the NCAA's eyes, the buck stops with him.
Pitino's program was using prostitutes to recruit high school kids, and now he'll have to pay the price.