The NCAA's deadline to withdraw from the NBA Draft for early entry candidates that have not signed with an agent came and went last night, and while a few of the decisions took us right up to the deadline, it mostly played out the way it was expected to.
Some big names returned. Some surprising names left.
Next season's top 25 is awful uninspiring. There also isn't anything close to a clear-cut No. 1 team, although the consensus at this point seems to be that Michigan State, Arizona and Kansas, despite their flaws, are the three best teams in the country in some order. 
RELATED: Preseason Top 25 | Preseason All-Americans
Here are biggest winners and losers from deadline day:
BIGGEST WINNERS
1. Michigan State: The Spartans got Miles Bridges back. Bridges would've been a lottery pick and may have gone in the top ten had he declared for the draft, but he didn't even do that. On paper, Bridges looks like a surefire all-american — he is our way-too-early Preseason National Player of the Year — and with him back in the fold, the Spartans are currently the Preseason No. 1 team in the country.
If Bridges doesn't return to school, Tom Izzo would have been forced to coach a very young team without a proven perimeter scorer and a point guard who turned the ball over on nearly a quarter of his possessions. Bridges turned them from a borderline top 25 team to a consensus top three team. That's a pretty big win.
2. USC: No one had a better spring than Andy Enfield. A year after learning that he would lost two starters that weren't going to get draft, Julian Jacobs and Nikola Jovanovic, to the professional ranks, he had four players weighing the decision of whether or not to turn pro: Bennie Boatwright, Chimezie Metu and Shaqquan Aaron all declared for the draft and returned to school. Elijah Stewart forgot to send his papers in declaring, and Jordan McLaughlin and Deanthony Melton didn't even put their names in.
The Trojans will now enter next season as a consensus top 15 team with as much talent on their roster as anyone. If they decide to start defending, they could push Arizona and UCLA for the Pac-12 title.
3. Arizona: Three things happened for Arizona this spring: Allonzo Trier, a potential first-team all-american this season, decided that he would be returning to school. So did Rawle Alkins, a former five-star prospect that could be an all-Pac-12 player next season. Arizona also found out that Kobi Simmons would be entering the NBA Draft after one year, which frees up minutes on the perimeter for someone that is, shall we say, slightly more consistent? The Wildcats are a consensus top three team next year.
4. Texas A&M: The Aggies were the only other team to get a projected lottery pick back, as Robert Williams made the decision to return to school for his sophomore season. This is huge news for Billy Kennedy, because this Texas A&M team will finally have a point guard available to them next season.
5. Texas: The biggest news for Texas in the last month was that Mo Bamba, a top five prospect in the Class of 2017 and one of the best shotblockers to come through the high school ranks in recent years, committed to the Longhorns. That happened just a couple of days before Andrew Jones announced that he would be withdrawing from the draft and returning for his sophomore season. With a pure point guard in freshman Matt Coleman to help him share back court duties, Jones should be freed up to showcase why he was a five-star recruit as a combo-guard.
6. Kentucky: I know, it's weird to list Kentucky as a winner when they literally had five players enter the NBA Draft with at least two years of eligibility remaining. But here's the thing: three of those decisions (Fox, Monk, Bam) were locks, a fourth (Isaiah Briscoe) was expected and the fifth (Isaac Humphries) turned pro because he was probably never not going to be recruited over by John Calipari. But with just 15 minutes left before the deadline, the Wildcats found out that they are going to be getting Hamidou Diallo back for his second year and first season playing for the program.
Kentucky is going to have serious issues scoring the ball next year, but they are loaded with length, athleticism and defensive potential. Diallo has every physical tool a coach could ever dream of, but he can't really score. He may not be a go-to scorer for the Wildcats, but he sure is a great piece for a team that's going to try to win games in the 50s next year.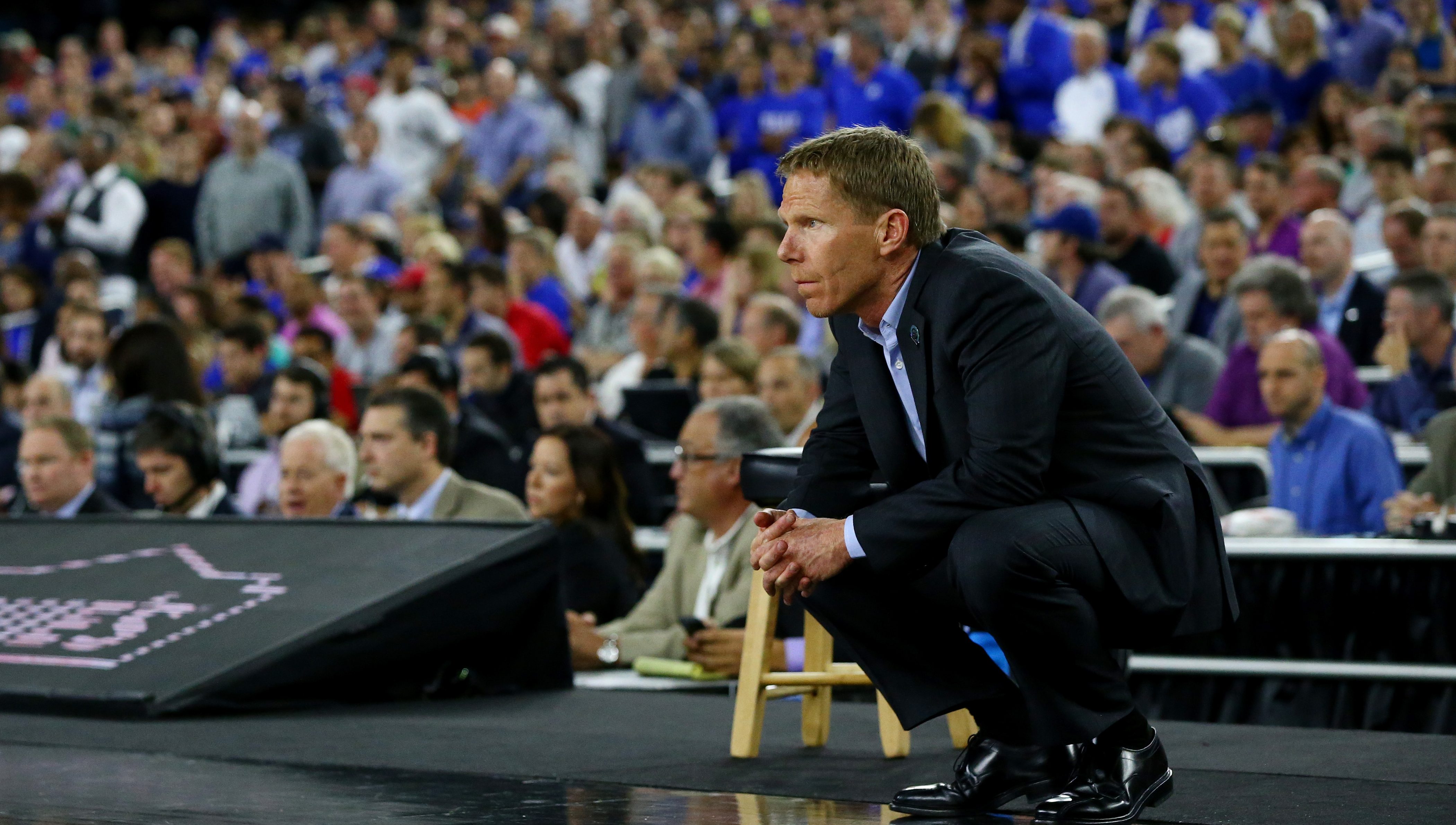 BIGGEST LOSERS
1. Oregon: Oregon reached the Final Four last year on the stretch of three things: Tyler Dorsey going full Stephen Curry in the NCAA tournament, Jordan Bell turning into the second-coming of Ben Wallace and Dillon Brooks being a matchup nightmare playing as a small-ball four. All three had eligibility remaining, and only Bell has any chance of being a first round pick. Without those three, Oregon, who would have likely been the preseason No. 1 team in the country, is not going to be found in any preseason top 25s.
2. Gonzaga: Perhaps the worst thing that could have happened to Gonzaga for next season was the run to the NCAA tournament title game last season. For starters, it all-but ensured that Zach Collins was going to be headed to the NBA Draft. Collins could certainly have ended up there anyway, but dominant Final Four performances — including 14 points, 13 boards and six blocks against South Carolina — made his choice easy.
That wasn't really the painful one for Mark Few. Losing Nigel Williams-Goss with a year of eligibility remaining probably hurts more. Williams-Goss was a first-team all-american in 2017 and would have been a favorite to win National Player of the Year as a fifth-year senior had he returned. But despite the fact that he may not even get drafted, Williams-Goss decided to head to the professional ranks with his degree in hand. A brutal blow for Gonzaga, but a decision that's hard to argue with.
3. North Carolina: The Tar Heels lost ACC Player of the Year Justin Jackson to the NBA Draft after a sterling junior season, a move that hurts but that surprised absolutely no one. UNC still looked like a top ten team, but that was assuming that Tony Bradley would return to school. A freshman center that averaged less than 15 minutes last year, Bradley would have been the focal point of Roy Williams' front court attack this season, but he opted to bolt for the NBA and a 50-50 shot at getting picked in the first round. Without him, UNC looks like a top 20-25 team that will go as far as Joel Berry II can carry them.
4. Purdue: One of the biggest points of contention for the NBC Sports Preseason Top 25 has been the lack of Purdue in our rankings. They return four starters from a team that ended the year as outright Big Ten champions and a No. 4 seed in the NCAA tournament. But they also lost Caleb Swanigan, the runner-up for National Player of the Year in 2016-17 and one of the most dominant big men that we've seen in the college game in quite some time. While he's a borderline first round pick at best, I do believe that Biggie made the right decision to jump to the professional ranks, but the hole that he'll leave for the Boilermakers this season is going to make you appreciate all over again just how good he was.
5. BYU: The Cougars looked primed to sneak up on Gonzaga and Saint Mary's in the WCC this season, but they suffered a brutal blow when Eric Mika, who averaged nearly 20 points and 10 boards last season, decided to remain in the draft. They were a tournament team with him. They're going to have to scrap to finish third in the WCC without him.
6. Indiana: The Hoosiers actually did get some good news on the early entry front late in the process as Robert Johnson opted to return to school for his senior season, but that doesn't change the fact that Archie Miller is going to be starting his tenure in Bloomington without O.G. Anunoby, Thomas Bryant and James Blackmon Jr. Anunoby is the only one of the three that is likely to hear his name called in the first round, and Blackmon — who did graduate in three years — may not even get drafted.